Creamy, cheesy chicken alfredo and penne, baked to perfection… for the white sauce pasta lovers! 
If there are two things I love it is 1) creamy, saucy dishes involving lots of cheese and pasta noodles, and 2) extremely easy dinners that will please almost anyone I serve them to. And I'm sure you've figured out that this recipe is very much both of those things.
The first step is to boil some penne noodles, just til tender. I actually had a jar of both white and wheat mixed in together so I just used both and I loved how it turned out. While the noodles are boiling, cook the chicken on the stove. It's only seasoned with salt and pepper because you're going to be covering it with that creamy cheesy sauce I mentioned earlier. So cook the chicken, chop it up, and then whip up your saaaaauce. So easy. So creamy. So cheesy. So YUM.
Then just throw all of that into a bowl – the noodles, the chicken, and the sauce – and give it a good stir. Dump all of that pasta happiness into a casserole dish, top it off with more cheese because, CHEESE, and then bake it for a few minutes. And that's all she wrote you guys. Chicken Alfredo Baked Penne. Your life is forever changed.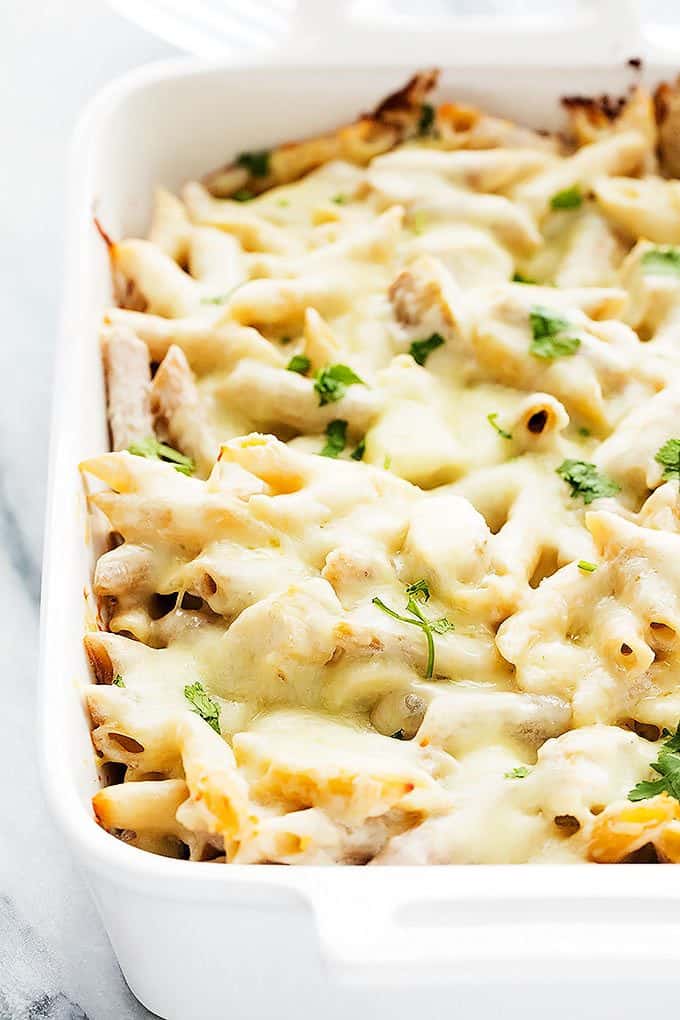 Chicken Alfredo Baked Penne
Creamy, cheesy chicken alfredo and penne, baked to perfection!
Ingredients
8 ounces penne noodles (I used a combination of white and whole wheat)
2-3 chicken breasts + salt and pepper to taste
3 tablespoons butter
3 tablespoons flour
3 cups heavy cream or milk (I used fat free half & half)
1 cup shredded parmesan cheese, divided
1 teaspoon garlic powder
salt and pepper to taste
optional: parsley for topping
Instructions
Preheat oven to 400 degrees. Add penne noodles to a large pot, cover noodles with water. Bring to a boil over medium-high heat and boil until easily pierced with a fork. Drain and set aside.
Pound chicken to ½ inch thickness and season with salt and pepper to taste. Cook in a greased skillet over medium heat 5-6 minutes on each side until cooked through. Chop into 1 inch pieces and set aside.
In the skillet where you cooked the chicken (you can just wipe it out with a paper towel to get rid of any leftover tidbits from he chicken) melt the butter over medium heat. Once melted, sprinkle flour over the butter and stir til it clumps together. Gradually whisk in the milk until smooth. Stir in garlic powder and salt and pepper to taste (I used about 1 teaspoon salt and ¼ teaspoon black pepper) Add ⅓ cup parmesan cheese and stir until melted and completely incorporated.
In a large bowl combine cooked penne, chicken, and the sauce and stir to combine. Transfer mixture to a greased 9x13 inch baking dish. Sprinkle with remaining parmesan cheese. Bake for 10-15 minutes until cheese is melty and begins to brown around the edges. Sprinkle with chopped parsley if desired and serve.