Slow Cooker Beef on Rice – Savory beef and gravy slow cooked to tender perfection and served over rice!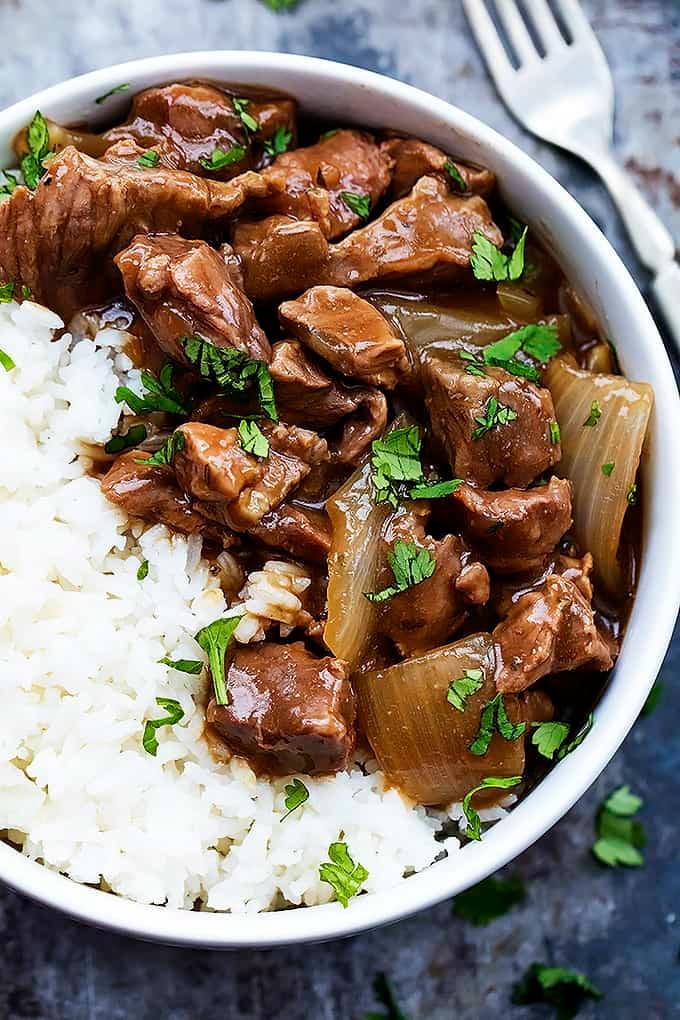 It's Sundayyyyyyy and this is a Sunday dinner classic I'm sharing with you today so, yeah. Pretty approriate.
It's kind of like beef stroganoff? ish? Maybe. It's basically a beef and gravy that you serve over rice. My mother made it all the time when I was younger and called it Beef on Rice. Not beef with rice. Beef ON rice. Similar to how some people say "soda" and some people say "pop". And recently I learned there is an entire region of the U.S. that calls it all Coke – regardless of whether it is actually Coca Cola or not.
Are you a soda-person, pop-person, or coke-person??
Just for the record, I'm actually a soda-person.
But, back to this beef on rice. Look at all of that gravy goodness! I love it. Tender and juicy beef slowwwwww cooked in savory juices and thickened into a gravy right at the end. It's perfect all year round but since it's Fall time and the weather is cooling off, I'm in the mood for comfort food. This right here, is at the top of my comfort food list.
It's also incredibly easy to make – WINNER! All you have to do is throw 6 ingredients into your slow cooker (six. and that's including salt and pepper so it's really like 4ish ingredients….) and come back 8 hours later to one crazy-tasty dinner. Cozy comfort food at it's best!
Slow Cooker Beef on Rice
Savory beef and gravy slow cooked to tender perfection and served over rice - a healthy and hearty meal with minimal prep and cleanup!
Ingredients
2 pounds beef chunks (aka: stew meat )
4 cups beef broth
1 onion, chopped
1 teaspoon Italian seasoning
2-3 teaspoons salt (or to taste)
1 teaspoon black pepper ( or to taste)
¼ cup cold water
3 tablespoons corn starch
4-6 cups cooked white or brown rice
Instructions
Add beef, broth, and chopped onions to slow cooker. Sprinkle with salt, pepper, and Italian seasoning.
Cover and cook on low for 8 hours or on high for 4 hours.
About 10-15 minutes before serving, Transfer slow cooker contents to a large stock pot and bring to a boil. Whisk together cold water and corn starch, add to pot, and stir until thickened. Serve over rice and sprinkle with chopped parsley if desired. Enjoy!