Crunchy pan-toasted 10-minute Chili Lime Almonds with hints of spicy chili and zesty lime – these are positively addictive! So quick, easy, and healthy too!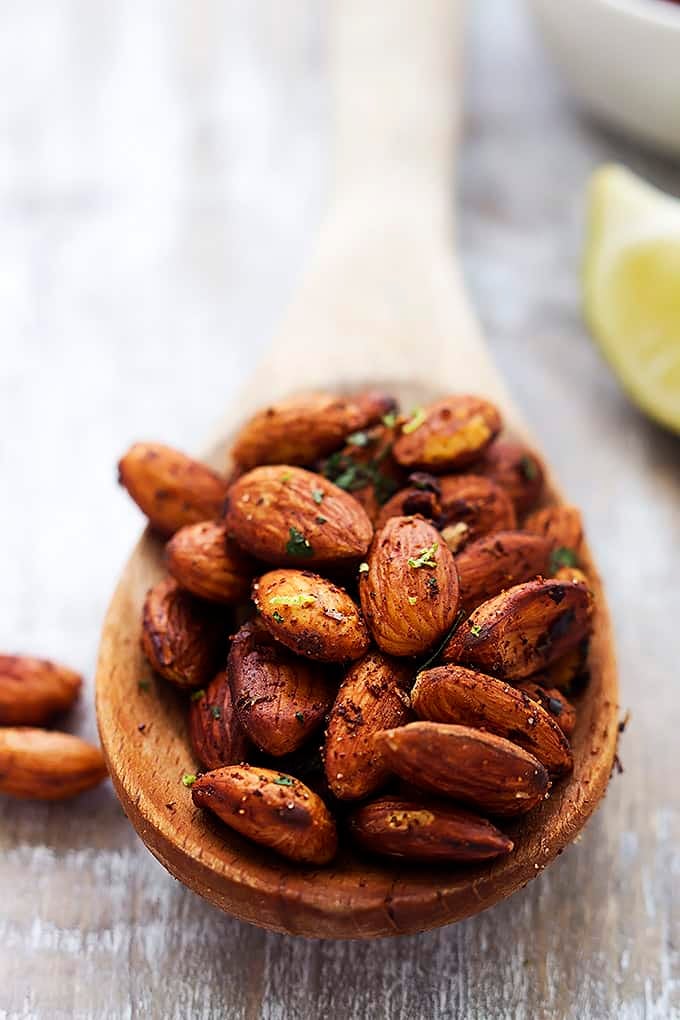 Say hello to my new favorite anytime-of-day-or-night snack.
Oh hey there chili-lime almonds, how goes it??
Good. It goes so dang deliciously good.
These are so crazy-easy to make and so crazy-yummy to eat that I feel almost crazy-silly for not having made them 5.7 million minutes ago instead of just this week for the first time ever. I added that '10-minutes' part to the title because well, obviously they only require 10 minutes (duh Tiffany, saw that one comin') and because I wanted you to know that they are so EASY & QUICK because if you're anything like me when you're in the mood for a snack you do not want to spend a lot of 1) time and 2) energy prepping said snack.
I mean, hello, you're already hungry – let's not prolong the misery yeah??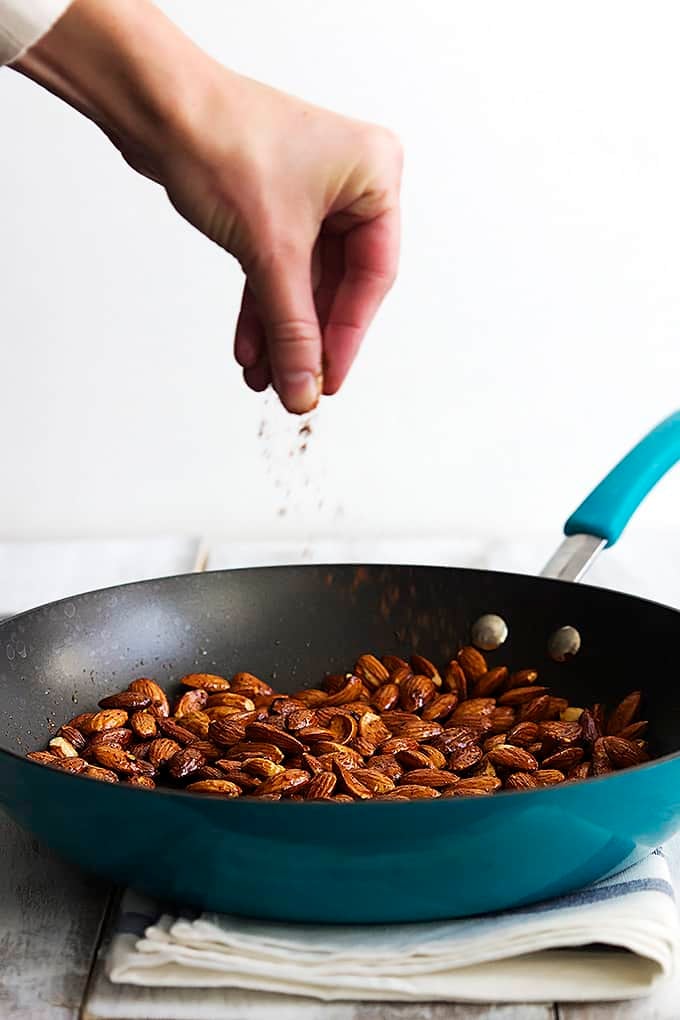 Tonight is the NCAA football championship and I will be trekking over to my parents house to watch it with my brothers, dad, and possibly a sister or two who occasionally like to yell boo at the refs and pretend that they know a little somethin' somethin' about what is happening on the field. (They don't.)
This is like the prep round for the super bowl which is happening in a matter of weeks people, weeks. And you better believe that I'm already making my list of Tailgating Recipes To Make For 'The Big Game': 2015 Edition. 
Spinach artichoke dip – check. Honey chipotle chicken wings – check. Queso dip – check. Jalapeño popper chicken taquitos – check. 10-minute Chili-lime almonds – double check.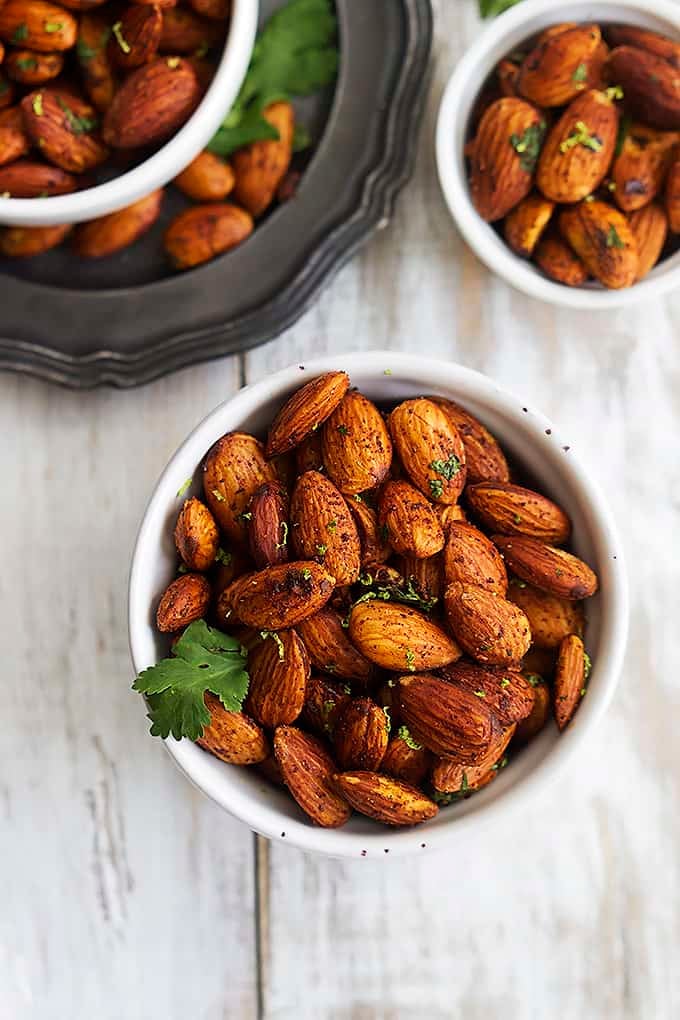 So here's the rundown.
Step 1 – add nuts and oil to pan, sprinkle with chili powder and salt and toast for 5 minutes.
Step 2 – remove from heat, stir in lime juice and chopped cilantro and allow to cool.
Step 3 – devour.
What snacks are you making for The Big Game??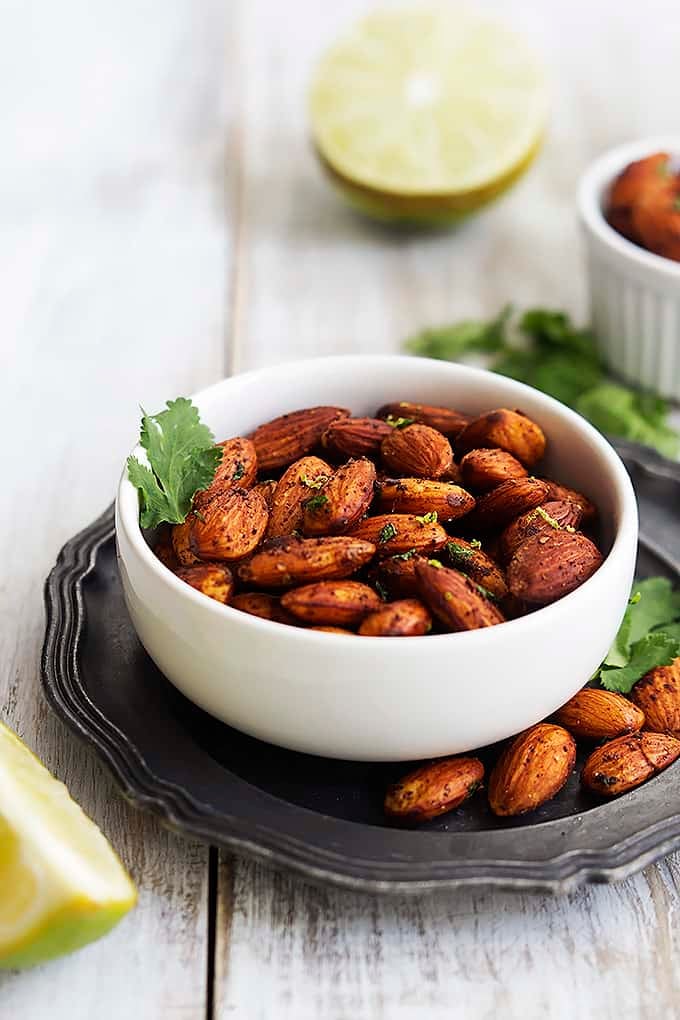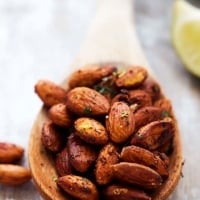 10-Minute Chili Lime Almonds
Crunchy pan-toasted almonds with hints of spicy chili and zesty lime - these are positively addictive! So quick, easy, and healthy too!
Ingredients
2

cups

almonds

1

tablespoon

oil

1-2

teaspoons

chili powder

-

(depending on how spicy you prefer)

1

teaspoon

salt

1

tablespoon

fresh lime juice

1

tablespoon

chopped cilantro
Instructions
Add almonds and oil to a medium pan. Sprinkle with chili powder and salt. Stir over medium heat for about 5 minutes until fragrant and toasted.

Remove the pan from heat, add lime juice and cilantro and stir. Transfer nuts to a plate or baking pan to cool.
Notes
Store in airtight container up to 1 week.
Nutrition
Calories:
222
kcal
,
Carbohydrates:
8
g
,
Protein:
8
g
,
Fat:
19
g
,
Saturated Fat:
1
g
,
Trans Fat:
1
g
,
Sodium:
295
mg
,
Potassium:
257
mg
,
Fiber:
4
g
,
Sugar:
1
g
,
Vitamin A:
74
IU
,
Vitamin C:
1
mg
,
Calcium:
95
mg
,
Iron:
1
mg
I am working with my friends at Diamond of California Nuts to bring you this awesome post because I personally use and love their products!