4-Ingredient crispy BAKED Guacamole Tortilla Chips with guacamole seasoning! So easy to make and healthier than the store-bought version!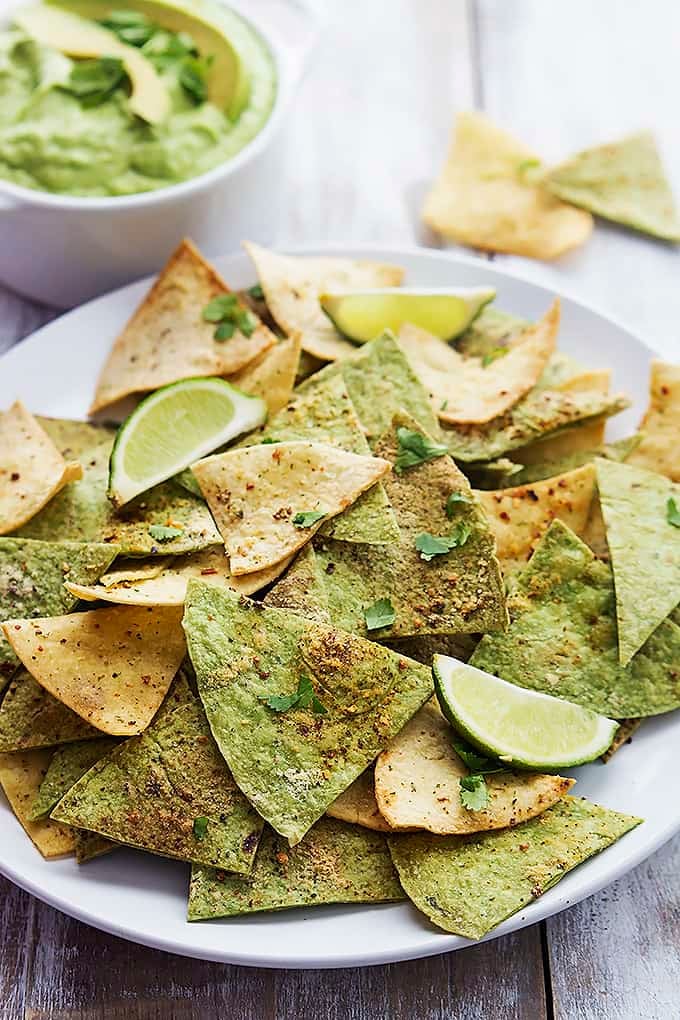 I have this rather bad habit. I'm working on it but… I haven't really kicked it yet. And when I say I'm working on it I mean that I decided just now that I should work on it and that I'm going to. So…. consider this the beginning goal-making stage of the process.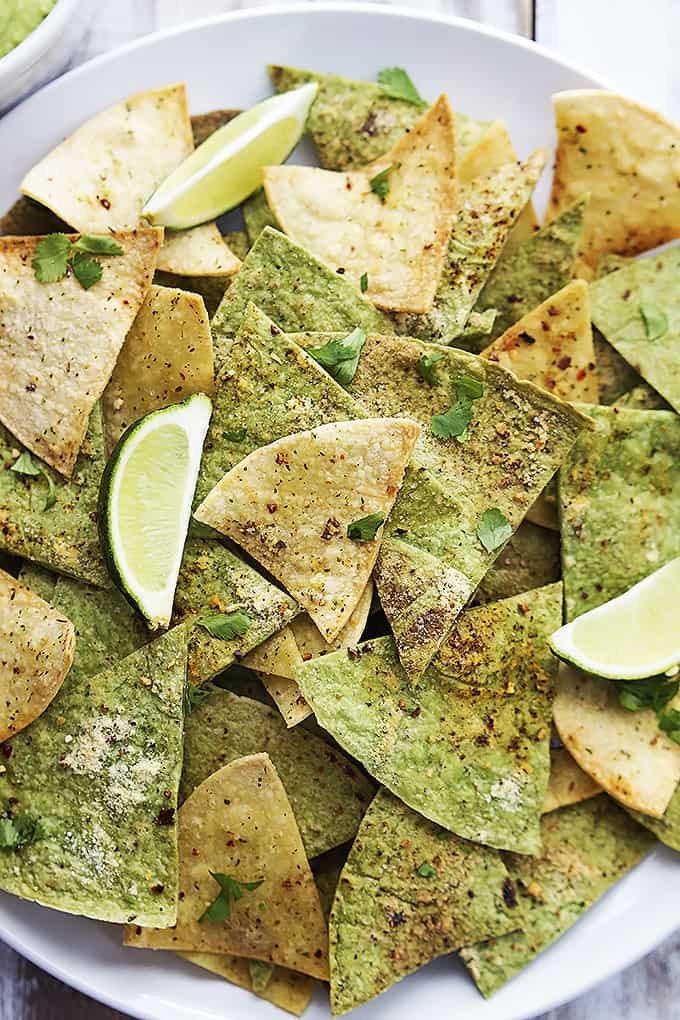 So what's the bad habit? I frequently buy tortillas when I'm grocery shopping, somehow 100% convinced that I need a new package of them, and then get home to find 3 or 4 half-consumed packs waiting for me in my fridge. I suppose the actual 'bad habit' part of all of this is that I don't check to see if I have tortillas in the fridge before I go grocery shopping. And then I get there to the bread aisle and I see all of those tortillas and I think – "oh no, do I need tortillas??"
And since I just can't stand the thought of going a whole week (or 5 minutes because really, the grocery store is literally around the corner…) without tortillas, I buy them.
I told you, it's bad, but I'm trying to kick it.
So a couple of weeks back I had ALL of these tortillas in my fridge and I didn't want to throw them away and I didn't know when I'd get through them all…. so I went all DIY on them and made homemade tortilla chips.
But not just any tortilla chips! BAKED ones. So they're healthier than your average fried store-bought tortilla chip. And because I love all things avocado and lime and salt and YUM, I went ahead and turned these into guacamole flavored tortilla chips. If you've never bought those (I think maybe Tostitos makes them….?? I could be wrong) then you are missing out my friend. They are de-to the -licious. But now you can just make them at home with all of your leftover tortillas.
Can we call this a thrifty recipe?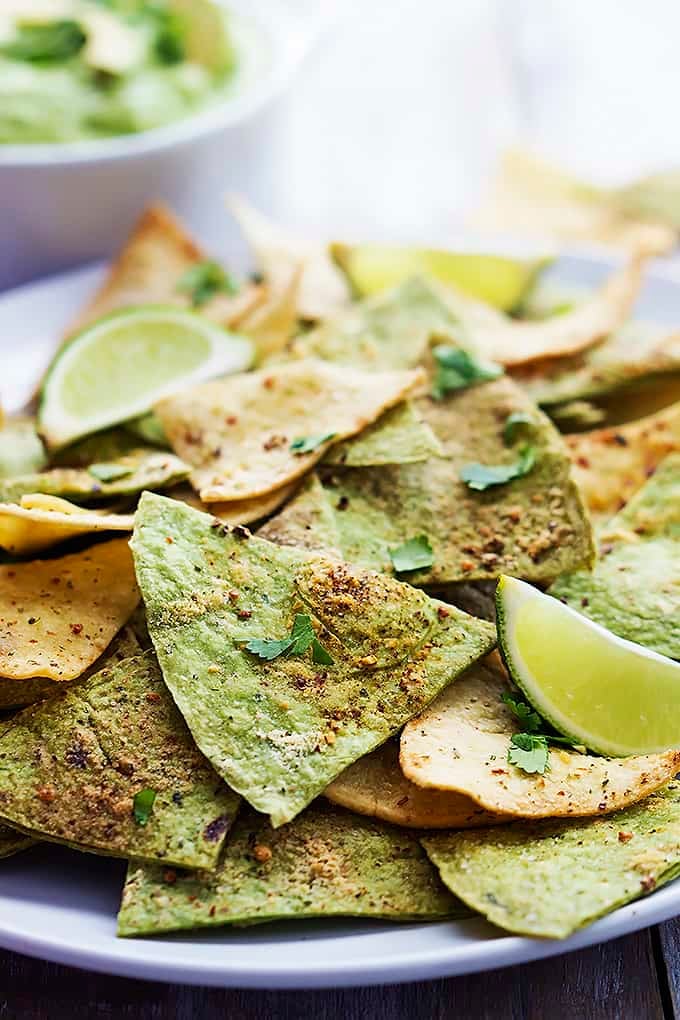 Hungry for more? Try my Best Guacamole recipe next!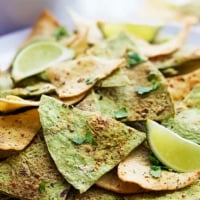 Baked Guacamole Tortilla Chips
4-Ingredient Crispy BAKED tortilla chips with guacamole seasoning!
Ingredients
8-10

6-inch

white or yellow corn tortillas

-

OR flour tortillas (see note)

olive oil

salt

1

packet

guacamole seasoning mix

optional: fresh lime juice
Instructions
Preheat oven to 325 and grease a baking sheet.

Brush both sides of tortillas with olive oil. Use a pizza cutter to cut tortillas into triangles (I found it is easiest to cut the tortillas in half, then cut each half into thirds) Arrange tortilla triangles in a single layer on the baking sheet.

Sprinkle tortillas with salt (to taste) and the guacamole seasoning. (*Optional: squeeze a bit of fresh lime juice over the top).

Bake for 8-12 minutes or until edges just begin to brown. Allow to cool on the baking sheet, then serve with your favorite salsa, guacamole, dip, or straight up! Store in airtight bag or container at room temperature.
Notes
I made these chips using both white corn tortillas and spinach flour tortillas. Corn tortillas will yield chips that more closely resembled the traditional corn tortilla chips you buy at most grocery stores. (Tip: thinner tortillas are best!) The flour tortillas yield a little bit different texture but are equally delicious!
Nutrition
Calories:
113
kcal
,
Carbohydrates:
23
g
,
Protein:
3
g
,
Fat:
1
g
,
Saturated Fat:
1
g
,
Sodium:
23
mg
,
Potassium:
97
mg
,
Fiber:
3
g
,
Sugar:
1
g
,
Vitamin A:
1
IU
,
Calcium:
42
mg
,
Iron:
1
mg