Baked Honey Cilantro Lime Salmon in Foil is cooked to tender, flaky perfection in just 30 minutes with a flavorful garlic and honey lime glaze.

In the mood for more salmon? Try these recipes for Sesame Glazed Salmon and Asparagus, Garlic Dijon Shrimp and Salmon Foil Pack, Baked Lemon Parmesan Salmon and Asparagus, and Baked Thai Pineapple Salmon.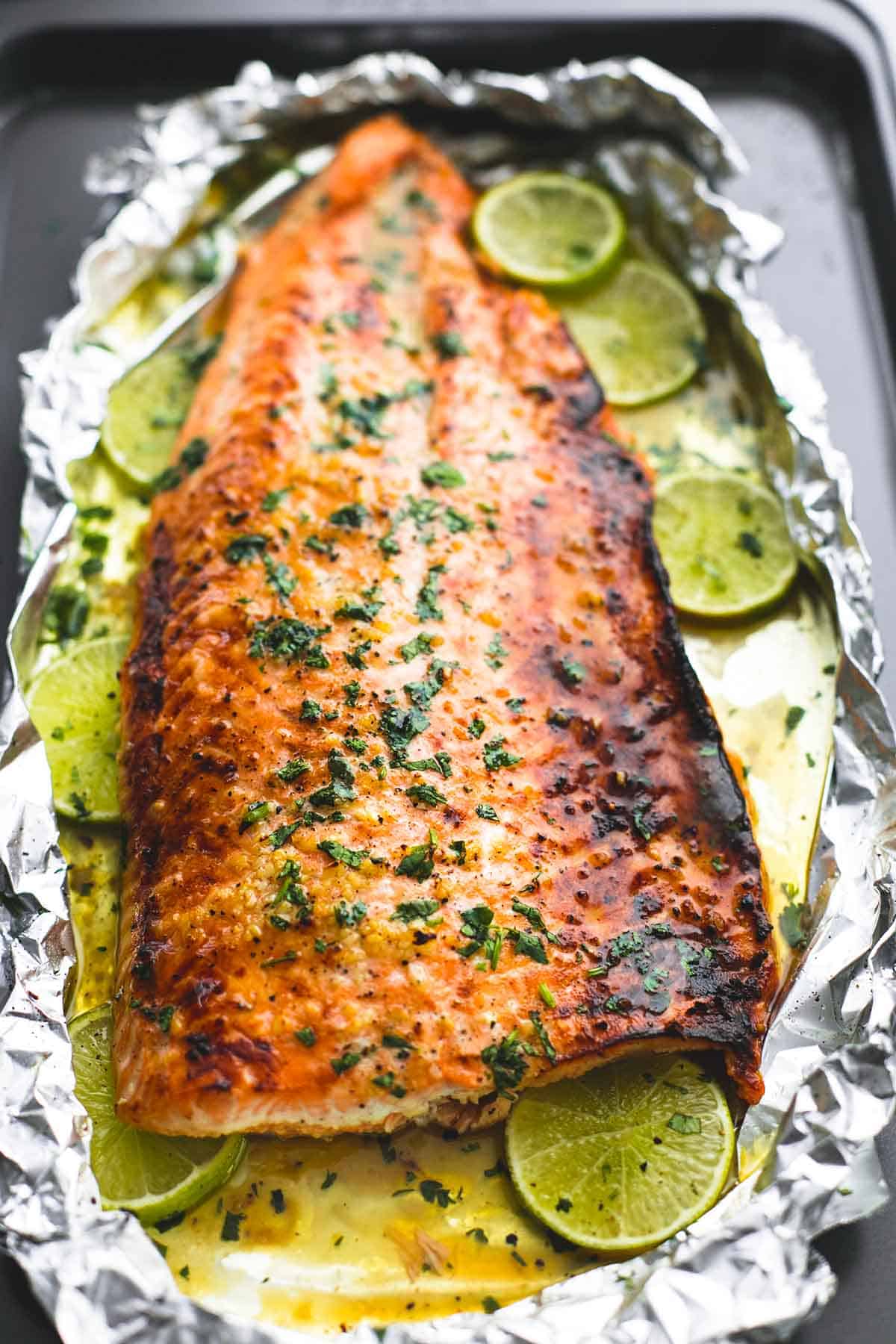 Does cooking fish seem like an overwhelming task to you? How should you cook it? How will you know if it's done? What if it's awful and you wasted all that fish? All these thoughts and more kept me from cooking fish for far too long.
But, at some point, you just need to jump right in right? So, if you haven't cooked fish before, this is the perfect recipe to get you hooked on cooking fish! In addition, this is also the most perfect recipe if you're already a fish-cooking connoisseur. It's as simple and easy as a recipe could possibly be, yet so, SO incredibly tasty.

How tasty you ask? Tasty enough to make my father say it's as good, or even better, than the best restaurant salmon he's ever tried. And that's saying something because my father is a life-long lover and restaurant order-er of salmon.

All of that flavor comes from a simple, 4-ingredient glaze that will Blow. Your. Mind. Seriously — I'm obsessed with this combination of flavors (and soon, you will be too!): melted butter, garlic, freshly squeezed lime juice, and honey.

That's IT. Just pour that good stuff over the salmon, wrap it in foil, and bake it to flaky, tender perfection. This 30-minute meal will turn salmon skeptics into salmon lovers and will win a permanent spot on your regular menu.

Plus, cleanup is a breeze! Reuse that foil to wrap up any leftovers for tomorrow's lunch, or toss the whole thing right in the garbage – no pan scrubbing required.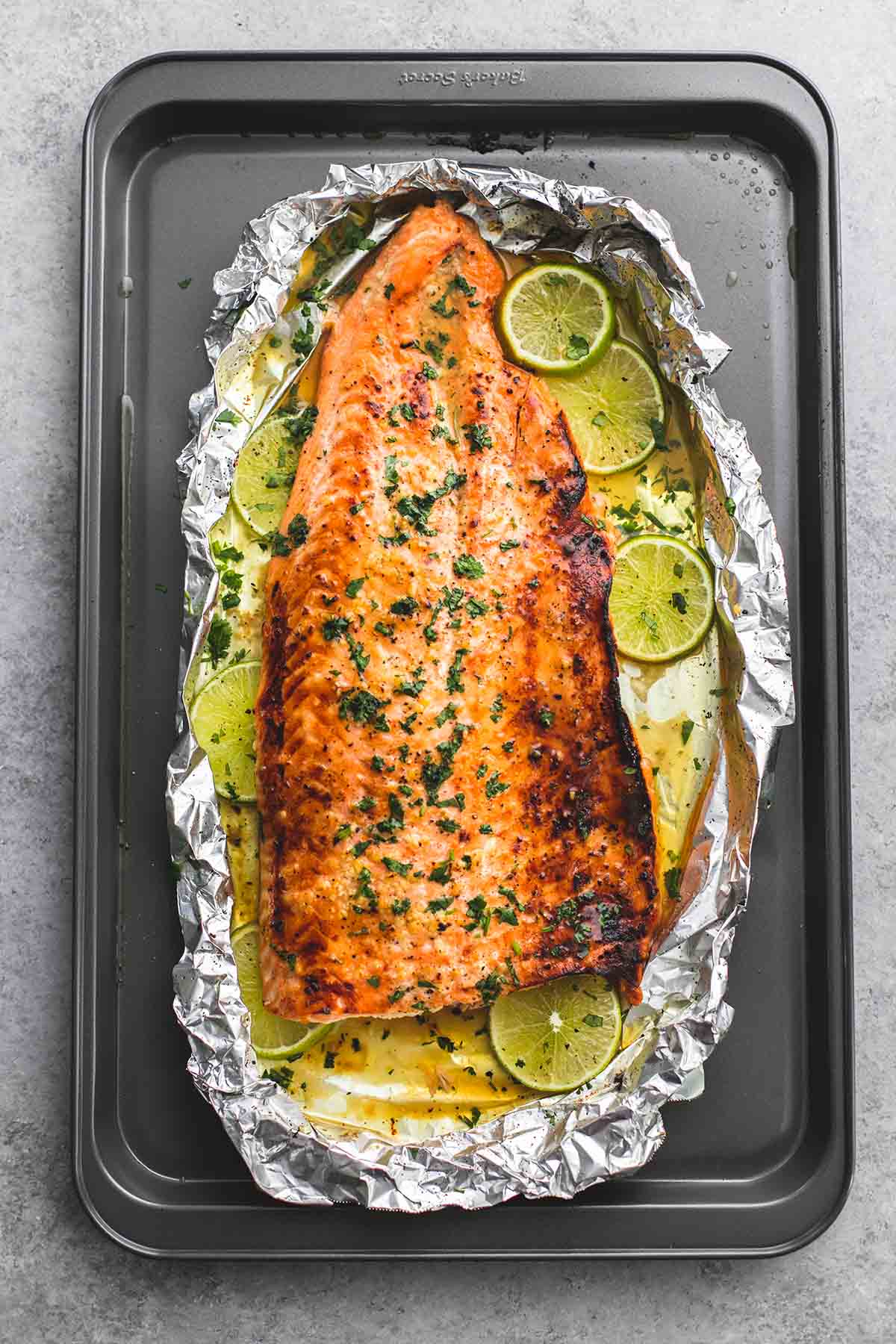 WHAT INGREDIENTS DO YOU NEED TO MAKE HONEY CILANTRO LIME SALMON?

Seven ingredients are all you need to make this sweet and savory salmon!

Large salmon fillet

Salt and pepper

Butter

Limes

Honey

Minced garlic

Cilantro
HOW DO YOU MAKE BAKED HONEY CILANTRO LIME SALMON?
Are you ready to bake up the best salmon of your entire life? Let's get to it!
The first thing to do is preheat the oven to 350 degrees. Next, line and grease a large baking sheet with foil. If you don't have foil, or don't want to use it, no worries, just grease a large baking sheet and proceed to the next steps.
Lay the salmon on the foil/baking sheet and season with salt and pepper on both sides. Place lime slices under the salmon (so you get that lime taste from under and above the salmon!).
Next, stir the butter, lime juice, honey, and garlic together. Pour this mixture over the salmon and fold up the sides of the foil over the salmon. If the sides don't touch, it's okay.
Place in the oven for 15-20 minutes, then change the oven over to "broil" and cook the salmon another 5 minutes under the broiler.
Serve sprinkled with chopped cilantro, if desired.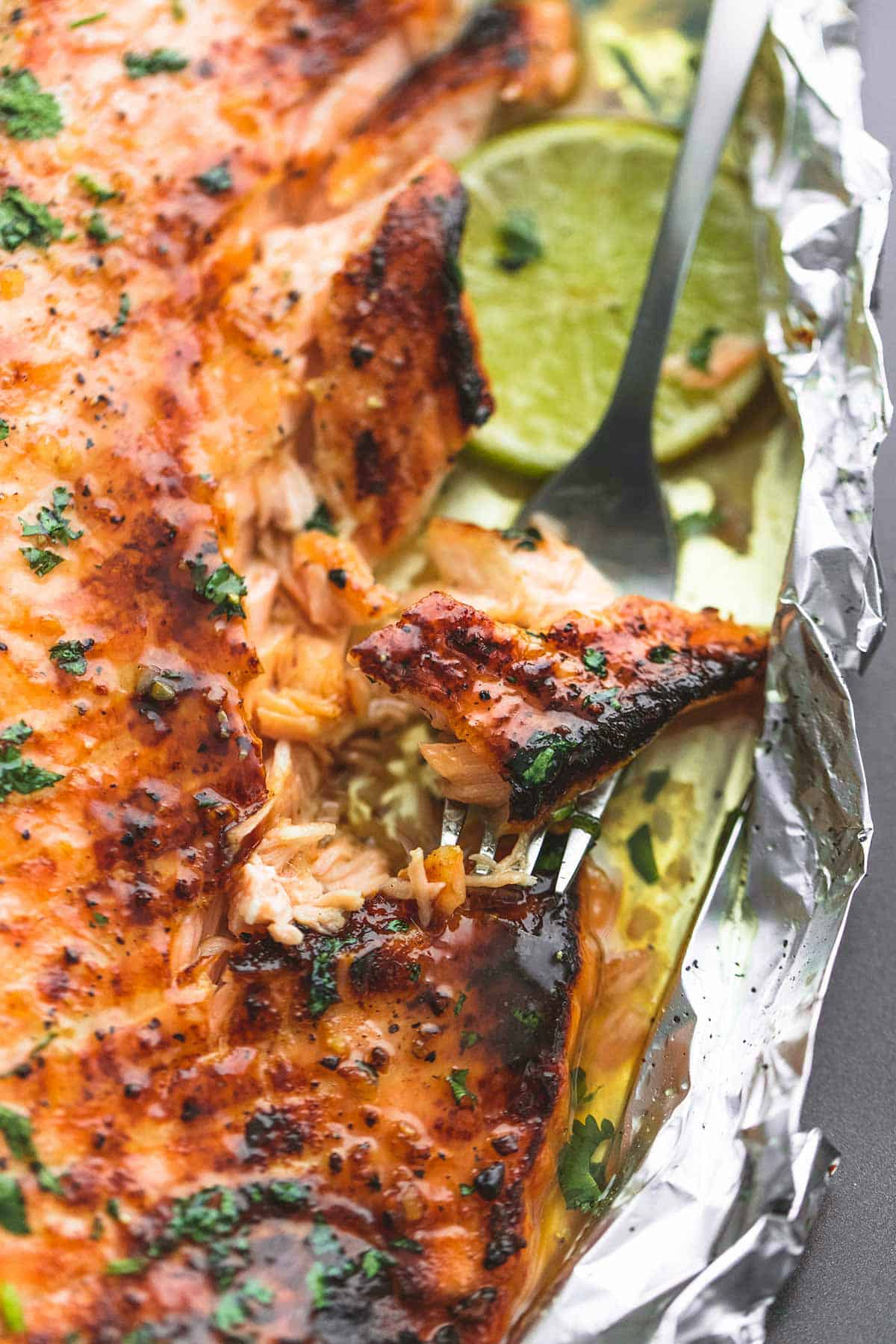 TIPS & TRICKS FOR BAKING SALMON

If you don't have a huge salmon fillet, don't worry about it. This recipe works for a large salmon or a couple of medium-sized fillets, or even several small fillets. Just watch the cooking of smaller pieces so that they don't overcook.

Salmon already has a high fat content and can cook in its own fat just fine if you don't want to add all the butter. Cut the butter back to just 4 tablespoons and it'll still taste amazing — if not quite as buttery.

Be sure to bake the salmon skin-side down (if yours has skin) and leave the skin on. The skin creates a barrier between the cooking element and the flesh. So, if anything happens to stick to the foil, it'll be the skin, and it'll also be so easy to take right off once baked.

If you aren't cooking one big fillet, try to cook up smaller pieces or fillets that are about the same size, that way you won't overcook some and undercook others.

To help the seasonings stick to the salmon, pat the salmon dry before adding salt and pepper. That will make the skin get crispy too, and help keep the salmon moist.
DO YOU HAVE TO WASH SALMON BEFORE COOKING?
You don't have to wash your salmon per say, but I do give mine a little rinse under cold water and then pat dry with a paper towel before putting it on the baking sheet. This helps to "freshen" up older (not expired, but not just-caught-from-the-ocean, either) fish and makes your seasonings stick better for cooking.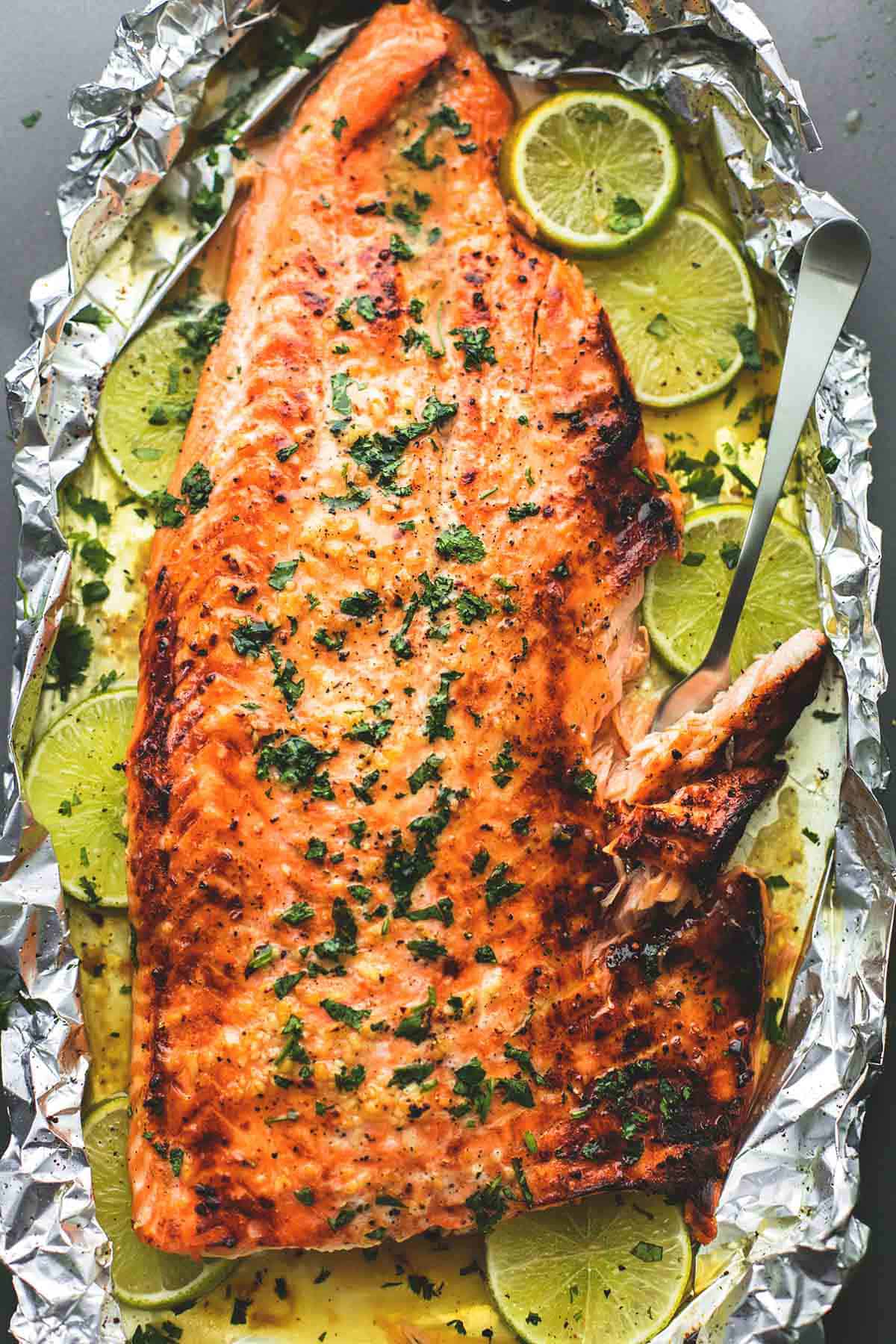 Here's what people are saying about this Honey Cilantro Lime Salmon
"I rarely leave reviews but this one is worth my time to review! I've made this about 4 times now and it is DELICIOUS! My kids won't order salmon out now because they "only like it the way i make it" using your recipe." – Tessa
"This recipe is SO flavorful. My family and I couldn't stop eating it!" – Carol
"I made this recipe tonight and believe me, this will be the only way I will eat salmon ever again." – Nick
"A friend served this for dinner last night and it was amazing! Best salmon I've ever had and I eat salmon all the time." – Frances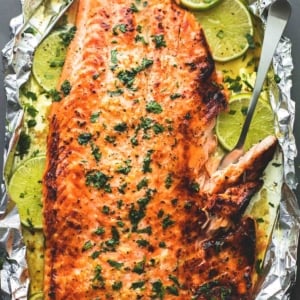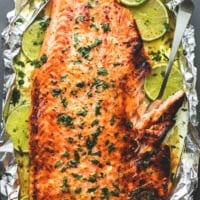 Baked Honey Cilantro Lime Salmon in Foil
Baked honey cilantro lime salmon baked in foil is cooked to tender, flaky perfection in just 30 minutes with a flavorful garlic and honey lime glaze.
Ingredients
1

large

salmon fillet

-

(see note)

salt and pepper

-

to taste

½

cup

butter

-

melted (see note)

juice of 2 limes

-

(plus one lime, thinly sliced)

4

tablespoons

honey

1

tablespoon

minced garlic

⅓

cup

cilantro

-

roughly chopped
Instructions
Preheat oven to 350 degrees. Line and grease a large baking sheet with foil. Lay salmon on foil and season with salt and pepper on both sides to taste. Slip lime slices underneath the salmon.

Stir together butter, lime juice, honey, and garlic. Pour mixture over salmon. Fold sides of foil up over the salmon (don't worry if it doesn't cover the salmon completely).

Bake for 15-20 minutes. Switch oven to broil and cook another 5 minutes. Sprinkle chopped cilantro over the top and serve.
Notes
Don't stress about the size of your salmon fillet. This recipe is very forgiving and works for one very large salmon, a couple of medium-sized fillets, or even several small individual fillets.
For an even lighter version, you can cut back the butter to 4 tablespoons instead of a half cup (8 tablespoons). Keep in mind though that for a very large salmon fillet like the one I used, 8 tablespoons is not a terribly huge amount when divided between 4-6 servings.
Nutrition
Calories:
299
kcal
,
Carbohydrates:
13
g
,
Protein:
35
g
,
Fat:
11
g
,
Saturated Fat:
2
g
,
Cholesterol:
96
mg
,
Sodium:
97
mg
,
Potassium:
877
mg
,
Fiber:
1
g
,
Sugar:
12
g
,
Vitamin A:
161
IU
,
Vitamin C:
1
mg
,
Calcium:
47
mg
,
Iron:
1
mg