This Best Quick Pork Marinade is all you need to flavor your next pork tenderloin. A little bit tangy, a little spicy, garlicky, and full of Italian herbs and spices, this marinade will keep your meat tender and your mouth watering. Try this easy tasty pork tenderloin recipe tonight!
Looking for more quick marinades? Search no further, I have amazing ones right here for Grilled Shrimp (Marinade), my Best Quick Steak Marinade, and Best Easy 5 Ingredient Chicken Marinades.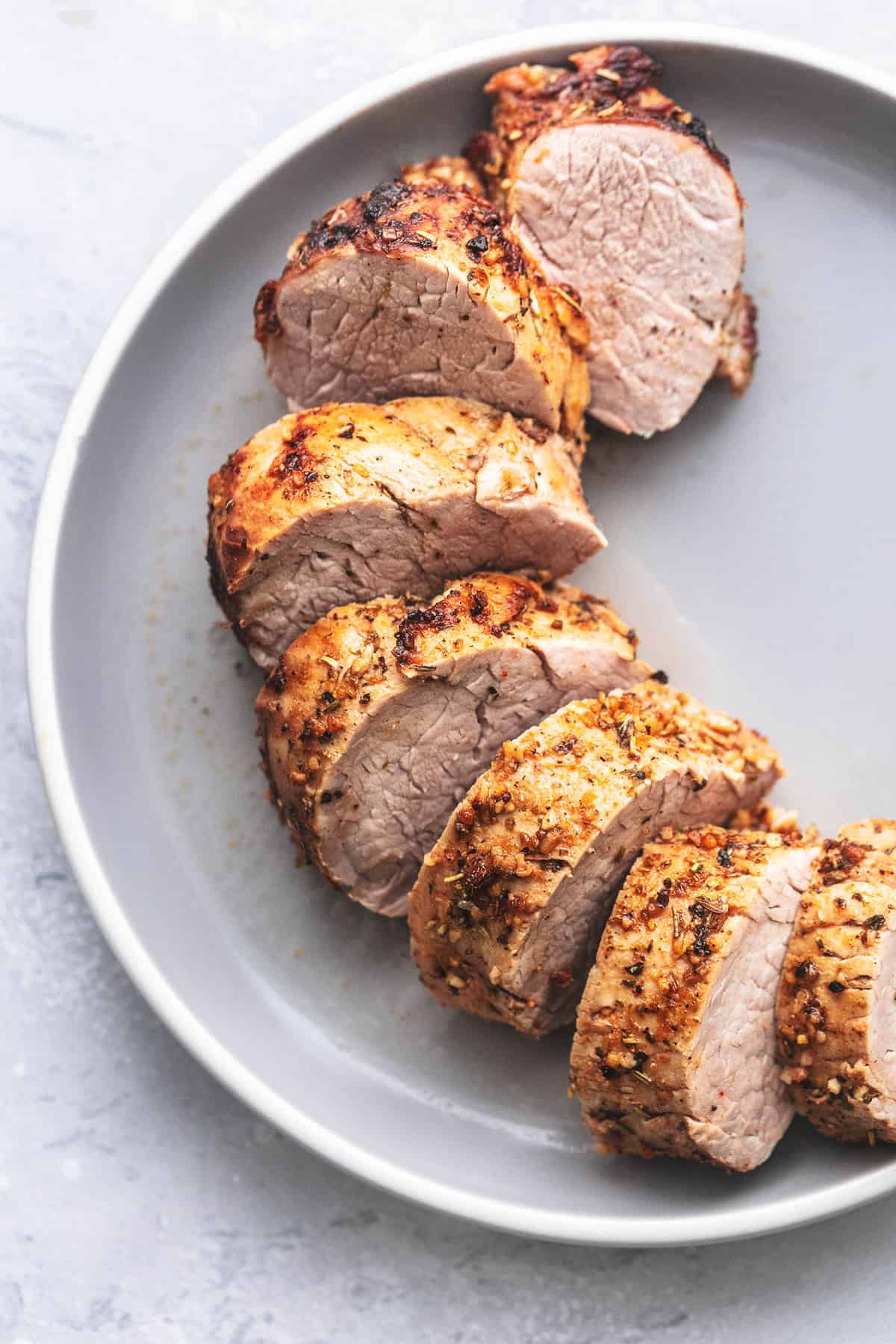 Marinades are the perfect vehicle for tenderizing and flavoring meat for a taste and texture that is all at once soft, tender, juicy, and downright delicious. I love a good pork tenderloin, (like my Baked Pork Tenderloin with Potatoes and Gravy) and these days I'm all about quick and easy flavorings.
This marinade was inspired by a friend of mine who insists all she needs is a good bottle of Italian dressing to make a quick marinade for pork. I agree, that's about as quick and easy as it gets. But Italian dressing on its own lacks the deep flavors I want to taste in a pork tenderloin. I want some tang from vinegar. I want to really, truly taste the garlic and not just a hint of it. Essentially, I like the idea behind using Italian dressing, and I like the herbs and spices in the dressing, but I wanted to both kick it up a notch and control the exact flavors of the meat.
All this is to say, this easy pork marinade has been tweaked several times to produce the exact right taste that I believe will make your pork tenderloin taste delicious and work however you choose to eat it — by itself, on top of rice or noodles, sliced thinly and placed atop a bed of lettuce — the only limits are your own imagination.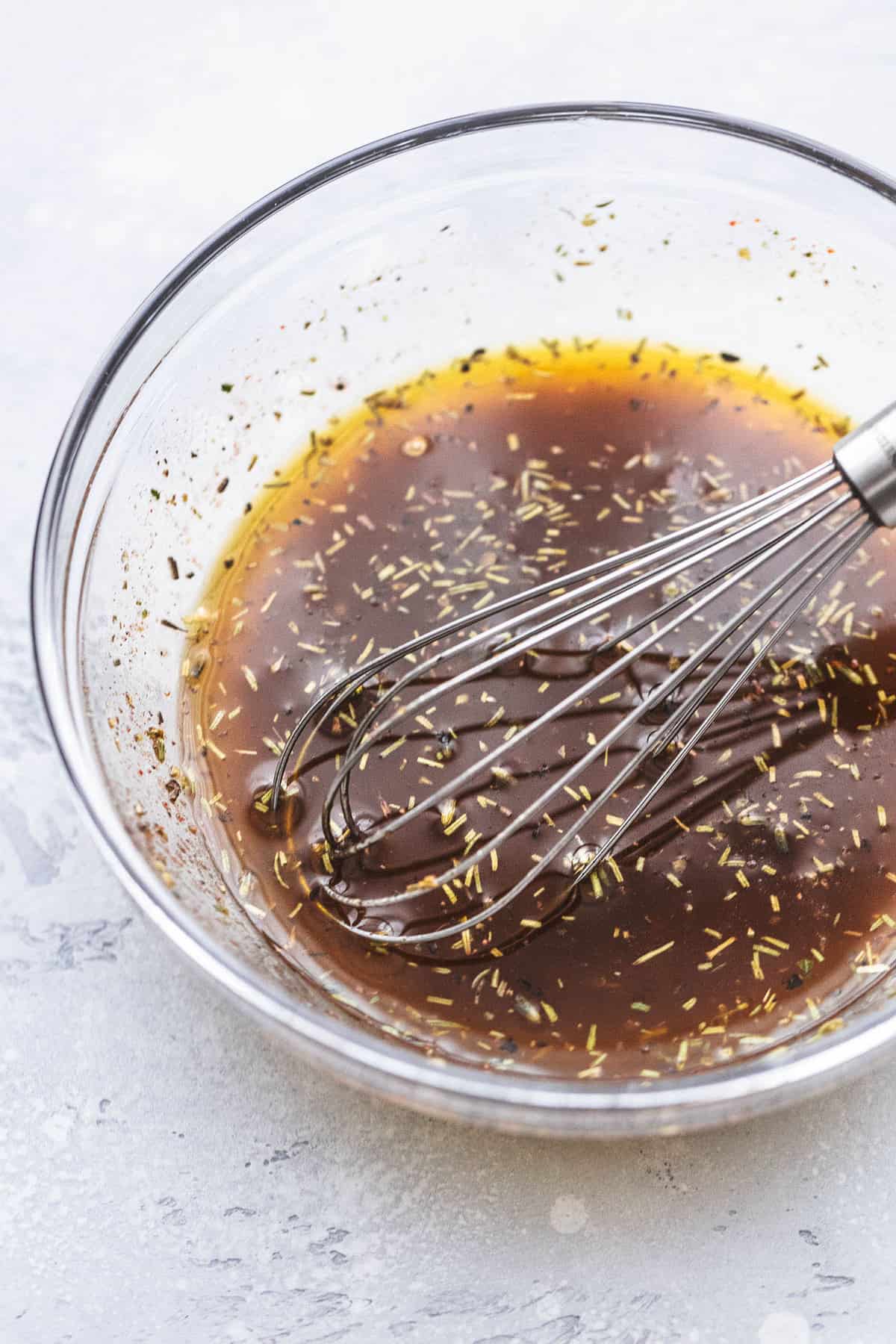 HOW DO YOU MAKE A QUICK PORK MARINADE?
You can marinade pork with lots of ingredients you probably already have on hand in your pantry or fridge.
Simply pour the olive oil, apple cider vinegar, garlic, salt, pepper, and other spices into a mason jar or another jar with a tight-fitting lid. Shake well and pour the marinade into a ziplock bag along with the tenderloin.
You can marinade the tenderloin for at least 30 minutes up to overnight.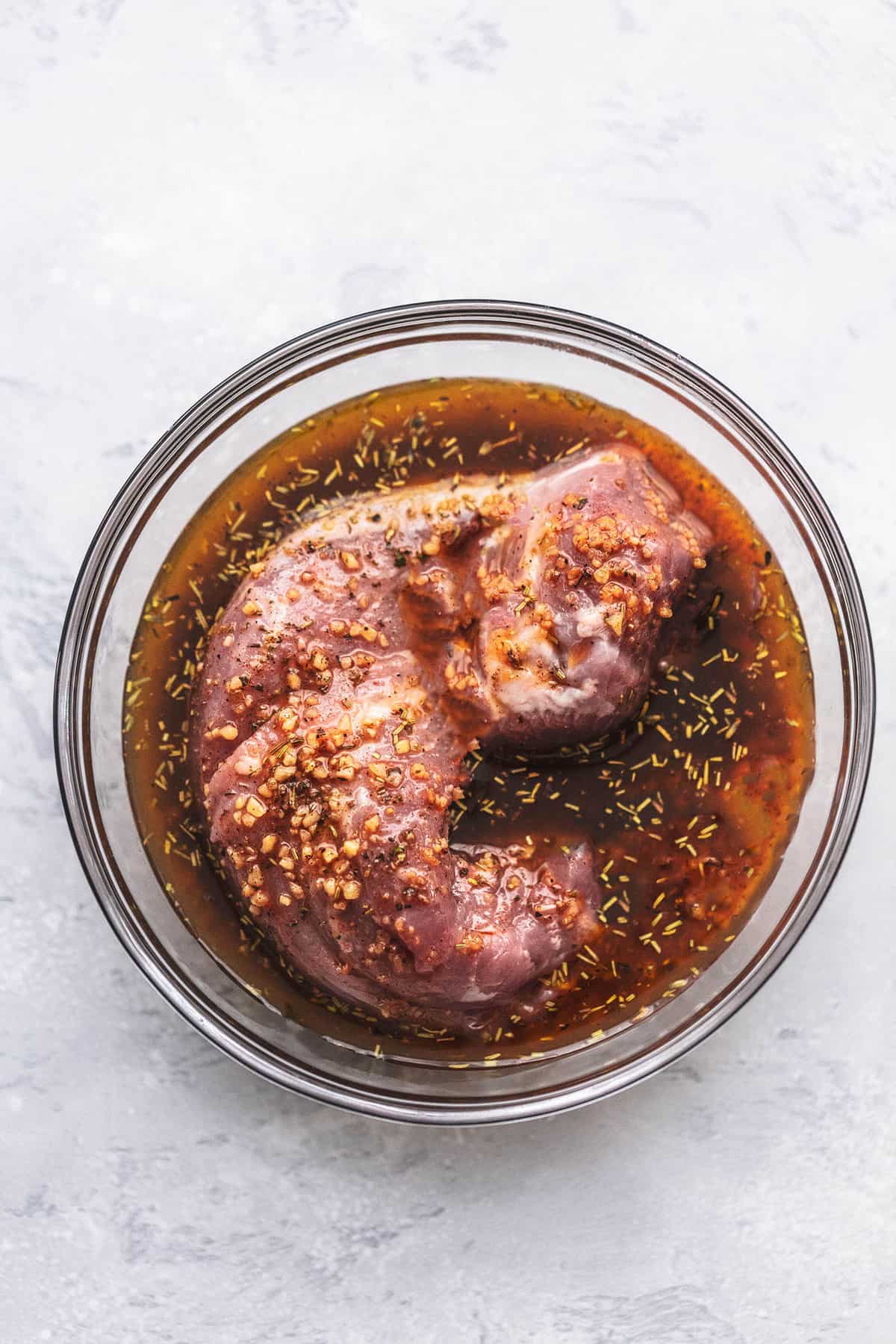 WHAT IS APPLE CIDER VINEGAR?
Apple cider vinegar is vinegar made from apples that have fermented. So basically, the alcohols that apples give off when they are all juiced up and break down turn the juice into vinegar. Kind of like wine and grapes. Except that the apple juice is given a boost to breaking down by having bacteria and yeast added to it to help the sugars convert to alcohol. Acids in the juices give the vinegar its sour taste.
WHAT TEMP SHOULD A PORK TENDERLOIN BE COOKED TO?
Pork tenderloin needs to be cooked to an internal temperature of 145 to 160 degrees depending on if you like it medium rare or medium. If you like, you can have the meat rest for another 10 minutes and the internal temperature will rise another 10 degrees. Use a meat thermometer to test for doneness.
IS IT OKAY FOR PORK TENDERLOIN TO BE A LITTLE PINK?
It all depends on how you like your pork. It's okay if it's a little bit pink inside, but you don't want it to look red or bloody at all, that means it isn't done and should go back into the oven for another 10 minutes or so. I prefer mine to not be pink on the inside and I cook it all the way through.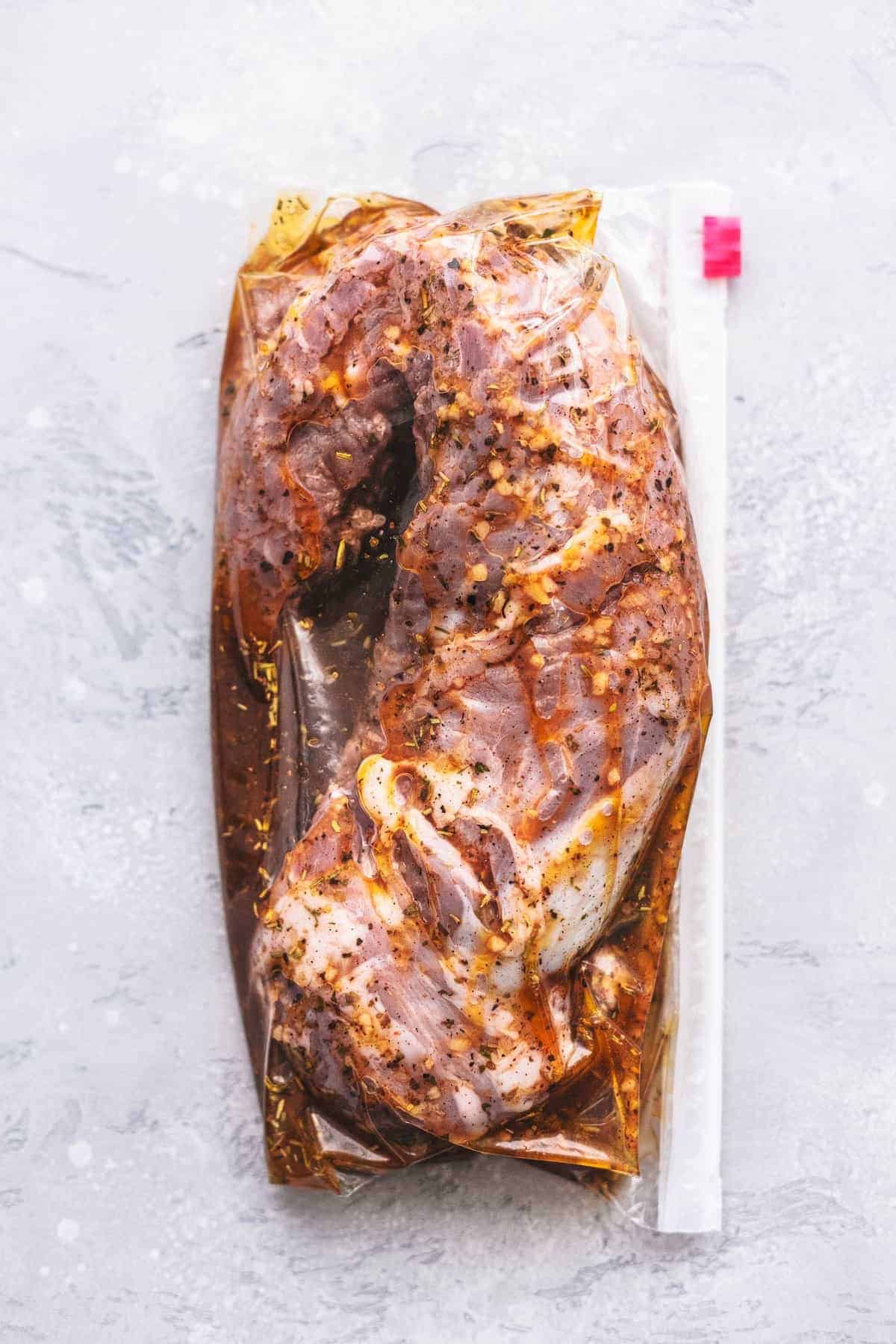 HOW MANY MINUTES PER POUND DO YOU COOK A PORK LOIN?
As a general rule, a pork tenderloin needs about 20 minutes per pound at 400 degrees. So, depending on how big your tenderloin is, you can do some easy math to figure out how long to cook it in the oven.

When grilling pork tenderloin, you'll need to cook it for less time, it should only take about 15 minutes to get the two pounds of pork tenderloin cooked through thoroughly.
I think you'll find this Quick Pork Marinade to be the best marinade you've ever tasted.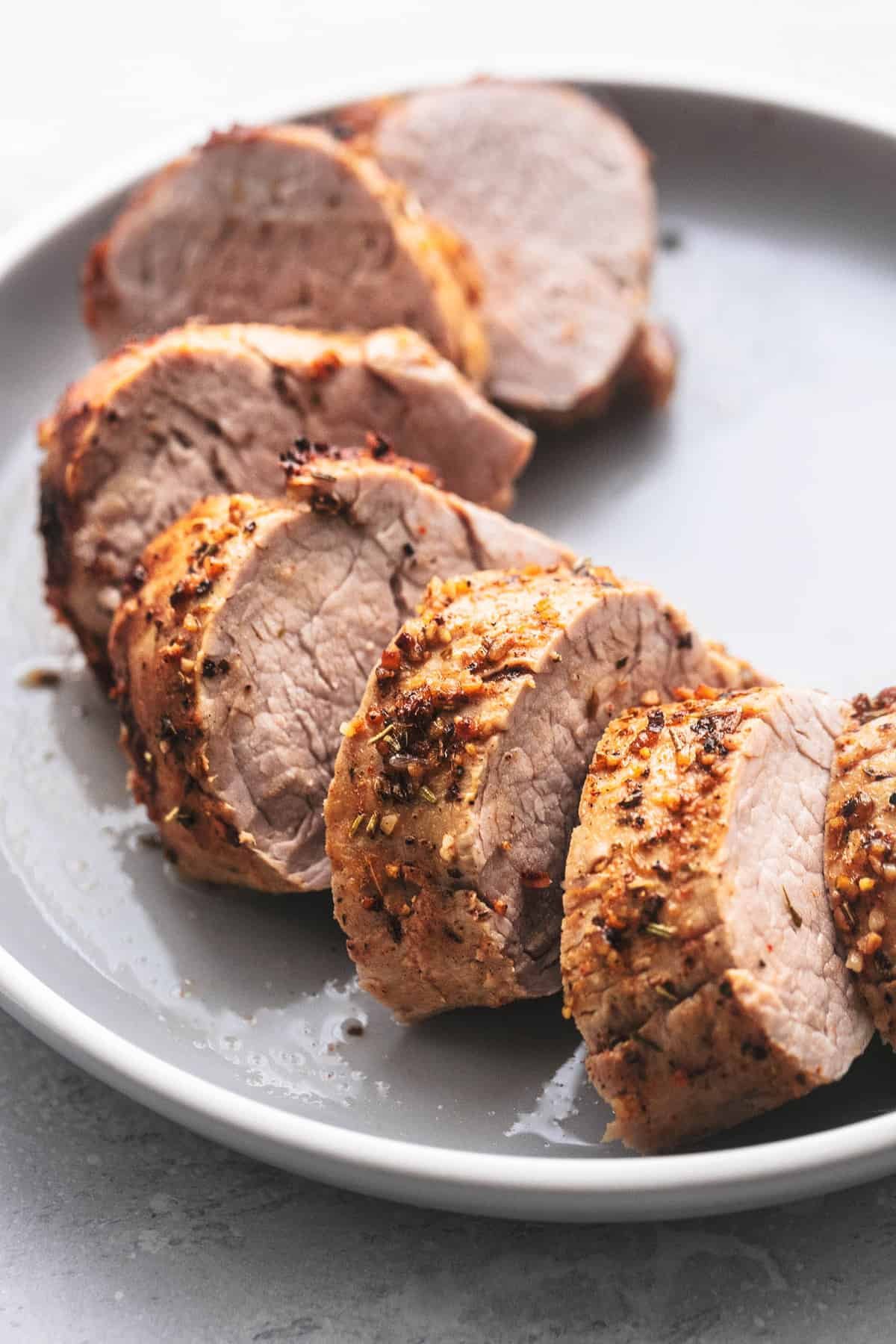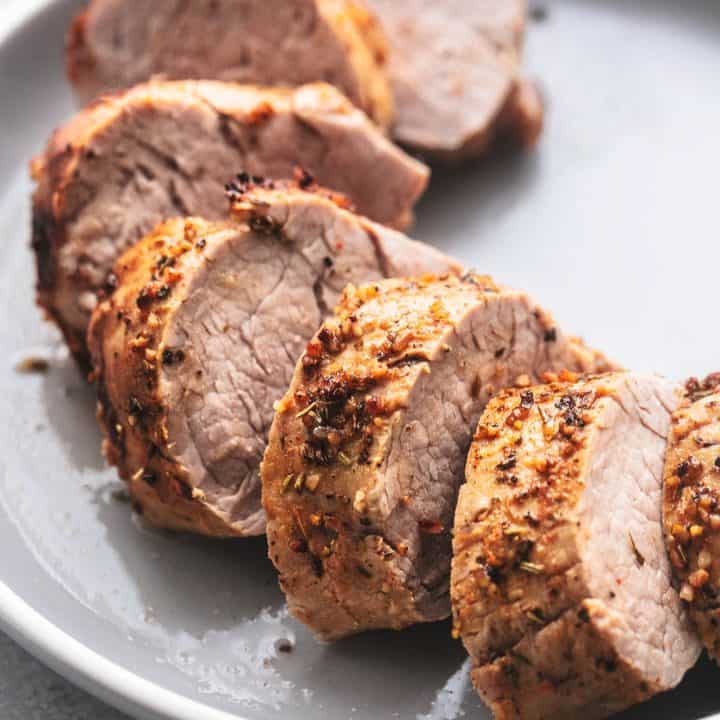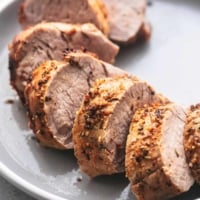 Best Quick Pork Marinade
Look no further for the very BEST Quick Pork Marinade you'll ever try. Garlic, herbs, and citrus make this the most tasty, juicy pork tenderloin ever!
Ingredients
½

cup

olive oil

½

cup

apple cider vinegar

2

teaspoons

minced garlic

-

OR 1 teaspoon garlic powder or roasted garlic powder

2

teaspoons

salt

½

teaspoon

pepper

1

teaspoon

onion powder

½

teaspoon

smoked paprika

-

non-smoked will work fine too

3

teaspoons

Italian seasoning

-

OR Herbs de Provence

2

pounds

pork tenderloin
Instructions
Combine all marinade ingredients (except for pork) in a jar, cover and shake vigorously.

Pour marinade into a ziploc bag along with the pork, press out as much of the excess air as you can, then seal the bag and chill for 30 minutes.
For Baking
Transfer pork to a baking dish and pour half of the marinade over the pork. Bake at 400 degrees for about 40 minutes or until no longer pink in the middle. Slice and serve.
For Grilling
Wrap pork in foil and grill for 15 minutes, turning throughout to ensure even cooking. Unwrap, place directly on the grill, and continue to grill until completely cooked through and no longer pink in the middle. Slice and serve.
Notes
Serving suggestion: I love to serve this pork tenderloin alongside a salad and some rice pilaf or roasted potatoes. 
Nutrition
Calories:
522
kcal
,
Carbohydrates:
1
g
,
Protein:
47
g
,
Fat:
35
g
,
Saturated Fat:
6
g
,
Trans Fat:
1
g
,
Cholesterol:
147
mg
,
Sodium:
1284
mg
,
Potassium:
934
mg
,
Fiber:
1
g
,
Sugar:
1
g
,
Vitamin A:
129
IU
,
Vitamin C:
1
mg
,
Calcium:
23
mg
,
Iron:
3
mg