Crispy and spicy buffalo-flavored popcorn chicken! Baked – not fried! They require just a few ingredients and only 30 minutes!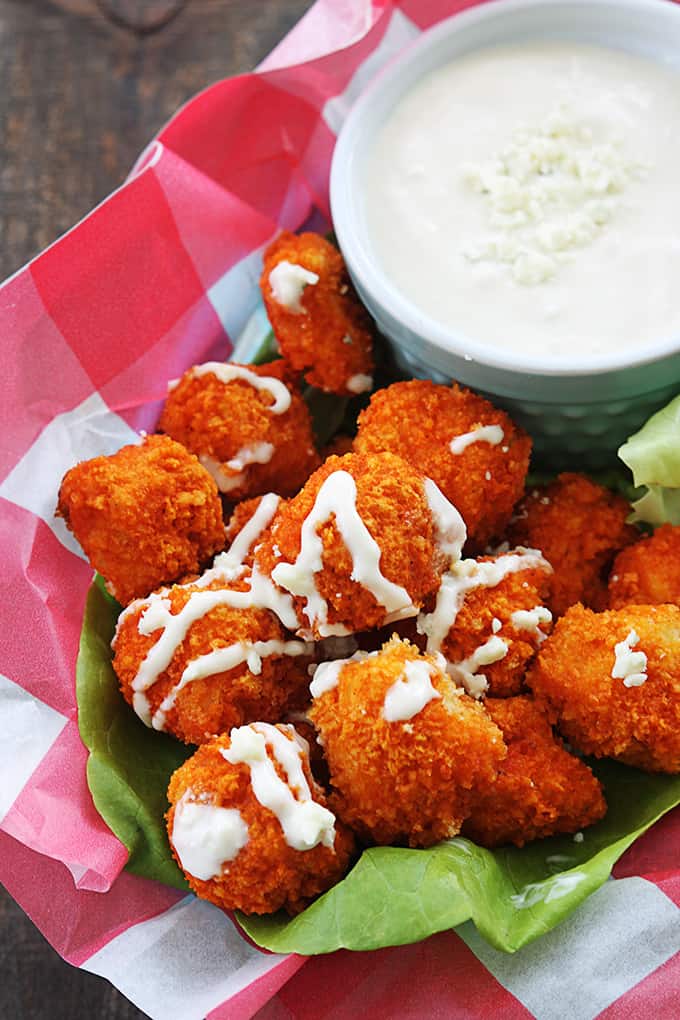 Let me just apologize now for the slightly crazy color of this buffalo popcorn chicken. Cross my heart there was no photoshop trickery involved here. Seriously though. They're like, fluorescent, it's almost unnatural. It looks like I fished through the Dorrito bag to find all of the cheesiest and most thickly-coated chips I could possibly find, crushed them up, and dipped a bunch of itty bitty chicken pieces in them. I swear I didn't do that.
Although now that I think about it…. that kind of sounds intensely delicious. Recipe to come!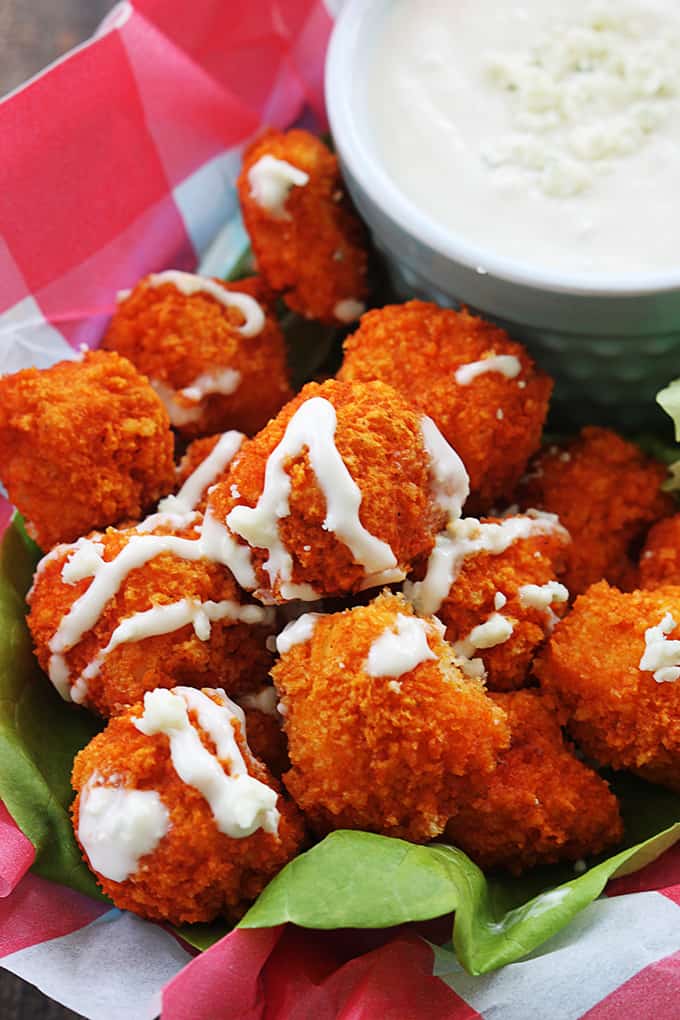 Oh great, now you're in the mood for Dorritos. There are no Dorritos in this recipe, I'm sorry! Only buffalo-saucy goodness. They should make Dorritos in buffalo flavor.
Dorritos-flavor-deciders are you taking notes?? This is good stuff here.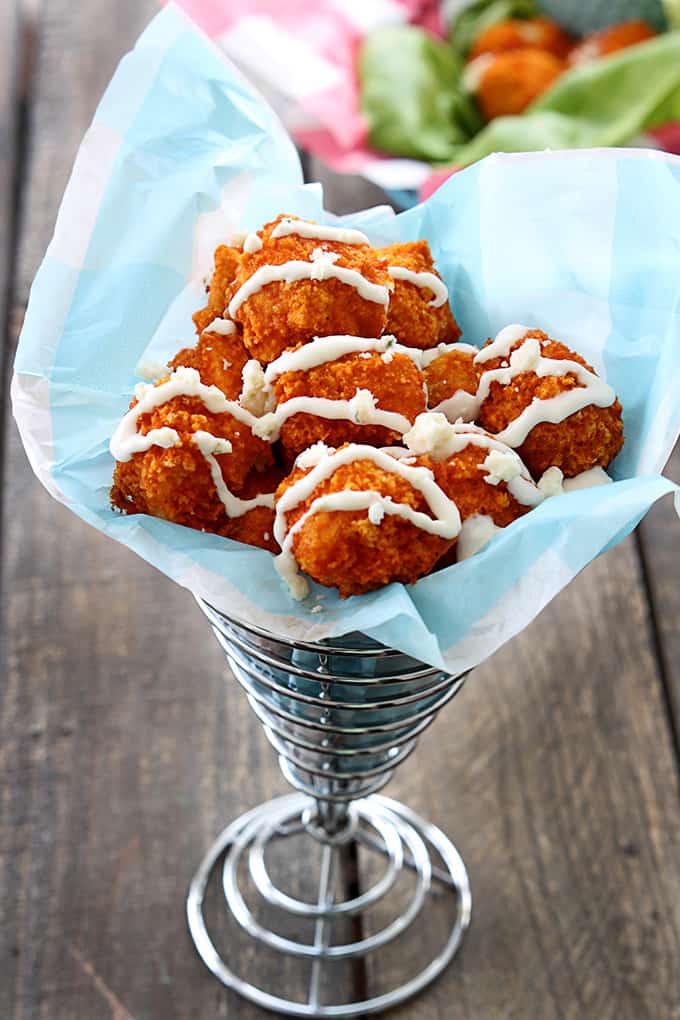 I just can't get over the blinding bright color of these chicken bites. Don't play hide n' seek while holding these, you'll lose for sure.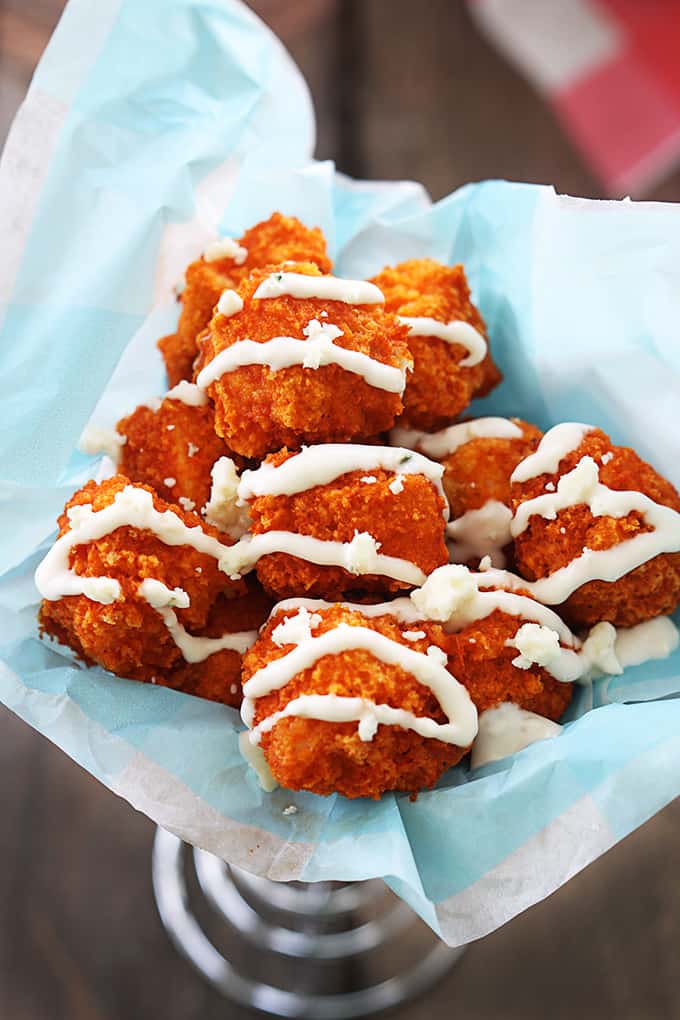 But hey if you can't find reflectors for your bicycle for your midnight ride, I've gotcha covered.
They are almost obnoxiously bright red but I swear there is nothing obnoxious about their deliciousness. They are addictively good. And soooooo so easy.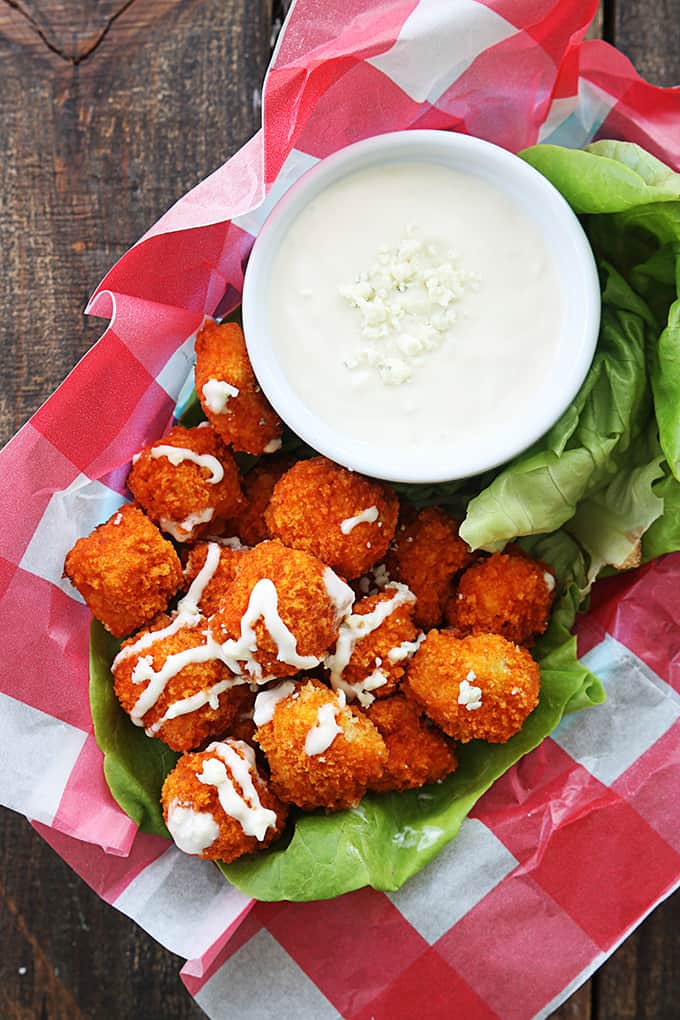 Don't be afraid of the 4-bowl dipping method, it sounds complex but is not. In fact it just simplifies the whole process. You just put the stuff in a few little bowls and then dip down the row like an assembly line, it's awesome. Fast track to yummy buffalo popcorn chicken. And isn't popcorn chicken so cuuuute? Almost too cute to eat!
Almost.
And there is no frying involved! So your clothes will be spared of grease splatters and your diet does not have to be derailed, yet the crispiness will blow your mind. Really, it will.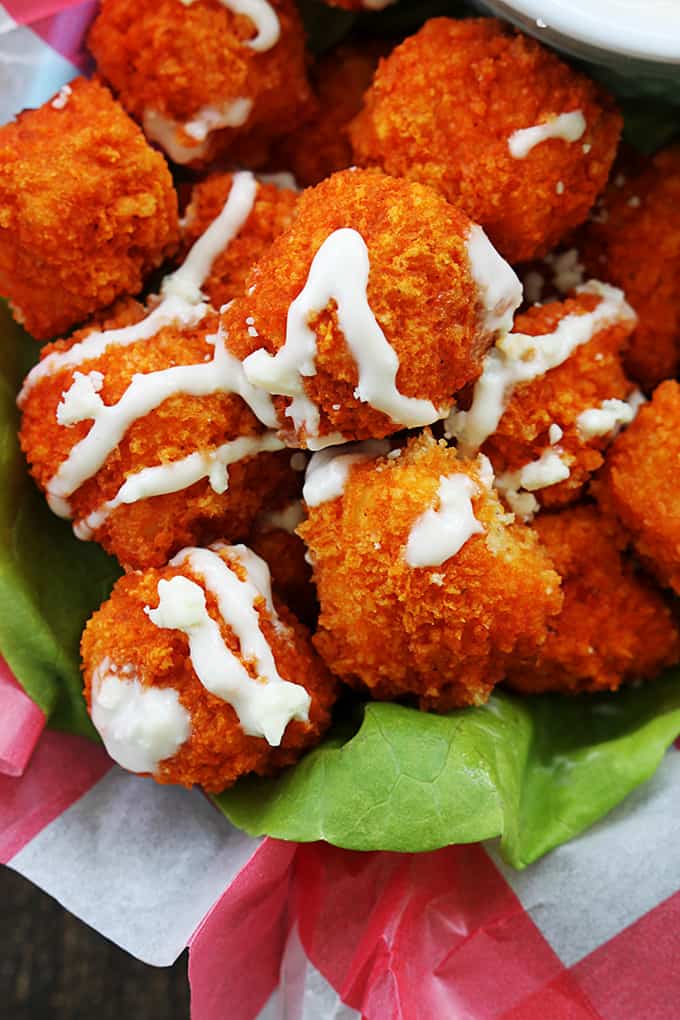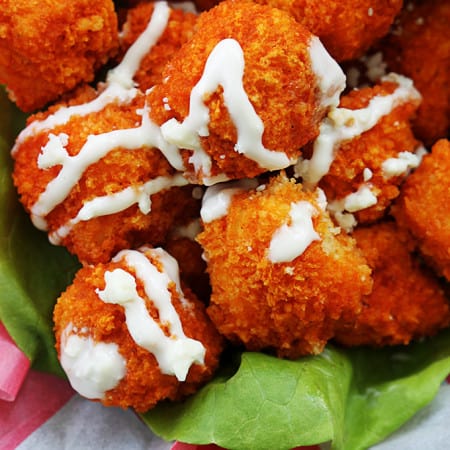 Buffalo Popcorn Chicken
Crispy and spicy buffalo-flavored popcorn chicken! Baked – not fried! They require just a few ingredients and only 30 minutes!
Ingredients
3-4

boneless skinless chicken breasts

½

cup

flour

salt and pepper to taste

3

eggs

1

tablespoon

water

⅓

cup

plain bread crumbs

1

cup

panko bread crumbs

2

cups

Frank's buffalo wing sauce
Instructions
Preheat oven to 425. Spray a large baking sheet with cooking spray.

Pound the chicken breasts to 1/2 inch thickness. Chop into small 1/2-inch pieces.

Add flour and salt and pepper to taste to a small bowl and stir to combine. Whisk together the eggs and water in a second small bowl.

Combine bread crumbs and panko bread crumbs in a third small bowl and stir to combine. Place buffalo sauce in a fourth small bowl.

Toss the chicken pieces in the flour mixture. Next dip them in the egg wash bowl. Third, toss them in the bread crumbs. Lastly, dip the breaded chicken pieces in the buffalo sauce and place them 1-2 inches apart on prepared baking sheet. Once all of the chicken is on the baking sheet, spray with cooking spray.

Bake chicken bites for about 15-20 minutes until the chicken is cooked through and the outside is crispy.

Serve with blue cheese dressing (or ranch) and sprinkle with blue cheese crumbles if desired.
Notes
Serve with your favorite ranch or blue cheese dressing for dipping. 
Nutrition
Calories:
295
kcal
,
Carbohydrates:
29
g
,
Protein:
27
g
,
Fat:
7
g
,
Saturated Fat:
2
g
,
Trans Fat:
1
g
,
Cholesterol:
177
mg
,
Sodium:
4001
mg
,
Potassium:
423
mg
,
Fiber:
2
g
,
Sugar:
2
g
,
Vitamin A:
204
IU
,
Vitamin C:
1
mg
,
Calcium:
69
mg
,
Iron:
3
mg