Rave reviews have been pouring in for years for this better-than-take-out Chicken Pad Thai. It's a quick-and-easy family favorite ready in just 30 minutes!
If you love this better-than-takeout Chicken Pad Thai, you'll love Sticky Chinese Lemon Chicken, Best Fried Rice, Sheet Pan Sweet Fire Chicken, and Slow Cooker Broccoli Beef too!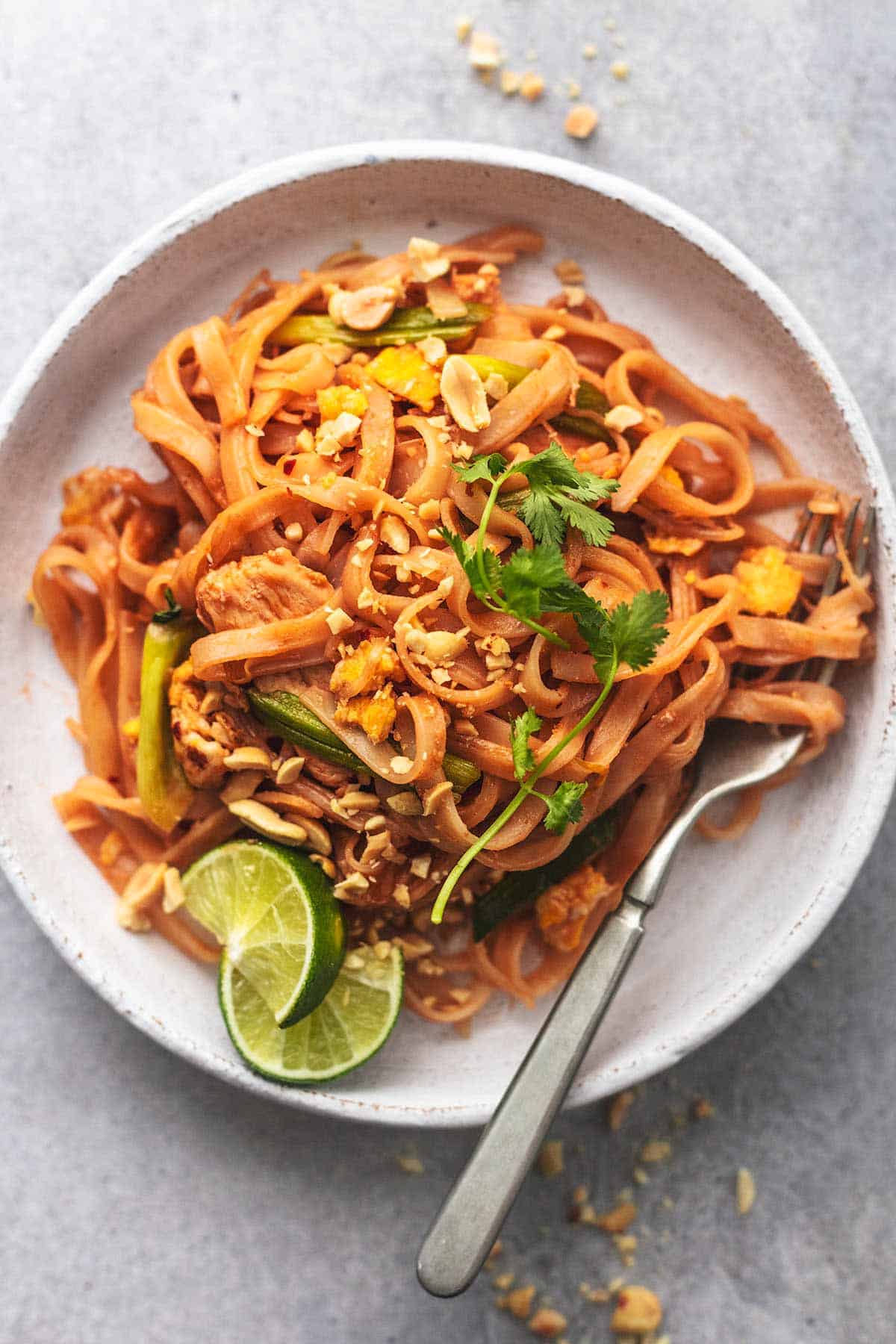 I always thought that I preferred lo-mein over other Asian noodle dishes, until the day I tried Pad Thai. Where had this heavenly dish been all of my life? When I met my husband, I was overjoyed to find out he was a Pad Thai lover as well — a match made in heaven!
I've made this dish with shrimp before (Best Pad Thai Recipe with Peanut Sauce,) which is a pretty common way of serving it. Sometimes though, you just don't have shrimp on hand so chicken comes to the rescue. Which is pretty much exactly what happened when I made this chicken pad Thai. The result? Big. Fat. Success. My husband raved about it!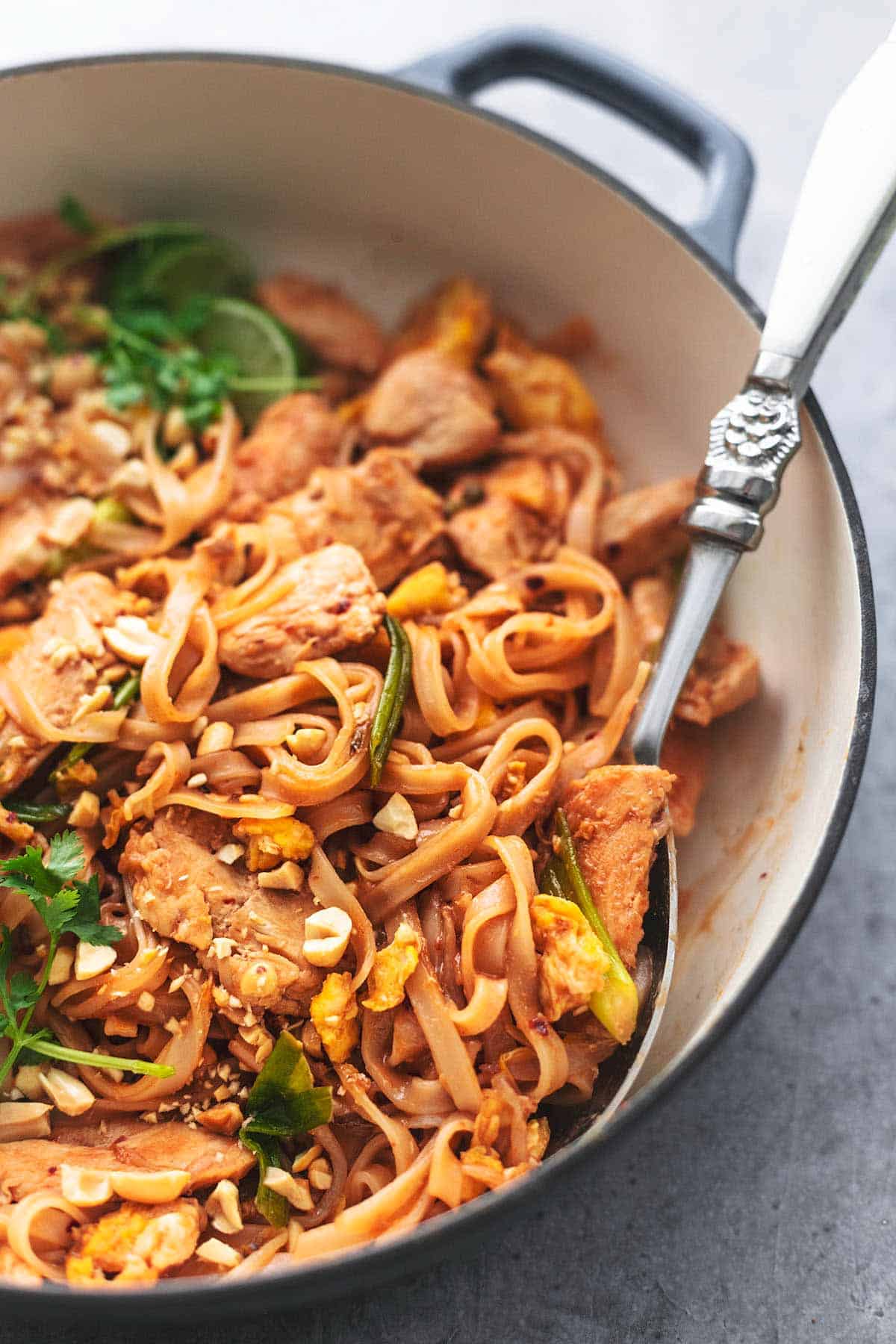 Why This Recipe Works
This Chicken Pad Thai recipe has been bringing in rave reviews for years, let me tell you why.
Minimal prep time:

Just boil the noodles, cook the chicken, whisk together the sauce, and throw everything in a pan. Bata-bing-bata-boom! Dinner is served.
Simple-to-find ingredients

: Even the rice noodles can be found at just about every grocery store chain. Look in the Asian or international section if you're not sure where to find them.

Easy to customize:

No bean sprouts? No problem, use shredded cabbage or finely chopped broccoli — get creative with what you have on hand.

Vegetarian adaptable:

Easy to make vegetarian but substituting tofu for chicken — just as easy and tasty!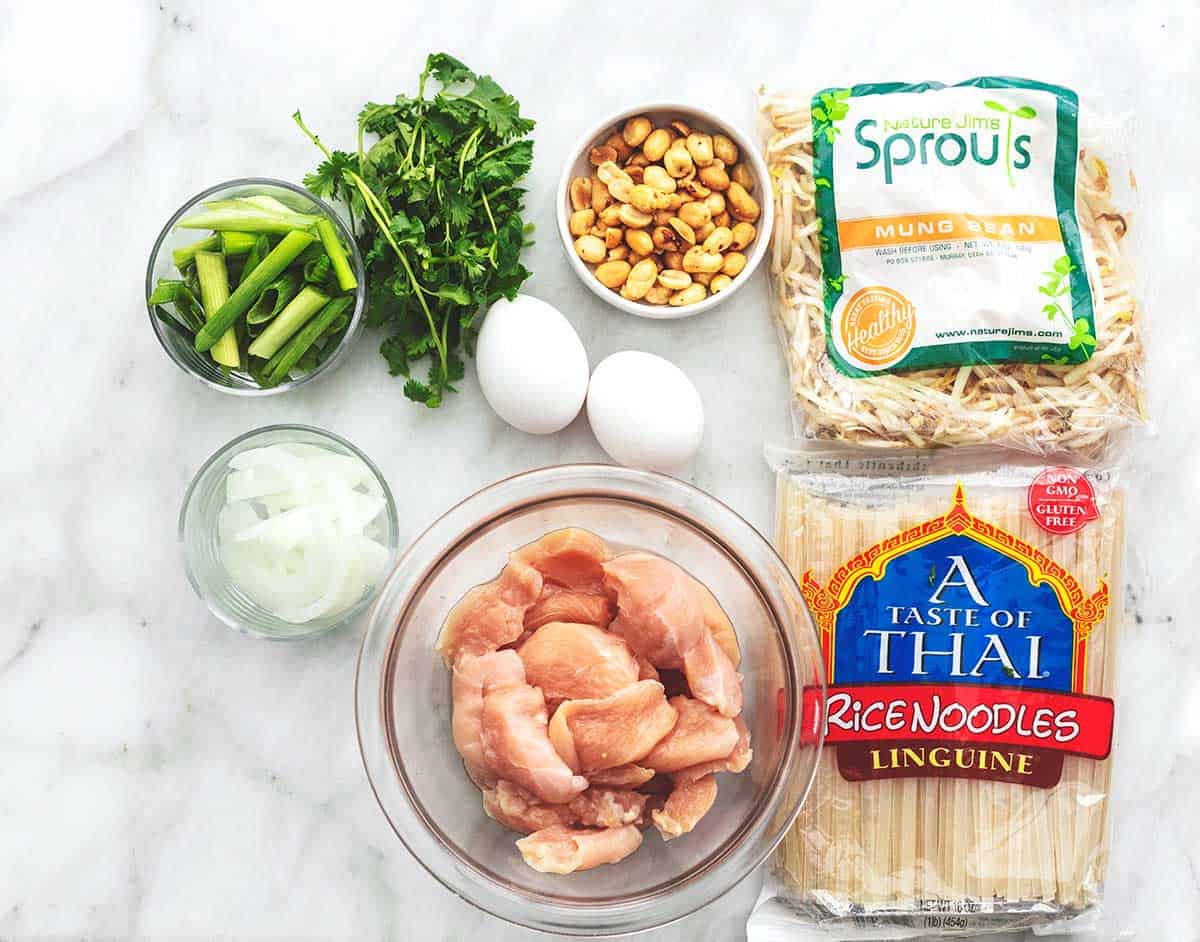 Here's How You Make It
1. Season the chicken pieces all over with salt and pepper.
2. Add the chicken to a large wok or pan over medium heat, stirring until all the pieces are cooked through, about 6-8 minutes. Transfer chicken to a bowl and set aside.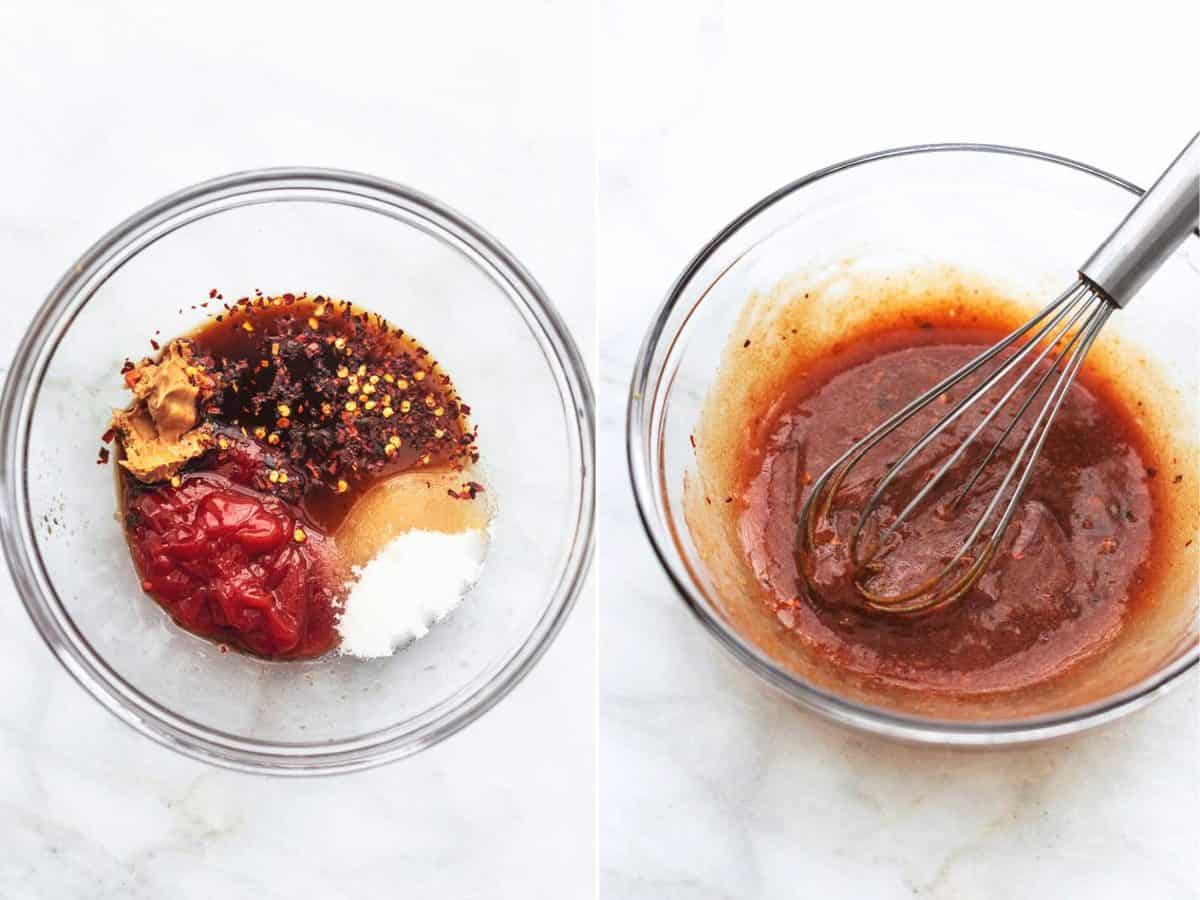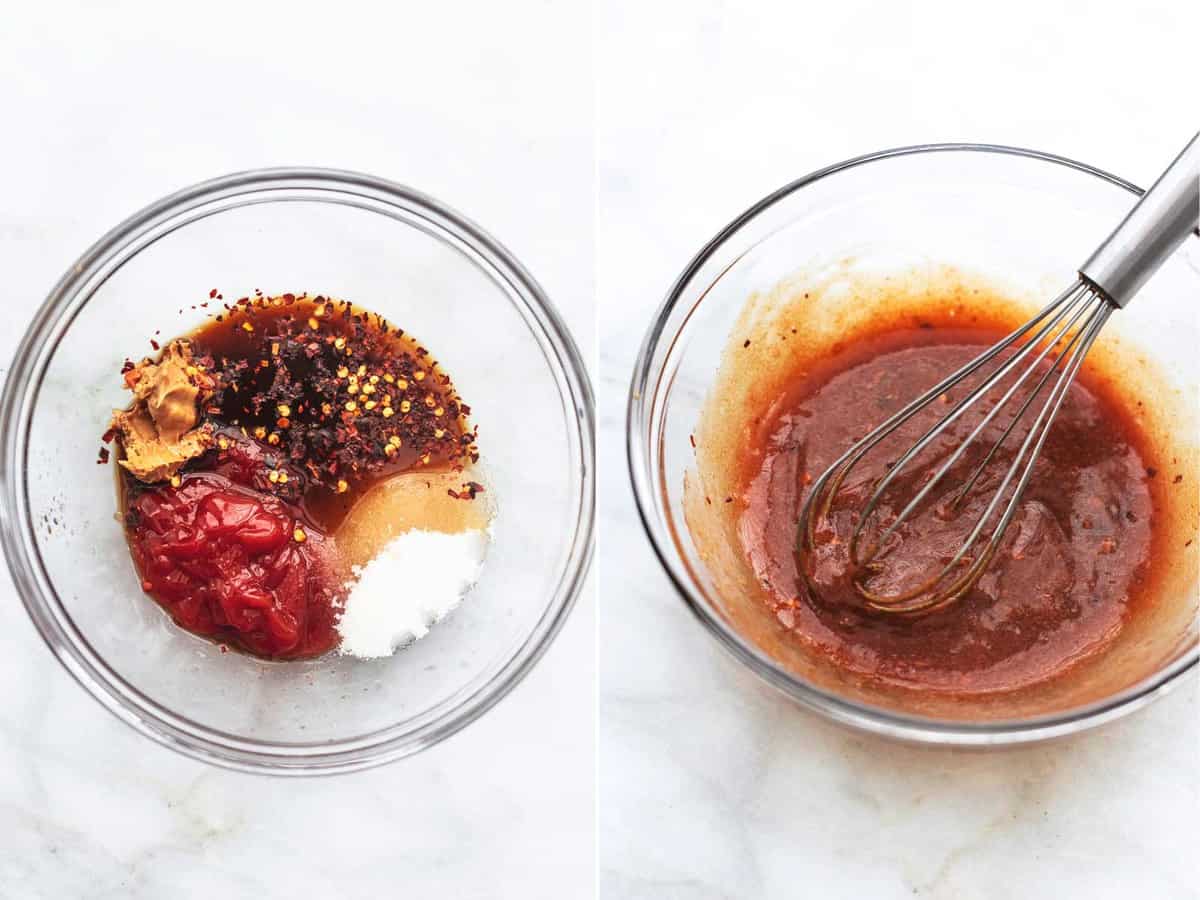 3. Whisk together the ingredients for the sauce and put them aside also.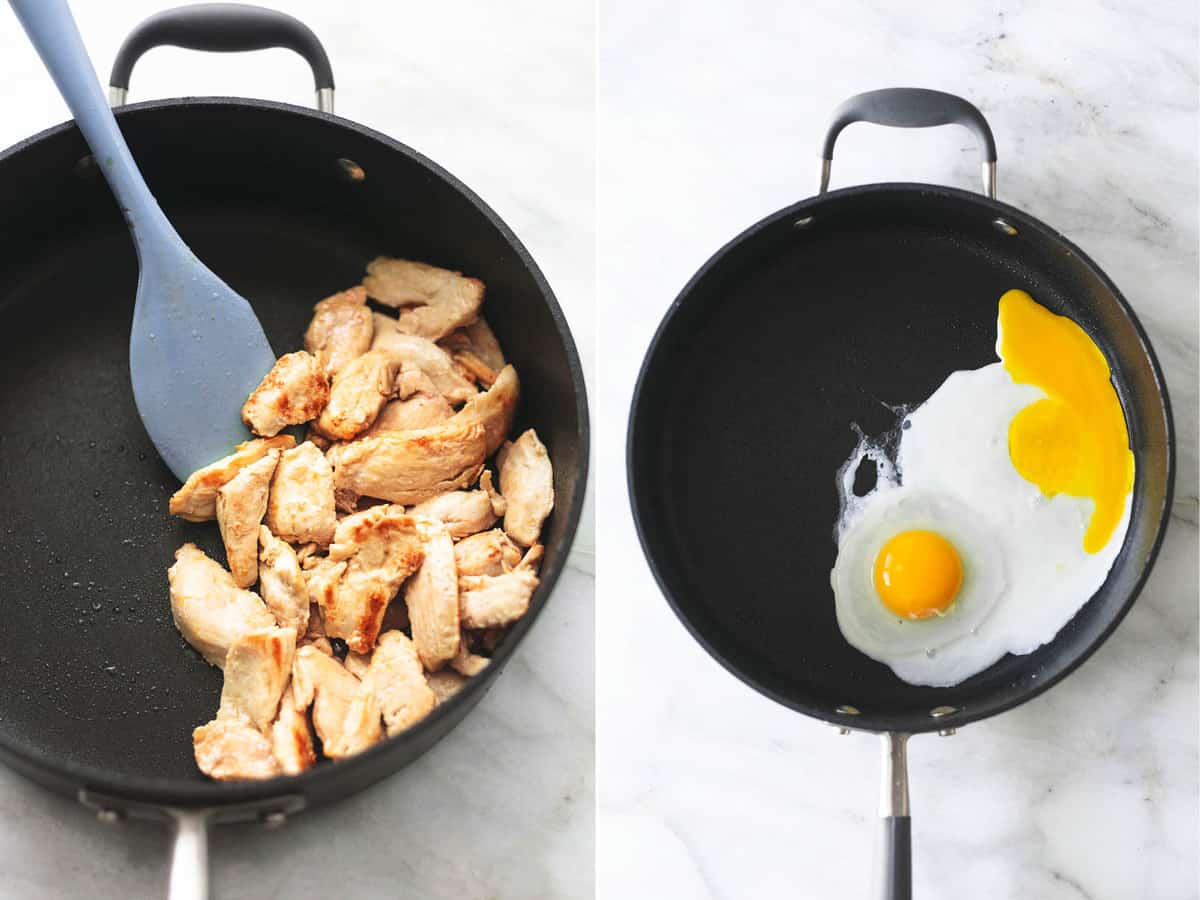 4. Go back to your wok or pan and crack the eggs into the pan and let them fry for about one minute, then start to break them up with a spoon, adding in the onions and bean sprouts.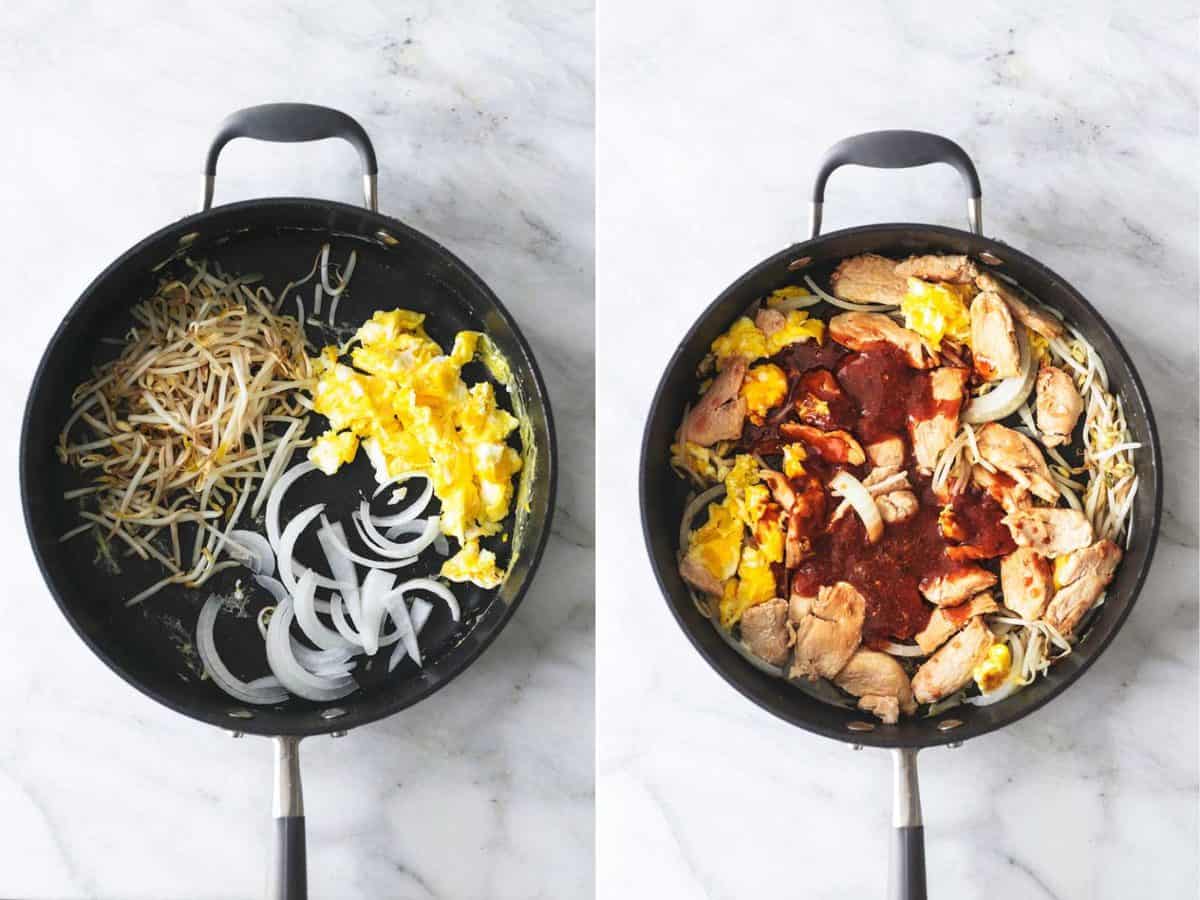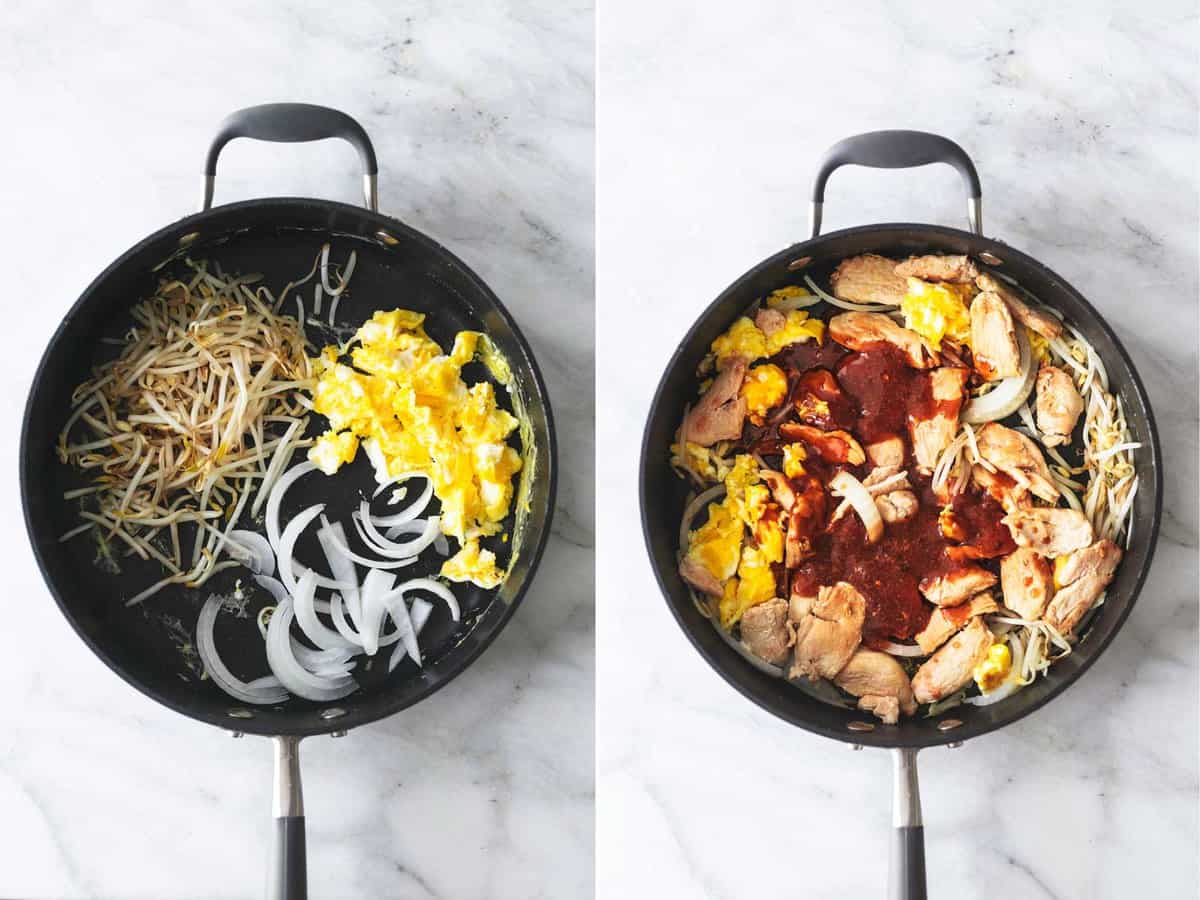 5. Add the chicken and the sauce into the wok with the eggs and veggies.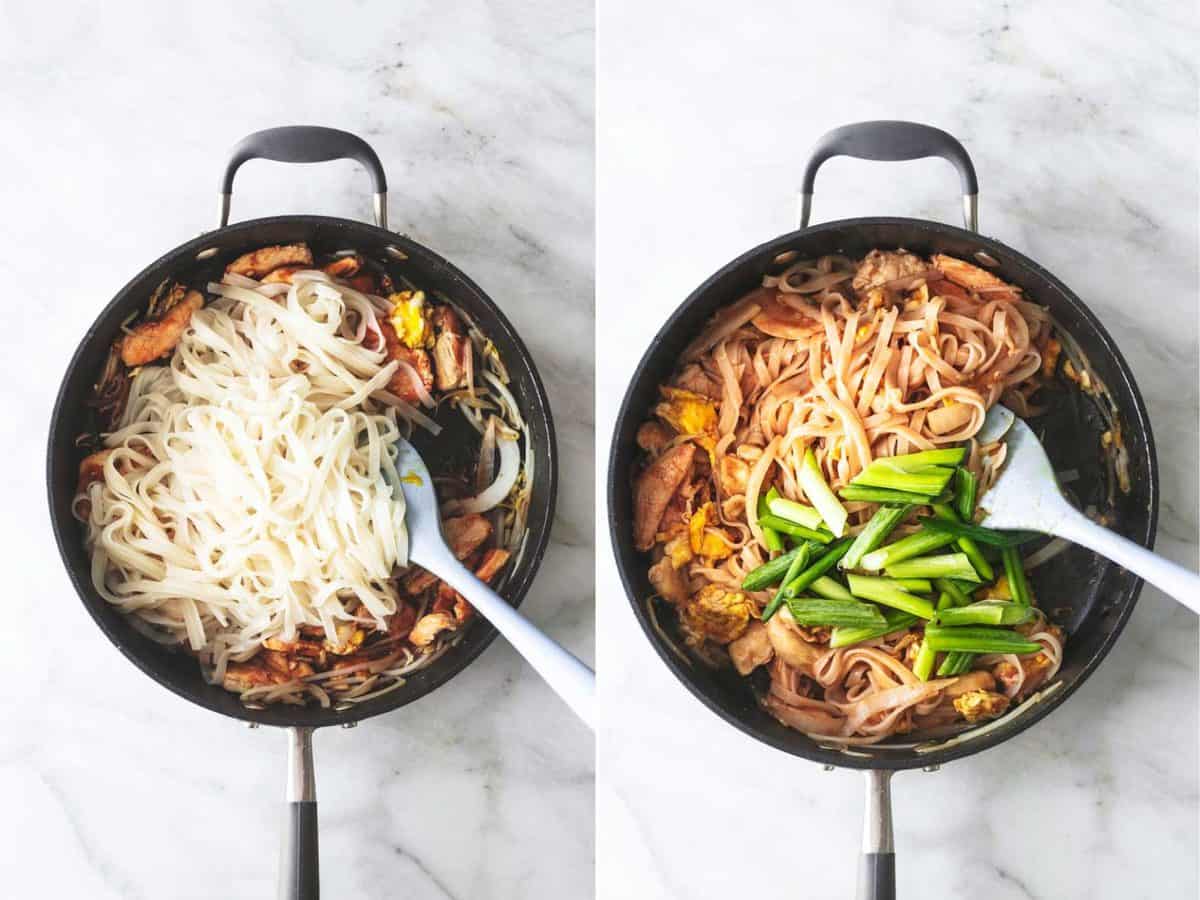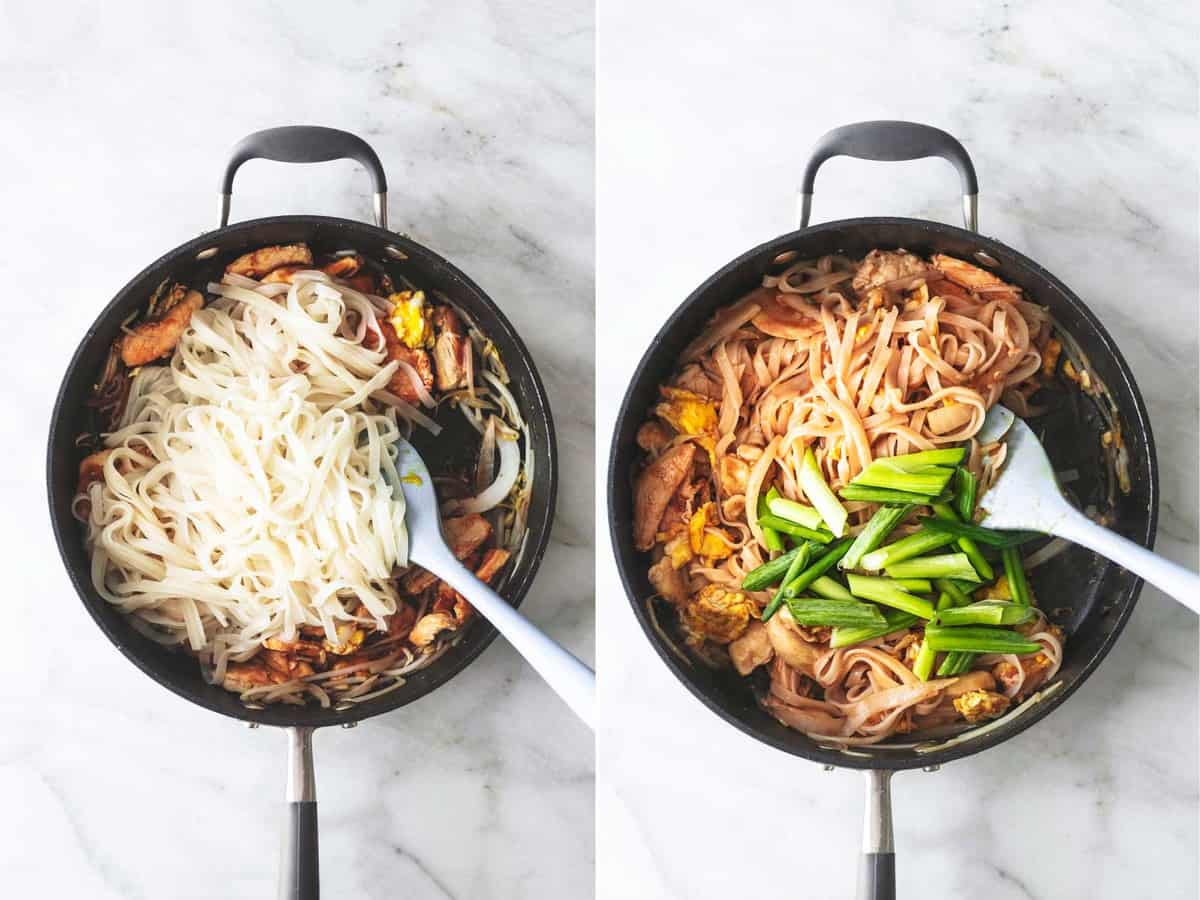 6. Then, add the cooked noodles. Toss to coat everything all together.
7. Stir in green onions and cilantro, add peanuts (optional), and serve!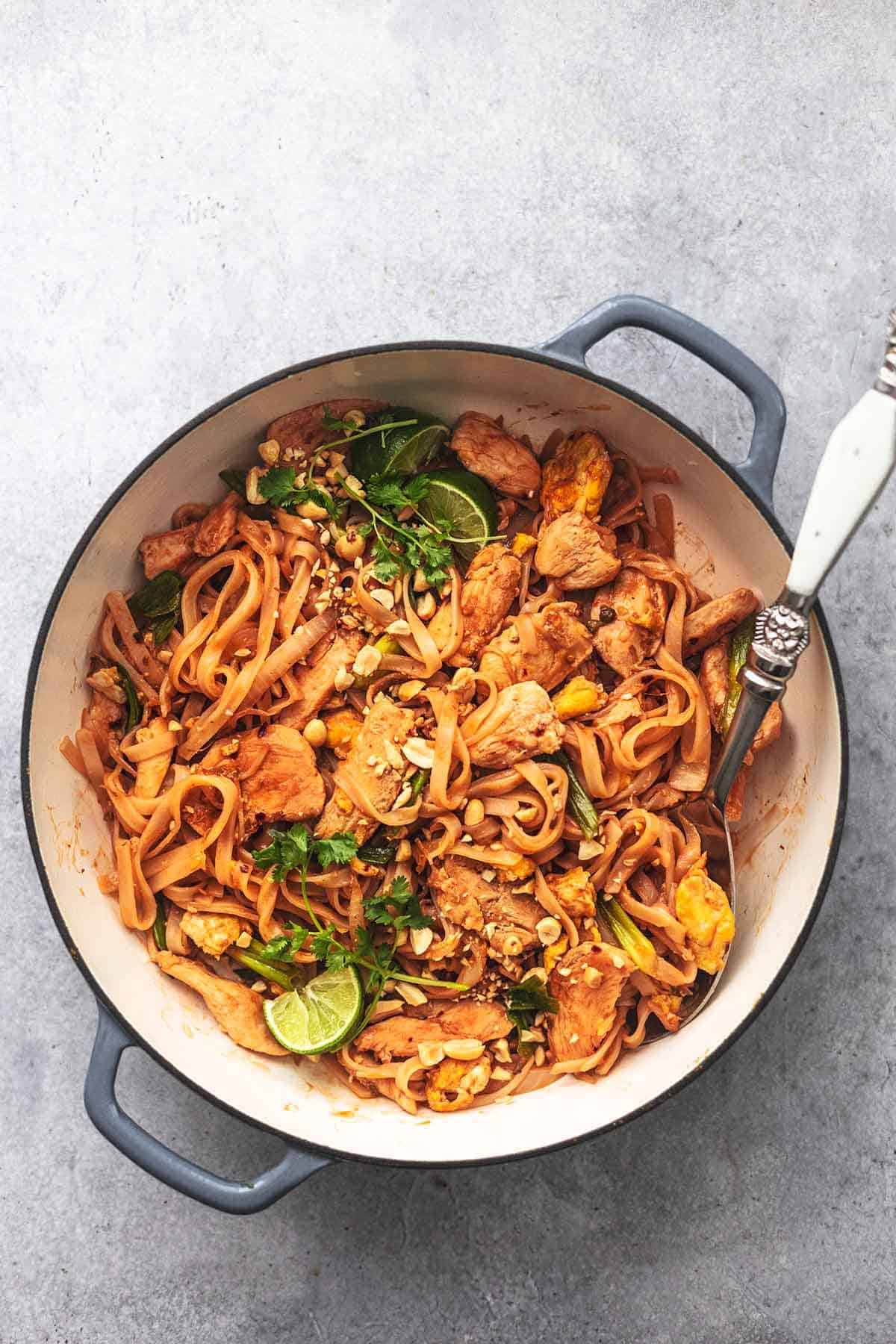 What is Chicken Pad Thai Made of?

This Thai street food dish is primarily made with small pieces of cooked chicken, eggs, rice, noodles, an assortment of veggies and seasonings. Then it's all tossed in a sweet and savory sauce.
My sauce is made with ketchup, fish sauce, sugar, garlic, peanut butter, and lime.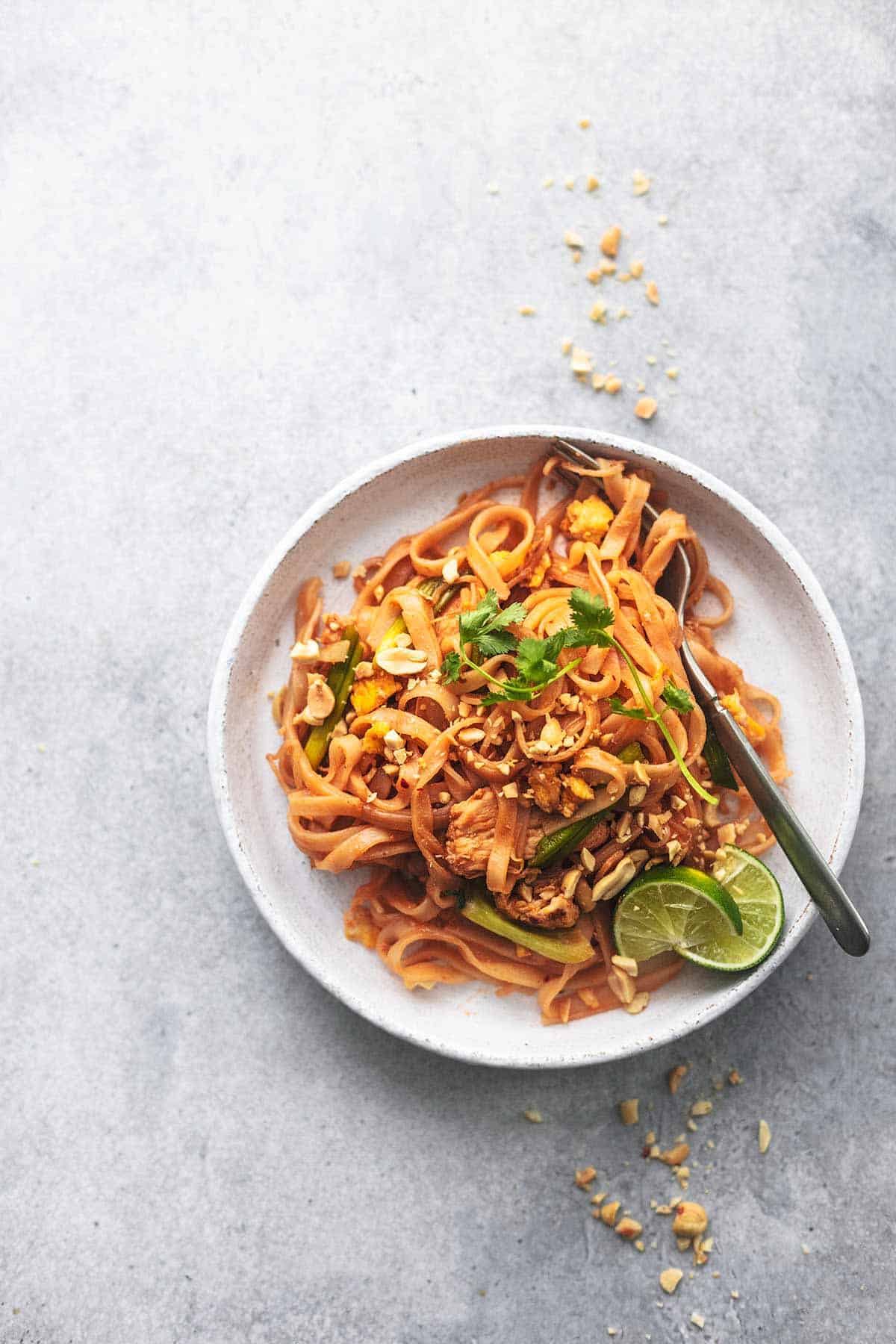 Is Pad Thai Bad for You?
I hate to say it, but a lot of Asian foods purchased at restaurants aren't going to win any awards for being the healthiest meal options. But, that's why I like to make these dishes at home, because I can control the amount of unhealthy oils and fats that go into cooking them. And, they taste just as delicious as take out.
I use very little oil, sugar, and sodium in my sauce.
What Does Pad Thai Taste Like?
This Thai dish has just about all the flavors — salty, sweet, sour, and even a bit fermented. There are probably just as many recipes for pad Thai as there are many Asian dishes, so experiment until you find one that you love.
Expert Tips

Prepare the chicken ahead of time

and go ahead and cut it into small pieces before cooking. This will ensure it cooks up much faster and also makes sure every piece is just as flavorful as the one before it. If you cooked the chicken breasts whole, then cut them up, this dish wouldn't be nearly as tasty. And it would take longer to cook, negating any time you would have saved by not cutting it up in the first place.

I recommend

cooking in a wok

because you get more even cooking, and you can fill up the pan with all the ingredients more easily. You can also serve right out of the wok. A large pan will work too, but make sure it has higher sides if possible, so the ingredients don't spill out.

Flat rice noodles work best

in this dish, but if you don't have them, fettuccine pasta will work too. Make sure to only cook them to al dente and don't overcook or they will become chewy and clumpy.

There aren't many (if any) substitutions that work for

fish sauce

. It's such a distinct condiment and flavor, I suggest you do use it instead of skipping or substituting or the pad Thai just won't taste right. Believe me — I've tried.

Cilantro

makes a great garnish but you can also use parsley or skip this step all together.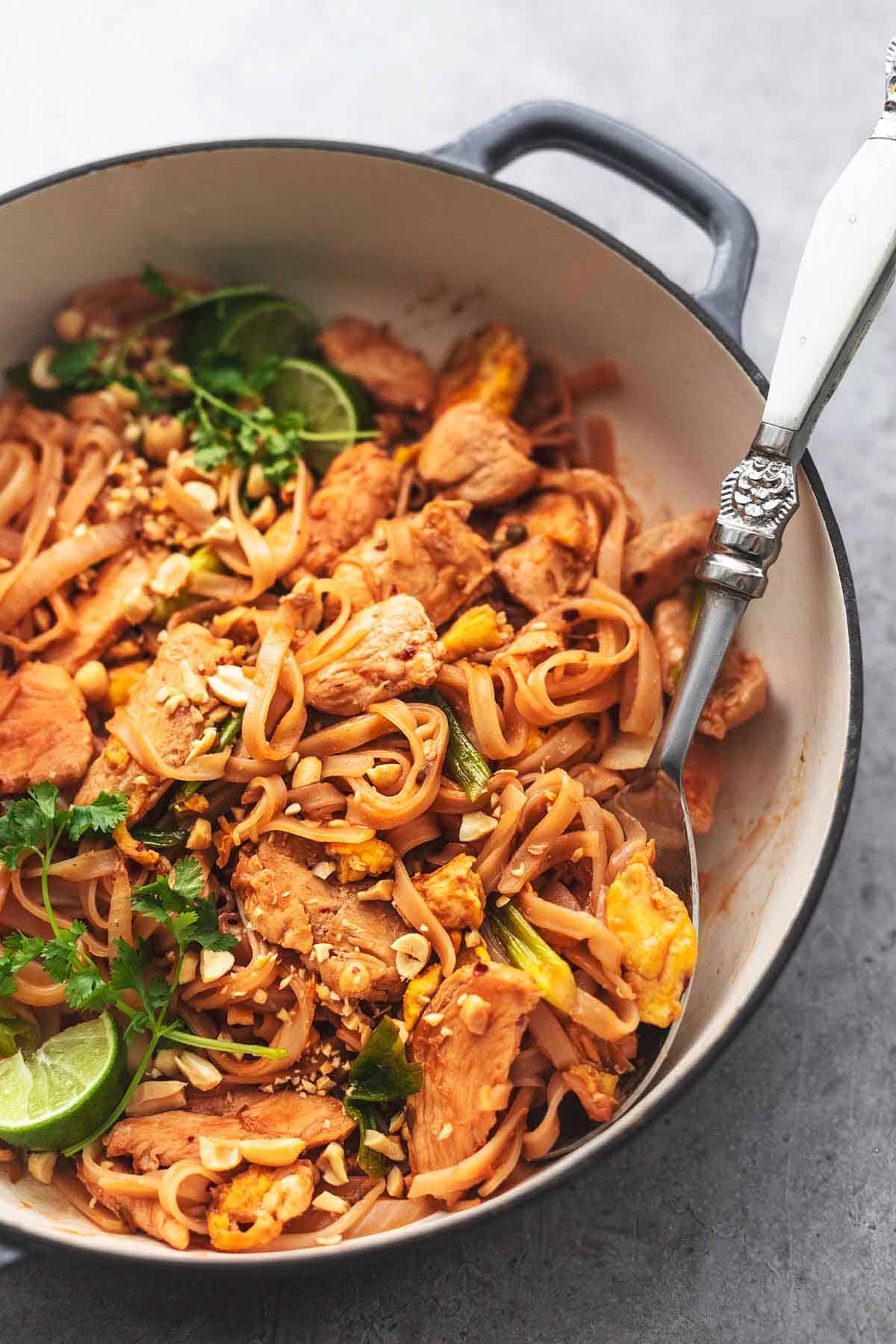 More Asian Inspired Recipes You'll Love
Did you make this dish? Please rate the recipe below!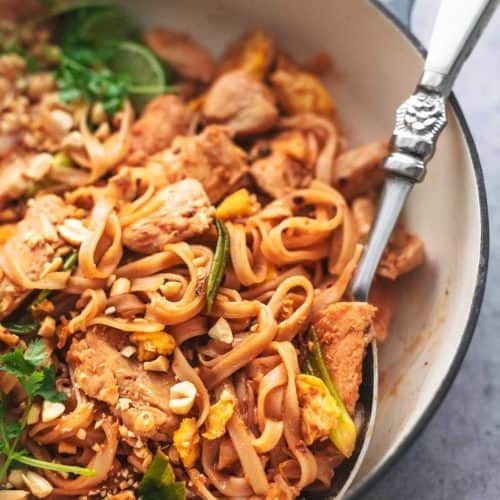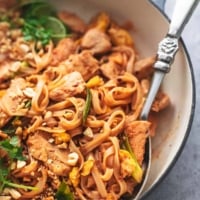 Chicken Pad Thai
Restaurant-style chicken pad thai – ready in just 30 minutes!
Ingredients
8

ounces

flat rice noodles

-

(found in the Asian section in most grocery stores – may sub fettuccine noodles in a pinch), cooked al dente according to package instructions

1

large

boneless skinless chicken breast

-

pounded to ½ inch thickness and chopped into bite-sized pieces

salt & pepper

-

to taste

2

eggs

1

cup

fresh bean sprouts

⅓

cup

sliced green onions

¼

cup

sliced white onions

⅓

cup

cilantro

-

roughly chopped

optional: peanuts
Sauce
¼

cup

ketchup

2

tablespoons

fish sauce

-

(found in the Asian section at most grocery stores)

2

tablespoons

sugar

1

teaspoon

minced garlic

1

teaspoon

peanut butter

juice of 1 lime

½

teaspoon

crushed red pepper flakes

1

teaspoon

soy sauce
Instructions
Cook chicken in a large wok or pan over medium heat, stirring throughout until cooked through (about 6-8 minutes), transfer chicken to a bowl and set aside.

Whisk together all sauce ingredients and set aside.

Crack eggs over preheated pan (where you cooked the chicken) and allow to fry for a bout a minute ,then break it up with a spoon and add the onions and bean sprouts.

Add chicken and sauce. Add noodles and toss to coat the noodles in the sauce.

Stir in green onions and cilantro. Garnish with peanuts if desired.
Notes
Make it spicy: Add 1-2 teaspoons sriracha sauce or a pinch of crushed red pepper flakes to give it a kick!  Alternate protein: Easily swap out the chicken for shrimp, steak, or tofu!
Nutrition
Calories:
375
kcal
,
Carbohydrates:
62
g
,
Protein:
19
g
,
Fat:
5
g
,
Saturated Fat:
1
g
,
Cholesterol:
118
mg
,
Sodium:
1144
mg
,
Potassium:
419
mg
,
Fiber:
2
g
,
Sugar:
12
g
,
Vitamin A:
460
IU
,
Vitamin C:
8
mg
,
Calcium:
39
mg
,
Iron:
1
mg