Chickpea curry is perfect for meatless Mondays or any time you want a vegetarian meal. It's tasty, flavorful, and so good served over rice or with naan bread for sopping up that delicious sauce.
If you're looking for more vegetarian meals, check out my recipes for Southwest Corn Chowder, Five Bean Vegetarian Chili, and Mediterranean Veggie Pizza.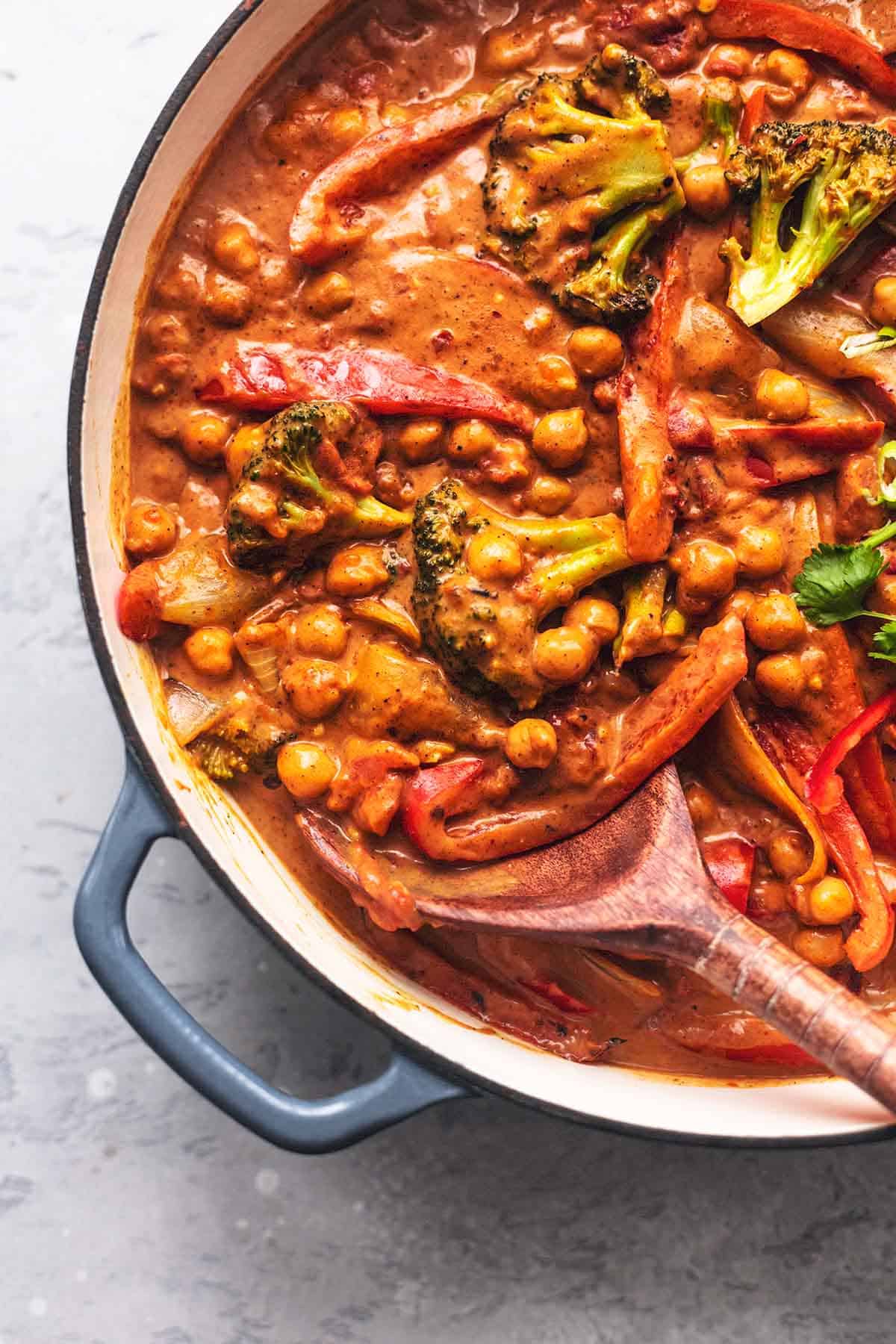 Why This Recipe Works
Chickpeas — Nutty flavor, a soft and chewy texture, budget-friendly, protein-filled, and easy to keep in your pantry, there's nothing to not love about chickpeas.
Vegetables — I love a lot of variety in my stir fries and curries so the addition of broccoli, red bell peppers, and onions works just perfectly with the chickpeas to round out the flavors and texture of this easy chickpea curry recipe. Plus, added veggies means added nutrients!
Curry paste — No need to work from scratch here. I always use a tube or glass jar of curry paste in my easy curry recipes. So easy and flavorful, why mess with a good thing when you don't have to?
Great meal prep — When I'm on the run but I want to pack a hot meal, this chickpea curry with coconut milk comes in handy. It packs easily and reheats so well, and it's nice and filling so I can stop, eat a healthy packed lunch, and go about my day and not worry I will be starving by dinner time.
Here's How You Make It
Take out a large skillet and put it on your burner over medium heat. Add to it the chickpeas, broccoli, peppers, and onions and drizzle it all with oil. Stir to coat and cook for 3-4 minutes, stirring as it cooks.
Add yellow curry powder to the veggies and chickpeas and stir for another minute.
Now add to this the coconut milk, crushed red pepper flakes, red curry paste, and salt. Bring the entire mixture to a low boil.
Meanwhile, whisk the cornstarch into water until it's dissolved then add it to the pan and stir for 1-2 minutes or until the sauce starts to thicken.
Finally, add in the fresh-squeezed lime juice and add salt to taste. Serve it right away over white rice or noodles. I like to garnish with cilantro and green onions but it's totally optional.
What Are Chickpeas?
Chickpeas (also referred to as garbanzo beans) are a member of the legume family. They are high in protein and fiber and have been around for thousands of years and are perfect in a chickpea curry.
Chickpeas are used when making hummus and other Indian dishes like chana masala. You can also purchase chickpea flour for making falafel or roast them in olive oil and spices for a crunchy, healthy snack.
How to Serve This Recipe
Serve this chickpea curry recipe over white or brown rice for a complete meal.
You could also use rice noodles, soba, or another Asian noodle or you could use spaghetti too if that's all you have on hand for this simple Indian chickpea curry.
I like to eat my Indian chickpea curry with a side of naan bread. I either dip the bread into the curry or I put butter or mango chutney on the curry and eat them concurrently.
For a lower carb idea, you could serve this easy curry over cauliflower rice, zucchini noodles, or in a spaghetti squash boat. All delicious.
How to Make Vegan Chickpea Curry
If you'd prefer a vegan chickpea curry, you're in luck! This simple curry recipe is already vegan.
That's right, there are no animal products in any of the ingredients, including the store-bought curry paste. However, make sure you read the ingredients of the curry paste you purchase just in case as all brands may not be made the same.
In addition, making chickpea curry with coconut milk is a great way to remove excess animal products like milk or creamer for vegan recipes. Coconut milk makes a lovely, creamy, delicious sauce.
What Does Chickpea Curry Taste Like?
Curries in general taste like a lovely balance of sweet, tangy, and spicy all at once. Add the chickpeas and you get a beany, nutty flavor too!
Chickpeas really sop up all the flavors of the yellow curry powder and the red curry paste in this Indian chickpea curry. Plus, this dish also has some onion, red pepper flakes, lime juice, and a lovely coconut flavor thanks to the unsweetened coconut milk. You're just going to love the taste of this easy chickpea curry.
What Exactly Is Curry?
"Curry" isn't actually a flavor, but the name of an Indian sauce-based dish. It's typically made with veggies and meat and served over rice with bread. The spices in curries are heavy and delicious. You can find curries that are really spicy, or you can make them mild, too.
There are literally thousands of types of curries made all over the world, but basically, it's a bunch of pungent spices like turmeric, black pepper, coriander, cumin, and ginger. Some curries also include leaves from the curry tree. The spices are then all ground up and cooked into a sauce or gravy with broth, coconut milk, or dairy products like yogurt.
Why Are Chickpeas So Good for You?
Chickpeas are a real nutritional powerhouse. They are low-calorie and low, low in fat (like, almost nonexistent). They also have protein, fiber, iron, folate, copper, manganese, and are low-carb.
Chickpeas are a great part of a vegetarian and vegan diet. They can fill you up with the fiber and protein, which can keep you from eating too much throughout the day. They also can help manage your blood sugar and can help prevent certain diseases like heart disease, cancer, and diabetes.
If you're not familiar with eating chickpeas, this authentic Indian chickpea curry is a great place to start trying them!
Expert Tips
Kick up the spice a notch by adding in ½ to 1 teaspoon of crushed red pepper flakes or add your favorite hot sauce (I like Sriracha) at the same time you add the coconut milk and curry paste.
If the chickpea curry with spinach feels too heavy and you want to make the chickpea curry lighter, you can substitute light coconut milk or half light and half regular. This dish won't be as thick and creamy but it'll still be delicious! Add a little soy sauce to the mix if you go for all-light coconut milk to really make the curry shine.
A great addition to any easy curry is mango chutney. Now, don't worry, it's not something you have to make from scratch (though you totally could). I buy mine at the grocery store in the Asian or international aisle typically. You can add it right into this chickpea curry recipe or you can use it on the side as a dip for bread.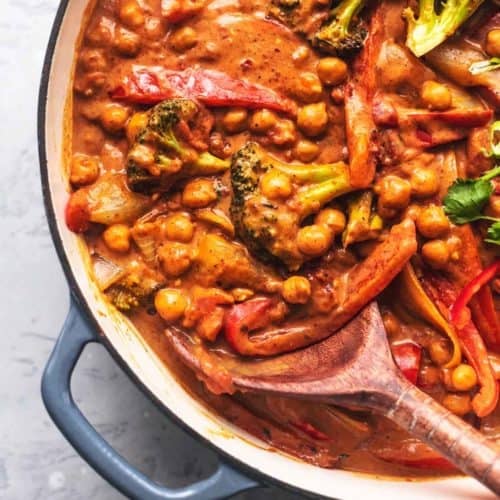 Chickpea Curry
Chickpea curry is perfect for meatless Mondays or any time you want a vegetarian meal. It's tasty, flavorful, and so good served over rice or with naan bread for sopping up that delicious sauce.
Ingredients
2

15-ounce cans

chickpeas

-

drained and rinsed

1

cup

broccoli florets

3

red bell peppers

-

chopped

1

white or yellow onion

-

chopped

2

tablespoons

oil

2

teaspoons

yellow curry powder

2

tablespoons

red curry paste

½-1

teaspoon

crushed red pepper flakes

-

more to taste

26

ounces

unsweetened coconut milk

1

teaspoon

salt

-

more to taste

¼

cup

cold water + 2 tablespoons corn starch

1

tablespoon

fresh-squeezed lime juice
Instructions
In a large skillet over medium heat, combine chickpeas, broccoli, peppers, and onions. Drizzle with oil, give it a good stir to coat, and cook for 3-4 minutes, stirring occasionally.

Sprinkle yellow curry powder over everything and stir 1 minute.

Add coconut milk, red curry paste, crushed red pepper flakes and salt. Bring to a low boil.

Whisk corn starch into water until dissolved. Add to the pan and stir 1-2 minutes til thickened.

Stir in fresh-squeezed lime juice. Taste, add more salt if needed. Serve immediately over steamed white rice or rice noodles. Garnish with fresh cilantro or green onions if desired.
Notes
To add a spicy kick of this recipe, stir add 1/2-1 teaspoon crushed red pepper flakes, or sriracha sauce to taste. I stir it into the pan in step 3 along with the coconut milk and curry paste. 
I like to garnish this dish with lots and lots of fresh cilantro, and some extra lime wedges for squeezing. 
To lighten this dish up a bit, feel free to use light coconut milk or even a combination of light and regular. Any time you reduce the fat content of milk the result will be slightly less creamy and rich, but in this case I can confidently tell you the flavor is still amazing. When I use all light coconut milk, I usually add a tablespoon or so of soy sauce to the dish to really bring out the flavors of the curry. 
For a complete meal serve this over steamed white rice or rice noodles and a side of buttered naan (Indian flat bread). This is blending cuisines a bit but trust me, it works.
To really take it to the next level, add a side of mango chutney – you can find this magical stuff in a jar in the Asian culinary section of  most grocery stores. I like to dip my naan in it and even add a dollop of the chutney right on to of my curry dish. If you're wondering if you'll like mango chutney, you WILL. It's like a thick mango sauce or jelly with a very mild heat element (it will not burn your tongue, trust me). 
Nutrition
Calories:
546
kcal
,
Carbohydrates:
21
g
,
Protein:
6
g
,
Fat:
52
g
,
Saturated Fat:
40
g
,
Trans Fat:
1
g
,
Sodium:
626
mg
,
Potassium:
808
mg
,
Fiber:
8
g
,
Sugar:
12
g
,
Vitamin A:
4203
IU
,
Vitamin C:
143
mg
,
Calcium:
70
mg
,
Iron:
4
mg