Chewy no-bake cashew granola bars, dipped in chocolate! Made with coconut oil and no refined sugar!
I can be a bit lazy when it comes to breakfast. You'd think that being a food blogger would mean that I am eating a gourmet omelet, or eggs benedict over toast every morning. Or at the very least a stack of pancakes hot from the griddle!  Not the case. Most of the time it's a grab-and-go type of thing. In which case it's a usually a granola bar in my hand when I run out the door.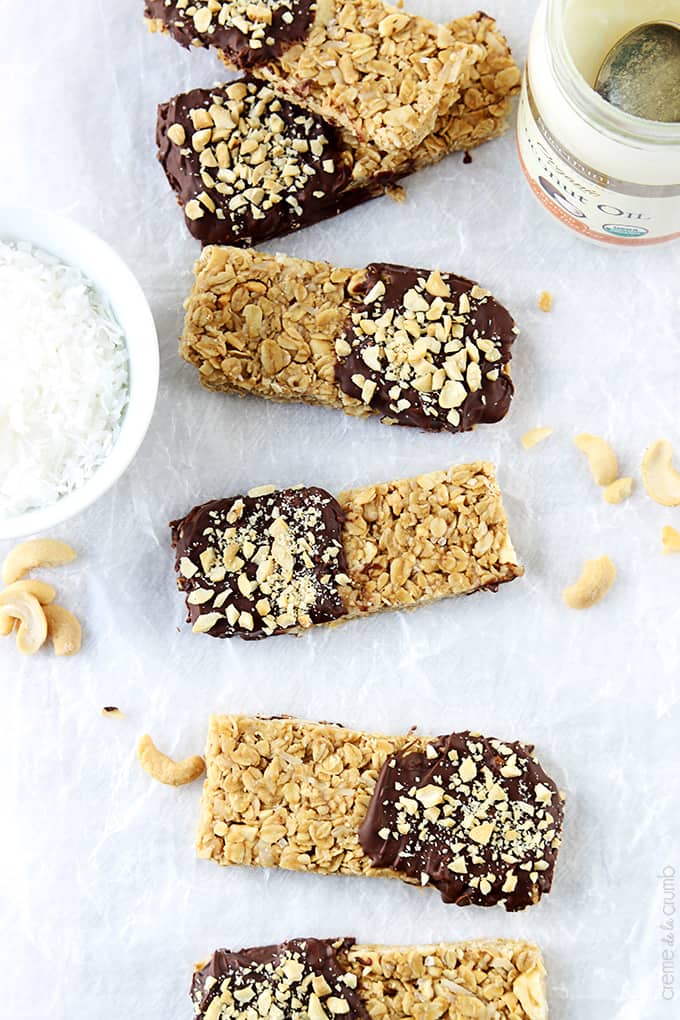 Granola bars are delicious and convenient. That pretty much sums up their wonderfulness. You can take them just about anywhere cause they're easy to slip into your backpack or your purse, and with all the variations these days it's hard to find yourself bored with granola bars. But have you made your own granola bars? If so, I think you're pretty awesome. If not, well you're still awesome but not quite as awesome as you would be if you made these really easy no-bake cashew granola bars. You should really make them. Then you'll be super awesome.
These granola bars are E to the Z. No oven required (yayyyyy)! And did I mention they're dipped in chocolate?? Right?! Everything is better dipped in chocolate, yes? Yes. They're loaded with cashews, which is pretty much my favorite nut ever, and if you've got sea salt on hand you really really need to sprinkle a bit of sea salt all over these beauties – you'll love it. And last but not least, they are made with coconut oil and no refined sugar! So they're healthier than most of your average convenience-store granola bars. It's a no-brainer – – – > make them!
Chocolate Dipped Cashew Granola Bars
Chewy no-bake cashew granola bars, dipped in chocolate! Made with coconut oil and no refined sugar!
Ingredients
1

cup

peanut butter

1/2

cup

honey

1/2

cup

coconut oil

2 1/2

cups

rolled oats

1

cup

shredded coconut

(sweetened or unsweetened)

1 1/4

cups

cups cashews,

roughly chopped (divided)

1

cup

milk chocolate or semi sweet chocolate chips

1/2

teaspoon

salt

OR 1 teaspoon coarse grained sea salt
Instructions
Grease a 9x13 inch pan with cooking spray. Combine peanut butter, honey, and coconut oil in a medium sauce pan and whisk over medium heat until smooth.

Add oats, shredded coconut, and all but 3 tablespoons of the chopped cashews to a large bowl and stir to combine. ***If using regular table salt, site into mixture now. If using sea salt, reserve until noted*** Add sauce mixture and stir well until everything is coated. Transfer mixture to prepared pan.

Lay a piece of tin foil over the granola mixture and press down fir my with your hands to press mixture evenly into the pan. ***If using sea salt, sprinkle sea salt over granola mixture now*** Chill 1 hour.

Cut granola into bars. In a microwave-safe bowl melt chocolate chips at medium power for about 2 minutes. Stir, then heat another 20 seconds at a time until chips are melted and smooth. Dip granola bars into chocolate and use a spoon to coat one half of the bar.

Lay bars on a greased baking sheet. Sprinkle the chocolate-covered parts of the granola bars with the remaining chopped cashews. Chill 4 hours or over night. Store chilled in airtight container wrapped individually in plastic wrap OR with pieces of wax paper between each granola bar.
Recipe adapted from Five Heart Home.