Buttery Cinnamon Sugar Candy Cane Bread Twists drizzled with sweet vanilla glaze! The perfect easy holiday treat!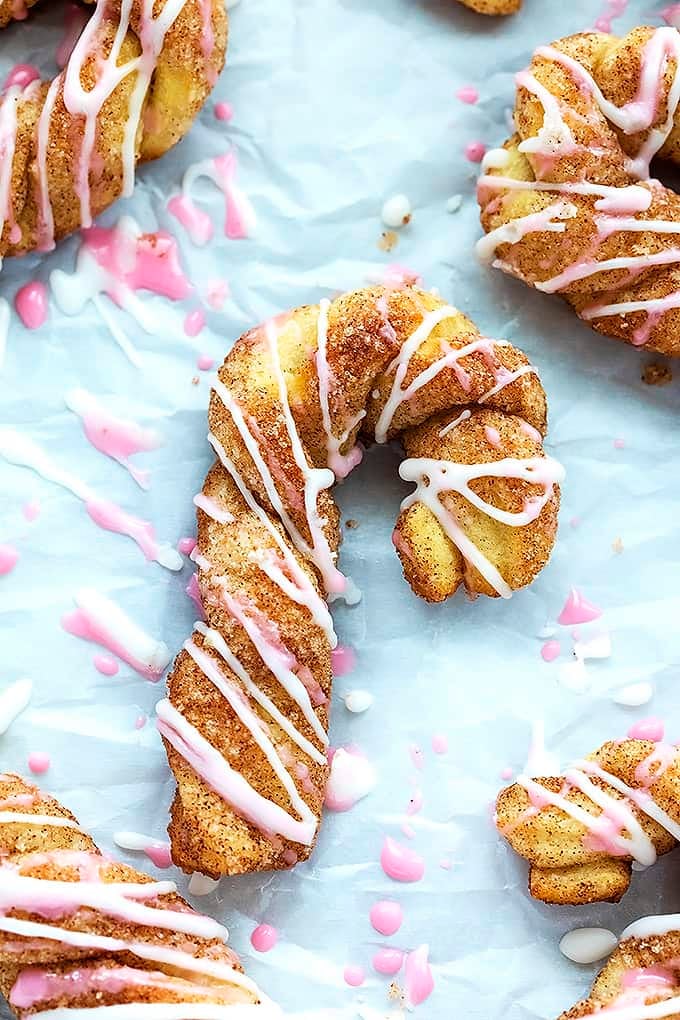 So if we're being 110 percent honest, I'm missing home just a little bit. Okay a lotta bit. Mostly because I'm itching for some decorating. I want to hang stockings and put the tree up and light cinnamon-scented candles. I think my husband is silently hoorah-ing though that we are not home because last night I mentioned I want to get a live christmas tree this year. He's not a scrooge, it's just that I change my mind a lot. (I know you can relate). See the thing is that I convinced him a few years ago after a messy live-tree-gone-bad-episode that we should buy an artificial tree and we wouldn't have to buy another tree for 10 years.
Well it's been three years…
I think I did pretty good.
It's not that I don't like my artificial tree, I do, I soooo do. But I want two trees. One for the basement which we recently furnished so it now actually getting used, and one for upstairs. The upstairs one would be all purrrrdy and neutral and smelling of fresh pine – my dream tree of sorts – and the downstairs tree will be all fun and cheery and colorful. My mother taught me this two-tree-method. I never thought I'd give in to her crazy ideas but you know what they say about apples and where they fall.
So darn close to the tree.
(see what I did there.)
But anywhoooooo, here I am rambling about christmas trees and I haven't mentioned a thing about these fun cinnamon-sugar coated bread twists drizzled with vanilla glaze!
Actually I suppose that pretty much sums it up. Make them, you'll love em', the end.
Cinnamon Sugar Candy Cane Bread Twists
Buttery cinnamon and sugar-coated breadsticks drizzled with vanilla glaze! The perfect easy holiday treat!
Ingredients
1

batch

homemade (or store-bought) pizza dough

1/3

cup

butter,

melted

1/3

cup

granulated sugar

1

tablespoon

cinnamon
Glaze
1

cup

powdered sugar

1/2

teaspoon

vanilla extract

milk,

as needed

optional: red food coloring
Instructions
Preheat oven to 400 and lightly grease a large baking sheet.

Roll pizza dough into a rectangle about 1/4 inch thick. Use a pizza cutter to slice into 1/2 inch strips going from one long side of the rectangle to the other side of the rectangle. (Depending on how many bread twists you want and how big you would like them to be, you can cut each strip in half to make more, smaller candy canes.)

Place melted butter in a small bowl. Stir together cinnamon and sugar in another bowl.

Twist two strips of pizza dough around each other to form a long twist and pinch the ends together. Dredge in the melted butter, being sure to turn to coat as much as possible, then toss in the cinnamon-sugar mixture to coat. Lay out on prepared baking sheet and curve one of the ends down so that it makes the shape of a candy cane or hook.

Repeat process with remaining dough strips. Bake for 10-12 minute or until golden.

Stir together powdered sugar, vanilla and milk (use 1 tablespoon of milk at a time until mixture can be drizzled). Drizzle glaze over bread twists. (Optional: divide the glaze between two bowls and mix a drop or two of red food coloring into one of the bowls for the pink and white striped look you see in the pictures.) Serve warm.