Creamy Red Pepper Pasta with tender noodles, rich tomato cream sauce, fresh herbs, cheesy parmesan, and savory sausage in just 30 minutes. Make this with a side salad and some garlic bread and leave the table the happiest you've been in weeks. 
If you love Italian pasta dishes as much as I do, then you'll also want to make my One Pot Creamy Pesto Chicken Pasta, my Spicy Tomato Garlic Shrimp Pasta, and my Baked Ziti with Ricotta and Sausage.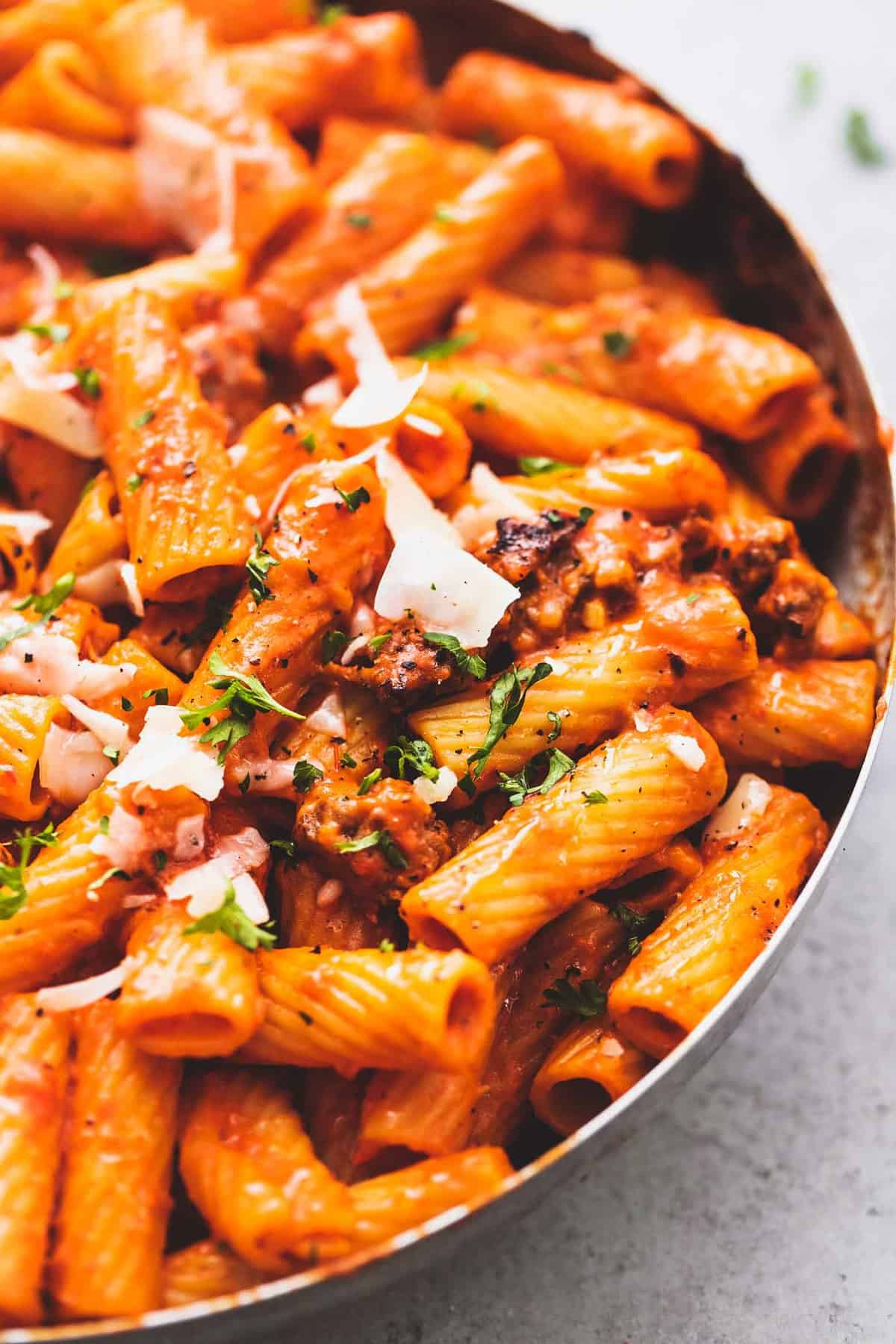 If just the idea of Creamy Red Pepper Pasta sounds delicious, imagine making (and eating) it. Friends, I almost couldn't wait for it to be done to dive right into it. And I did have my fair share of BLTs (bites, licks, and tastes) along the way. You know when you take a little bit out to "test" and you eat that and then you take a little bit more out then a little more, and, well, I might as well just have sat down and eaten a big bowl of it to be honest by the time I got done "testing" it.
Don't worry, I persevered and had all my BLTs, and a good, healthy serving of the finished dish when we sat down for dinner. I even shared. I'm not sure what it is exactly, but the mixture of the roasted red peppers (which maybe I have a thing for) with the sauce and chicken broth, plus the Italian seasonings and garlic PLUS the already-delicious ground Italian sausage (which I could eat all on its own) makes for one hell of a delicious pasta dish. Make. This. Now. (For another red pepper recipe, try my Mediterranean Chicken with Roasted Red Pepper Sauce.)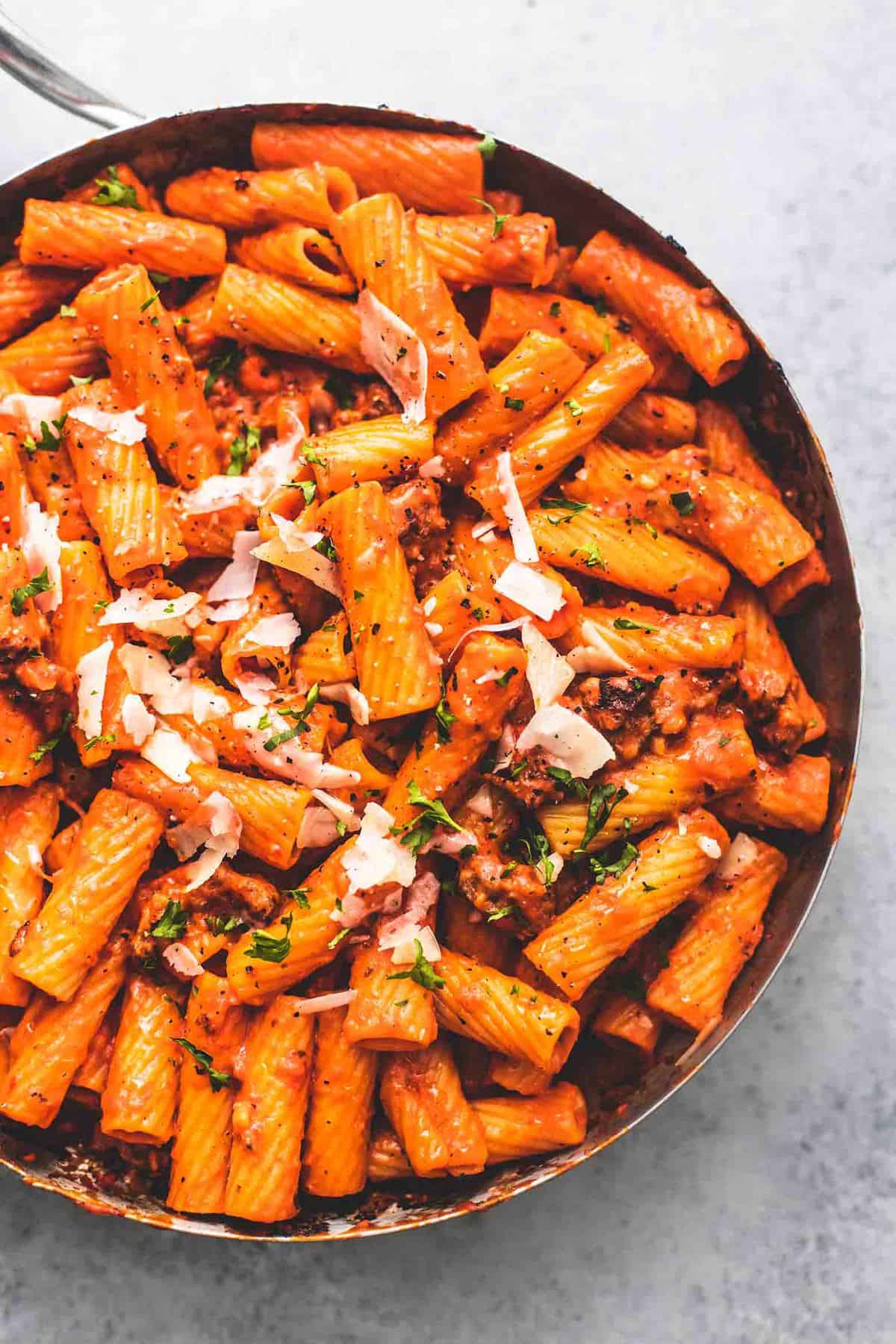 Here's How You Make it
Don't be turned off by the seemingly long list of instructions. They're mostly pantry staples and I went all-out in breaking down the recipe for you so it's absolutely no-fail. You'll thank me!
The first thing I do is cook my pasta noodles and toss them with olive oil (to keep them from sticking) then put them aside. Next, I add the roasted red peppers, broth, and the tomato sauce to a blender and blend it all up. Set the blended sauce aside as well.

Now it's time to get down to cooking. I put that delicious sausage in a large skillet and saute until it starts to brown. Next, I add my diced onions and let those soften and the sausage starts to cook down. Finally, follow up that cooking and browning action with the best part — the minced garlic. I let that cook another minute until it gets nice and fills the whole house with that lovely garlic smell. Then, I toss in the spices and flour.

I gently pour in the red pepper sauce, bring the sauce to a boil with the meat, veggies, and spices and give it a stir here and there. The sauce will thicken up after about 5-8 minutes. Once that happens, I stir in the heavy cream and some S&P to taste.

Finally — I add in the pasta and parm until it gets all gooey and melted. Then, I garnish with some fresh herbs (parsely, oregano, thyme, basil, whatever I'm in the mood for), a little more pepper like I'm a server at a fancy restaurant and serve it up to all my loved ones (including myself).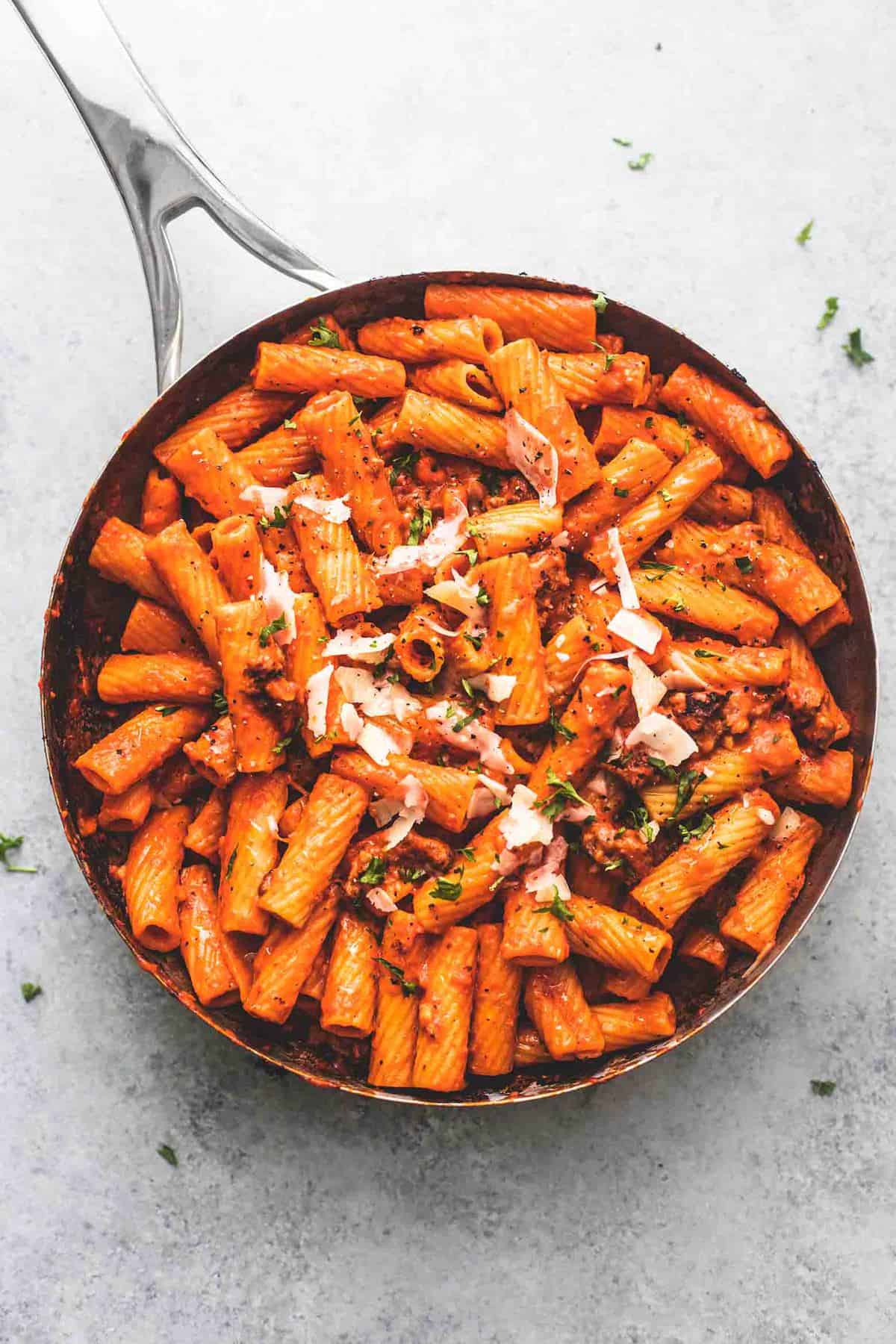 Are Roasted Red Peppers Good for You?
Red peppers are good for you. In fact, they have nearly 11 times more beta-carotene than their green bell pepper friends. Roasted red peppers also contain vitamins A and C, folic acid, fiber, and potassium. Roasted red peppers are typically packed in olive oil, which is a heart-healthy fat. So, all in all — roasted red peppers not only taste good but they are good for you!
Are Roasted Red Peppers and Pimentos the Same?
Roasted red peppers and pimentos are not the same. Roasted red peppers are red bell peppers that have been seeded and roasted and packed into jars and sold in the condiment aisle at the grocery store (or you could make them yourself).
A pimiento are those little pickled peppers that mostly go inside of green olives or are used to make pimiento dip. Pimientos (little peppers) are cherry peppers that are heart-shaped and can be sweet and/or hot, but is super low on the Scoville scale (which measures pepper hotness).
Expert Tips and Tricks
I love to add a dash of this and a little of that to a lot of my meals.
Add spinach to the pasta dish during step 7 so that they just wilt before you eat them.

You could also add any other leftover veggies that you have in your fridge that you want to use up. I'm a big fan of adding chopped broccoli or cauliflower to pasta dishes.

If you can't get enough of that red pepper flavor, add diced red peppers to the mix as well, it will add a little more texture to the pasta dish.

Try a mixture of parmesan and another cheese if you like. I like ricotta, gruyere, and buffalo mozzarella.

You know what else is amazing with roasted red peppers? Artichokes. Don't cook them yourself (cuz, that's a total pain), buy a jar or a can and drain it and toss them in at the end.

Add fresh or canned mushrooms to the dish for another way to add more/different texture to the mix.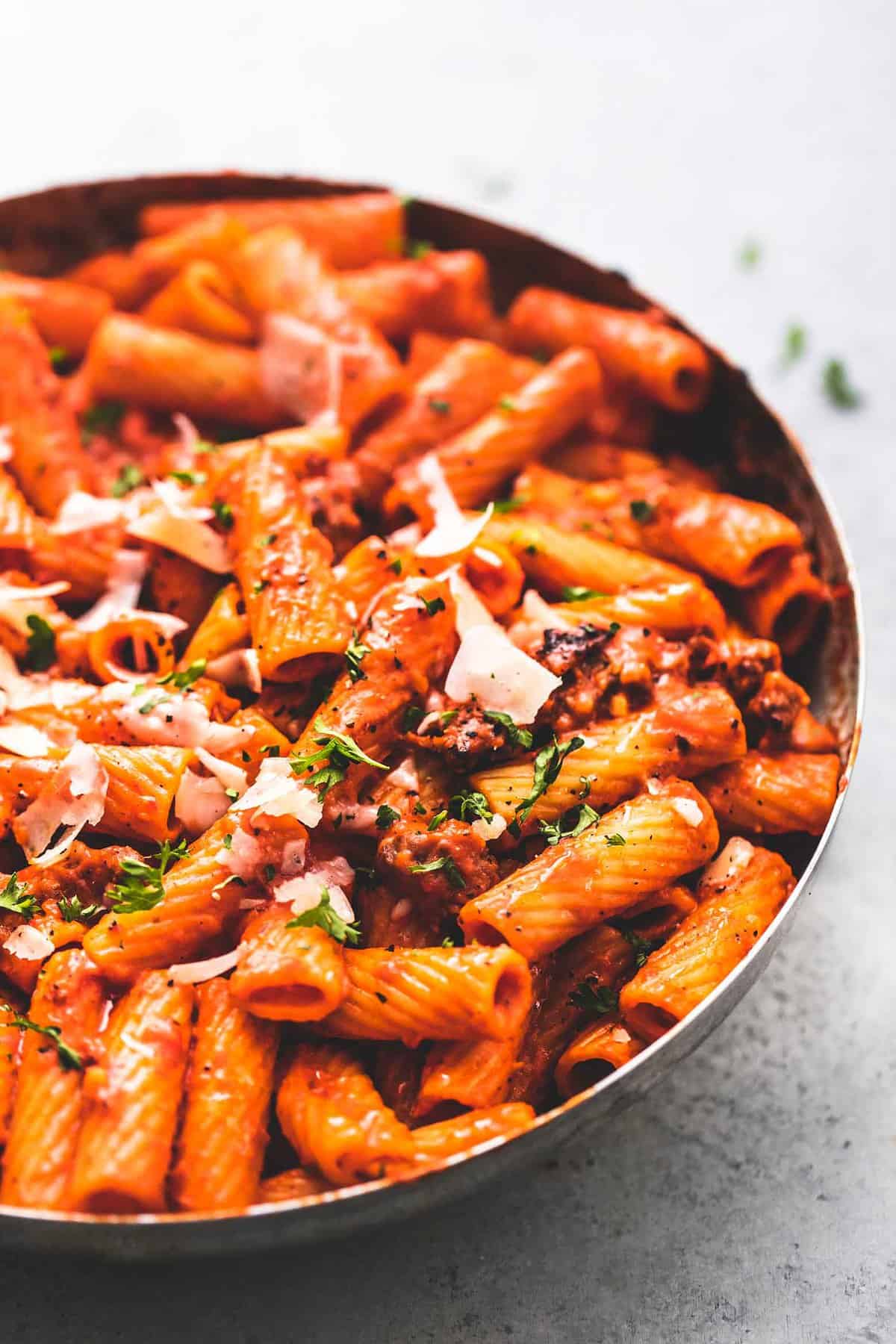 More Delicious Pasta Recipes
Did you make this Creamy Red Pepper Pasta recipe? GREAT! Please rate the recipe below!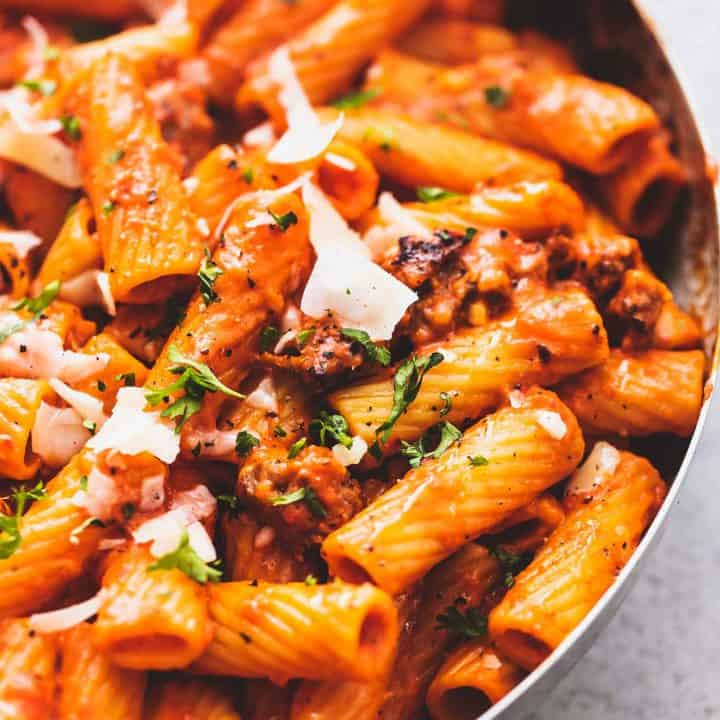 Creamy Red Pepper Pasta
Creamy Red Pepper Pasta is so good, garlicky, savory, cheesy, and honestly just about everything and anything you'd ever want in a one pot pasta dish. Make this with a side salad and some garlic bread and leave the table the happiest you've been in weeks. 
Ingredients
1

pound

short pasta noodles such as rigatoni or ziti

1

tablespoon

olive oil

1

16-ounce jar roasted red bell peppers

-

drained

1

cup

chicken broth

1

15-ounce can tomato sauce

1

pound

ground Italian sausage

½

white or yellow onion

-

diced

3

teaspoons

minced garlic

2

teaspoons

dried Italian seasoning

-

or Herbs de Provence

3

tablespoons

flour

⅓-1

cup

heavy cream

2

teaspoons

salt

-

or to taste

½

teaspoon

cracked black pepper

-

or to taste

⅔

cup

freshly grated parmesan cheese

fresh basil, parsley, or thyme for garnish
Instructions
Cook pasta noodles according to package's instructions, drain, and toss with olive oil. Set aside.

Combine red bell peppers, chicken broth, and tomato sauce in a blender, blend until smooth, and set aside.

Add sausage to a large skillet, saute 2-3 minutes, breaking up with a spatula or wooden spoon as it cooks. Add onions and continue to saute 3-4 minutes longer until onions are tender and sausage is browned.

Stir in garlic for 1 minute until fragrant. Stir in Italian seasoning and flour.

Gradually stir in red pepper sauce, bring to a boil, then reduce to a simmer and cook for 5-8 minutes until reduced and thickened.

Stir in heavy cream and season with salt and pepper.

Stir in pasta noodles, then parmesan cheese til melted. Garnish with fresh herbs and cracked black pepper and serve.
Notes
Spice it up: add 1/2-1 teaspoon crushed red pepper flakes for a spicy kick! Cheese it up: stir in 1/2-1 cup shredded mozzarella cheese til melted and bubbly. 
Nutrition
Calories:
647
kcal
,
Carbohydrates:
62
g
,
Protein:
27
g
,
Fat:
32
g
,
Saturated Fat:
12
g
,
Trans Fat:
1
g
,
Cholesterol:
82
mg
,
Sodium:
1665
mg
,
Potassium:
444
mg
,
Fiber:
3
g
,
Sugar:
3
g
,
Vitamin A:
381
IU
,
Vitamin C:
7
mg
,
Calcium:
165
mg
,
Iron:
2
mg
More Recipes You've Gotta Try