EASY CREPES RECIPE! Crepes may sound difficult, but they are actually quite simple to make! These thin, flat pancake-like confections are sweet and buttery and can be folded around any number of your favorite fillings — both sweet and savory!
Looking for some sweet crepes filling ideas? You'll go bananas for my caramelized banana crepe filling (see what I did there?) and my blueberry crepe filling is the ultimate sweet and fluffy filling for breakfast or dessert crepes!
If you think back to my German Pancake recipe, you'll remember that it was a really fluffy, thick, flavorful pancake. Also referred to as "Dutch babies," "hootenanny," or, if you're my kids "patty cakes" (which is so adorable, I think whoever names foods should officially change the name), these are always a big hit at our house.
But maybe not everyone is into the thick kind of pancakes. I get it. To those people I offer the complete, total, polar opposite of a German pancake: a crepe. Crepes are the thinnest pancake you can get without being completely see-through, yet still considered part of the pancake family.

The best thing about crepes is that you can fill them with literally anything. Jams, jellies, nut butters, chocolate, lemon curd, fruit, caramel, berries, yogurt, toy trucks…seriously anything!

So when you've grown tired of the same-old, same-old pancake recipe, try your hand at easy crepes!
What is a Crepe?
Crepes are just really thin pancakes that are typically filled with goodies on the inside. Like a breakfast burrito filled with sweets instead of eggs.

You'll notice though, that unlike pancake batter, there was no baking soda or powder in this French crepes recipe because there is no need for them to rise or be fluffy like regular pancakes. You want these to be thin.
Recipe Ingredients
I'm telling you, crepes may look complicated but they're not. Plus they're made with just six easy ingredients that you probably already have on hand.
Milk

Eggs

Granulated sugar

Salt

Butter

Vanilla

extract
Powdered sugar (optional, for serving)
How Do You Make Crepes?
I know I mentioned these are so easy to make. I do confess there is one slightly "tricky" part for lack of a better word, and that's just making sure the crepe is thin enough and that you can flip it over. Also you have to watch it carefully because it only cooks for about 2 minutes total.

But really, even these tasks are easy in the grand scheme of things. Once you do one or two you'll totally get the hang of it. Promise.
In a bowl, whisk together milk, eggs, sugar, salt, and vanilla until the mixture gets frothy on the top.
Next, grease a small-to-medium-size skillet (8-10 inches) with butter set over medium-high heat. Pour ¼ cup of the batter into the center of the pan, then immediately lift the pan off the heat and tilt it all around until the batter covers the entire bottom of the pan.
Return the pan to the heat and cook for 30-60 seconds. Use a spatula to carefully flip the crepe over and cook for just one minute longer on the other side until it's light brown or golden brown. Remove the crepe from the pan and put it on a plate. Cover it to keep it warm while you continue the same process with the rest of the batter.
Serve with your favorite fillings inside.
Filling Ideas for Crepes
I mentioned you can put just about anything inside this best crepe recipe in the world, but here are some of my favorite ideas:
Chocolate chips and whipped cream

Peanut butter and thin slices of banana

Berries and whipped cream cheese

Caramel sauce

Lemon curd (store bought is fine)

Nutella and sliced strawberries

Berries and yogurt

Chocolate sauce

Syrup (maple or fruit)

Peaches and sweet cream

Cinnamon and sugar

Marmalade and whipped ricotta

Pears and Nutella
Recipe Tips & Tricks
Whisk thoroughly and wait until it gets frothy before pouring the batter.

If you don't want to whisk then use a blender to mix together the batter.

Grease your pan in between each crepe and use a non-stick pan if you have it for extra insurance against the batter sticking.

Although it's tempting to cook the crepes at a high temperature, you'll want to keep it at medium-low heat to make sure the crepes do not burn. They don't take long at this heat to cook anyway, so let them go low.

Cover up your crepes each time you add a new one to the finished crepe plate. You want to serve them warm for sure. That's how they taste best!

Do use a ¼ cup (or an ice cream scoop would work too) to measure the batter for each crepe. You want them to be uniform in size, but also you want them to be thin or you won't be able to fold them around your toppings — and that's the best/most fun part!

Do pick up the pan and tilt/swirl the batter around to make the batter go to every inch of the bottom of your pan — that's the other trick to make them uniformly round and thin.

To keep your crepes from getting stuck together while cooling, you can separate them with a piece of wax paper.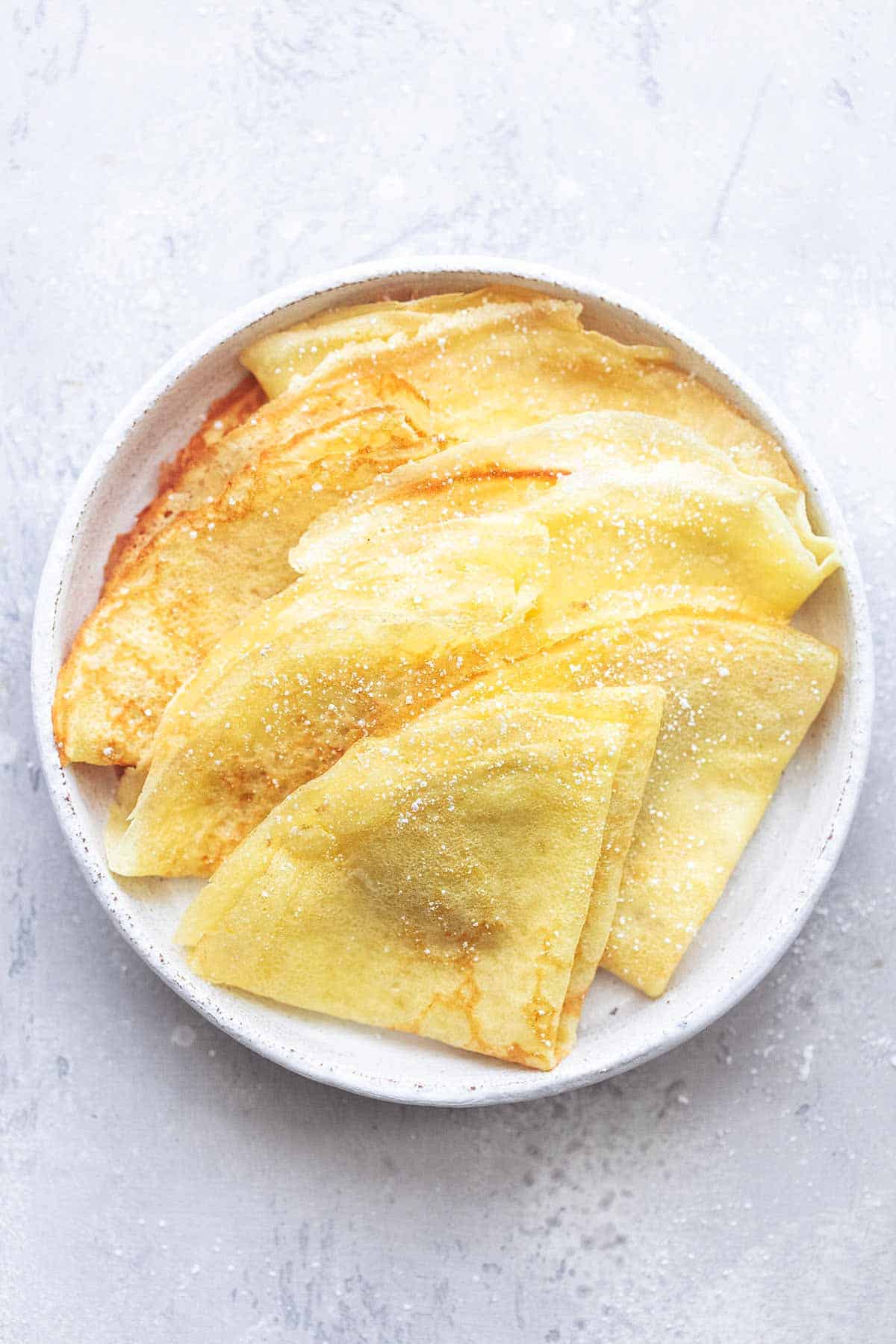 More Amazing Breakfast Recipes
Did you make this recipe? FANTASTIC! Please rate the recipe below!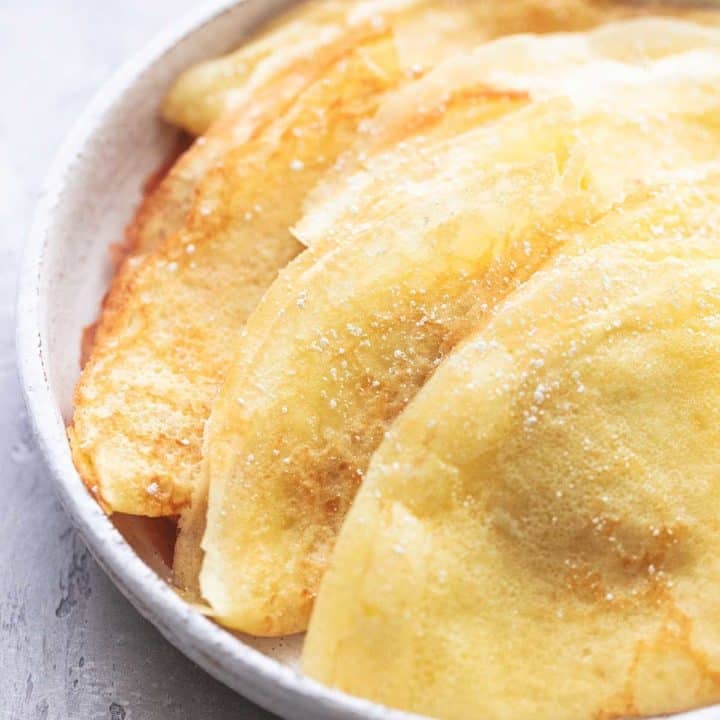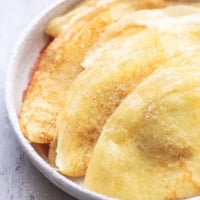 Easy Crepes Recipe
Crepes may sound difficult, but they are actually quite simple to make! These thin, flat pancake-like confections are sweet and buttery and can be folded around any number of your favorite fillings — both sweet and savory! 
Ingredients
1

cup

flour

-

spooned and leveled

1 ¼

cups

milk

3

large eggs

4

tablespoons

granulated sugar

¾

teaspoon

salt

2

tablespoons

butter

-

melted

1

teaspoon

vanilla

butter

-

for cooking
Instructions
Whisk together flour, milk, eggs, sugar, salt, melted butter, and vanilla until mixture starts to get frothy on the top.

Grease a small-medium skillet (about 8-10 inches) with butter set to medium-low heat. Pour 1/4 cup of batter into the center of the pan. Immediately lift the pan off of the heat and tilt the pan to allow the batter to fill the entire bottom of the pan.

Return pan to heat and cook for 30-60 seconds. Use a spatula to gently flip the crepe and cook another minute or so on the other side until golden. Remove from heat, cover to keep warm and repeat with remaining batter.
Nutrition
Calories:
102
kcal
,
Carbohydrates:
13
g
,
Protein:
3
g
,
Fat:
4
g
,
Saturated Fat:
1
g
,
Trans Fat:
1
g
,
Cholesterol:
43
mg
,
Sodium:
194
mg
,
Potassium:
61
mg
,
Fiber:
1
g
,
Sugar:
5
g
,
Vitamin A:
184
IU
,
Vitamin C:
1
mg
,
Calcium:
37
mg
,
Iron:
1
mg