Whip up a batch of your favorite coconut and caramel Samoas girl scout cookies at home!! Even BETTER than the originals!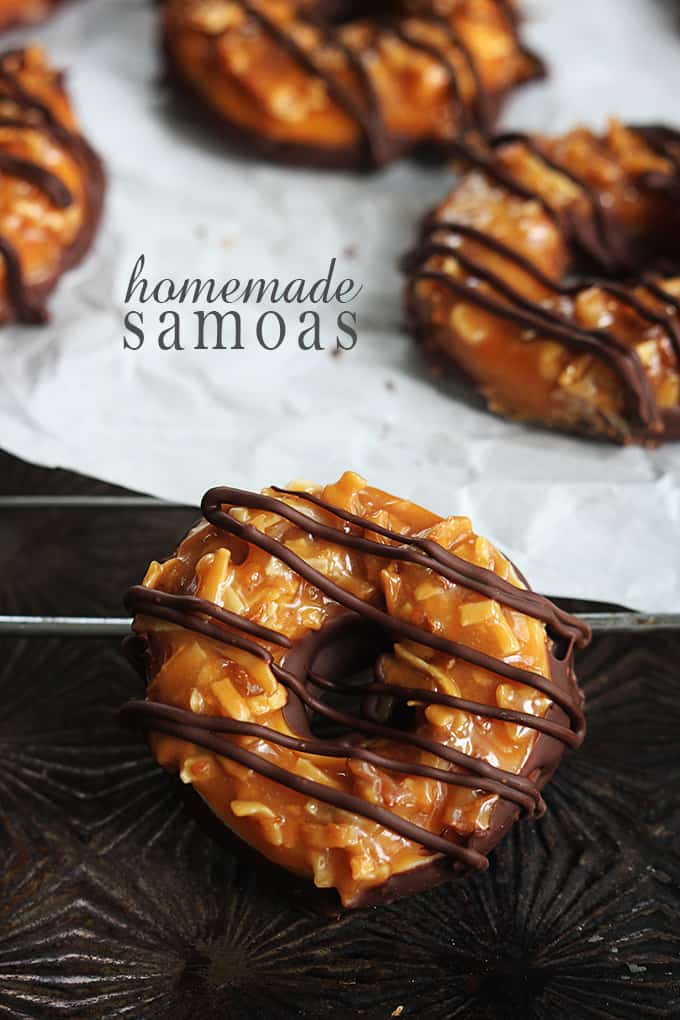 Samoas are by far my absolute favorite girl scout cookie. Like, without a doubt. I know there are a lot of Thin Mint lovers out there, and I can respect that chocolate-mint combo, sometimes you just gotta have it. But for me, Samoas are hands down the must delicious little round pieces of perfection on the entire planet.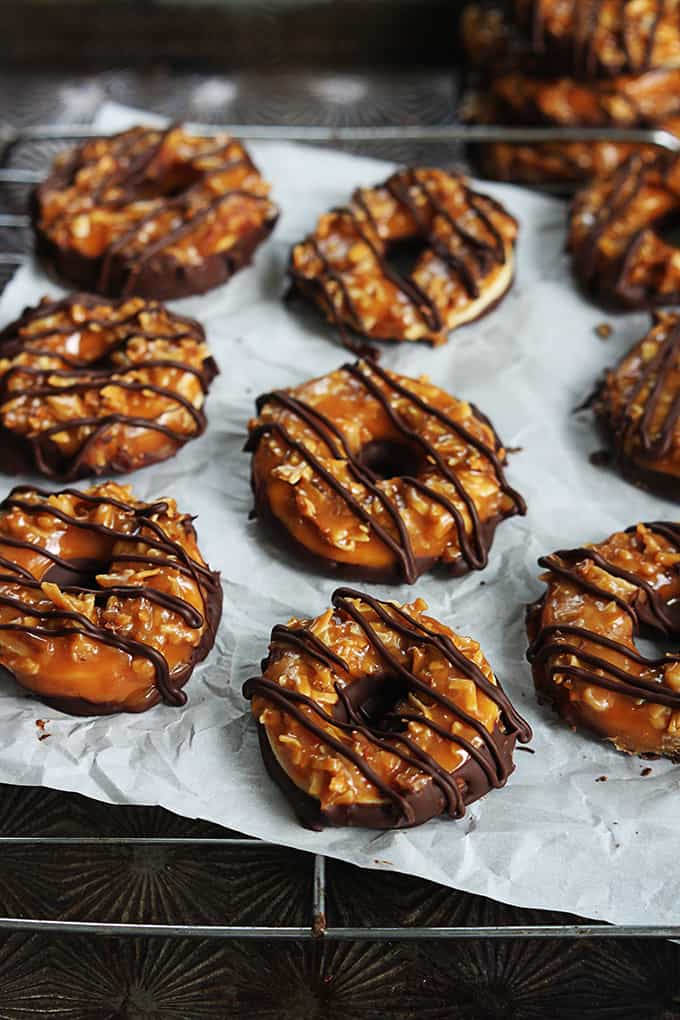 It's a match made in heaven. Me + caramel + coconut + chocolate.
I've been dying to make these at home for months. Why I haven't before now is, well, dumb. . . to put it nicely. I guess I was being lazy? But there was no need for laziness. These cookies are ultra easy to make. Which is good for impatient, 20 pairs of sweats owning people like myself.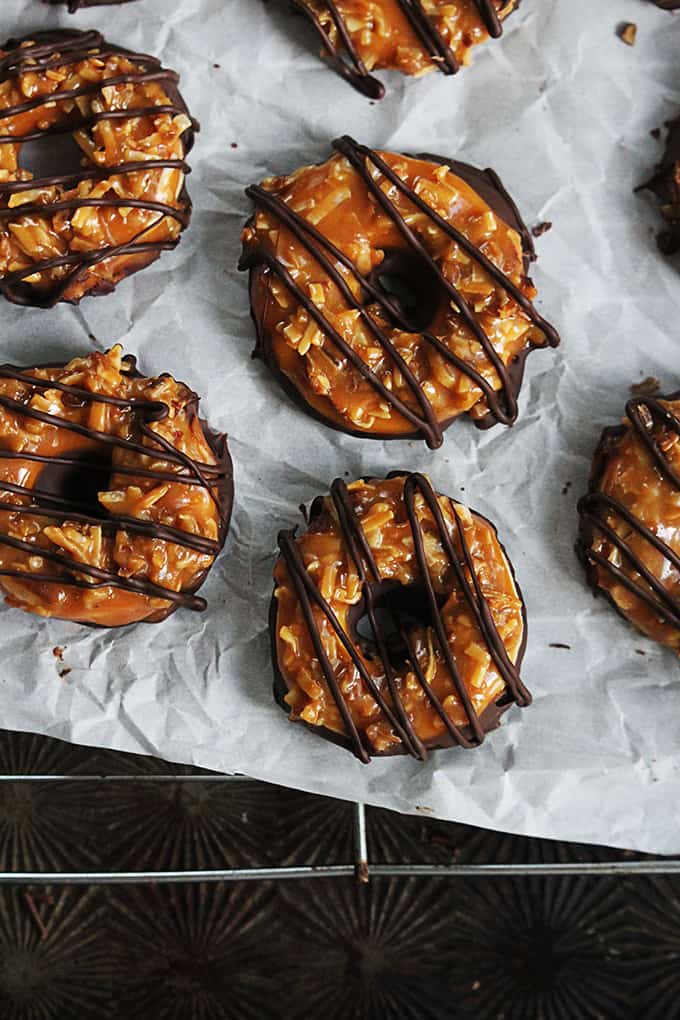 And I wondered if I'd catch flack for saying this but, ah what the heck – I've gotta be honest: these are better than the originals. Unspeakable! No but really, it's true. The caramel stays soft just like it should, the cookies is buttery and vanilla-y and totally delicious, the coconut-caramel topping is piled high to heaven, and the chocolate is extra-rich. Ohhhh yeah baby. But beware: upping the richness in these cuties just makes them even more addictive. I just made them yesterday and I have 3 left. Mind you there are only two of us living in this house. And my husband doesn't like coconut soooo…..
yeah.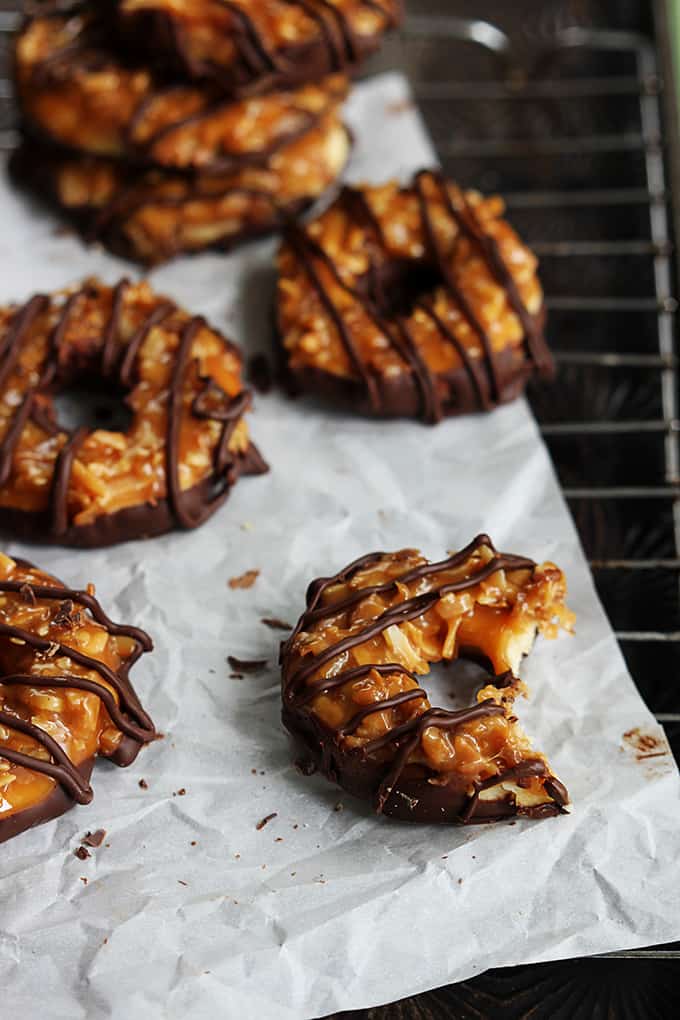 What people are saying about these Homemade Samoas
"These were delicious and a HUGE hit at the party I took them too! I did alter the recipe to make bars rather than individual cookies by: pressing the dough into a pan (9×13 because I doubled the recipe), baking at 350 for about 20 minutes, then mixing the toasted coconut with the melted caramel and pouring over the whole pan, chilled, cut into squares, dipped bottoms in chocolate. Even with omitting the rolling and cutting of the cookies, this recipe was pretty time/labor intensive for me. It was worth it because they were really yummy, but will probably only make for special occasions." – Lindsey
"Hello! I went looking for a Samoas recipe and wasn't disappointed! These came out great. I made the dough a few days before and refrigerated so it wouldn't be as much work the day of. The circle shape adds to the authenticity of it, but i used small cookie cutters and had star and heart cookies. I also found that the cookie was much better the next day. It tasted even better and a lot more like the original cookie.
" – Amelia
"Made these last night and had to restrain myself from eating every single crumb! It totally inspired me to re-create that smell using my Pink Zebra Sprinkles." – Kristen
Homemade Samoas (aka the caramel + coconut girl scout cookies)
Whip up a batch of your favorite coconut and caramel Samoas girl scout cookies at home!! Even BETTER than the originals!
Ingredients
½

cup

butter

-

softened

⅓

cup

sugar

1 ¼

cup

flour

⅓

teaspoon

baking powder

¼

teaspoon

salt

1

tablespoon

cold milk or water

½

teaspoon

vanilla
Topping
1 ½

cups

coconut flakes

2

cups

caramels

-

unwrapped

3

tablespoons

heavy cream

½

teaspoon

salt

1

teaspoon

vanilla

1 ½

cups

semi sweet chocolate chips
Instructions
To prepare the cookies, whisk together flour, baking powder, and salt and set aside. Mix together butter and sugar in a separate bowl until fluffy. Add flour and mix with until fine crumbs form. Add milk and vanilla and continue to mix until dough comes together. Flatten the dough slightly, wrap it in plastic wrap, and chill for 1 hour OR freeze for 20 minutes.

After dough has chilled, roll it out on a flat well-floured surface to about 1/4 inch thickness. (If the dough is too sticky, sprinkle a couple tablespoons of flour over the dough and knead it a few times with your hands. roll it back into a 1/4 inch thick disc.)

Use a round cookie cutter to cut as many cookies as you can from the dough. Cut the centers out with a smaller cookie cutter. (*see note for alternative method) Place each cookie onto a greased baking sheet. Press the remaining dough into a ball, roll into a 1/4 inch disc again and repeat cutting process. Do this again until you have used as much of the dough as you can.

Bake cookies at 350 for 10-12 minutes until cookies look "dry" and very slightly golden in color. Place cookies (on a baking sheet) in the fridge or freezer.

In a medium pan over medium heat, continually stir coconut flakes until lightly browned (about 3-5 minutes). Set toasted coconut flakes aside.

In a microwave safe bowl, combine caramels and heavy cream and microwave on high 2 minutes. Stir, and return to microwave for 20 seconds at a time, stirring between each, until caramel is fully melted and smooth. Stir in salt and vanilla.

Spread about 1-2 teaspoons of caramel on top of each shortbread cookie. Chill for 2-3 minutes to let the caramel set.

Stir coconut flakes into remaining caramel. Spread coconut-caramel mixture onto each cookie. Chill again while you prepare the chocolate.

Add chocolate chips to a microwave safe bowl. Microwave on medium power for 2 minutes. Stir, then return to microwave for 20 seconds at a time, stirring between each, until fully melted and smooth.

Carefully dip each cookie in the melted chocolate so that the bottom is well-coated. After all cookies have been dipped, drizzle remaining chocolate over the cookies.

Store in an airtight container or ziplock bag chilled or at room temperature up to 1 week.
Notes
Pro Tip: If you don't have two cookie cutters in the size and shape you need for these cookies, you can use clean jar lids and spice caps to cut the dough into circles.
Nutrition
Calories:
294
kcal
,
Carbohydrates:
41
g
,
Protein:
4
g
,
Fat:
14
g
,
Saturated Fat:
9
g
,
Trans Fat:
1
g
,
Cholesterol:
7
mg
,
Sodium:
181
mg
,
Potassium:
201
mg
,
Fiber:
3
g
,
Sugar:
27
g
,
Vitamin A:
66
IU
,
Vitamin C:
1
mg
,
Calcium:
62
mg
,
Iron:
2
mg
Recipe adapted from Just A Taste —> p.s. this link will take you to some really awesome step by step photos in case you need them!