Mashed potatoes are the secret ingredient to making these absolutely super fluffy and airy Mashed Potato Cinnamon Rolls with the perfect flavor and texture!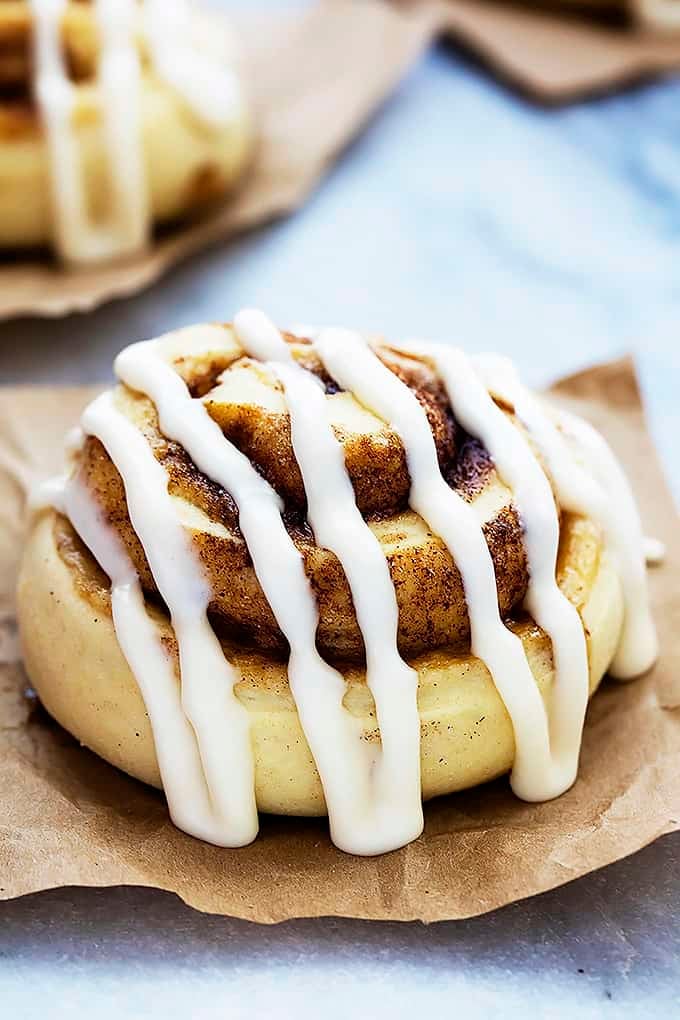 It's NOVEMBER. I don't know how it happened, but October just vanished into thin air and I'm freaking out a tiny bit about the fact that Halloween has come and gone and now it's time to get ready for Thanksgiving. And when I say freaking out, I mean that in multiple ways. Freaking out in a bad way because I am dearly going to miss October – my favorite month of the year. And also freaking out in a good way because HELLO! Thanksgiving.
Thanksgiving means potatoes. And potatoes mean cinnamon rolls.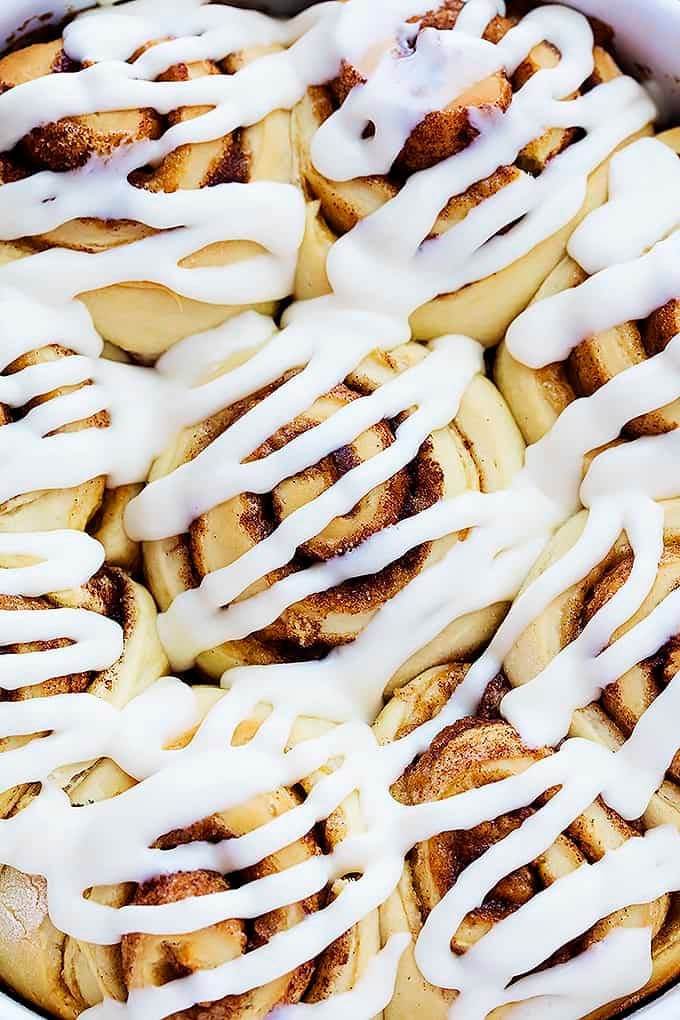 Are you confused?? It's okay I was too. This is my mother in law's recipe. With a few tweaks. For the longest time I was completely baffled why my mother in law only made cinnamon rolls the day after she served roast and potatoes for Sunday dinner. It was like clock work. And I never made the connection on my own until one day she said "I made mashed potatoes for dinner because I was really craving cinnamon rolls".
Me: Ummmmmm. I don't get it.
Then she told me. Her cinnamon roll recipe calls for a cup of mashed potatoes. I'm sure I would have been fairly grossed out if I hadn't tried her cinnamon rolls before which taste a lot like Cinnabon only… lighter and fluffier and wonderful-er.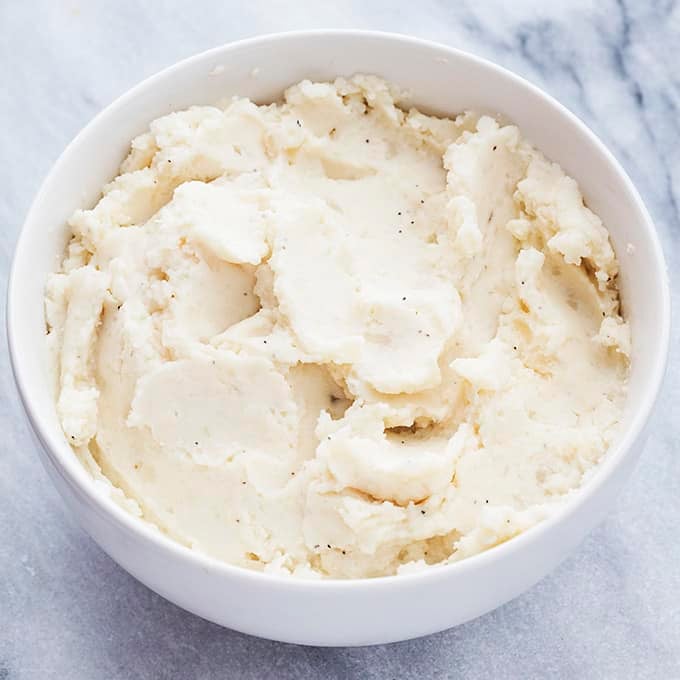 Look at that dough – it has mashed potatoes in it. Crazy huh?? I know it seems weird but I swear it works. They don't give the cinnamon rolls a weird flavor or texture – in fact they make the cinnamon rolls extra fluffy and airy, it's pretty much the most amazing trick EVER.
And since turkey + potato day is coming up in a few short weeks, I thought I'd share it in time for you to plan on starting a new tradition: mashed potato cinnamon rolls the day after Thanksgiving. Genius right?!
You know you're going to have hoards of leftover mashed potatoes and while everyone has their ideas for what to do with your leftover turkey, there are only so many ways to eat leftover mashed potatoes you know? So while I'm a huge fan of re-heating potatoes and gravy the next day, I am advocating something different here. And that something is cinnamon rolls. Topped with frosting. Not gravy.
No offense gravy, but you wouldn't taste awesome on a cinnamon roll. It's nothing personal.
Would get a load of these beauties?! Oh oh oh, I almost forgot to mention that they only require 45 minutes of rising time so this isn't a whole-day affair. They're a cinch to make and the flavor and texture is perfect. So if you're wondering what to do with all of those Thanksgiving leftovers – here's your answer… Perfect, fluffy, cinnamon rolls!
What people are saying about these Mashed Potato Cinnamon Rolls
"I have tried many, many cinnamon roll recipes and these are really the best I have ever had! )this includes recipes from Food and Wine and Peter Reinhart. Thank you for sharing." – Shannon
"I just made them, and they are so far the best cinnamon rolls I have ever had!! <3 Thanks so much." – Kate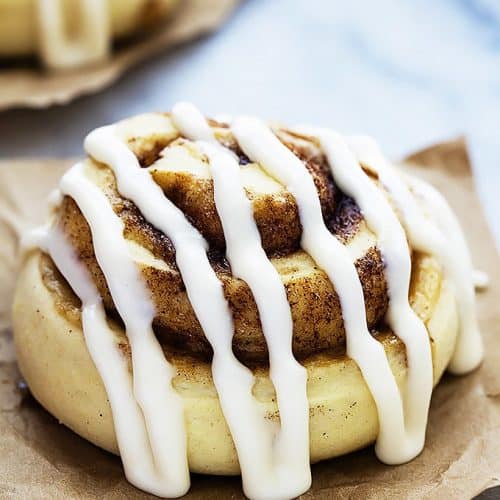 Mashed Potato Cinnamon Rolls
Mashed potatoes are the secret ingredient to making these absolutely super fluffy and airy cinnamon rolls with the perfect flavor and texture!
Ingredients
2

cups

hot milk

½

cup

butter

1

cup

sugar

1

cup

finely mashed potatoes

-

(see note)

2

teaspoons

salt

4 ½

teaspoons

active dry yeast

-

(2 packets)

½

cup

warm water

2

eggs

-

lightly beaten

7 – 8 ½

cups

flour
Filling
4

tablespoons

butter

-

softened

1

cup

brown sugar

¼

cup

sugar

2

teaspoons

ground cinnamon
Frosting
2

ounces

cream cheese

-

softened

2

tablespoons

butter

-

softened

5

tablespoons

milk

4

cups

powdered sugar

1

teaspoon

vanilla extract
Instructions
Place the 1/2 cup butter in the bowl of a stand mixer or large bowl. Pour hot milk over butter. Add sugar, mashed potatoes, and salt. Allow to cool slightly while you do the next step.

Dissolve yeast in the 1/2 cup warm water. Add to milk mixture with eggs and 4 cups of the flour. Beat until smooth and well blended.

Add remaining flour 1/2 cup at a time until a soft dough forms. When dough comes together, transfer to a clean, well-floured surface and knead for 1-2 minutes by hand. Place in a lightly greased large bowl and cover with plastic wrap. Allow to rise for 45 minutes.

Preheat oven to 350 degrees and lightly grease a baking sheet or large casserole dish.

Roll dough into a large rectangle about 1/2 inch thick. For the filling, spread the softened butter onto the dough. Mix together sugar, brown sugar, and cinnamon and sprinkle over buttered dough. Tightly roll one long side to the other long side and pinch the seam to seal. Use a pizza cutter or sharp knife to cut into about 16 sections.

Place sections swirl-side-up/down onto your greased casserole dish or baking sheet. (see note) Bake for 20-30 minutes until golden and cooked through.

Prepare the frosting. Cream together cream cheese and butter until smooth. Add milk, powdered sugar, and vanilla and mix again for 2-3 minutes until smooth. Drizzle or spread over warm cinnamon rolls and serve.
Notes
For the mashed potatoes – You can use instant potatoes, or homemade. For homemade mashed potatoes: if you don't heavily season your mashed potatoes you can use a cup of leftovers. If you do season your potatoes (salt, pepper, garlic, etc) then it's best to think ahead and simply reserve a cup of the freshly mashed potatoes before you season them!
If you choose to bake the rolls in a casserole dish (like pictured), they will require a little more baking time than if you bake them on a baking sheet where they aren't touching.
Nutrition
Calories:
745
kcal
,
Carbohydrates:
159
g
,
Protein:
17
g
,
Fat:
5
g
,
Saturated Fat:
2
g
,
Trans Fat:
1
g
,
Cholesterol:
29
mg
,
Sodium:
351
mg
,
Potassium:
300
mg
,
Fiber:
5
g
,
Sugar:
61
g
,
Vitamin A:
157
IU
,
Vitamin C:
3
mg
,
Calcium:
96
mg
,
Iron:
6
mg