Easy one hour cream cheese cinnamon rolls have cream cheese IN the DOUGH to make them extra soft, super fluffy, and more flavorful!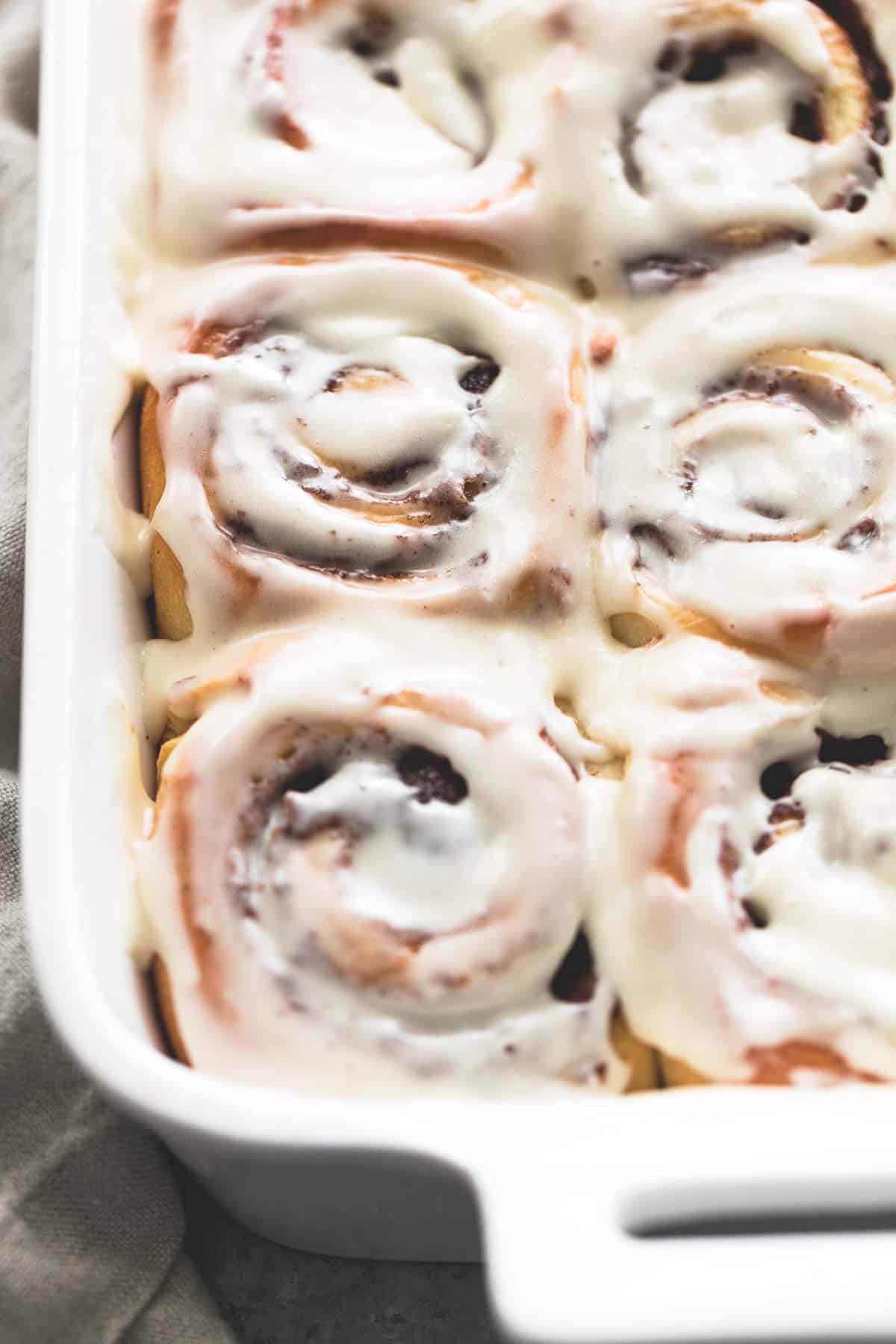 I have had breakfast on the mind all week. When it comes to Christmas, breakfast is absolutely my favorite meal of the day. Maybe it's because I've recently overdosed on holiday dishes between Thanksgiving (takes weeks to recover really) and all the parties and get togethers… by the time Christmas day rolls around I'm just not craving turkey and ham and potatoes quite as intensely as I was at the beginning of November.
Okay that's a lie. I'm always craving potatoes.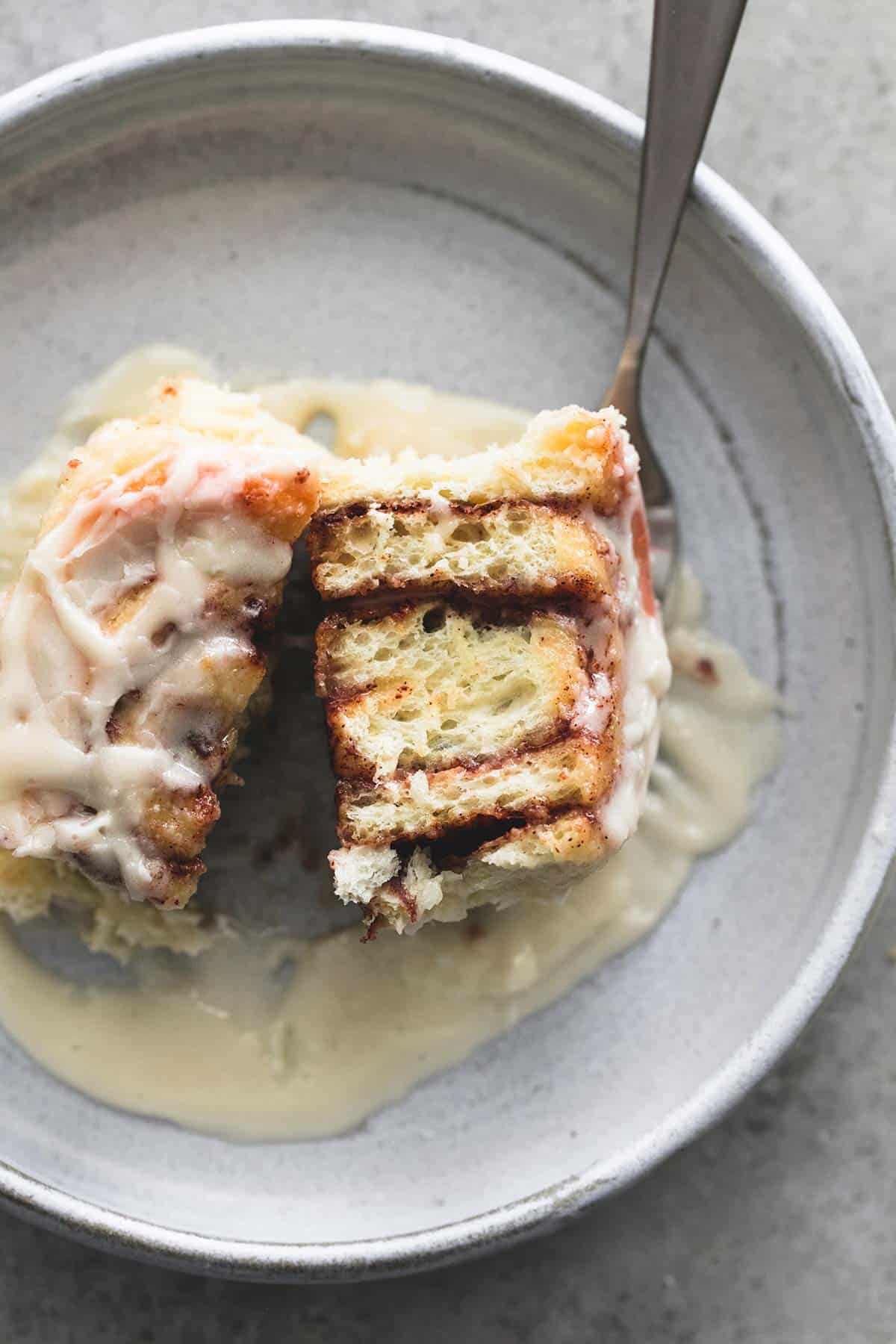 But you get what I'm saying right? Come Christmas day it's the breakfast-slash-brunch happenings that really have me excited. This year we're hanging at home in our cozy jammies on Christmas morning instead of rushing out the door to meet up with extended family, and that means I am making a special breakfast for the four of us. Enter: one hour cream cheese cinnamon rolls.
Also known as the fluffiest, richest, BEST cinnamon rolls to ever be tasted by this cinnamon roll lovin' mouth of mine.
I've always had a soft spot for cream cheese in my frostings, particularly where cinnamon rolls are involved, but recently I had the idea to add cream cheese to the actual cinnamon roll dough. The result? The fluffiest, richest cinnamon rolls I've ever eaten. SO good I'm not sure I can ever make them any other way after this.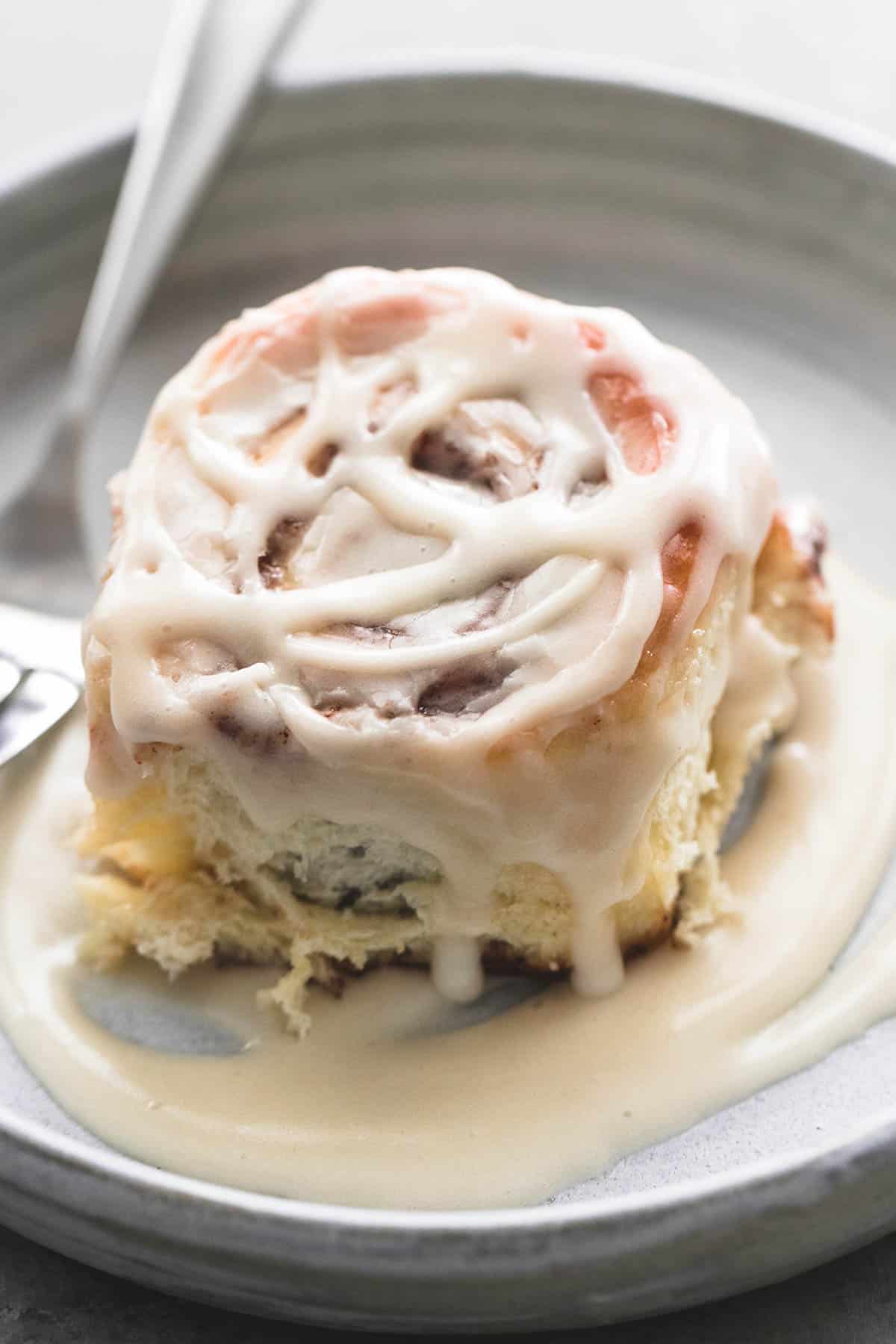 Adding cream cheese to the dough only creates one little extra step in making your cinnamon rolls and they will still be done in about an hour. From scratch! Kind of unbelievable right?? It's pretty magical. Just magical enough in fact to make the perfect Christmas morning breakfast.
If you're a beginner to cinnamon roll making or working with yeast, this easy recipe is a great place to dive in. You can make them with or without a stand mixer, the rise time is only 30 minutes, and the recipe is really forgiving so if you get distracted or jump the gun by a few minutes on one of the steps, the cinnamon rolls will still come out amazing. Topped with my very favorite, easy 5 ingredient BEST cinnamon roll icing, these are unbeatable!
What people are saying about these One Hour Cream Cheese Cinnamon Rolls
"These are the BEST, MOST DELICIOUS CINNAMON ROLLS! THEY'VE EDGED OUT EVERY OTHER RECIPE I HAVE AND I'M NEVER LOOKING BACK. YUM!" – Lisa
"Oh wow! I stumbled on your blog looking for an easy but from scratch, fast rising cinnamon roll RECIPE to use on Christmas morning. These were easy and INDESCRIBABLY delicious. PROBABLY the best cinnamon roll I've had in my life, and I've had a lot of cinnamon rolls! I want to add these to my go to list for gifts, meal trains, etc." – Jami
"Made these for CHRISTMAS Eve. Loved them!" – Ashley
One Hour Cream Cheese Cinnamon Rolls
Easy one hour cream cheese cinnamon rolls have cream cheese IN the DOUGH to make them extra soft, super fluffy, and more flavorful!
Ingredients
1

cup

milk

-

divided

4

tablespoons

butter

-

cut into several chunks

3 ¼ – 3 ½

cups

all-purpose flour

-

divided

1

(.25 ounce)

instant or rapid-rise yeast

-

(about 2 ¼ tsp)

¼

cup

sugar

½

teaspoon

salt

1

egg

4

ounces

cream cheese

-

softened
Filling
4

tablespoons

butter

-

softened

¾

cup

brown sugar

1

tablespoon

ground cinnamon
Frosting/Icing
click [url:1]HERE[/url] for my favorite easy 5 ingredient BEST cinnamon roll icing
Instructions
In a microwave safe bowl, combine 3/4 cup milk and 4 tablespoons butter. Heat on high for 1 1/2 minutes. (Butter should be partly melted.) Stir in remaining 1/4 cup cold milk and set aside.

In a large mixing bowl (or stand mixer with paddle attachment) whisk together 2 cups flour, sugar, yeast, and salt.

Add milk mixture and egg to the flour mixture while the beater (or paddle) is running. Beat for about 1 minute until ingredients are completely incorporated.

Switch to your dough hook attachment and add remaining flour only until dough barely pulls away from the sides of the bowl. (It should still be very soft and slightly sticky – do not add too much flour!.) Knead for 5 minutes (if using stand mixer, continue to use dough hook, if using a hand mixer transfer dough to a floured surface and knead by hand for 5 minutes).


Transfer dough out onto a floured surface, roll one or twice to lightly coat in flour, and allow to rest for about 10 minutes.

Roll dough out into a large rectangle (about 12×14 inches). Use the back of a spoon or a spatula to spread cream cheese all over the top surface of the dough. Fold dough in thirds (like a letter) and then in thirds again. Turn dough once or twice to lightly coat in flour again and smooth out the folds. Allow to rest for 5-10 minutes.

Roll dough out into a rectangle again (about 12×14 inches). Spread softened butter over the dough. Whisk together cinnamon and sugar. Sprinkle buttered dough with cinnamon-sugar mixture.

Roll tightly starting and ending with the longer ends. Cut dough log into 12 equal sized pieces (see note) and place side-by-side in a greased 9×13 inch pan. Cover pan with plastic wrap or drape a towel over the top and place in warm place for 20-30 minutes.

Bake at 350 degrees for 15-20 minutes until golden brown around the edges and on top. Top with the [url:2]BEST cinnamon roll icing[/url] ever.
Notes
To cut the dough, my favorite trick is to use dental floss (even minty floss is okay, it won't flavor your dough). Simply place a piece of floss underneath your dough log at the place you want to cut it. pull both ends up above the dough, criss cross them, and pull tightly to "scissor" cut the dough log. This keeps the dough from getting smashed like it does with a knife.
Nutrition
Calories:
363
kcal
,
Carbohydrates:
70
g
,
Protein:
9
g
,
Fat:
5
g
,
Saturated Fat:
3
g
,
Trans Fat:
1
g
,
Cholesterol:
27
mg
,
Sodium:
157
mg
,
Potassium:
149
mg
,
Fiber:
2
g
,
Sugar:
20
g
,
Vitamin A:
198
IU
,
Vitamin C:
1
mg
,
Calcium:
74
mg
,
Iron:
3
mg