These no-bake Pumpkin Cheesecake Truffle Mummies are so easy to make and are perfect for Halloween parties!
I can't believe it's October. Two seconds ago I was saying my goodbyes to summer and now we're in the thick of fall. September seriously flew by way to fast, and that is killing me because this is my favorite time of year. I adore fall time and everything that comes with it. The first day I pull out my boots, scarves, sweaters, and cable knit socks is a very happy one. My house takes on a perma-smell of all things pumpkin spice, and pretty orange, gold, and red things start sprouting from nearly every flat surface in sight.
Yep, I love it.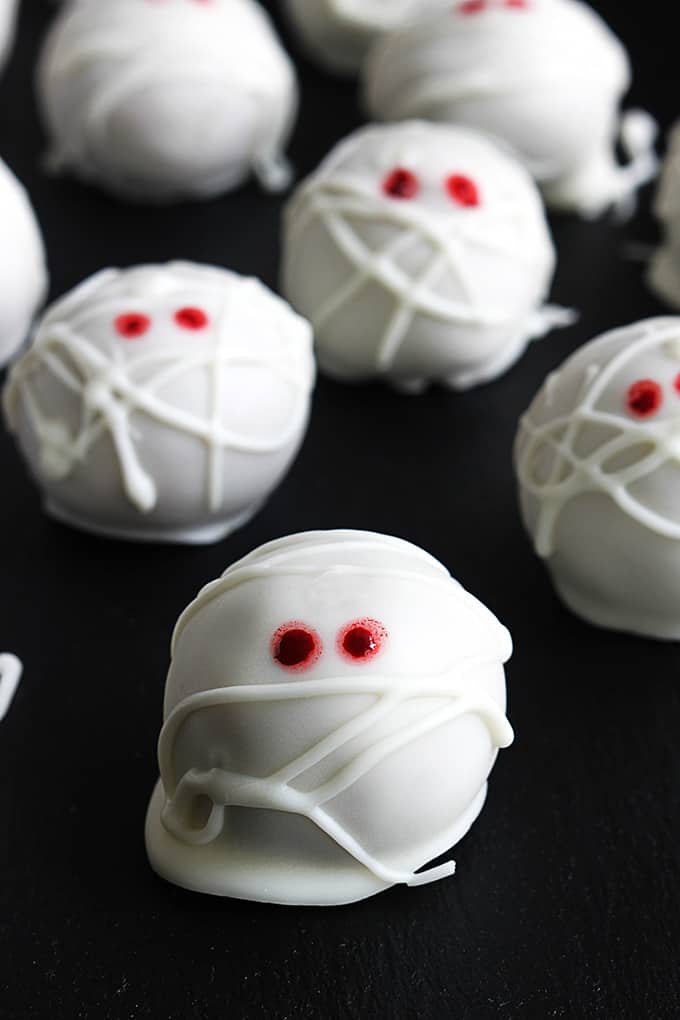 Fall is my favorite time to decorate, even more so than Christmas. But my mother, she goes nuts for Halloween. It's by far her favorite time to decorate and she has more decorations than you could imagine, each year adding to the collection. By the time she is finished putting everything up her house looks like a haunted victorian-era boutique, thanks to her obsession with antiques.
I guess she passed her love of skeletons and witches on to the rest of my siblings because they throw a big Halloween party every year and the costumes they all wear would blow your mind. They seriously go all out for this party. My husband and I are more low-key and usually show up with a last-minute but totally clever couples costume we think is hilarious but everyone else doesn't seem to quite appreciate. Last year, we went as Jack & Jill. We covered plain white t-shirts in grass stains and dirt, bandaged up my husband's head, put my hair in pig tails and showed up to the party carrying a pail of water.
Hilarious, right?? We thought so too.
The best part of this annual family par-tay is the food. Everything is Halloween-themed. Last year I brought this Pumpkin Cream Cheese Cake (in the shape of an actual pumpkin, so cool) and this Mississippi "Blood" Pie. Both were a huge hit. This year I'm bringing these pumpkin cheesecake truffles! They're no bake, super easy, and totally delicious. You can serve them up all season long but for the Halloween party I'm doing them mummy-style. Festive, fun, and CUTE!
What people are saying about these Pumpkin Cheesecake Truffle Mummies
"I actually made these last night for a Halloween Food Competition at work – the "presentation" Competition was fierce, but I did come in for Best Taste!!! THESE WERE AMAZINGLY DELICIOUS, I followed the recipe exactly and they were easy to make and came out perfectly! After reading comments I did use icing for eyes instead of food coloring, or the edible eyes would have been adorable too! These were a hit! Thank you so so much!" – Megan
"I made these today. They came out delicious, I did use some Betty Crocker decorating gel (red) instead of food coloring. I found that it didn't bleed into the chocolate as much as the food coloring did.
" – Exquisitely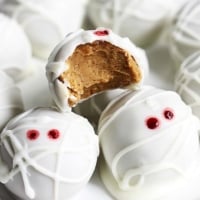 Pumpkin Cheesecake Truffle Mummies (No Bake)
These no-bake pumpkin cheesecake truffles are so easy to make and are perfect for halloween parties! They are so yummy they will be the first thing to disappear at the dessert table!
Ingredients
1 ½

cups

gingersnap cookie crumbs

¼

cup

canned pumpkin puree

⅓

cup

graham cracker crumbs

3

tablespoons

powdered sugar

¼

teaspoon

ground cinnamon

⅛

teaspoon

salt

3

ounces

cream cheese

-

softened

½

cup

white chocolate chips

white chocolate chips

-

or white dipping chocolate (like CandiQuik)

red food coloring
Instructions
In a large bowl combine gingersnap crumbs, pumpkin puree, graham cracker crumbs, powdered sugar, cinnamon, salt, and cream cheese. Mix until smooth. Melt 1/2 cup white chocolate chips and mix into truffle mixture.

Cover and chill until dough is solid enough to roll into balls – about 1 hour in the fridge or 30 minutes in the freezer. When cold enough, roll mixture into 12-14 balls. Place a toothpick in each ball.

Melt remaining white chocolate chips or white dipping chocolate in a small bowl. Use toothpicks to dip each truffle ball into the white chocolate, being sure to coat all sides. Gently shake off excess chocolate. Place chocolate-covered truffle balls on a baking sheet or plate lined with wax paper, parchment paper, or foil. Chill for 3-5 minutes until chocolate hardens.

Drizzle more white chocolate over the truffles. Soak the end of a Q-tip in red food cloring. Dap 2 dots of food coloring to make the mummy eyes. Handle carefully so you don't wipe off the eyes. Store chilled in airtight container.
Notes
Store in airtight container in fridge. 
Nutrition
Calories:
126
kcal
,
Carbohydrates:
15
g
,
Protein:
2
g
,
Fat:
7
g
,
Saturated Fat:
3
g
,
Cholesterol:
10
mg
,
Sodium:
116
mg
,
Potassium:
50
mg
,
Fiber:
1
g
,
Sugar:
8
g
,
Vitamin A:
774
IU
,
Vitamin C:
1
mg
,
Calcium:
26
mg
,
Iron:
1
mg