Salted Caramel Pecan Pie Bars made with a buttery crust, chewy center, and rich salted caramel topping. Such a fun and delicious twist on traditional pecan pie and perfect for the holidays! 
This post is in partnership with Karo® Syrup. All opinions are my own.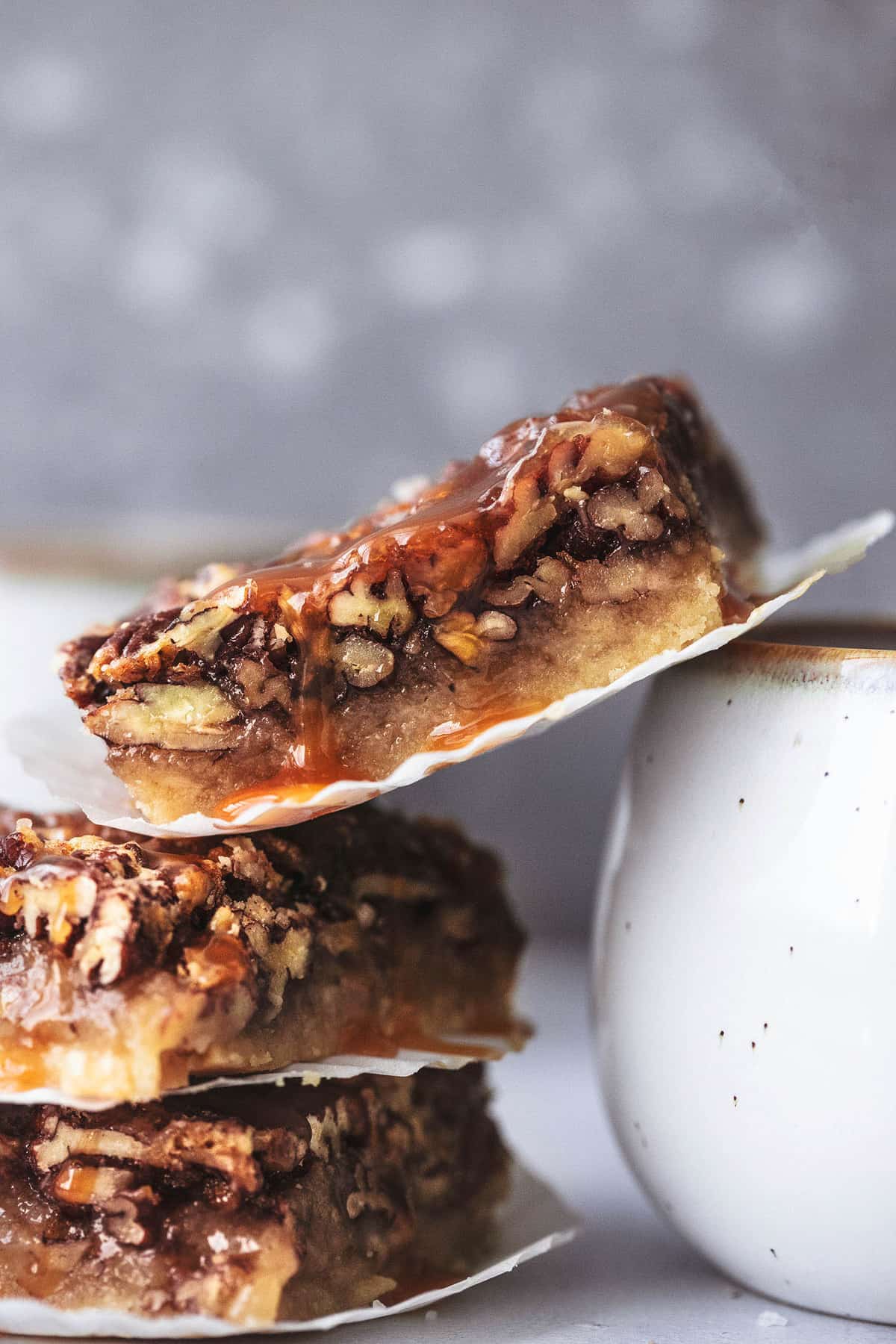 Tis the season for ALL the treats, but most especially, tis the season for
pies
. If I'm being completely honest, my relationship with pie is a complicated one. I only truly love a handful of pie varieties, and even then I'm quite particular about the execution. Each layer – the crust, filling, and topping – must all meet my picky pie requirements and that's not always easy to do. But when it comes to pie variations, I'm much more lenient. And that might be because I secretly prefer the pie twists and reinventions over the originals.
GASP.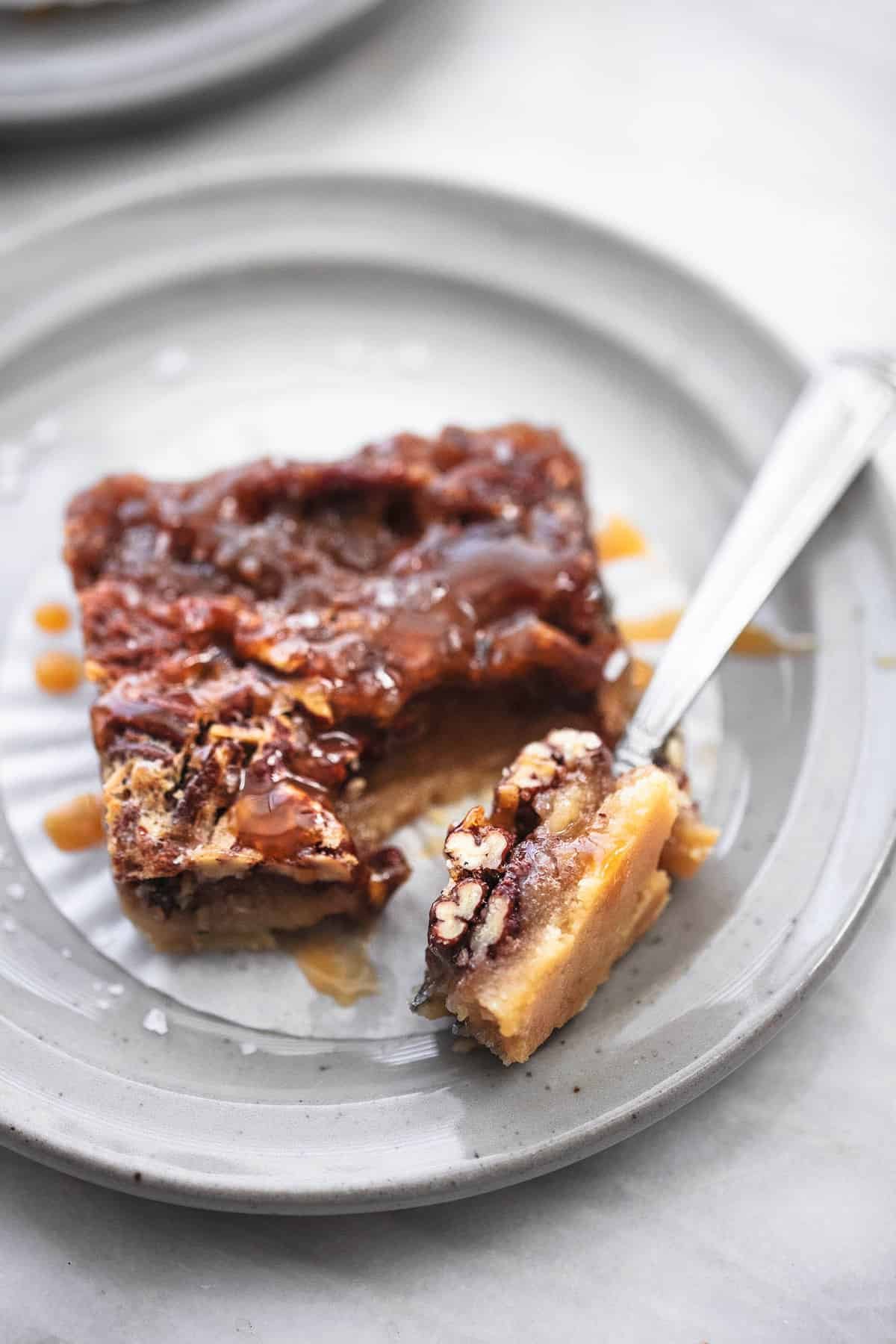 It's true. In my heart of hearts, I'm really a pie bar kind of gal, and I think it comes down to those layers we talked about earlier. I feel like there is more room for manipulation in a bar, and more importantly, better ratios of crust, to filling, to topping. Because when it comes down to it, I enjoy the crust and the topping equally as much as the filling and a "traditional" pie tends to have a whole lot of filling, and not a whole lot of crust and topping in comparison. A real shame in my opinion. Turning a pie into a bar remedies that issue right away and what you're left with is equal parts yum and ease, not to mention that crowd-feeding perk that comes with anything bar-shaped.
All this to say, I'm about to help you master the art of transforming your favorite pecan pie into a bar and you are going to soon be saying – where?? WHERE on earth have pecan pie bars been all of my life?
How do you make Salted Caramel Pecan Pie Bars?
Pecan pie bars are easy to make with three simple layers – a buttery crust, chewy pecan center, and of course that sweet n' salty caramel drizzle. Begin by making the crust with butter, brown sugar, powdered sugar, flour, and salt. Mix til combined, press into a jelly roll pan, and bake for 10 minutes.
Next, prepare the filling with a few eggs, some sugar, butter, vanilla, chopped pecans (of course) and the key ingredient for a truly spectacular amount of chewiness: Karo® Syrup. They've been making this bottle of goodness since 1902 and it's easy to understand why it is famous for its use as the primary ingredient in pecan pie. You can use light, or dark, but Karo® Syrup really is essential to getting that chewy-gooey middle layer of your pie bars that will perfectly compliment the crust and topping. Simply stir it all together, pour onto the crust, and bake for another 25-30 minutes or so until the center starts to firm up.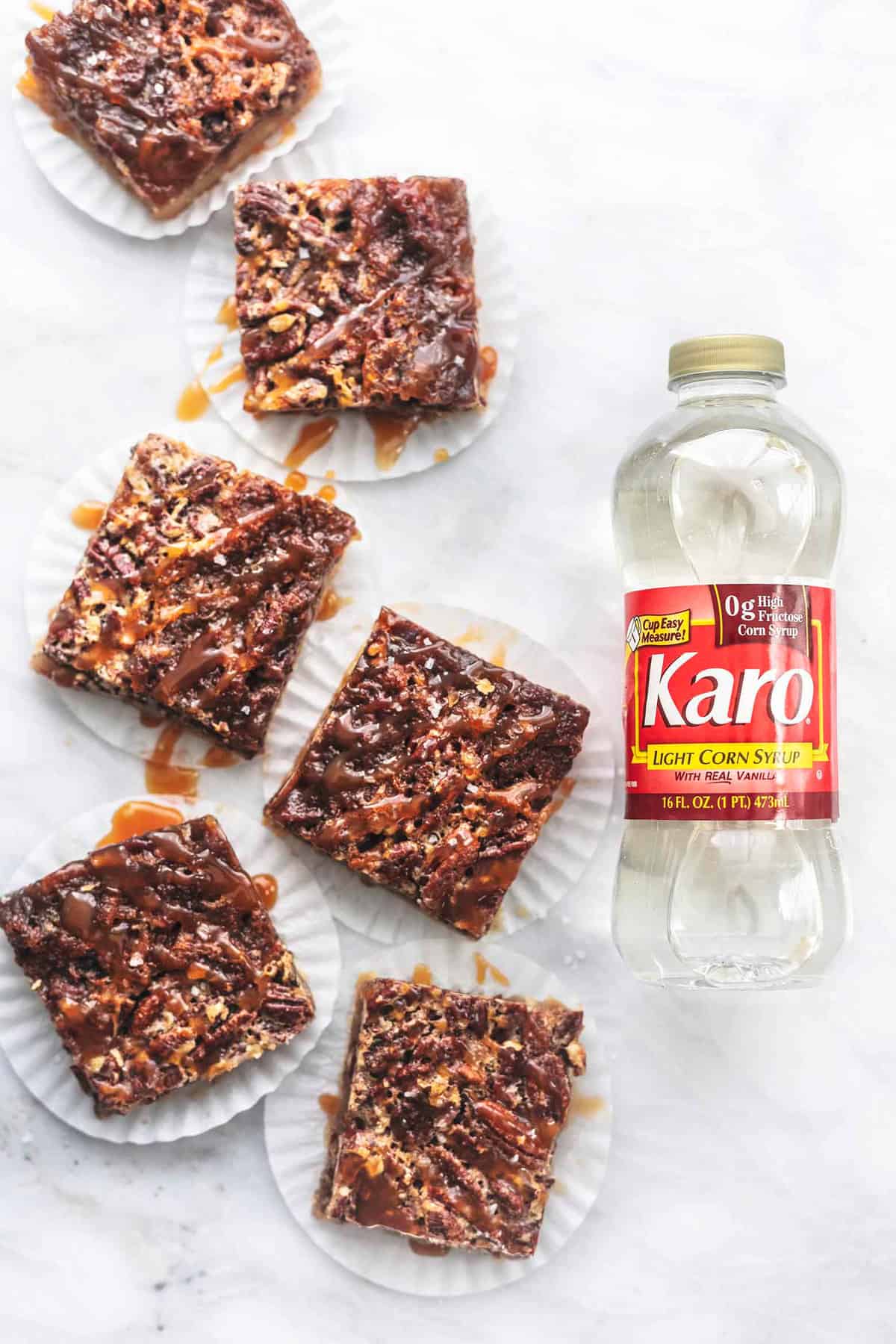 The last step is to let them cool completely (so important so that they won't fall apart when you them into bars!) before adding that long awaited for salted caramel topping. You can definitely make your own salted caramel sauce, or to save time you can use caramel ice cream topping and a generous sprinkling of sea salt flakes.
And thats's all she wrote! That's really all there is to it, minus the cutting of the bars into squares or rectangles, serving on napkins or little dessert plates, and watching the faces of your guests light up with pure enjoyment while you dig into the extra-large piece you saved especially for the chef. (They may have been incredibly simple to make but you did the legwork after all, you deserve it!)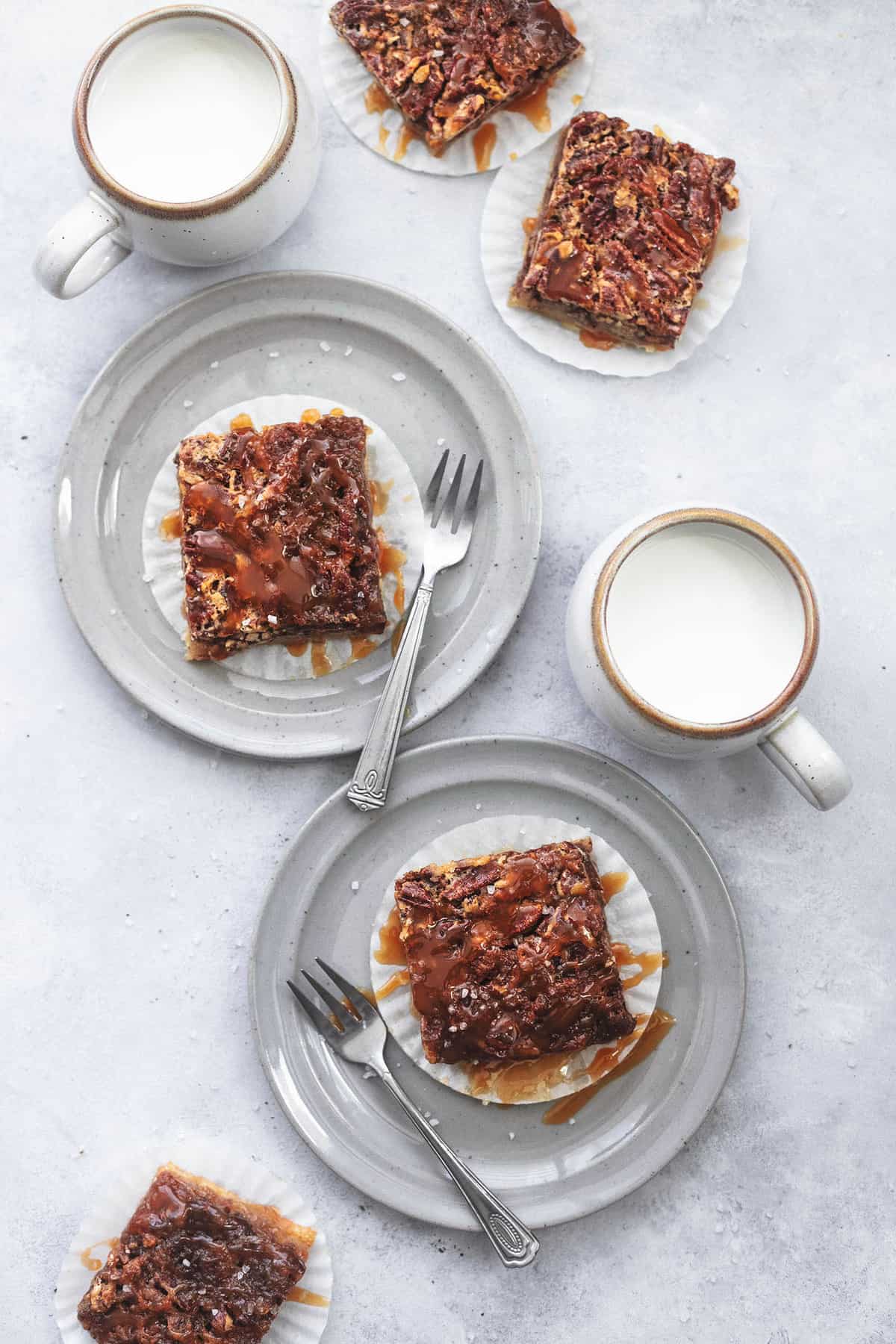 With the help of Karo® Syrup these beauties will be the star of your get togethers and special gatherings this holiday season!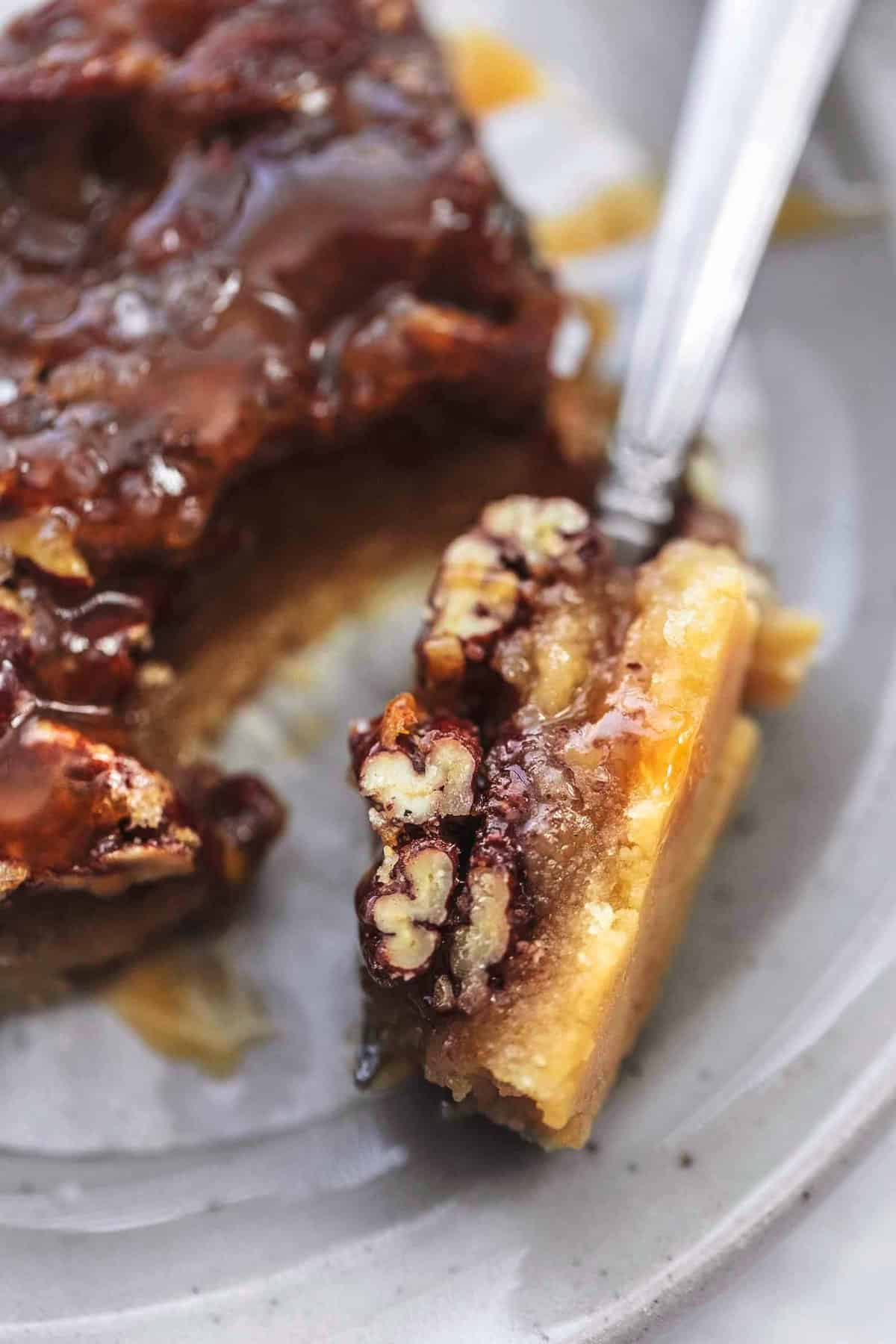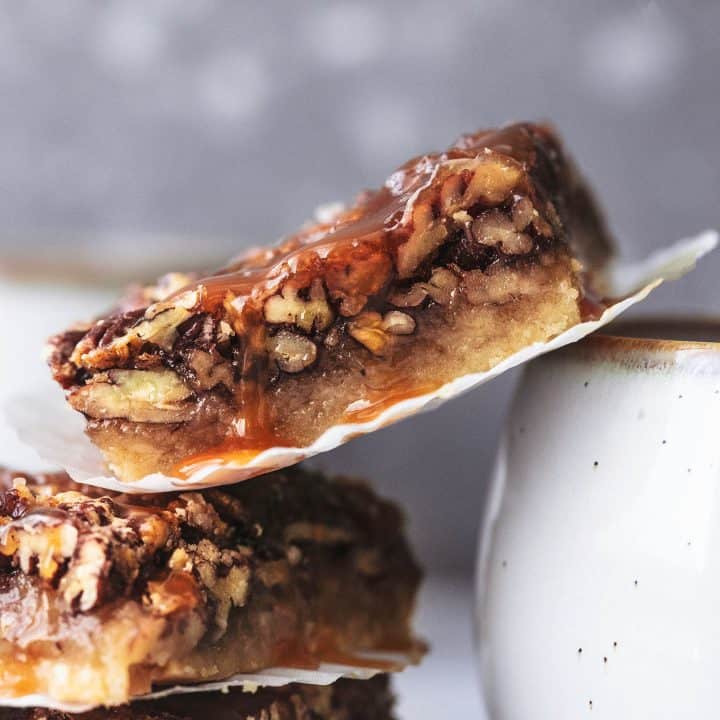 Salted Caramel Pecan Pie Bars
Salted Caramel Pecan Pie Bars made with a buttery crust, chewy center, and rich salted caramel topping. Such a fun and delicious twist on traditional pecan pie and perfect for the holidays! 
Ingredients
For the Crust
1

cup

butter

-

softened

⅔

cup

brown sugar

⅓

cup

powdered sugar

2 ⅔

cup

flour

¼

teaspoon

salt
Filling
4

large eggs

1 ½

cups

Karo Syrup

1 ½

cups

sugar

3

tablespoons

butter

-

melted

1 ½

teaspoons

vanilla extract

2 ½

cups

roughly chopped pecans
Topping
⅓

cup

caramel sauce

coarse sea salt
Instructions
Prepare the crust
Preheat oven to 350°. Line a 9x13 inch pan with foil and grease with cooking spray. In a large bowl mix together butter, brown sugar, and powdered sugar. Add flour and salt and mix until combined. Press firmly into prepared pan. Bake for 10 minutes.
Prepare the filling
While the crust is baking, combine eggs, Karo Syrup, sugar, melted butter and vanilla in a large bowl. Mix well. Stir in pecans. Pour over the crust, spread evenly, and return to oven to bake for 25-30 minutes longer until firm around the edges and center starts to firm up as well. Allow to cool completely before lifting the foil liner out of the pan and cutting into bars.

Drizzle caramel sauce over bars and sprinkle with sea salt to taste. Serve immediately or store in airtight container up to three days.
Notes
I love to serve these pecan pie bars slightly chilled!
Nutrition
Calories:
540
kcal
,
Carbohydrates:
76
g
,
Protein:
5
g
,
Fat:
26
g
,
Saturated Fat:
4
g
,
Trans Fat:
1
g
,
Cholesterol:
41
mg
,
Sodium:
250
mg
,
Potassium:
125
mg
,
Fiber:
2
g
,
Sugar:
55
g
,
Vitamin A:
674
IU
,
Vitamin C:
1
mg
,
Calcium:
40
mg
,
Iron:
2
mg
art