If two ingredients were ever meant to be, it's the Sausage and Cabbage in this Skillet dish that is the most perfect combination of slightly spicy sausage and tender, sweet green cabbage mixed with Cajun spices for a hearty soul-warming dish. 
One-pan skillet dishes are a game-changer for busy weeknights! Make this one and then bookmark these for the rest of your week's menu: Skillet Chicken Pot Pie, Skillet Spinach Artichoke Chicken, and Skillet Chicken and Stuffing.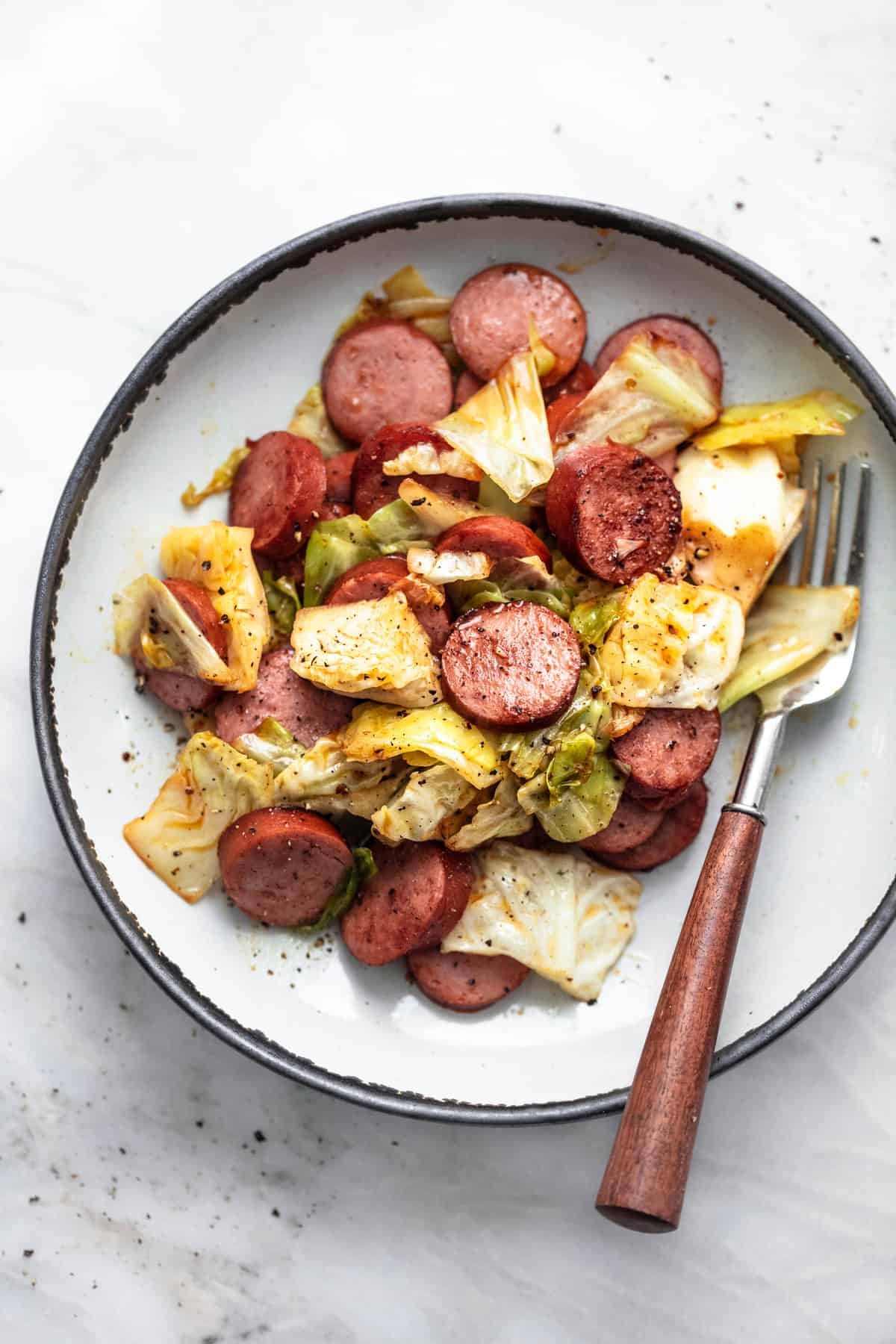 Sausage and Cabbage together, how I love thee, let me count the ways. No, seriously, I'm going to actually count the ways for you: 
It's the right fall dish for any night of the week. Why? It just is, trust me! (And try it.) 

It's a great way to work in a new vegetable that you might not normally eat (ahem, cabbage). 

Sausage is so easy to find at the grocery store and it's already cooked so it warms up in your skillet with the cabbage that much faster. 

You can make this dish as spicy or mild as you want, depending on what kind of sausage you purchase and what kind of seasoning you use. (I used Cajun, see the note below for more info!)

You can eat a lot of it and not feel too guilty! 

This dish is great for those doing the low-carb thing. 

It makes great leftovers and reheats easily! 

This recipe requires only five ingredients (and that includes salt and pepper!)

It goes great over plain or brown rice if you want to add a little something extra (and quick) to the dish. 

My whole family will eat it! (That should be the number one reason, really!)
I think ten reasons are a great start, don't you? With easy-to-find ingredients and only 20 tiny minutes of cooking time, you can cook a homemade dish for yourself or your family or even dinner guests in no time flat. Plus, this dish is a great one for putting in a bowl and sitting on the couch or next to a nice fire with a blanket on those chilly fall and winter nights.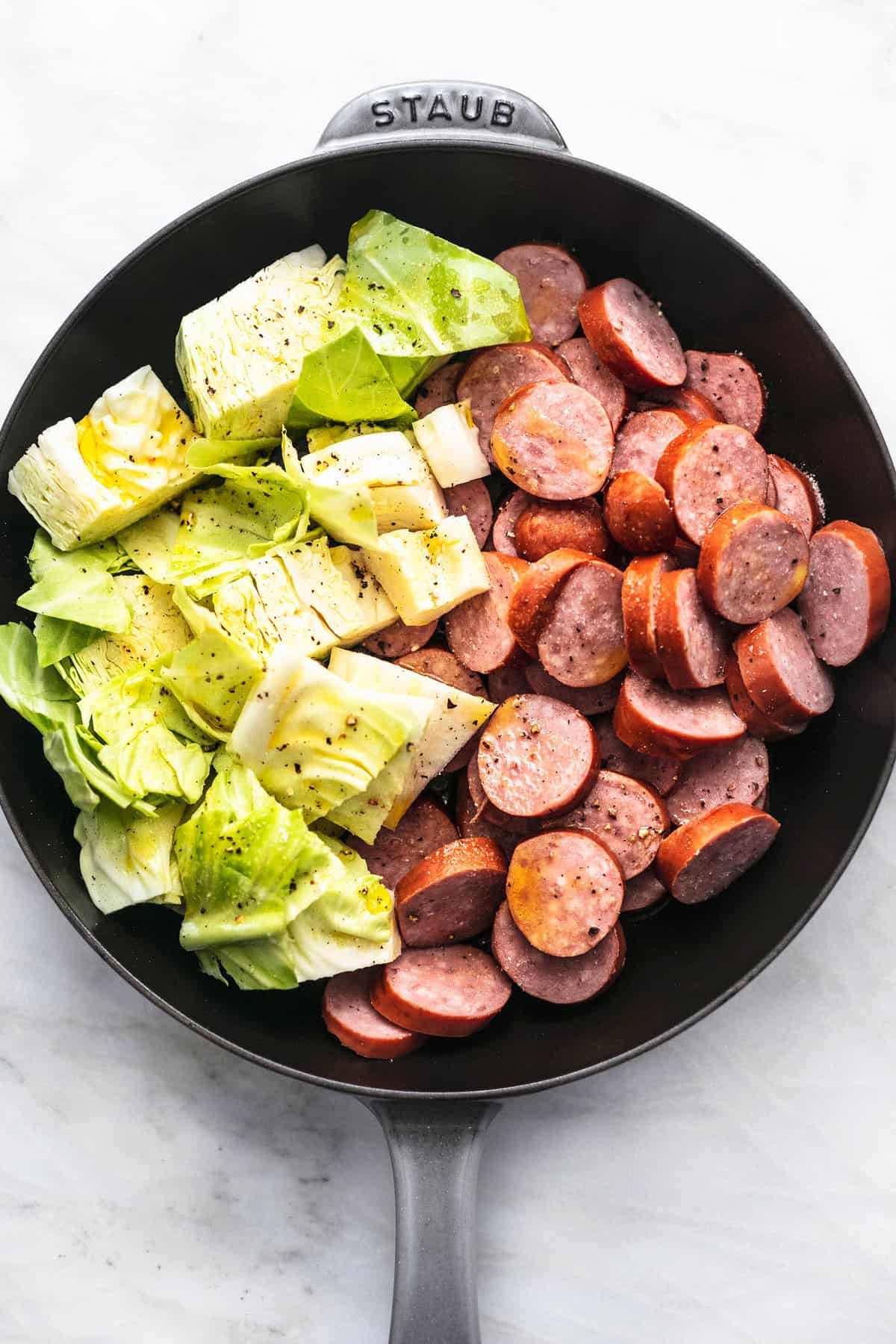 How to Chop Cabbage
Don't be put off by cutting up cabbage if you've never done it before. It's pretty easy. 
The first thing you should do is pull off any outer leaves that are brown, wilty, or otherwise looking pretty unappetizing. Next, I rinse the head off in some running water and pat it dry. Then, I take it to a cutting board with a large, sharp knife (having the right size knife is key, don't mess around with tiny paring knives when you've got a big veggie in front of you). 
Cut the cabbage into wedges by cutting it in half, then flip each half, flat side down, in half, then those quarters (flat side down) in half again. (If you are only using half of a head like the recipe indicates, you can put a whole half of cabbage aside for another use.) Now you should have your cabbage in quarters. 
Take each quarter or wedge and set it on a flat side. Run the knife at a slight angle to remove the hard core of each wedge. Then, chop the cabbage into the size you desire. I keep mine in a little bit bigger pieces but you can cut it into smaller ribbons or whatever size you like. Proceed to cook with the sausage from there.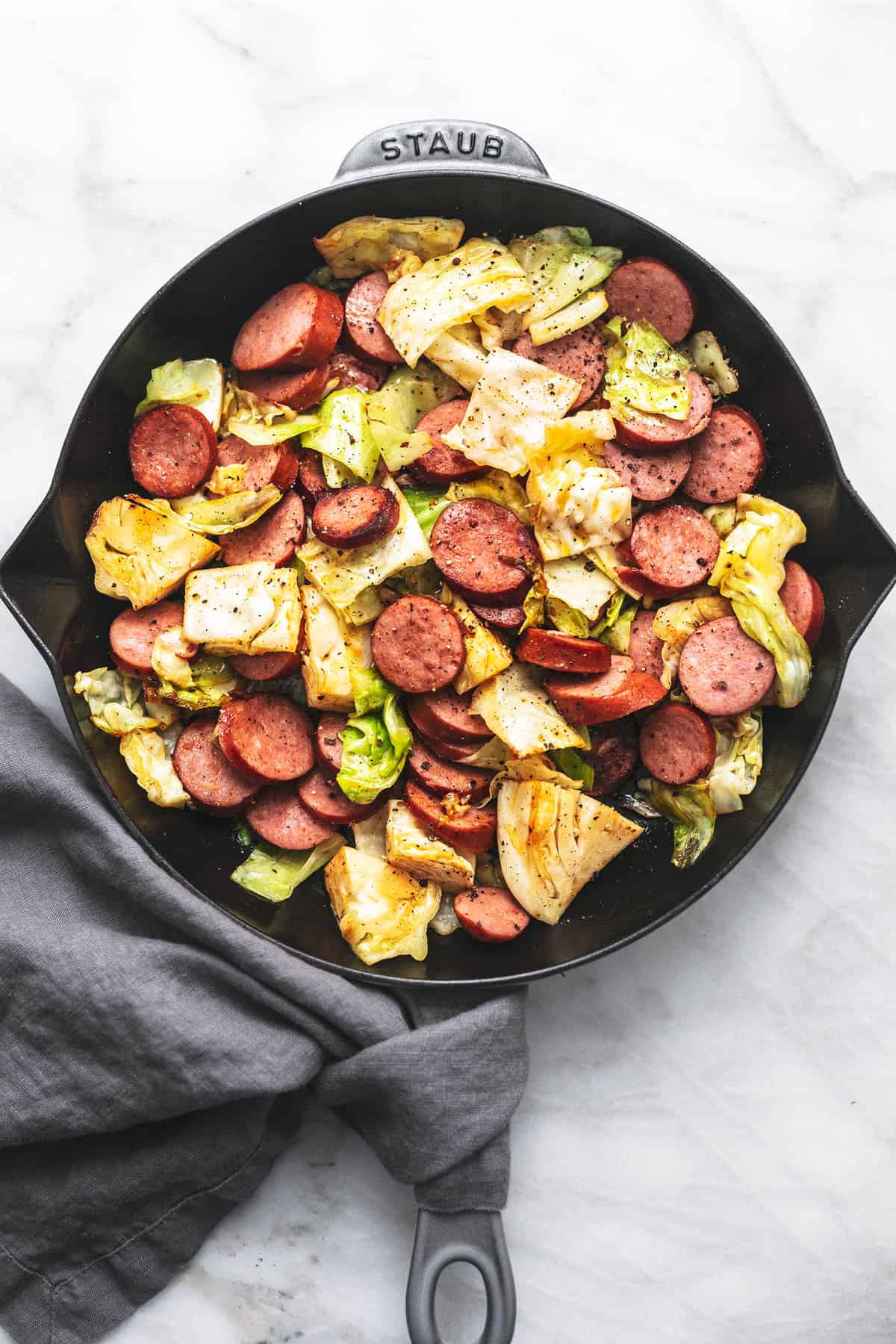 What's the Difference Between Andouille and Kielbasa Sausage?
Andouille sausage is the kind you'll find in a lot of Cajun dishes, like jambalaya or gumbo. (I have a Shrimp and Sausage Gumbo recipe that I just love!) It's typically made of pork but you can also find it in beef and pork varieties and even made from ground chicken. It has a smoky flavor and a little bit of a spicy kick.
Kielbasa sausage is Polish in origin and, in fact, "kielbasa" is the Polish word for sausage. It is garlicky and smoky in flavor, but isn't particularly hot or spicy. So if you want a milder taste to your pork sausage and cabbage skillet dish, you'll want to choose kielbasa over andouille. 
It all boils down to personal preference. I like mine a little spicier but not everyone has my wacky taste buds so eat what you like! 
Serving Suggestions
I like to serve my sausage and cabbage either plain or sometimes I'll serve it over plain white rice. 
This will also be good over brown rice if you're looking for a bit of extra nutrition. 
If you want to go full-on low-carb, serve this over cauliflower rice. It's pretty good! 
You could also add this over spaghetti or any pasta that you like.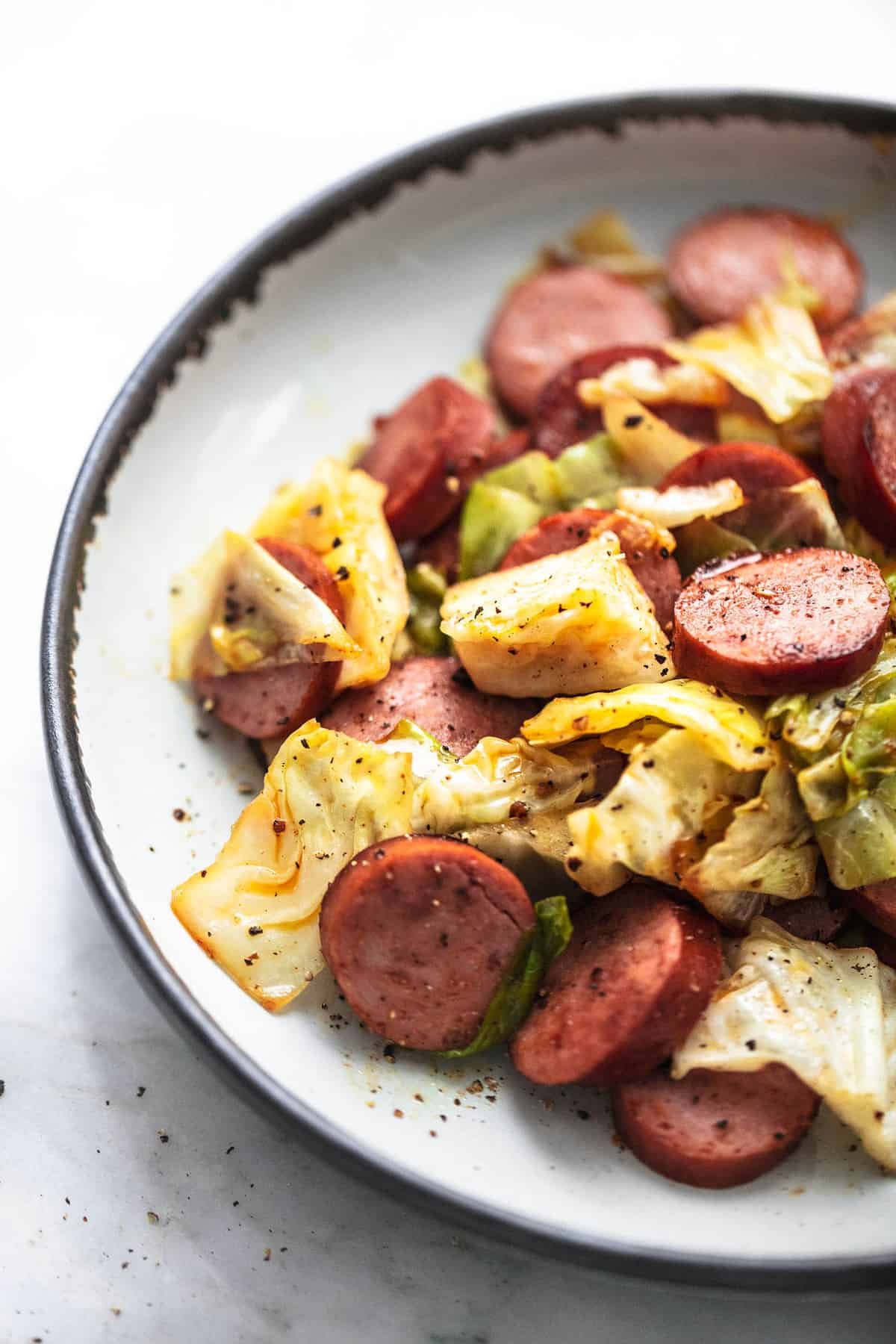 More Easy Sausage Recipes
Did you try this Sausage and Cabbage Skillet recipe? Excellent! Please rate the recipe below!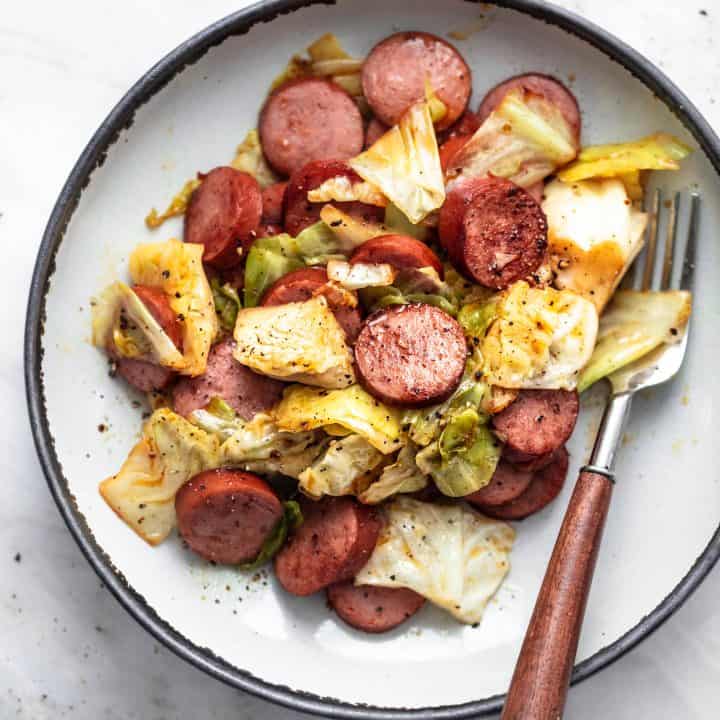 Sausage and Cabbage Skillet
If two ingredients were ever meant to be, it's the Sausage and Cabbage in this Skillet dish that is the most perfect combination of slightly spicy sausage and tender, sweet green cabbage mixed with Cajun spices for a hearty soul-warming dish. 
Ingredients
½

cabbage head

-

chopped

1

pound

kielbasa or andouille sausage

-

sliced into rounds

3

tablespoons

olive oil

2

teaspoons

Cajun seasoning

-

see note for DIY

salt and pepper

-

to taste
Instructions
In a large skillet, combine cabbage and sausage.

Drizzle with oil, then season with Cajun seasoning.

Saute over medium-high heat about 10-12 minutes until cabbage is tender and sausage is browned.

Taste, add salt and pepper to taste if needed and serve.
Notes
HOMEMADE CAJUN SEASONING:
1 1/2 teaspoons paprika
1 teaspoon salt
1 teaspoon garlic powder
1/2 teaspoon cracked black pepper (or 1/4 teaspoon ground)
1/2 teaspoon onion powder
1/2 teaspoon dried oregano (may sub dried Italian blend seasoning or Herbs de Provence)
1/2 teaspoon cayenne pepper
1/4 teaspoon crushed red pepper flakes
Nutrition
Calories:
508
kcal
,
Carbohydrates:
7
g
,
Protein:
24
g
,
Fat:
43
g
,
Saturated Fat:
12
g
,
Trans Fat:
1
g
,
Cholesterol:
95
mg
,
Sodium:
1036
mg
,
Potassium:
549
mg
,
Fiber:
3
g
,
Sugar:
4
g
,
Vitamin A:
650
IU
,
Vitamin C:
42
mg
,
Calcium:
63
mg
,
Iron:
2
mg