Easy and tasty 20-minute Sauteed Green Beans with Garlic and Almonds recipe. This will be a new favorite side dish recipe for everything from weeknights to holidays. If you think you don't like green beans – think again!
For more crave-able veggie side dishes, try out my Brown Sugar Green Beans with Bacon, Sauteed Brussels Sprouts, and perfect Roasted Butternut Squash.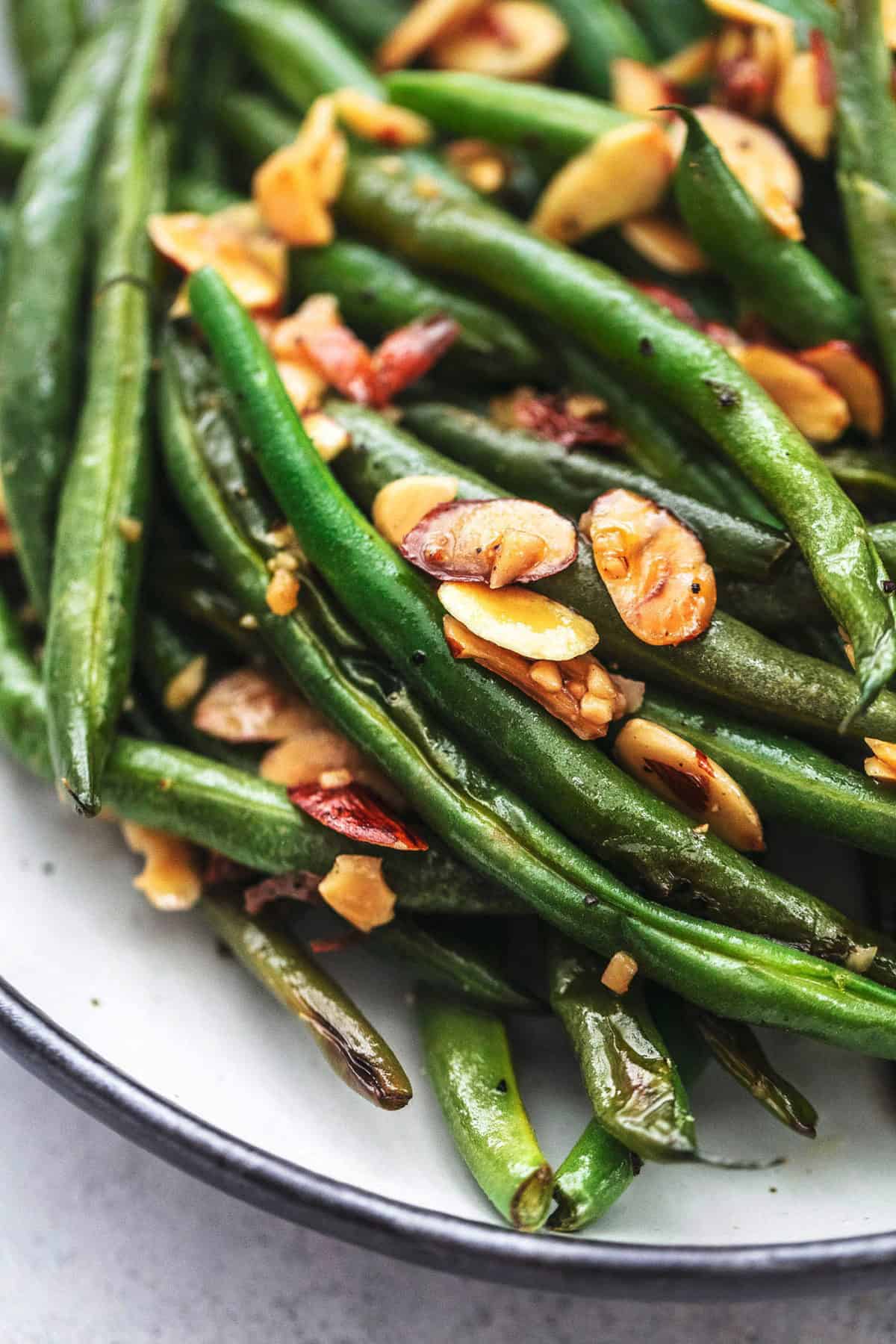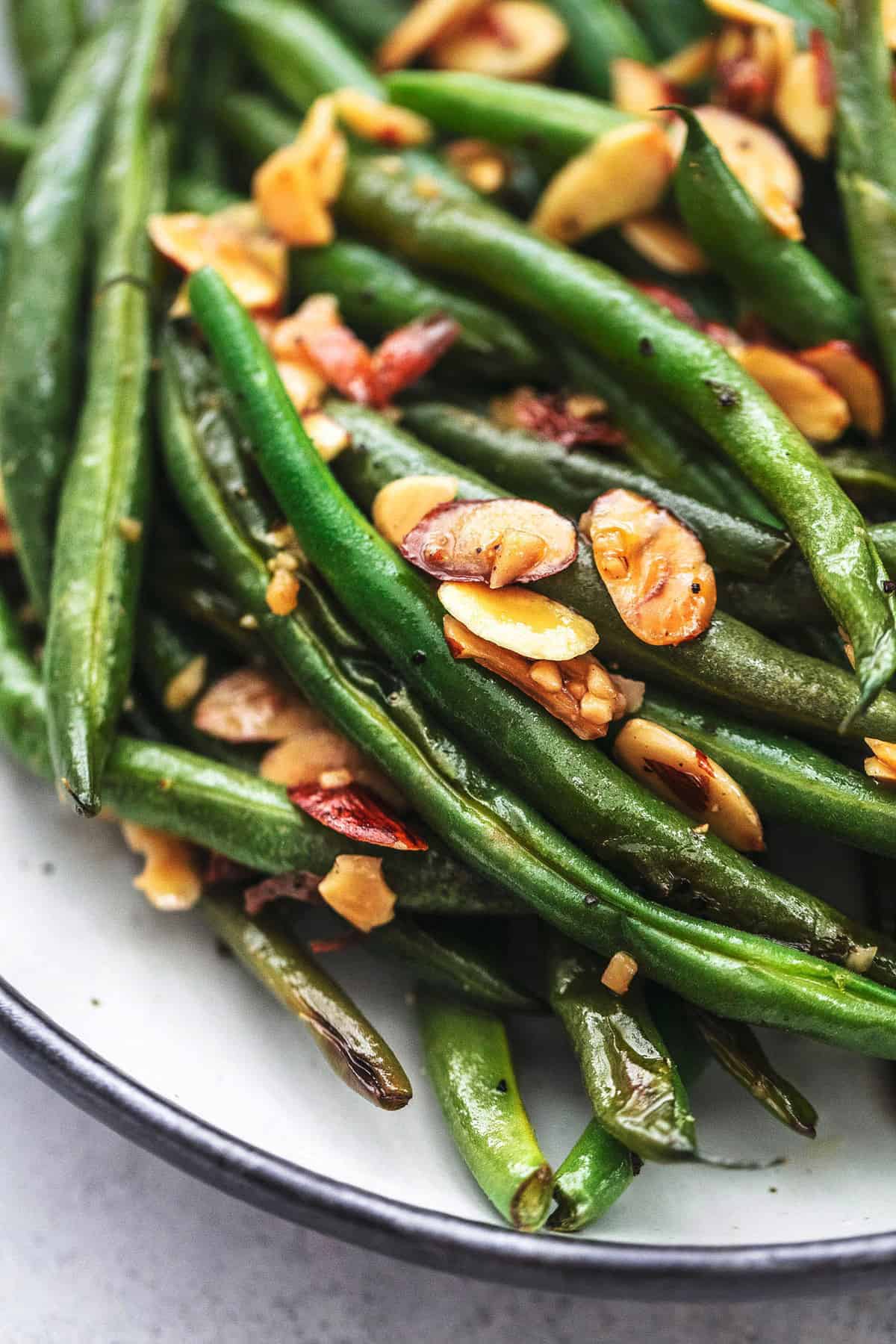 Why this Recipe Works
Let me tell you why I love this sauteed green beans recipe so much – and why I KNOW you will too!
Fresh Green Beans: I am quite certain that anyone who believes that they dislike green beans must have grown up with a mother or father (or grandmother or great aunt Gertrude) who used frozen – or even worse, canned – green beans. PLEASE. Just don't. Fresh green beans hold their texture better and are able to stand up to the heat, while having better flavor and none of that soggy limp mess that you remember from your childhood.
Sesame Oil: You can use extra virgin olive oil here but I swear that toasted sesame oil takes the flavor of these green beans to the next level and makes them anything but boring!
Toasted Almonds: Almonds tend to get a richer, nuttier flavor when toasted (and that's what they're essentially doing there, being tossed around in the skillet with the green beans). That little bit of crunch goes so well with these tender, flavorful green beans. Plus they soak up some of that sesame oil we were just talking about, intensifying the flavor of the whole dish!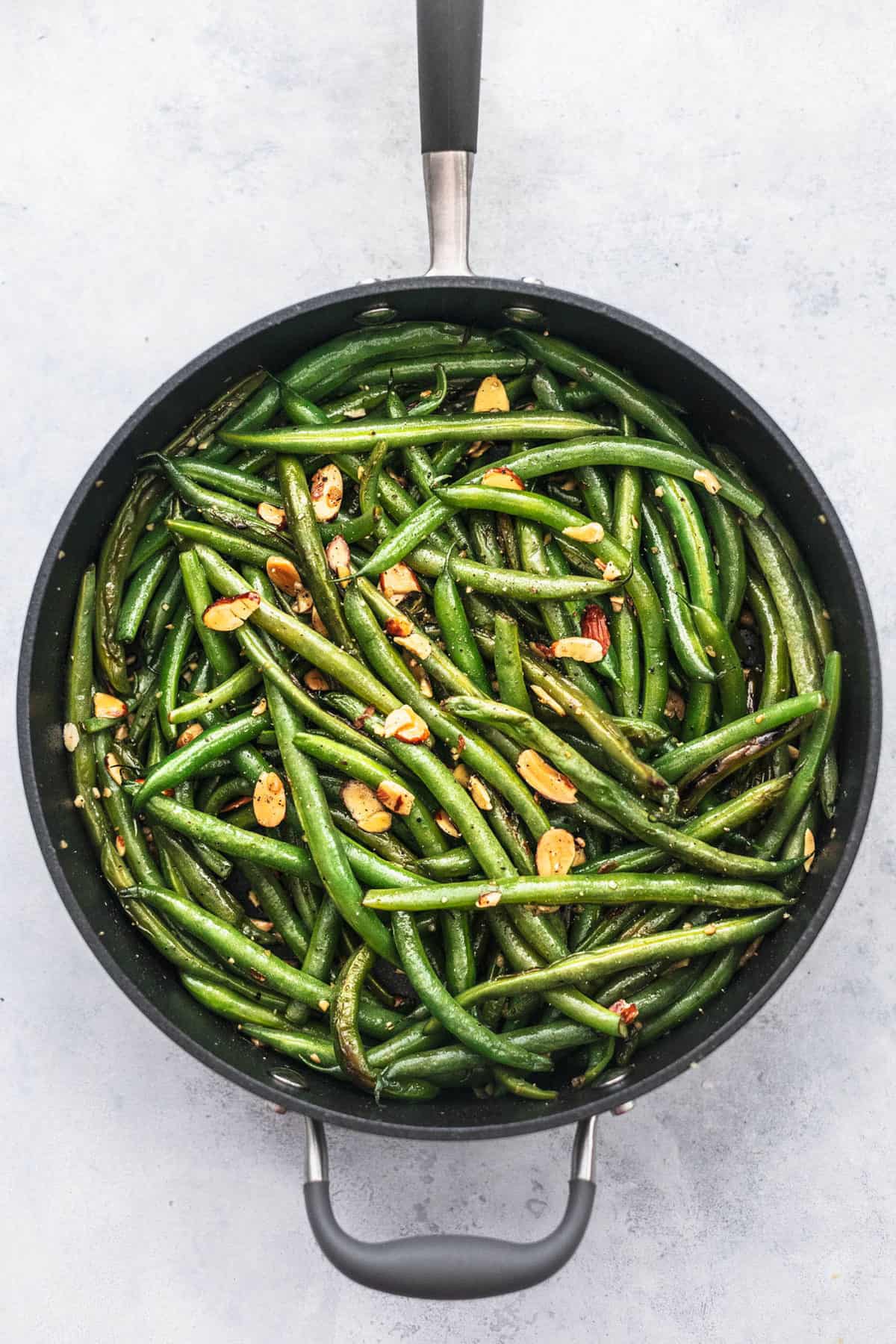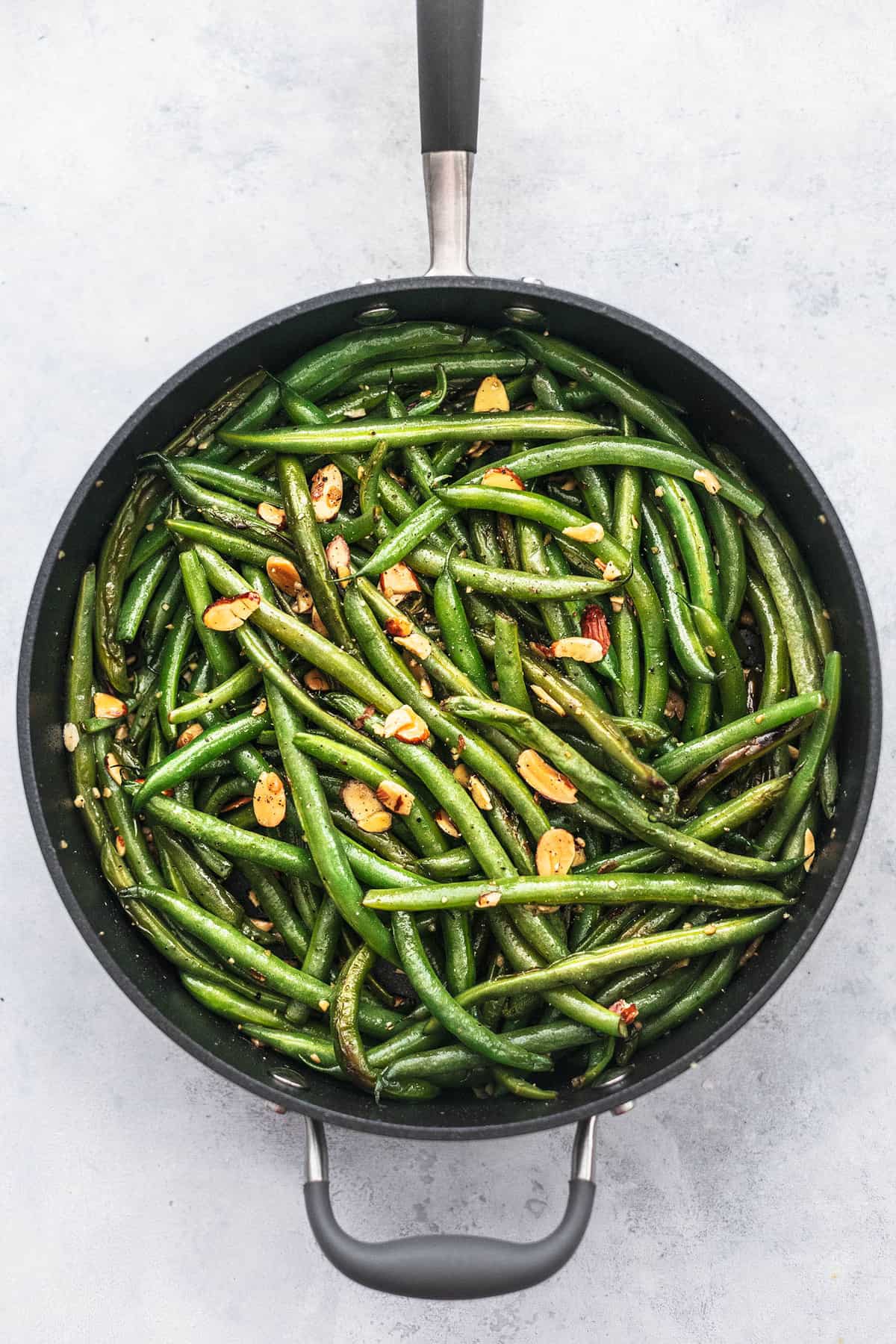 Here's How You Make It
Trim and rinse the green beans then pat all the beans dry. Then add them to a big skillet with the oil. Saute those green beans for 1-2 minutes, adding salt, garlic, pepper, almonds, and brown sugar.
Keep sauteeing for another 10 minutes or so until you can pierce the green beans with a fork.
Let them cool off before serving just a bit — although it will be tempting to eat them right away, you don't want to burn your tongue.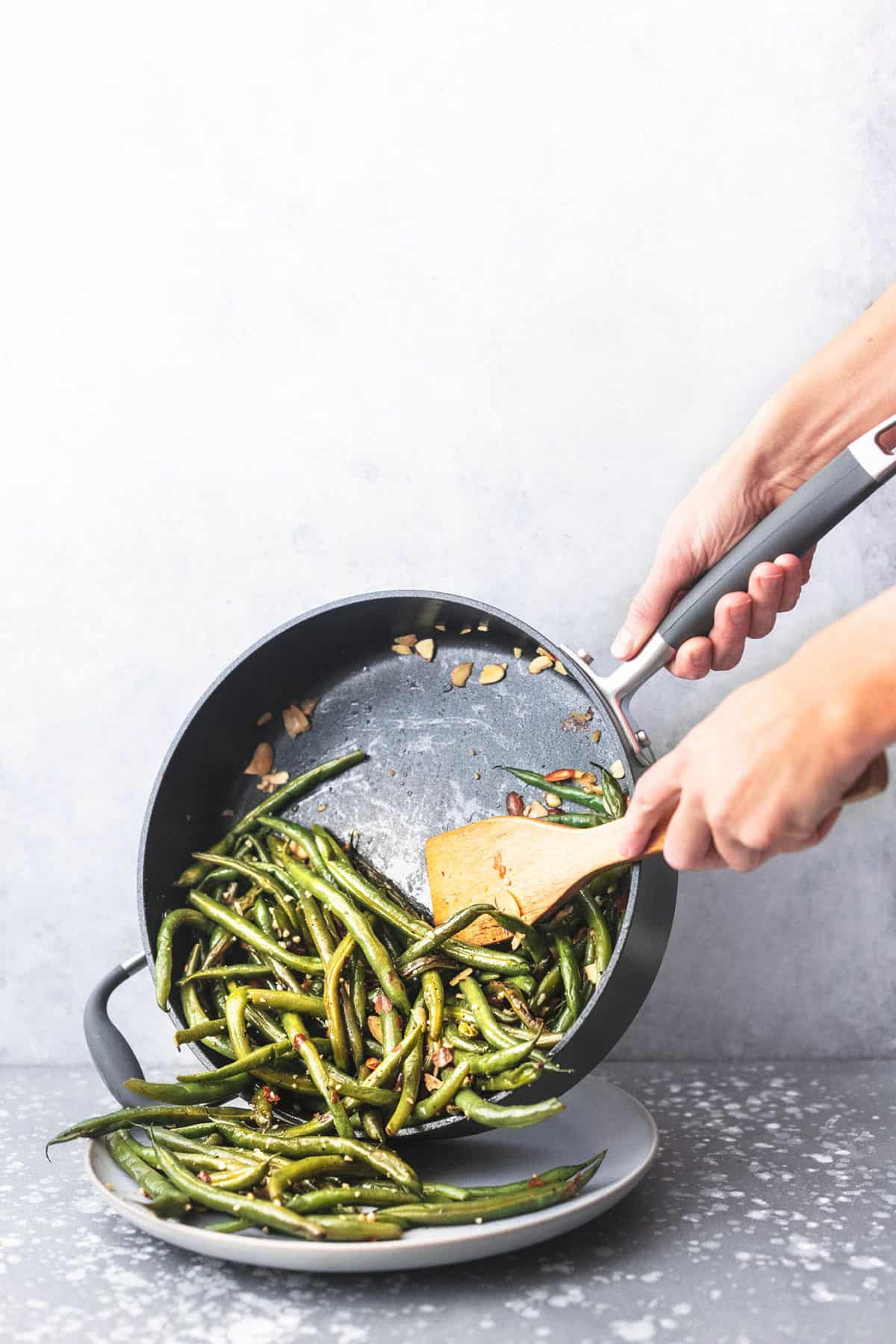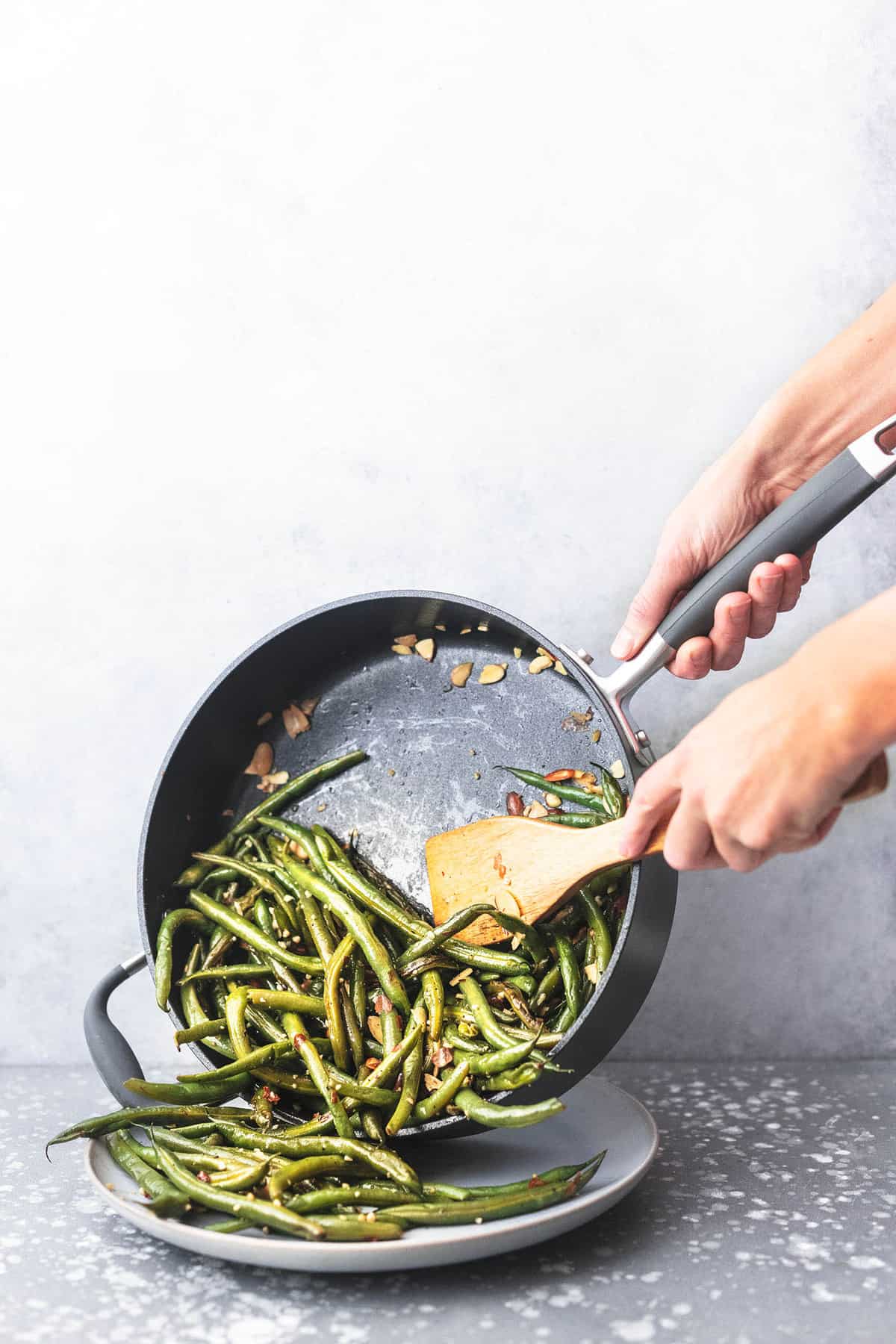 Expert Tips
No almonds? No worries. Skip them or try another nut like walnuts or pecans.
These green beans with garlic and almonds will keep in the fridge for up to 5 days. I don't recommend freezing them.
Mix this dish up a bit by trying several different kinds of beans (green and wax are some of my favorites). It's lovely for color and taste variation.
To really take these green beans to the next level, top with a drizzle of balsamic glaze or some parmesan cheese — delish!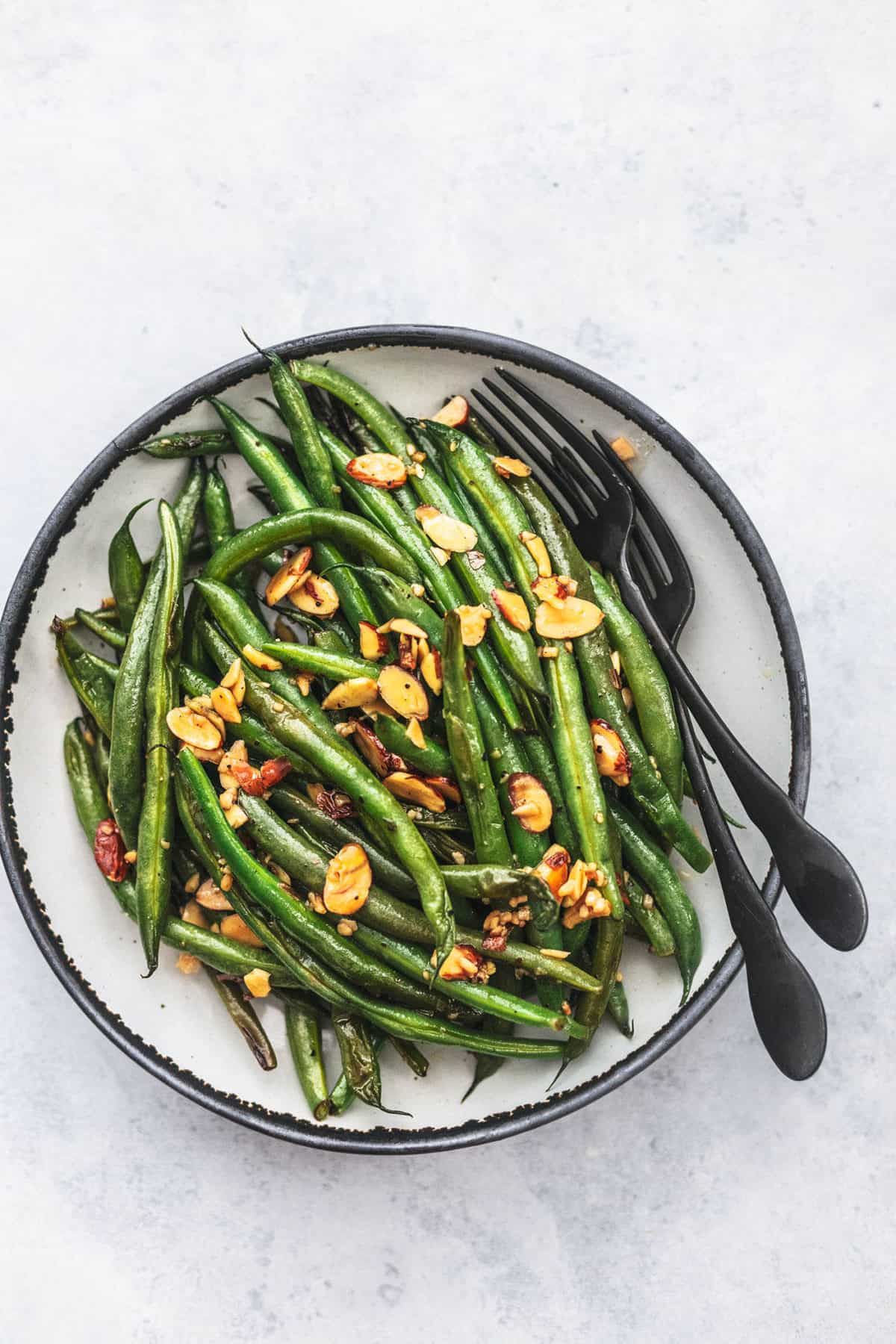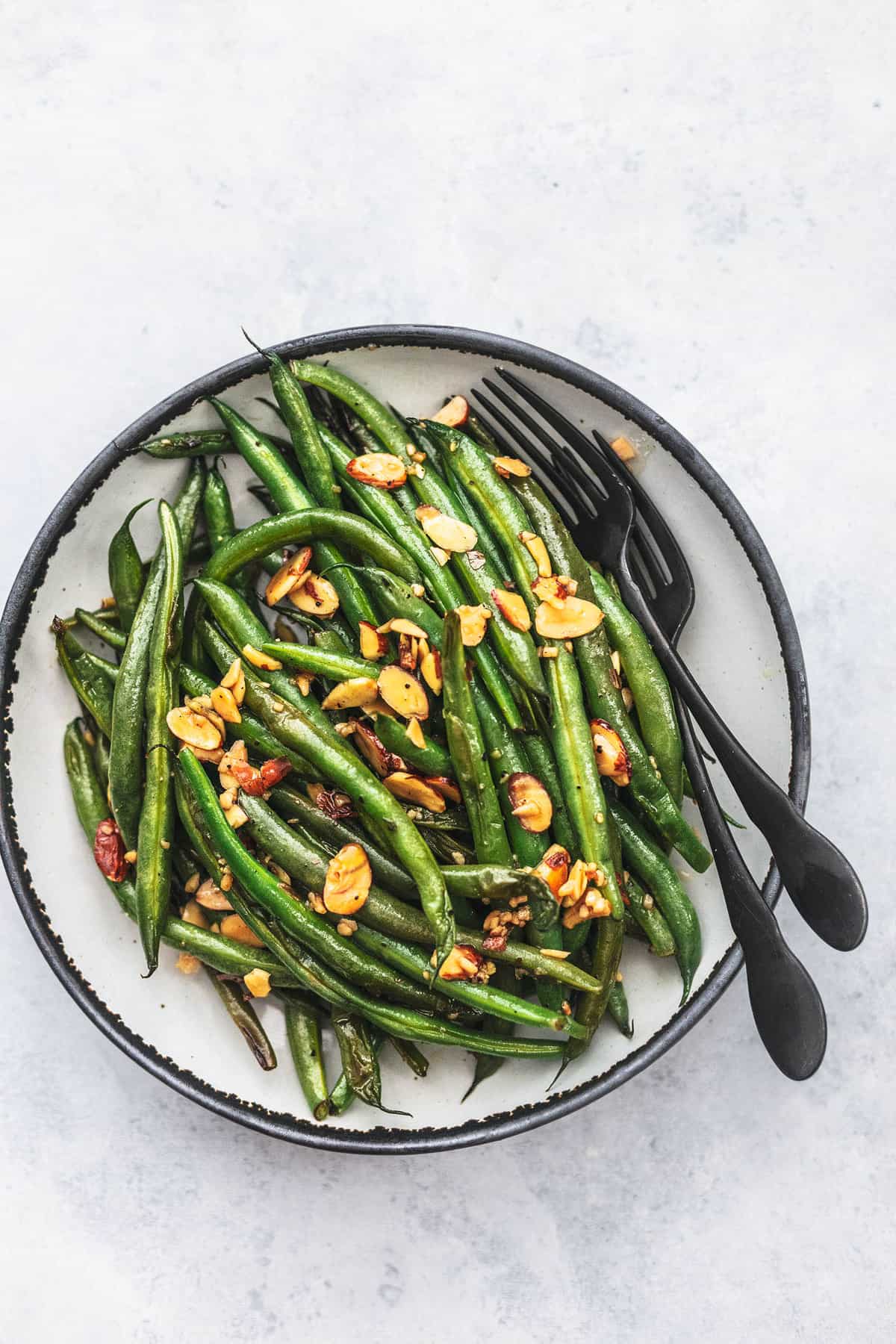 What Spices go Well with Green Beans?
Oh my goodness. I think the better question is what spices do not go well with sauteed green beans, you know?? Honestly green beans are very versatile!
This question is one that's hard to answer simply, since taste is so objective, and also depends on what spices you like. If you're not sure, I recommend trying some spice mixes. Some of my favorites include Italian, lemon pepper, Herbes de Provence, garam masala, Chinese 5 spice, and Mexican adobo.
If you're experimenting with spices, follow the instructions below, using olive oil instead of sesame. Then, when it says to add the spices, add the ones you've chosen to experiment with. Follow step 2 as well, making sure the green beans are finished by piercing with a fork. Starting simply is the easiest way to figure out what you like, from there you can get fancier by adding in other ingredients — like garlic, nuts, sugars, etc. We all have to learn to crawl before we learn to walk, right?
How do You Trim Green Beans?
There are two schools of thought on this one. The first is to just cut the ends off with a knife. Line a few beans up and cut the ends all at once to make the process go a little faster. Or, you can cut the ends with kitchen shears. The second way is to "snap" the ends off with your fingers. Personally, I go with the second method because why dirty another knife when you don't have to?
What are the Health Benefits of Green Beans?
Green beans are not only good to eat, they're also good for you. Full of fiber, folate, potassium, protein, zinc, and iron, they can also improve your heart health and prevent diabetes and cancer with the antioxidants that they contain. The vitamin C they contain also boosts your immune system and helps prevent infection. They are also low-calorie (only 30 calories per one cup serving!), so you can fill up on them and not wreck your diet if you are watching what you eat.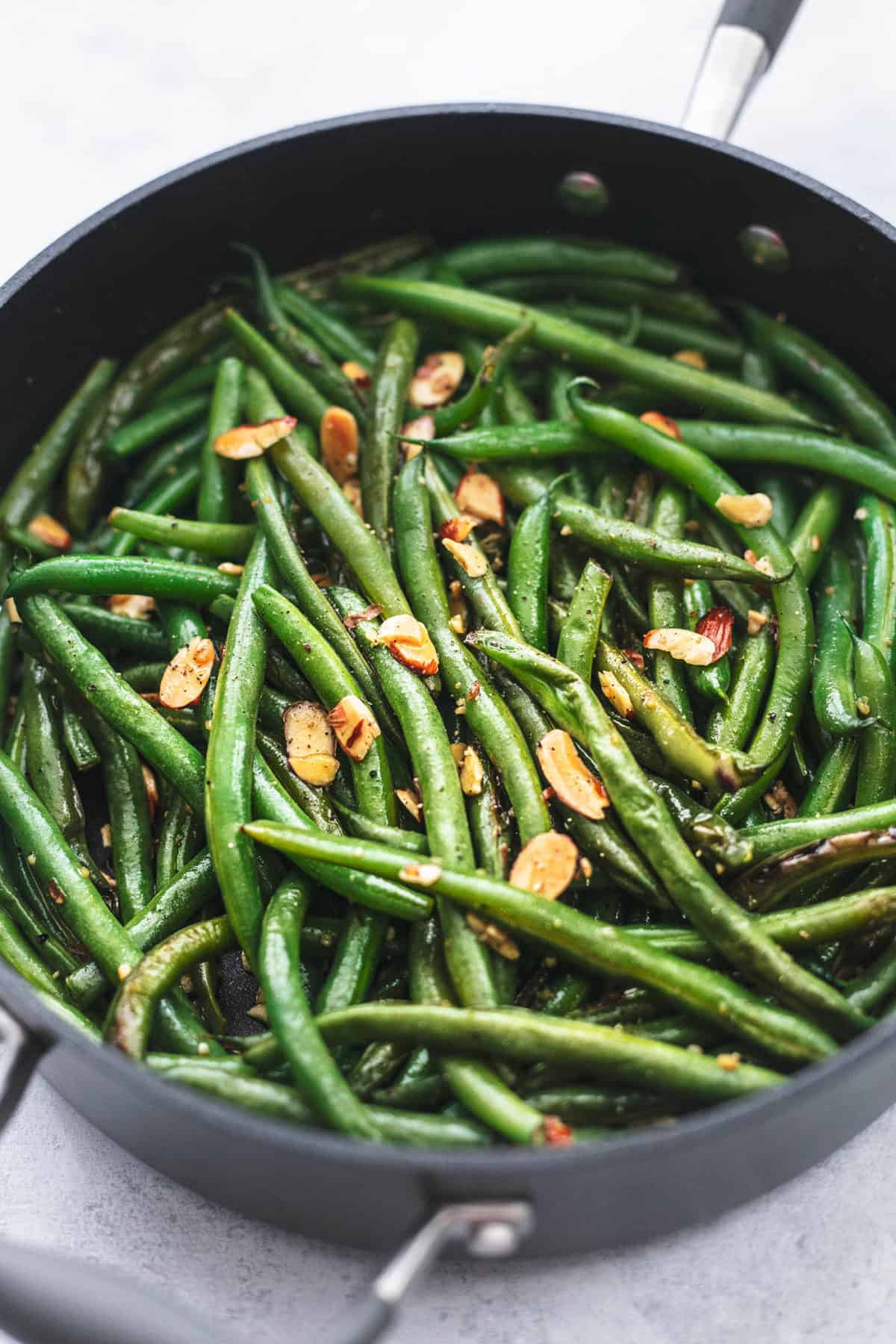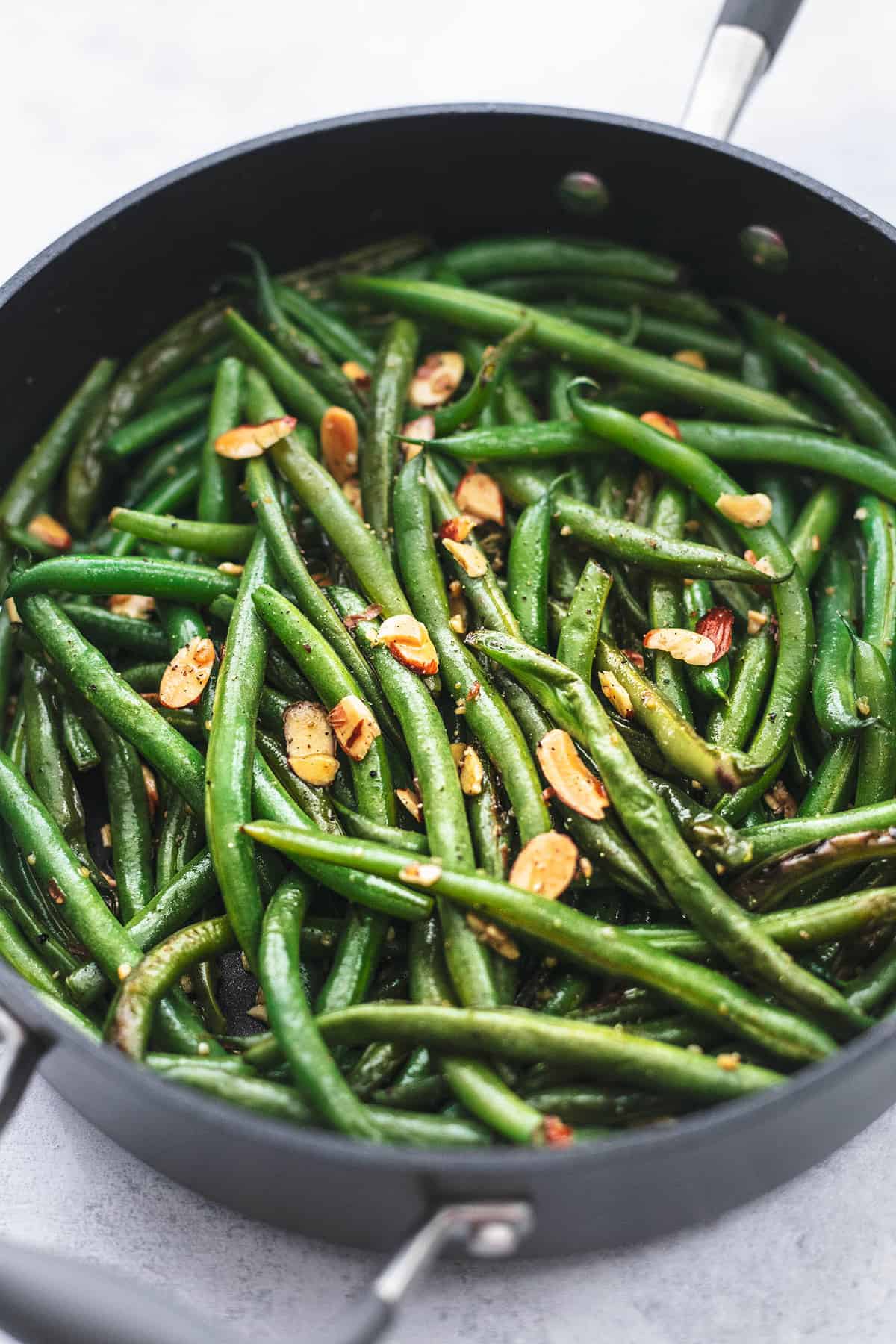 More Popular Vegetable Recipes You'll Love
Did you make these super easy and delicious garlic green beans?? Fantastic! Please rate the recipe below!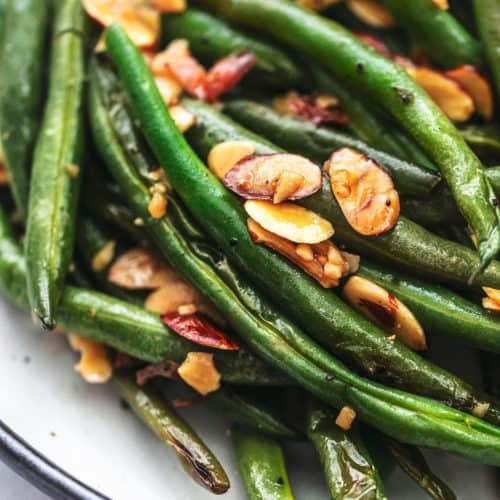 Sauteed Green Beans with Garlic and Almonds
Easy and tasty Sautéed Green Beans with Garlic and Almonds recipe you can whip up in 20 minutes! A delicious side dish to compliment chicken, beef, fish, or pork!
Ingredients
1

pound

fresh green beans

-

ends trimmed

1

tablespoon

sesame oil

1

tablespoon

olive oil

-

sub additional 1 tablespoon sesame oil

1

teaspoon

salt

-

or to taste

½

teaspoon

black pepper

-

or to taste

2

teaspoons

minced garlic

2

teaspoons

brown sugar

⅓

cup

shaved, sliced, or slivered almonds
Instructions
Make sure the beans are patted dry, then add to a large skillet along with oil. Saute over medium heat 1-2 minutes. Add garlic, salt, pepper, brown sugar, and almonds.

Saute 10 minutes or until green beans are easily pierced with fork. Allow to cool slightly before serving.
Notes
Add a sprinkle of parmesan cheese or drizzle of balsamic glaze to take these almonds to the next level! 
Nutrition
Calories:
159
kcal
,
Carbohydrates:
12
g
,
Protein:
4
g
,
Fat:
12
g
,
Saturated Fat:
1
g
,
Sodium:
589
mg
,
Potassium:
303
mg
,
Fiber:
4
g
,
Sugar:
6
g
,
Vitamin A:
782
IU
,
Vitamin C:
14
mg
,
Calcium:
68
mg
,
Iron:
2
mg