Savory Slow Cooker Beef on Rice with flavorful gravy, beef slow cooked to tender perfection, and served over a warm bed of rice.
Keep the crock pot hot! Try Slow Cooker Honey BBQ Beef Brisket, Slow Cooker Parmesan Herb Chicken & Orzo, and Slow Cooker Jambalaya.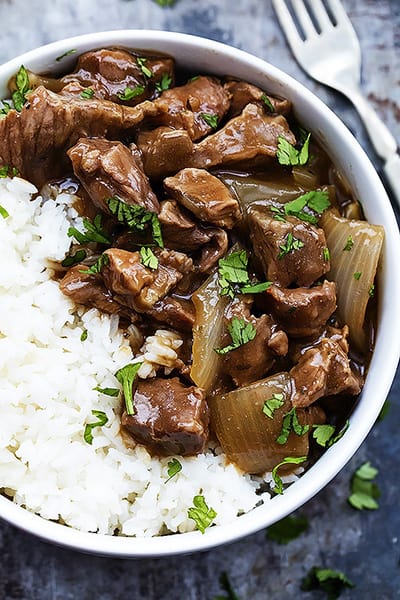 It's Sundayyyyyyy and this is a Sunday dinner classic I'm sharing with you today so, yeah. Pretty approriate.
It's kind of like beef stroganoff? ish? Maybe. It's basically a beef and gravy that you serve over rice. My mother made it all the time when I was younger and called it Beef on Rice. Not beef with rice. Beef ON rice. Similar to how some people say "soda" and some people say "pop". And recently I learned there is an entire region of the U.S. that calls it all Coke – regardless of whether it is actually Coca Cola or not.
Are you a soda-person, pop-person, or coke-person??
Just for the record, I'm actually a soda-person.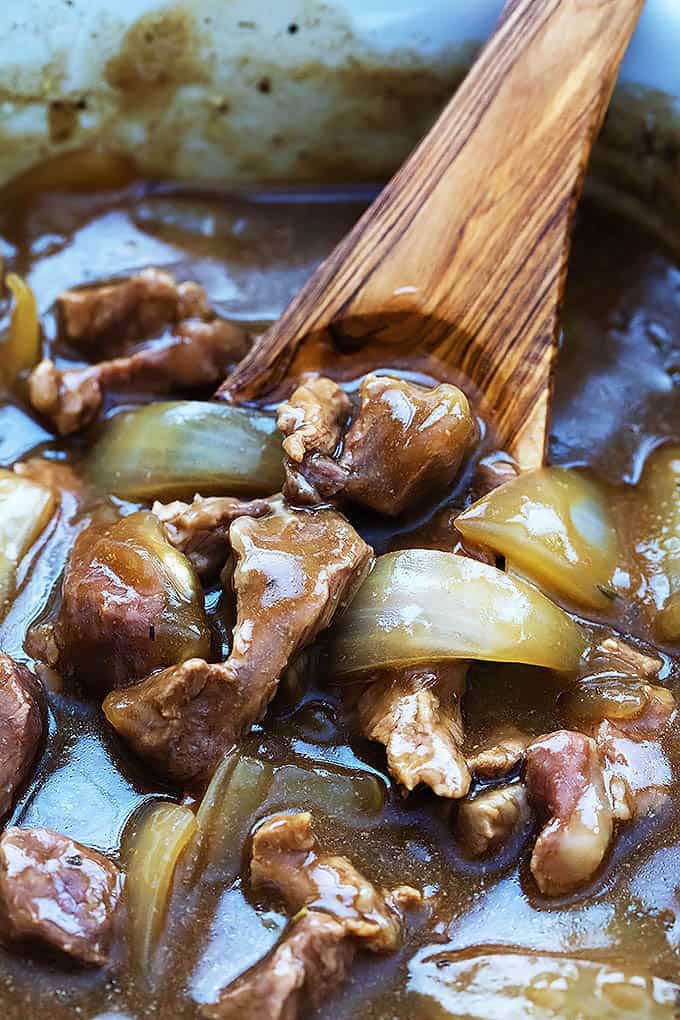 But, back to this beef on rice. Look at all of that gravy goodness! I love it. Tender and juicy beef slowwwwww cooked in savory juices and thickened into a gravy right at the end. It's perfect all year round but since it's Fall time and the weather is cooling off, I'm in the mood for comfort food. This right here, is at the top of my comfort food list.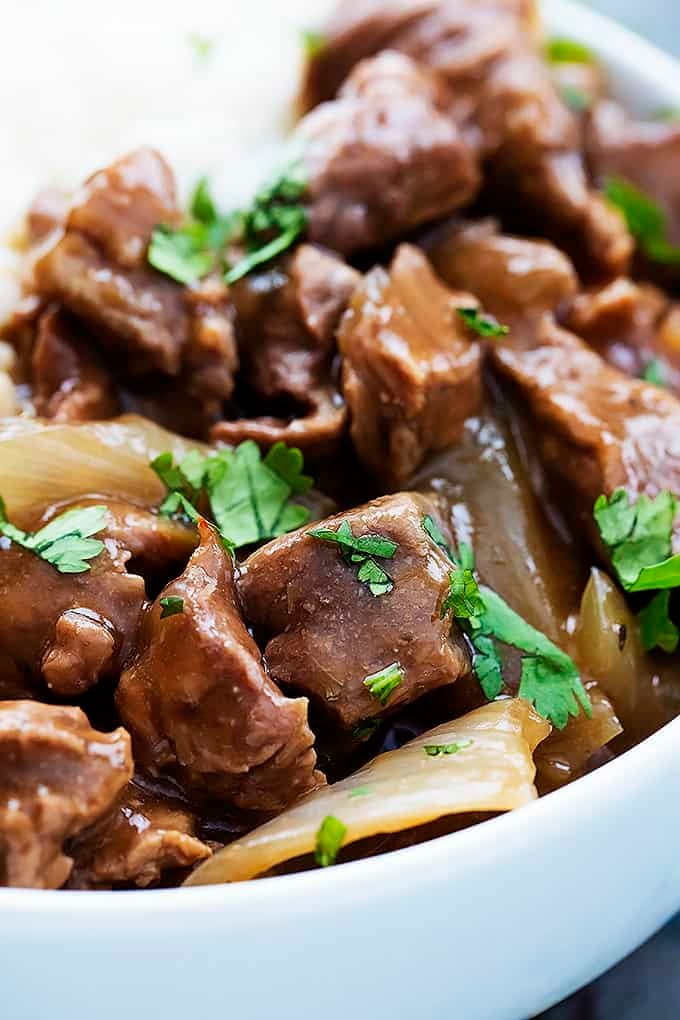 It's also incredibly easy to make – WINNER! All you have to do is throw 6 ingredients into your slow cooker (six. and that's including salt and pepper so it's really like 4ish ingredients….) and come back 8 hours later to one crazy-tasty dinner. Cozy comfort food at it's best!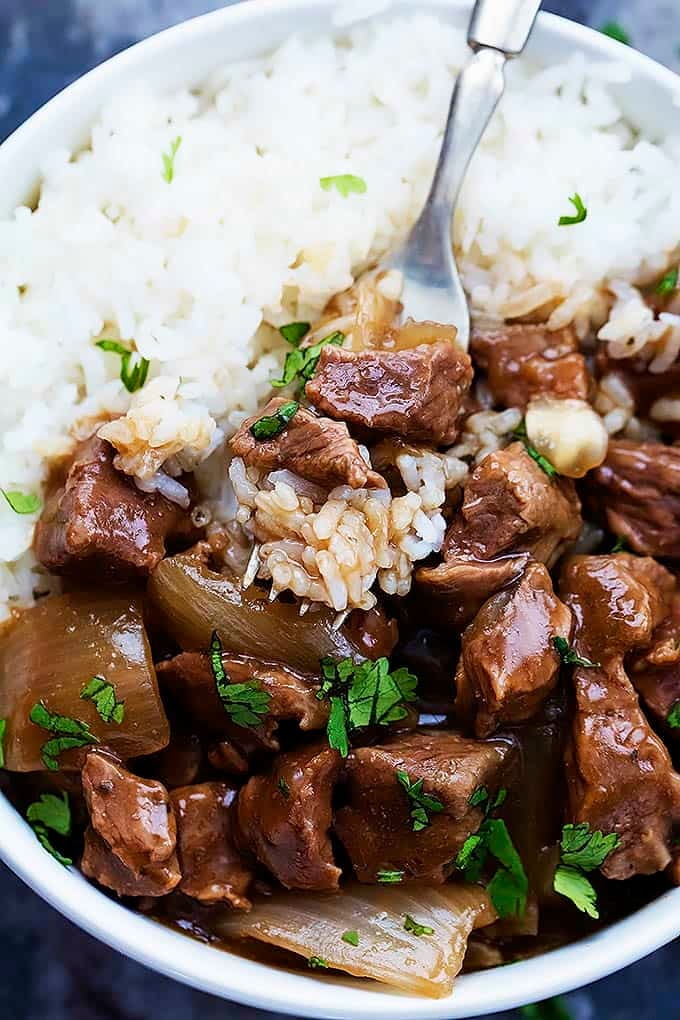 What people are saying about this Slow Cooker Beef on Rice
"Delicious! Delicious! Delicious! So tender & moist. I leave for work by 7am (dropping off 3 kids along the way) & not home until 5pm or after. This was perfect for an all day slow cooking meal. I used cheap already cubed beef (what was on sale) & kept the rest of the recipe the same serving it with peas. My picky 7 year old devoured it. My husband ate 3 helpings. Thank you for this winning recipe!" – Terra
"I like this recipe much better than the whole-roast method where the beef is then shredded. Even visually it is much more appetizing. Browning the meat before putting it in a slow-cooker definitely adds to the final flavor, and cooking the chopped onion along with a cup of sliced mushrooms in the same pan is even better. " – Grace
"Tried this recipe out on Monday with a chuck roast I cut into bits. I added baby carrots. After adding the corn starch, it didn't seem to thicken so I added another 3 tablespoons with water mixture. All in all, simple and very satisfying to make something homemade that tastes so good." – Danielle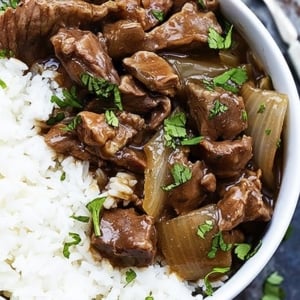 Slow Cooker Beef on Rice
Savory beef and gravy slow cooked to tender perfection and served over rice – a healthy and hearty meal with minimal prep and cleanup!
Ingredients
2

pounds

beef chunks

4

cups

beef broth

1

onion

-

chopped

1

teaspoon

Italian seasoning

2-3

teaspoons

salt

-

or to taste

1

teaspoon

black pepper

-

or to taste

¼

cup

cold water

3

tablespoons

corn starch

4-6

cups

brown or white rice

-

(for serving)
Instructions
Add beef, broth, and chopped onions to slow cooker. Sprinkle with salt, pepper, and Italian seasoning.

Cover and cook on low for 8 hours or on high for 4 hours.

About 10-15 minutes before serving, Transfer slow cooker contents to a large stock pot and bring to a boil. Whisk together cold water and corn starch, add to pot, and stir until thickened. Serve over rice and sprinkle with chopped parsley if desired. Enjoy!
Notes
Beef: this is a great chance to use inexpensive cuts like stew meat – the slow cooker will tenderize the beef and it will absorb lots of delicious flavor. 
Nutrition
Calories:
697
kcal
,
Carbohydrates:
104
g
,
Protein:
44
g
,
Fat:
9
g
,
Saturated Fat:
3
g
,
Cholesterol:
94
mg
,
Sodium:
1462
mg
,
Potassium:
779
mg
,
Fiber:
2
g
,
Sugar:
1
g
,
Vitamin A:
8
IU
,
Vitamin C:
1
mg
,
Calcium:
84
mg
,
Iron:
5
mg