Incredibly tender Slow Cooker Hawaiian Pork Chops will make your mouth water with sweet and tangy Hawaiian sauce and juicy warm pineapple!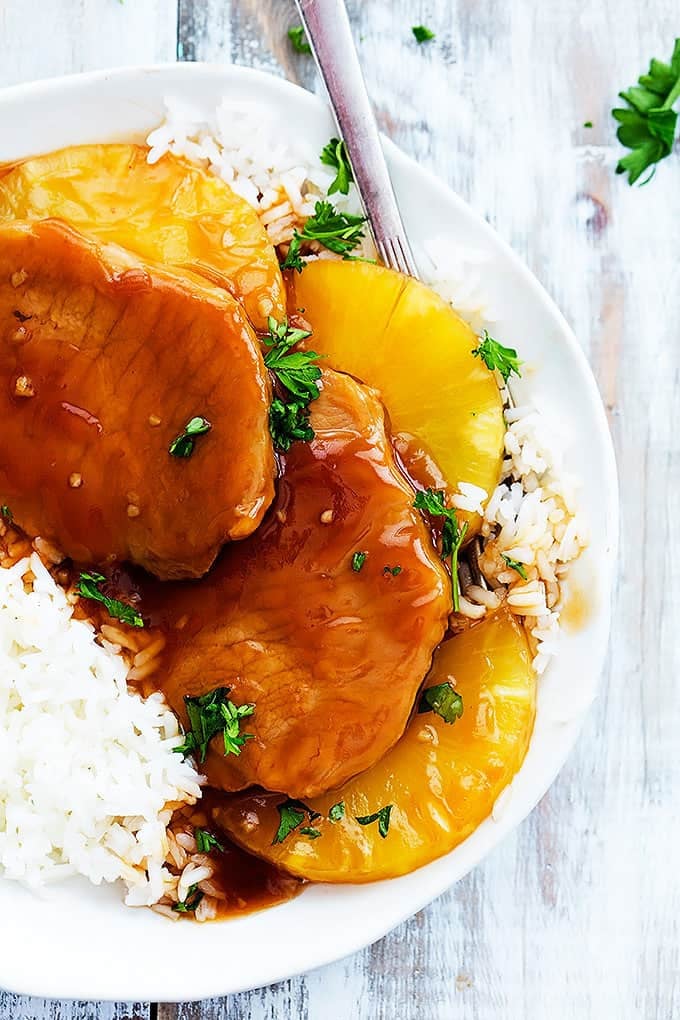 Helloooooooo Slow Cooker Sunday! Oh. It's actually called Super Bowl Sunday? Whoops.
Do you mind if for the sake of my dignity we just pretend that it's really Slow Cooker Sunday instead?
Kthanks. You da best.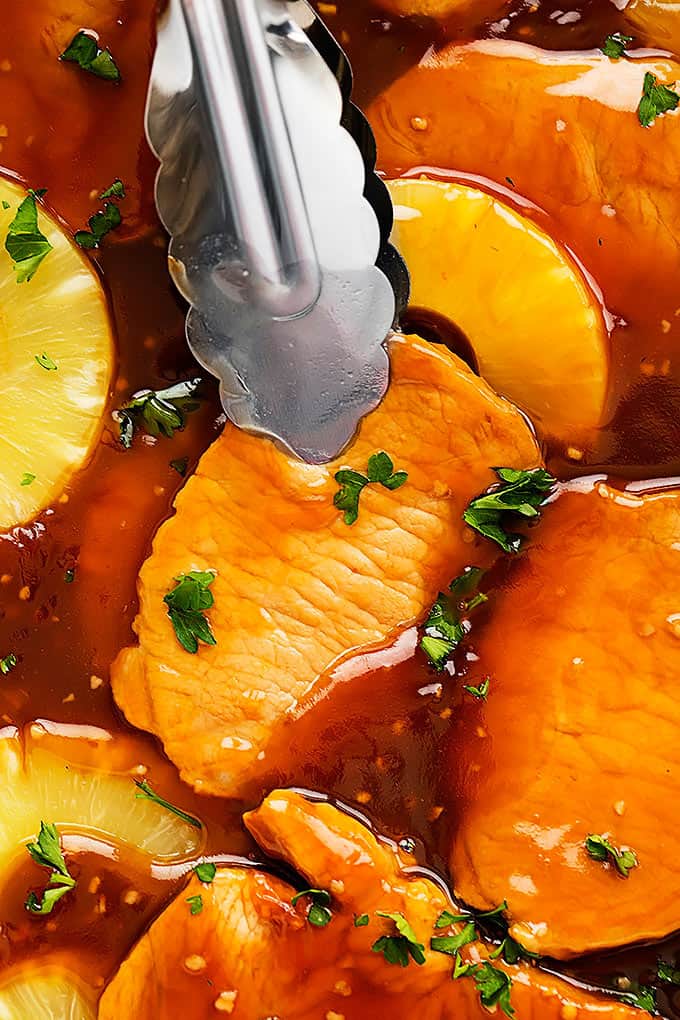 This recipe is a proud proud moment for me. Are you familiar with that satisfaction you get from seeing something from start to finish? The kind that happens when you come up with an idea, make it happen, and are one hundred and ten percent happy with the finished product?
That is the joy that I am feeling today with these pork chops. It started out with, hey I really want to make some pork chops in my beloved slow cooker. With a sweet and tangy sauce. and pineapple. and cilantro. YESSSSSSS.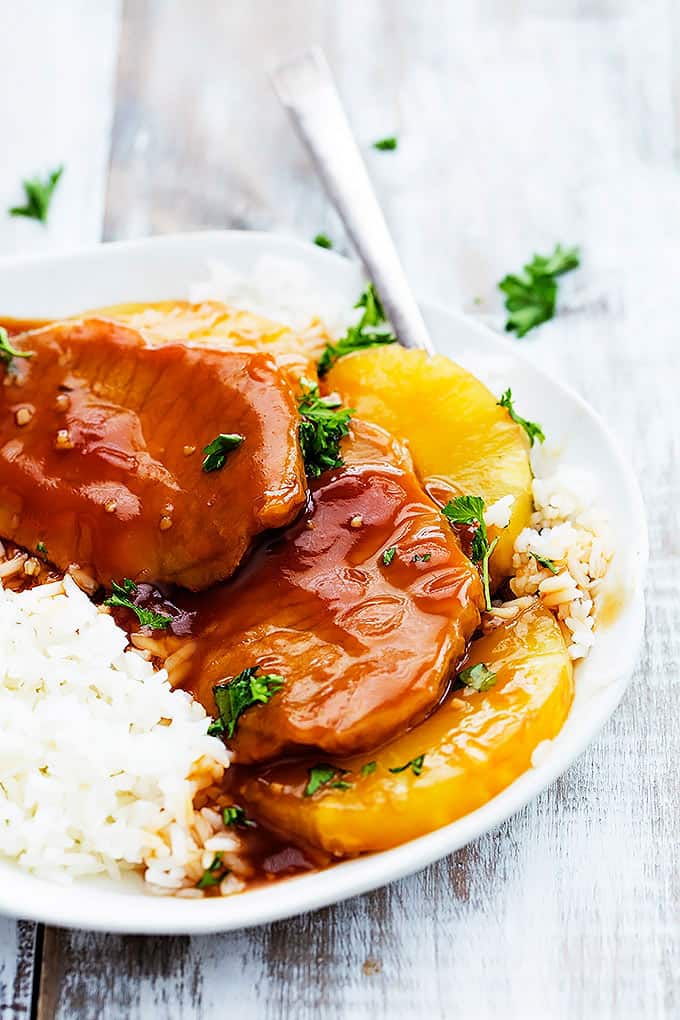 It happened and it was miraculous. Absolutely, insanely tasty and perfect. And it's extremely simple so let me walk you through it…
First you just need to whisk together the sauce. Add that, the pork chops, and some pineapple slices to your lightly greased slow cooker. Cover and set it to high or low, depending on how long you're wanting to let it cook. Now when you make that sauce in the first step, I've included directions for adding the corn starch slurry. This will help the sauce thicken as it cooks BUT if you like a really thick sauce (I do!) then you could hold off adding that until the end.
If that's the case here then all you have to do is add the 1/2 cup water to the sauce mixture at the beginning. Let it cook (4-6 hours depending on your cooking temperature) and just before serving you will transfer the liquid from the crockpot to a sauce pan on the stove and bring the mixture to to a boil. Stir together the corn starch with 2 tablespoons of cold water til it dissolves, then stir into the boiling sauce and it will thicken up quickly. Pour all of that sticky saucy goodness back in your slow cooker and that's it! A thicker Hawaiian sauce for your super tender pork chops!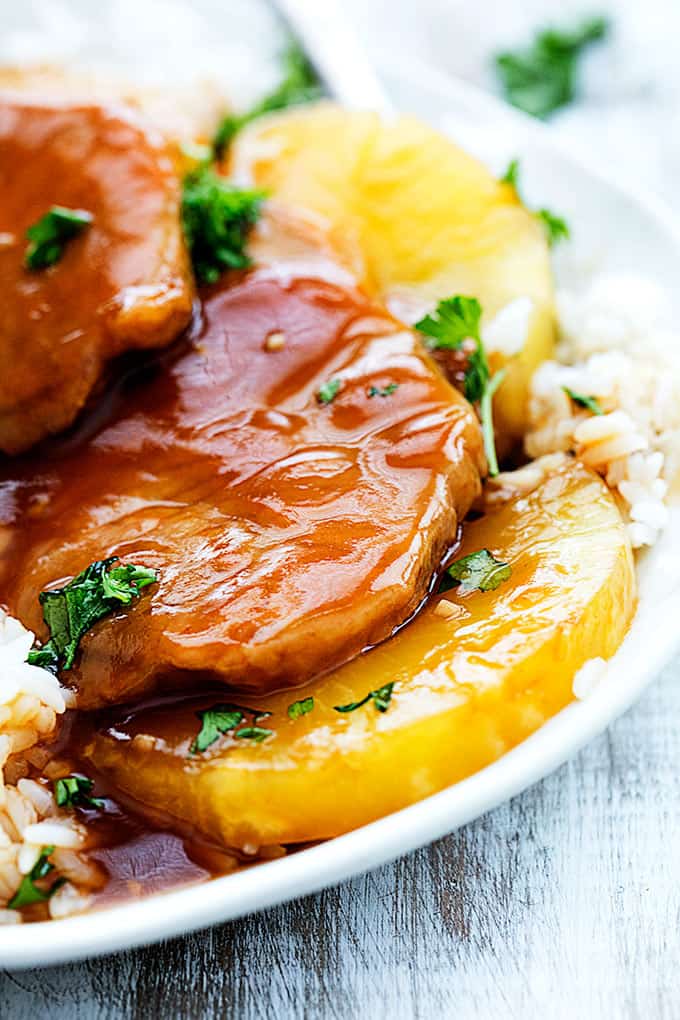 You can serve up the pork chops just like that, but I love love love them over a bed of steamed white rice and sprinkled with fresh cilantro. Annnnnnnd that's pretty much it! One heck of a tasty meal with minimal prep and cleanup. You can't beat that!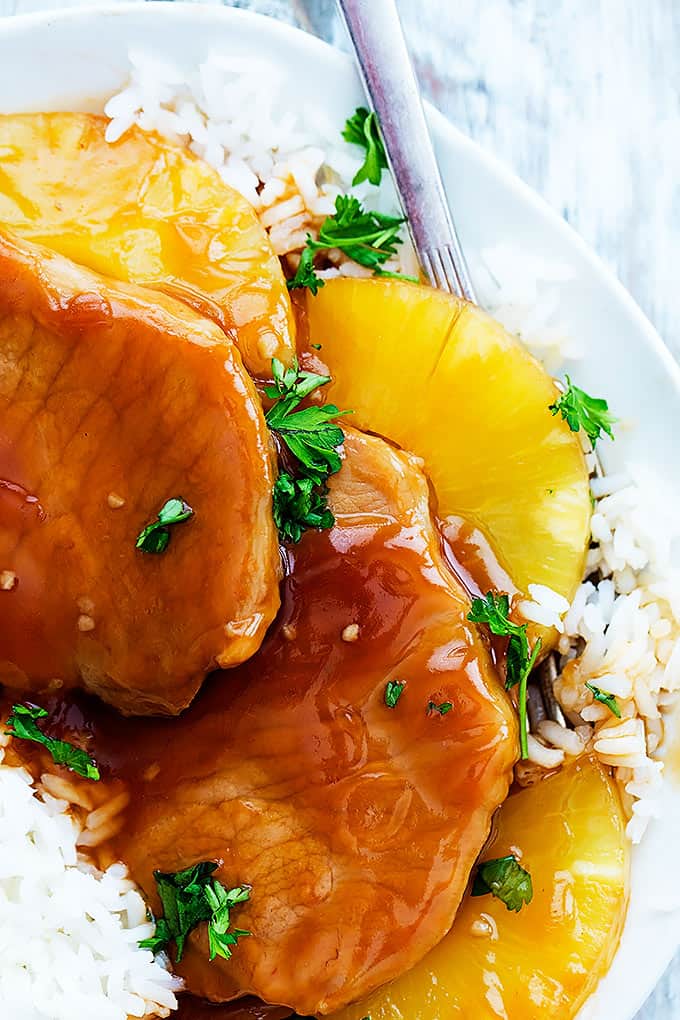 What people are saying about this Slow Cooker Hawaiian Pork Chops
"This is one of the easiest and best recipes I've made of off using Pinterest. I'm so glad I found it, because it is a new family favorite. This is how pork chops were meant to be eaten. Probably going to try it out on some chicken too. Thank you thank you for sharing!!!" – Jacqueline
"All I can say is yummy yummy yummy so juicy pork chops fall apart great recipe." – Ann Marie
"I made this for dinner tonight and it was seriously so delicious! This will definitely be something I make again. My family loved it." – Amanda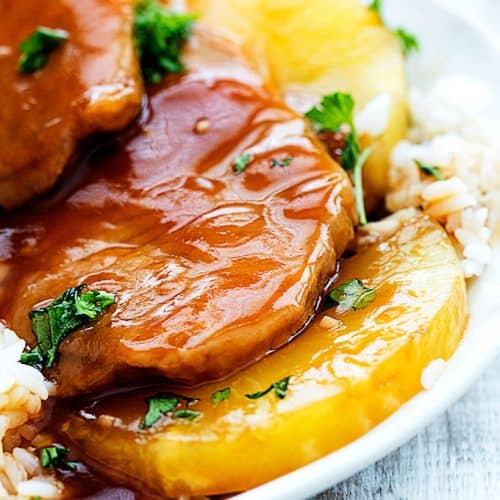 Slow Cooker Hawaiian Pork Chops
Super tender slow cooked pork chops in sweet and tangy Hawaiian sauce with juicy pineapple!
Ingredients
2

pounds

pork chops

-

(see note)

½

cup

soy sauce

⅓

cup

brown sugar

¼

cup

ketchup

1

15-ounce can

pineapple slices

-

(including liquid), divided

3

tablespoons

rice vinegar

2

teaspoons

minced garlic

½

cup

water

3

tablespoons

corn starch

cooked rice and chopped cilantro for serving
Instructions
Whisk together the soy sauce, brown sugar, ketchup, the liquid from the can of pineapple slices (save the pineapple, you'll use it in step 2), rice vinegar, and minced garlic. Whisk together the cold water and corn starch til dissolved. Stir into the sauce mixture.

Lightly grease your slow cooker. Pour half of the sauce mixture into the slow cooker. Place pork chops in the slow cooker along with the pineapple slices. Pour the remaining sauce over the top. Cover and cook on high for 3-4 hours or on low 6 hours.

Serve pork chops over rice and garnish with chopped cilantro.
Notes
I used 6 thin pork chops. You'll want at least one per person, if they are thin you may want 2 per person.
Nutrition
Calories:
483
kcal
,
Carbohydrates:
30
g
,
Protein:
52
g
,
Fat:
16
g
,
Saturated Fat:
6
g
,
Trans Fat:
1
g
,
Cholesterol:
152
mg
,
Sodium:
1873
mg
,
Potassium:
986
mg
,
Fiber:
1
g
,
Sugar:
22
g
,
Vitamin A:
86
IU
,
Vitamin C:
1
mg
,
Calcium:
44
mg
,
Iron:
2
mg