Easy, baked Southwest Stuffed Poblano Peppers with ground beef and rice are packed with bold, savory flavors and topped with cheese to make the BEST healthy stuffed peppers recipe you'll ever taste!
If you're crazy about these poblano peppers, you need to try my Easy Stuffed Bell Peppers, Stuffed Pepper Skillet, and Southwest Corn Chowder.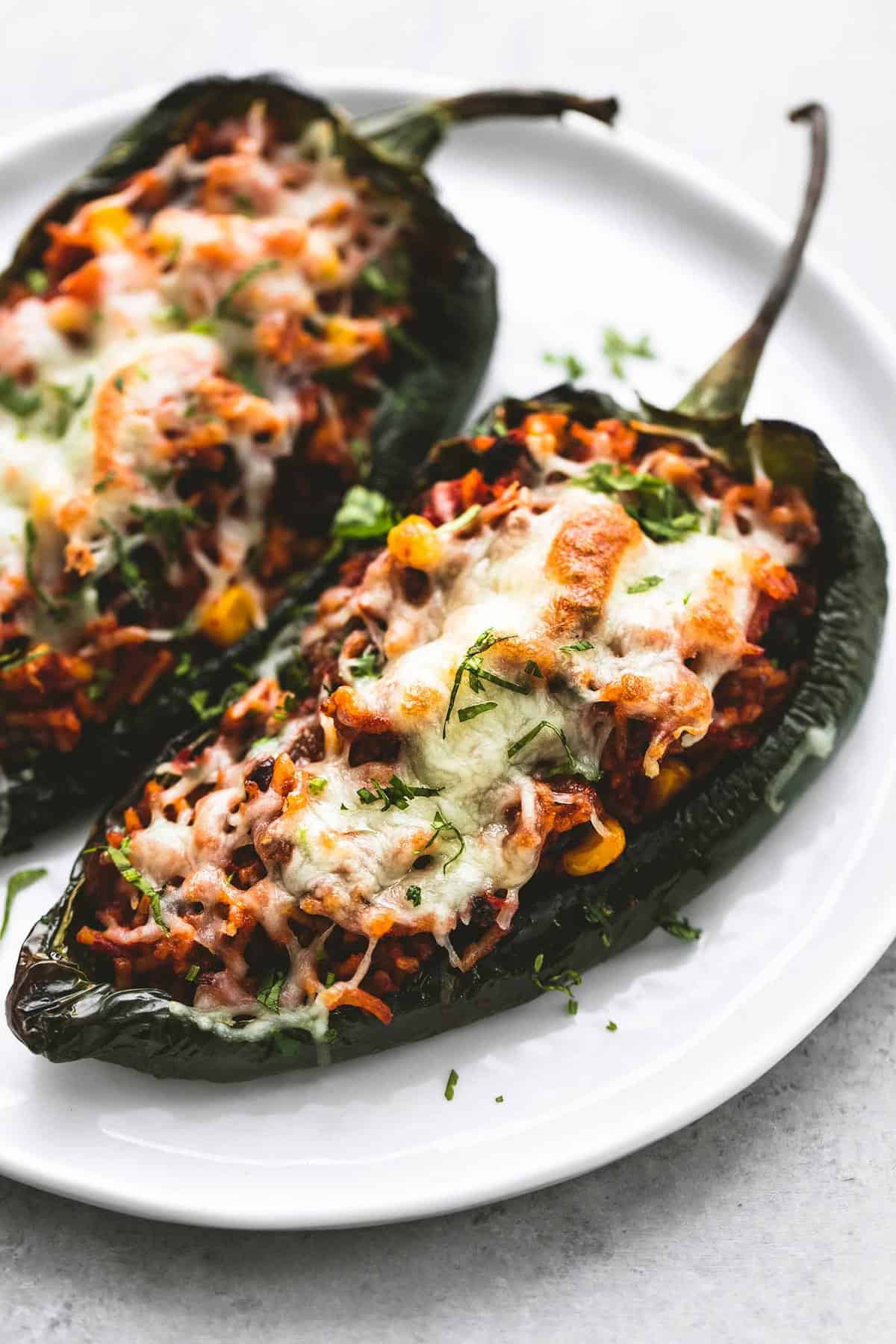 I'm telling you, this is the most perfect time of year for this recipe — so go out and buy the ingredients and make it RIGHT THIS SECOND. In all seriousness, now is a great time to make this dish though, because poblanos are in season and if you have your own garden and you happen to be growing poblanos, then you know exactly what I'm talking about because those plants are probably rotten with baby poblanos right now. (Go ahead and take a peek at your garden, I'll wait.)
Are you back? Good. So, about these delicious Southwestern Stuffed Poblano Peppers. The inspiration for these hit me recently when I was checking out my friend's garden and noticed she had a bunch of the poblano peppers hanging like big, green cowbells from no less than four different plants. When I asked her what she was growing those for, she had no idea. She just thought they'd be fun to grow as an experiment.
Well, I can't just let good poblano peppers go to waste, can I? I vowed right then and there to find a use for those peppers, and the idea of stuffing them was the first thing I thought of. You only need a few peppers to make enough servings for a group and they pair wonderfully with ground beef and other Southwestern-inspired ingredients like black beans, corn, diced tomatoes, green chilis and, of course, cheese.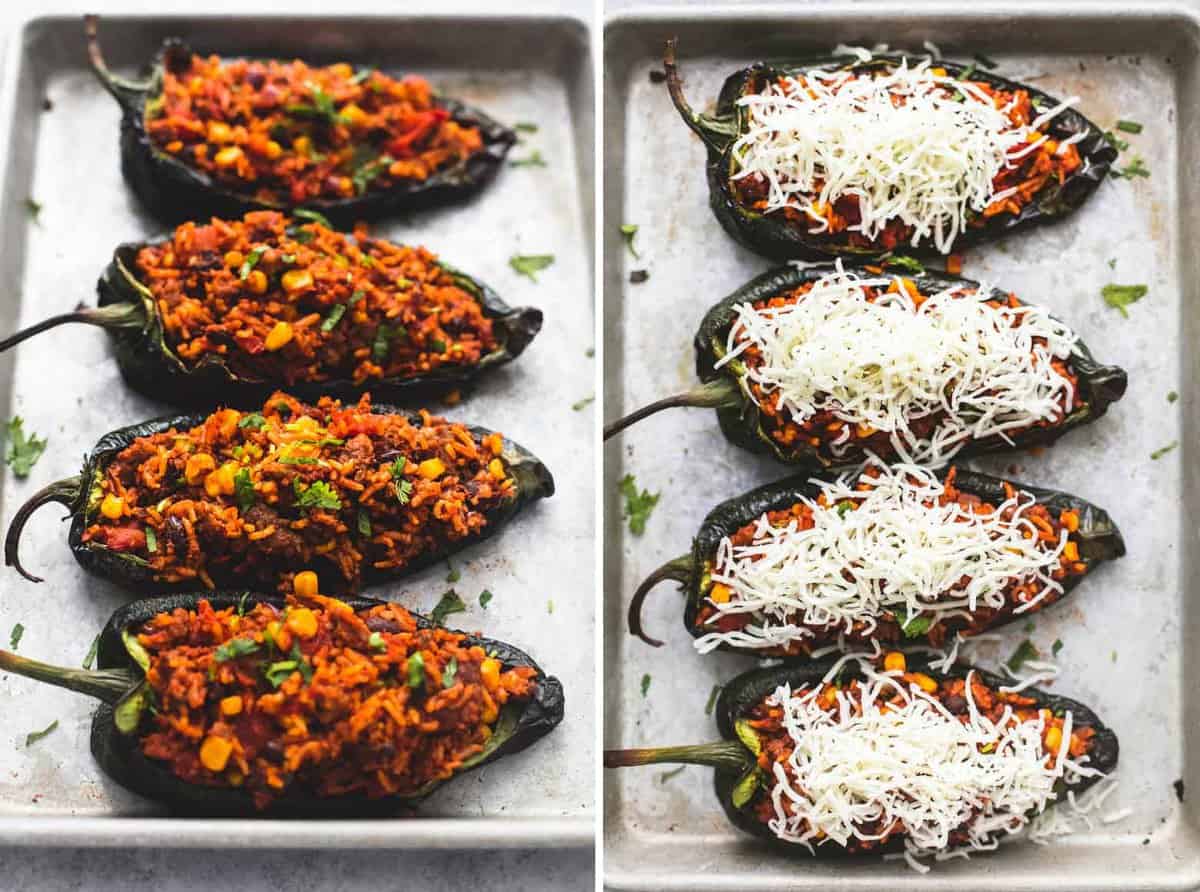 Are Poblano Peppers Good for You?
Well, to begin with, poblanos are a vegetable and I tend to think all vegetables are good for you. Sure, some more than others, but overall, veggie = good in my book. But, as for the nitty-gritty of why poblanos are good for you, check this out: One cooked poblano has only 13 calories and almost zero fat. They also have a little bit of protein and carbs, and a decent amount of fiber, iron, and vitamin A.
How Hot are Poblano Peppers?
I chose to use poblanos in this dish because they have a milder taste and heat than other, hotter pepper options. While you have probably had poblanos in salsas and sauces, in savory muffins (like in Cilantro Lime Grilled Shrimp + Roasted Poblano Sauce, or Breakfast Muffins) in chile rellenos, or even in chili chowders, you may not have thought to stuff them. Good thing you've got me, that's all I'm saying.
On the Scoville heat unit scale, poblanos score 1,000-1,500 units, which is fairly mild. To put that into perspective, jalapenos score at 2,500-8,000 units. So that makes them two to eight times milder. That's a pretty big difference, I suppose, especially if you don't like spicy foods. But it's really hard to tell with jalapenos, as some will be mild and some will set your entire mouth on fire for what seems like forever.
On the flip side, bell peppers have a heat score of exactly 0, while one of the the hottest peppers (the Carolina reaper) has a score of 1,400,000-2,200,000 units. All that being said, I picked the poblano in this recipe because it's not super bland but its tiny kick of heat sets it apart from other peppers you could use, like bell peppers or hatch chilis. Remember, too that the peppers have to be big enough to stuff, so that eliminates A LOT of pepper varieties.
One more note on heat: Choose green and not red poblanos, as red ones will be a lot hotter.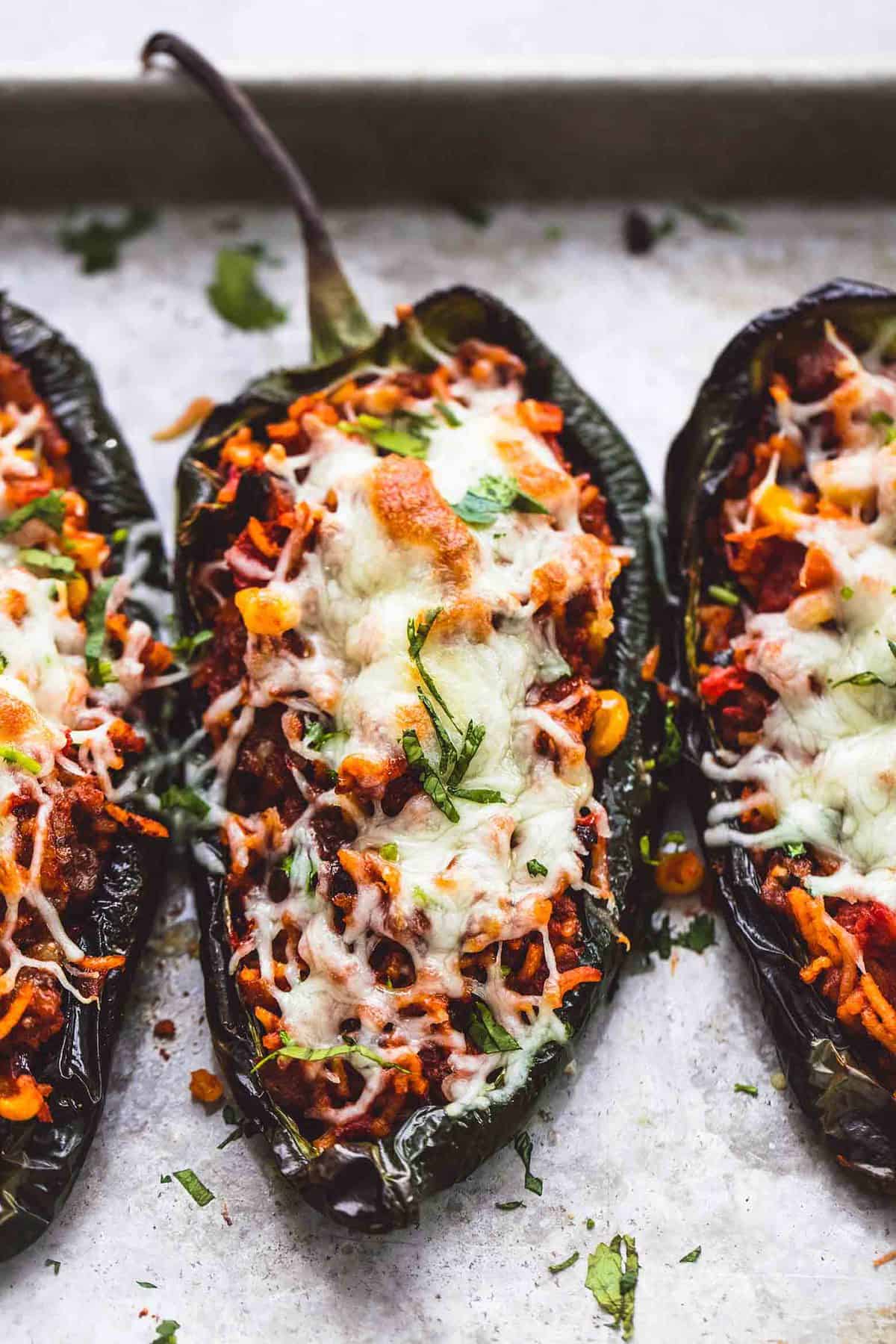 How do you Soften Poblano Peppers?
For this recipe I softened the poblanos ahead of time in the oven. Otherwise, if you went ahead and stuffed them and cooked them all together and didn't pre-cook them, they would be too hard to eat in my opinion. You could also boil them for a couple minutes before slicing in half, stuffing, and baking.
If you don't like the poblano skin, another option is to roast them before stuffing and baking. To do this, roast the poblanos either in the oven (at 450 degrees) or on the grill until the skin starts to darken and blister. Take them off the heat and cover them to let them steam up a bit. (You can put them in a plastic bag or overturn a bowl or towel onto the peppers to help trap the steam.) When they are cool enough, you can peel off the skin, then prepare according to recipe directions.
Happy eating!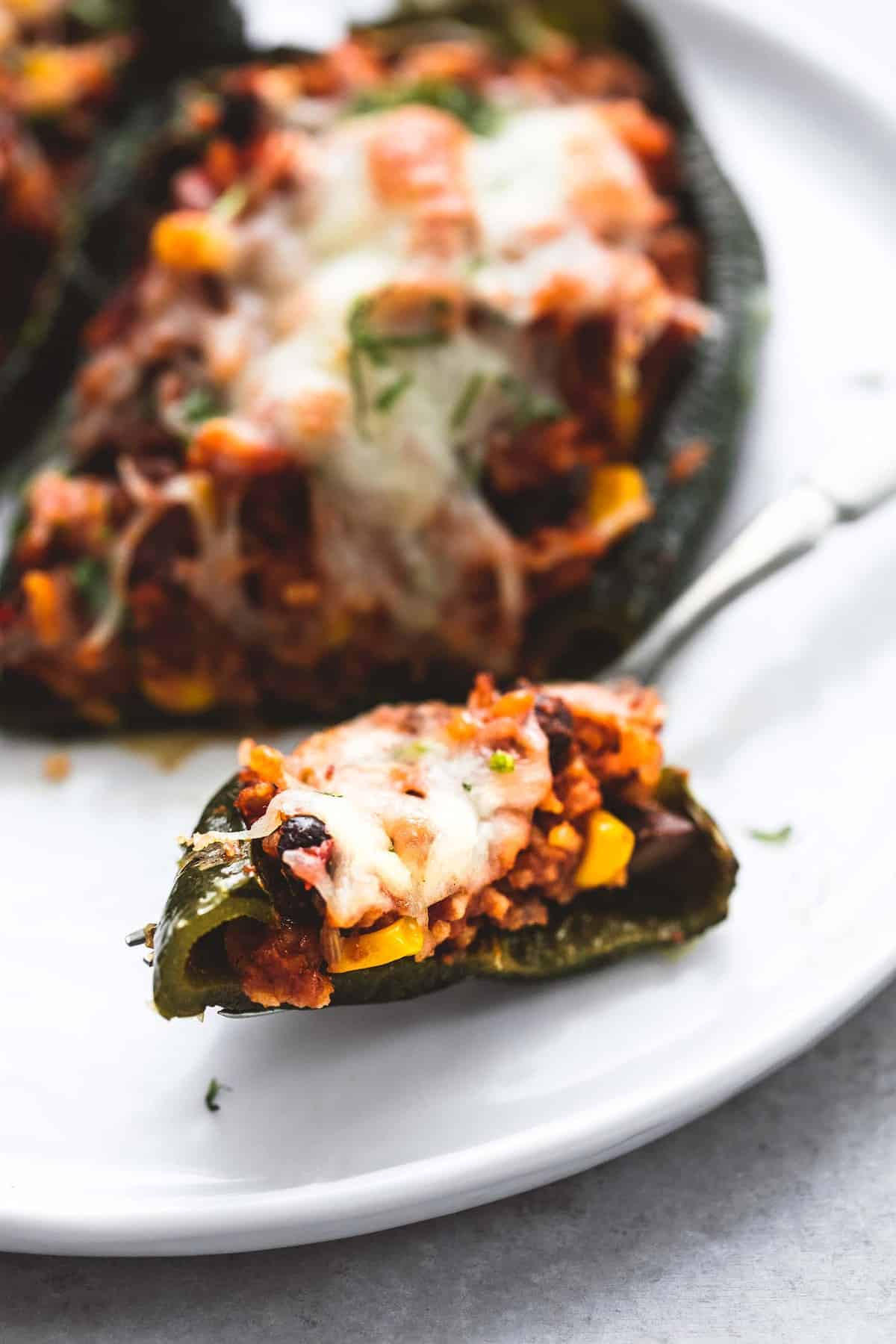 More Southwest Recipes
Did you try this Southwest Stuffed Poblano Peppers recipe? YAY! Please rate the recipe below!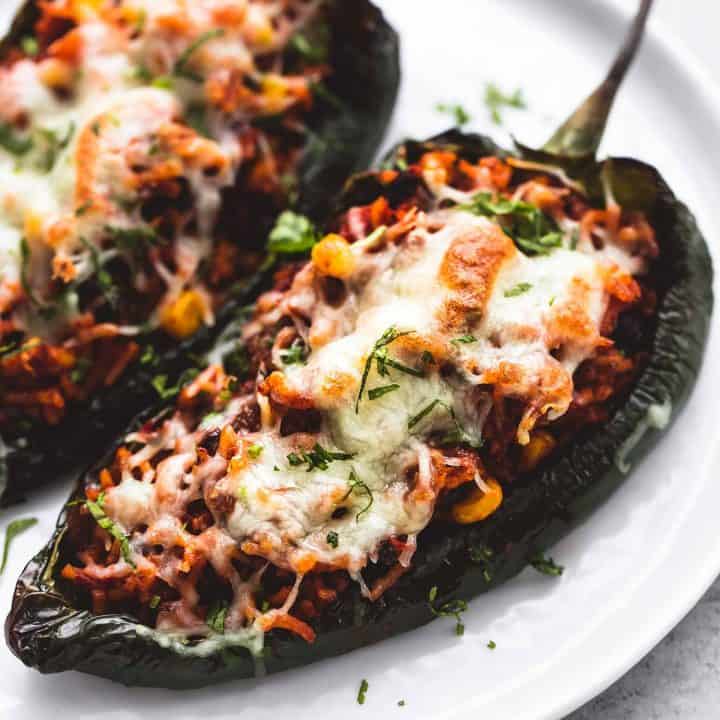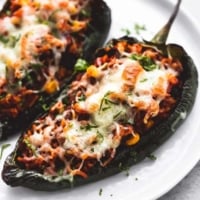 Southwest Stuffed Poblano Peppers
Easy, baked Southwest Stuffed Poblano Peppers with ground beef (or turkey!) and rice are packed with bold, savory flavors and topped with cheese to make the BEST healthy stuffed peppers you'll ever taste!
Servings:
8
stuffed peppers
Ingredients
4

poblano peppers

-

halved and seeds/membranes removed

1

pound

lean ground beef

-

OR chorizo, see note 2

1

teaspoon

each ground cumin, chili powder, garlic powder

1

cup

cooked long grain white rice

-

see note 1

½

cup

canned black beans

-

drained

½

cup

frozen or canned corn

-

drained

1

15-ounce can

fire roasted diced tomatoes

-

drained

1

4-ounce can

diced green chiles

½-1

cup

grated mozzarella OR Mexican-blend cheese
Instructions
Preheat oven to 350 degrees and lightly grease a large baking sheet. Arrange halved poblano peppers in a single layer on the baking sheet so that they aren't overlapping. Bake for 10-15 minutes while you move on to the next step.

Add ground beef (or preferred meat choice, see Note 2) and rice to a large skillet, and season with the cumin, chili powder, and garlic powder. Saute over medium heat for 5-8 minutes until meat is browned and cooked through.

Stir in the black beans, corn, diced tomatoes, and green chiles. Cook another 1-2 minutes. Spoon mixture into the peppers, sprinkle with cheese, and return to oven for another 10 minutes or so until peppers are tender and cheese is melted. Allow to cool slightly before serving.
Notes
Ready rice works great!
Ground beef, chorizo, ground chicken, ground turkey, or ground spicy Italian sausage all work well in this recipe! My personal favorite is the spicy Italian sausage or chorizo. 
Substitutions for the poblano peppers: bell peppers, hatch chiles. 
Nutrition
Calories:
153
kcal
,
Carbohydrates:
12
g
,
Protein:
16
g
,
Fat:
5
g
,
Saturated Fat:
2
g
,
Trans Fat:
1
g
,
Cholesterol:
39
mg
,
Sodium:
143
mg
,
Potassium:
358
mg
,
Fiber:
2
g
,
Sugar:
1
g
,
Vitamin A:
264
IU
,
Vitamin C:
48
mg
,
Calcium:
69
mg
,
Iron:
2
mg