Think restaurant-quality chicken curry is only available for takeout? Think again! You can pull together this incredibly tasty Thai Chicken Curry with Coconut Milk in less than 30 minutes and the flavor is so, SO good.
For more out-of-this-world Thai-inspired recipes, try my popular posts for Grilled Sweet and Spicy Thai Chicken Kabobs, Shrimp Pad Thai with Peanut Sauce, and Thai Coconut Curry.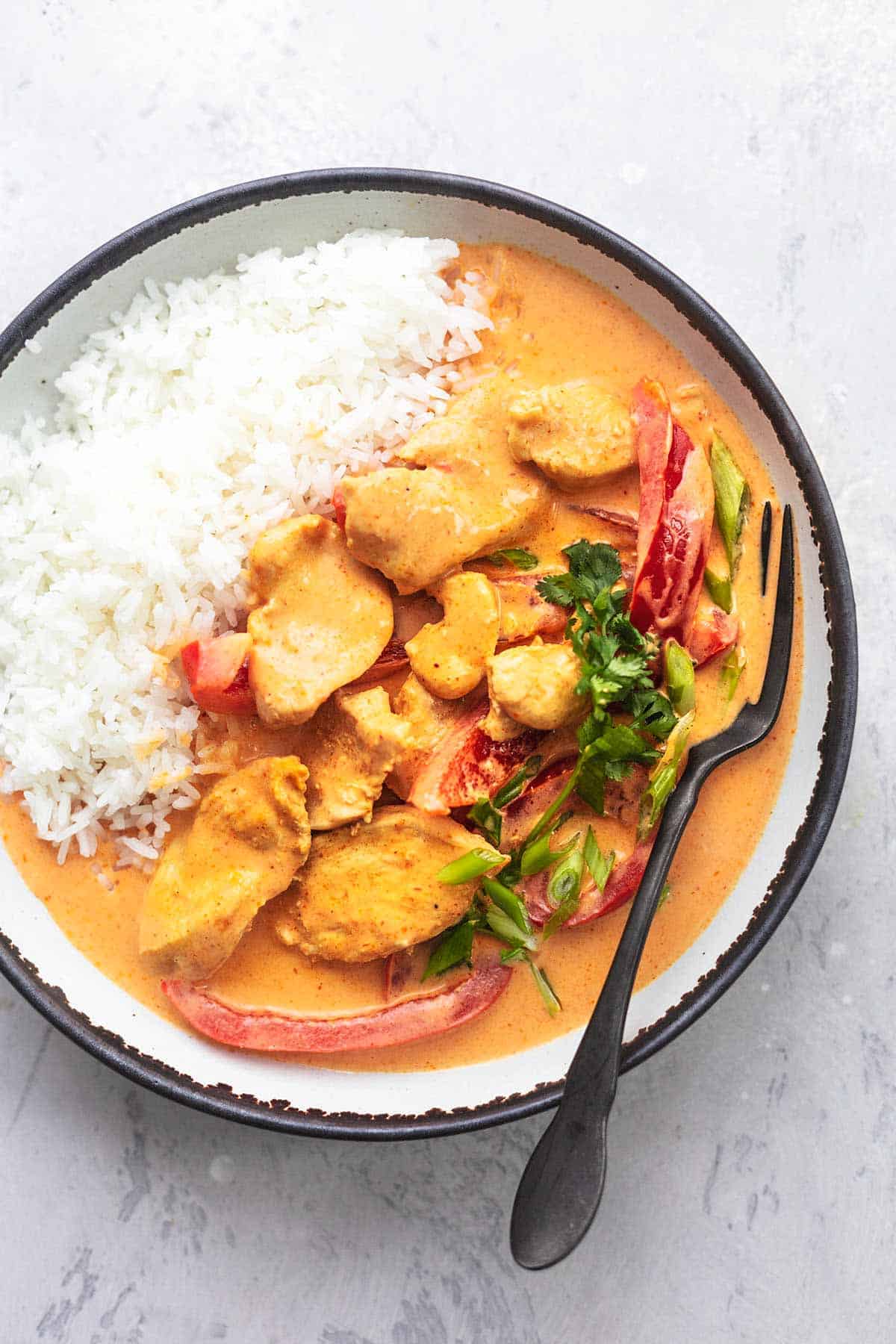 I'm a little ashamed to admit it took me a while to get up the courage to try making Thai food in my own kitchen. I'd been eating in Thai restaurants for years and admittedly craved it more regularly than my eating-out budget would allow but I felt nervous about replicating it at home.
Turns out, I had nothing to worry about! Thanks to a few pantry staples (if curry powders and pastes are not currently pantry staples in your house, they soon will be!), coconut milk, and some veggies, I was able to pull off a simple Thai dish that tasted just like the real thing on the first try.
Trust me, it's pretty hard to mess up (and even if you do, it'll still taste good!) and once you get past the jitters of taking on a new flavor profile, you'll be wanting to make Thai food all the time!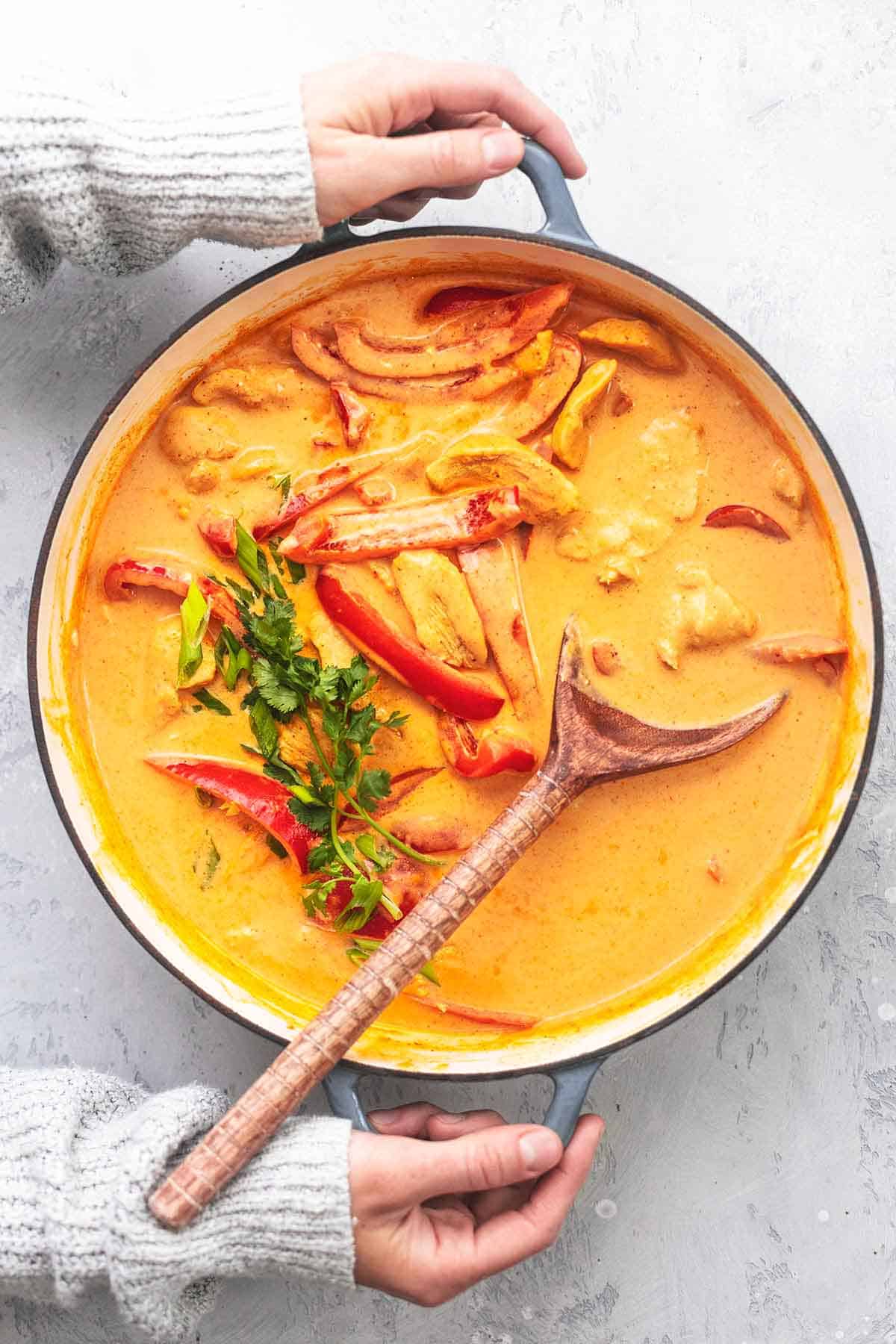 Here's the gist of what you'll need
Boneless skinless chicken breasts or boneless skinless thighs

Red bell peppers

White or yellow onion

Oil

Yellow curry powder

Red curry paste

Crushed red pepper flakes

Unsweetened coconut milk

Salt

Cold water

Corn starch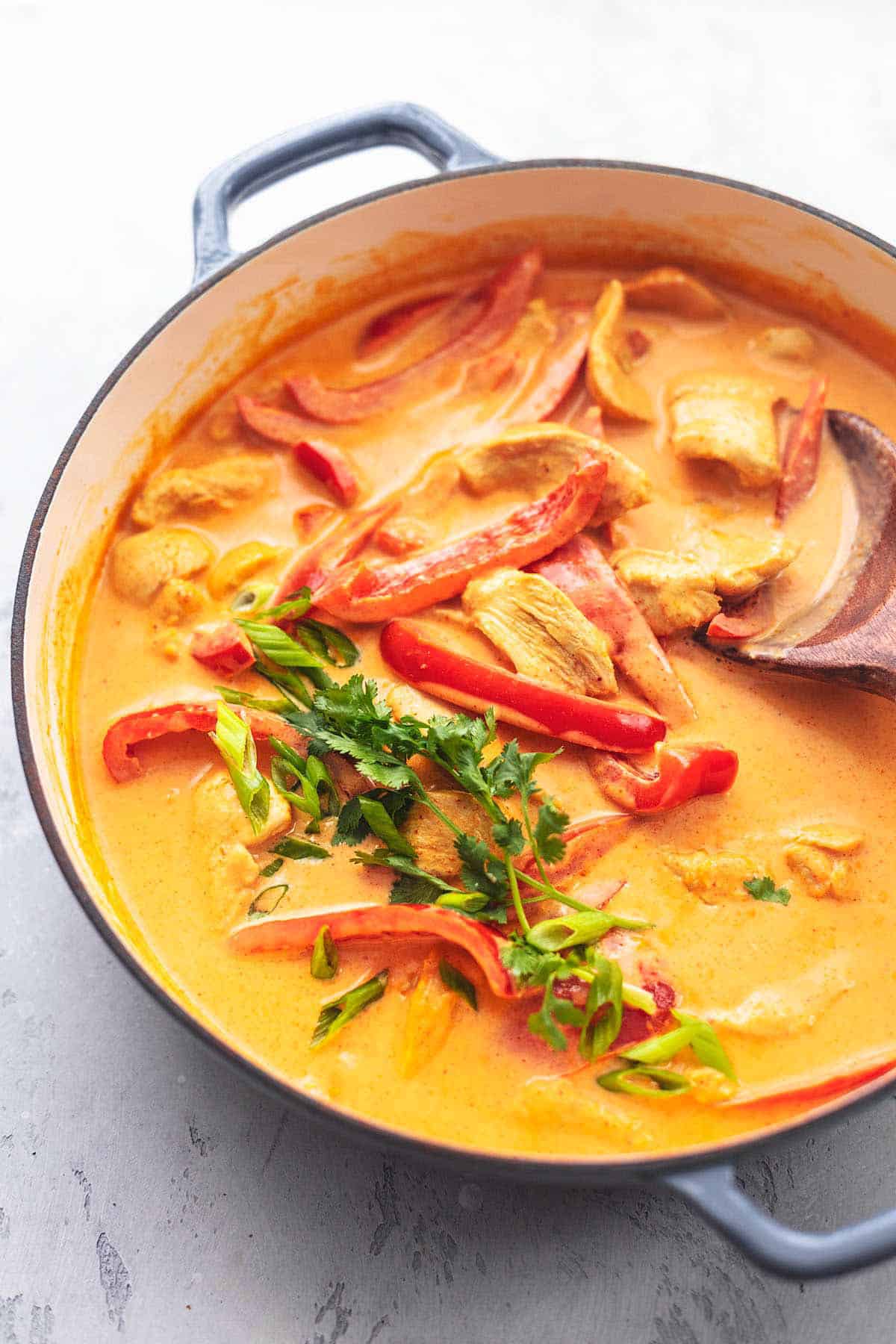 See? Nothing crazy, just a handful of pantry staples and a couple of ingredients you can grab on your way down the Asian-cuisine aisle at your local grocery store. Though after you try this recipe and love it (because trust me, you will) you'll be keeping every single one of these ingredients regularly stocked at your house so that you can try my Chicken and Broccoli Coconut Curry and Chicken Satay with Spicy Peanut Sauce.

How to make this recipe
Take out a large skillet and add to it the chicken, peppers, and onions. Drizzle with oil and turn the burner up to medium high heat. Stir everything around and cook for 6-8 minutes, cooking chicken just through.

Next, sprinkle the yellow curry powder over all of the chicken and veggies, and stir to coat that for another minute. Then, add the coconut milk, red curry paste, crushed red pepper flakes and the salt. Stir, then let the mixture come to a low boil.




In a small bowl, whisk together the cornstarch and the water until the corn starch is dissolved. Add that mixture to the pan and stir it into the coconut milk and spices to achieve a thicker broth. Stir for 1-2 minutes while it thickens.

Give the dish a taste and add more salt if needed. I like to serve this nice and piping hot over rice or noodles and of course, with that fresh herb garnish. For this healthy Thai chicken recipe, I usually garnish with lots of fresh cilantro and extra lime wedges for squeezing.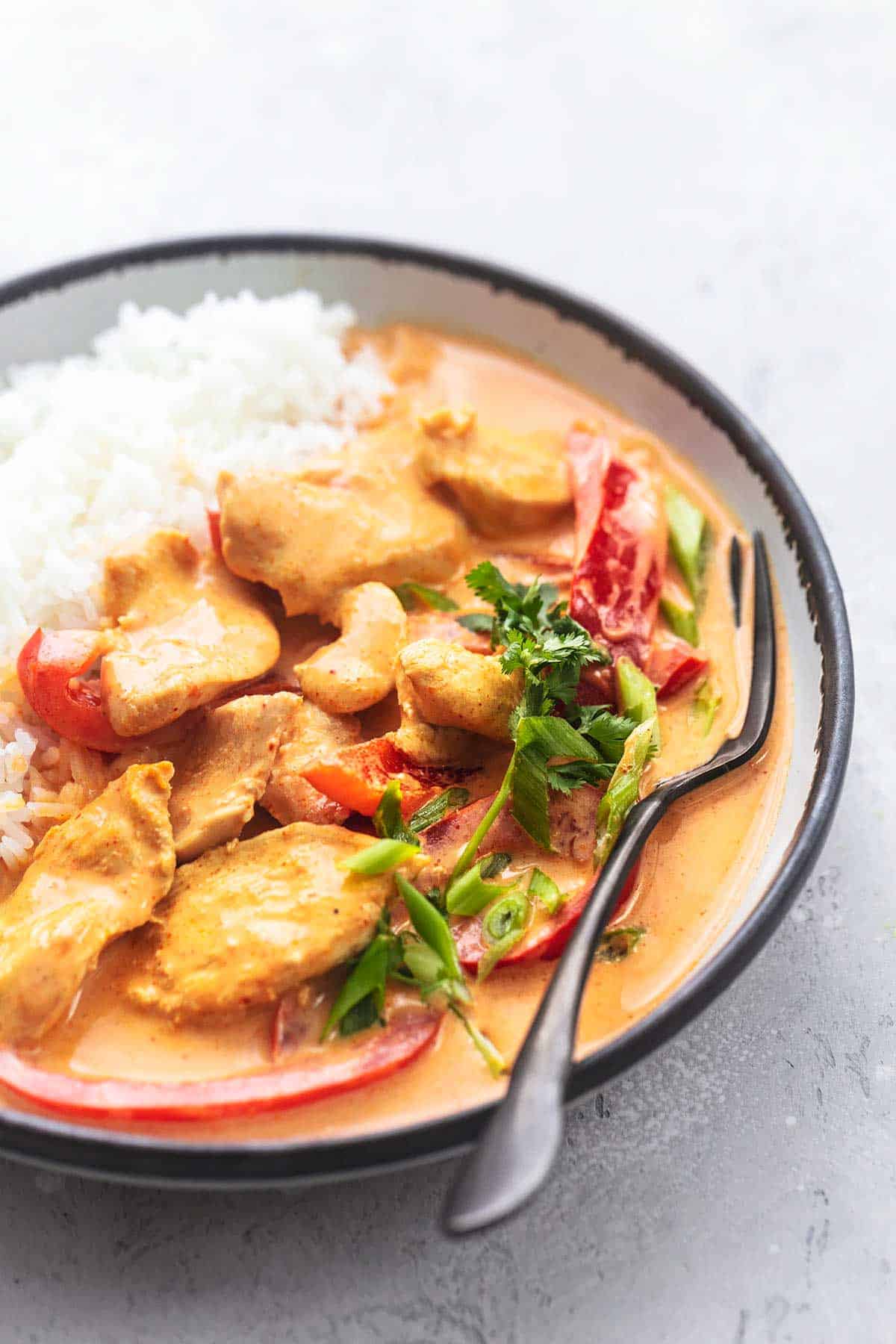 Tips and Tricks for Making this Dish
I've made this dish dozens of times (hundreds maybe??) and I've got it down to such perfection I can practically make it with my eyes closed. Here are all of my secrets for making restaurant-worth chicken curry at home:
Thinly slicing your chicken is important for two reasons: 1) It cooks up uniformly in the pan so you won't have some chewy, hard pieces that are overdone and 2) thinner pieces are more easily able to soak up all that yummy curry powder and paste as well as the coconut milk. You want every bite to be chock full of that yummy, flavorful Thai curry taste.
You can also add diced potatoes and carrots (no bigger than 1-inch pieces) to this dish alongside the chicken to bulk it up and give it some different tastes and textures. I like to use baby red or Yukon gold potatoes, but anything you have is fine. Cook carrots and potatoes (about 1 cup potatoes and ½ cup carrots) in step 1.
When you open your can of coconut milk, you'll probably find that a lot of it has congealed at the top. That's okay! Just add it all to the skillet and once you start to stir, it will all mix together. If it really bothers you, you can stir the cream back into the milk first before adding it to the Thai curry recipe that you're making.
I love to serve this Thai chicken stir fry recipe over white or brown rice but basmati and jasmine rice are ah-mazing too (the smells of both!). If you want to use a noodle, some of my favorites include: rice noodles (vermicelli), soba noodles, pad Thai rice noodles, and even ramen. But thinner angel hair or spaghetti will work too if you don't have specific Asian-style noodles.
Store leftovers for up to 3 days in the fridge. I do not recommend freezing this dish, as the coconut milk kind of takes on the flavors of your freezer in a short amount of time. You could cook through step 2, cool ingredients to room temperature, and freeze. Then, add the coconut milk and the rest of the ingredients at a later date to save some time on this dish.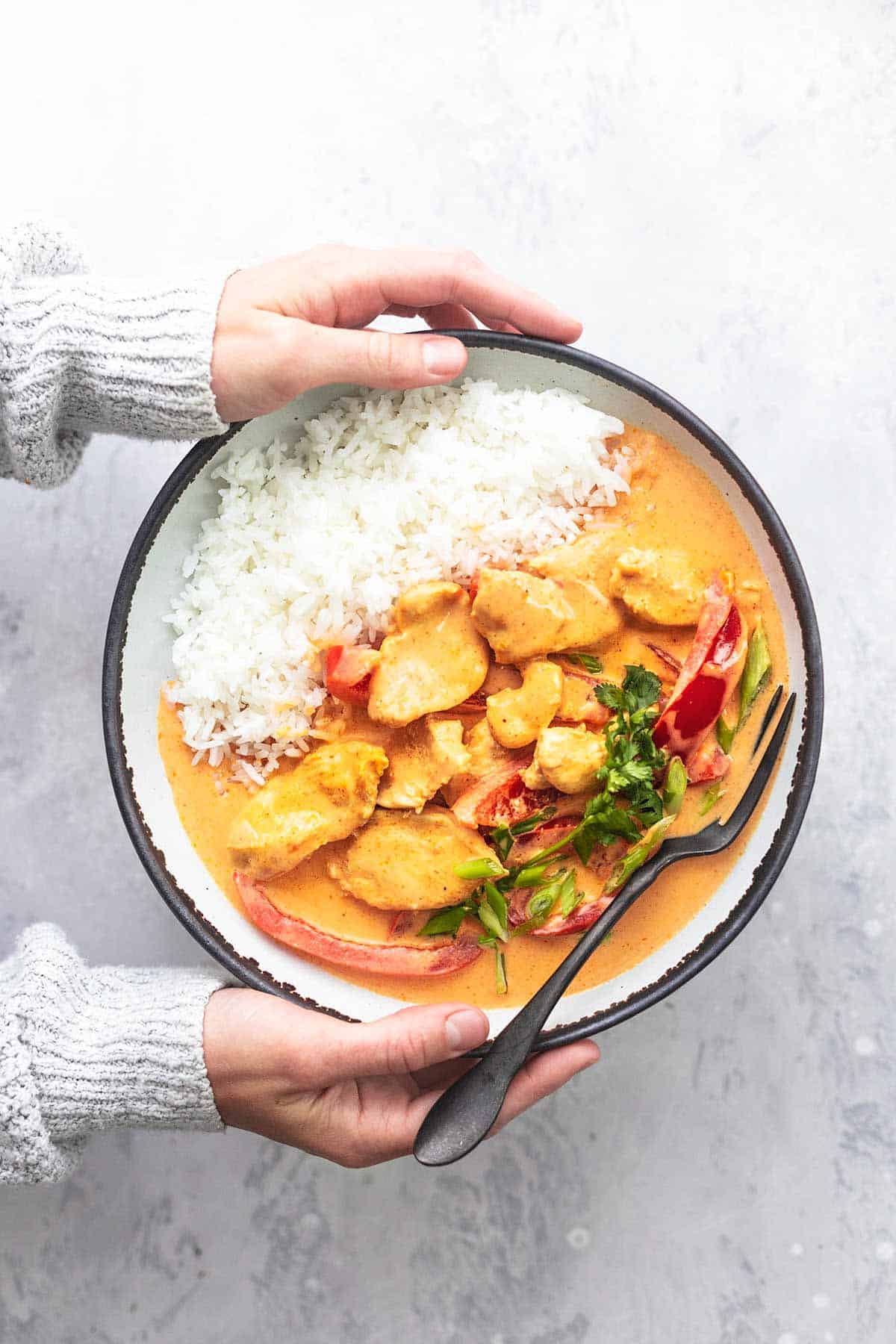 More Asian-inspired Dishes to Try Next
Did you make this Thai Chicken Curry with Coconut Milk recipe? YAY! Please rate the recipe below!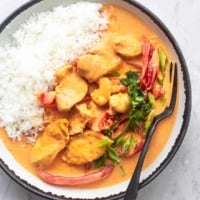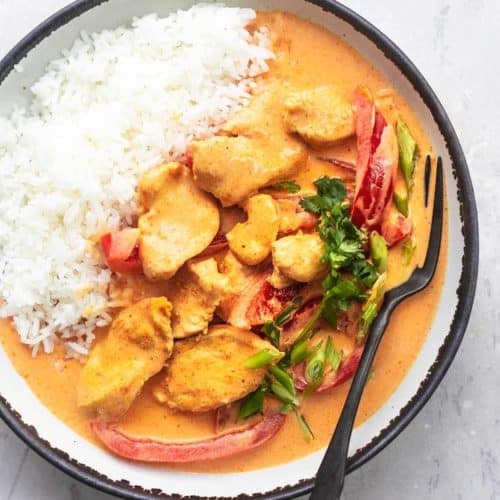 Thai Chicken Curry with Coconut Milk
Thai Chicken Curry with Coconut Milk is an Asian-inspired recipe that's so easy and so tasty, you'd think you were eating at a fancy restaurant. If you've ever wanted to try making Thai food before but were too scared, this is the recipe that will change your mind forever!  
Ingredients
1 ½

pounds

boneless skinless chicken breasts

-

or boneless skinless thighs, thinly sliced into 1/2-inch pieces

3

red bell peppers

-

chopped

1

white or yellow onion

-

chopped

2

tablespoons

oil

2

teaspoons

yellow curry powder

2

tablespoons

red curry paste

½-1

teaspoon

crushed red pepper flakes

-

more to taste

26

ounces

unsweetened coconut milk

1

teaspoon

salt

-

more to taste

¼

cup

cold water + 2 tablespoons corn starch
Instructions
In a large skillet over medium heat, combine chicken, peppers, and onions. Drizzle with oil, give it a good stir to coat, and cook for 6-8 minutes, stirring occasionally til chicken is just cooked through.

Sprinkle yellow curry powder over everything and stir 1 minute.

Add coconut milk, red curry paste, crushed red pepper flakes and salt. Bring to a low boil.

Whisk corn starch into water until dissolved. Add to the pan and stir 1-2 minutes til thickened.

Taste, add more salt if needed. Serve immediately over steamed white rice or rice noodles. Garnish with fresh cilantro if desired.
Notes
To add a spicy kick of this recipe, stir add 1/2-1 teaspoon crushed red pepper flakes, or sriracha sauce to taste. I stir it into the pan in step 3 along with the coconut milk and curry paste. 
I like to garnish this dish with lots and lots of fresh cilantro, and some extra lime wedges for squeezing. 
To lighten this dish up a bit, feel free to use light coconut milk or even a combination of light and regular. Any time you reduce the fat content of milk the result will be slightly less creamy and rich, but in this case I can confidently tell you the flavor is still amazing. When I use all light coconut milk, I usually add a tablespoon or so of soy sauce to the dish to really bring out the flavors of the curry. 
For a complete meal serve this over steamed white rice or rice noodles and a side of buttered naan (Indian flat bread). This is blending cuisines a bit but trust me, it works.
To really take it to the next level, add a side of mango chutney – you can find this magical stuff in a jar in the Asian culinary section of  most grocery stores. I like to dip my naan in it and even add a dollop of the chutney right on to of my curry dish. If you're wondering if you'll like mango chutney, you WILL. It's like a thick mango sauce or jelly with a very mild heat element (it will not burn your tongue, trust me). 
Nutrition
Calories:
909
kcal
,
Carbohydrates:
20
g
,
Protein:
33
g
,
Fat:
80
g
,
Saturated Fat:
47
g
,
Cholesterol:
167
mg
,
Sodium:
749
mg
,
Potassium:
1077
mg
,
Fiber:
7
g
,
Sugar:
12
g
,
Vitamin A:
4182
IU
,
Vitamin C:
122
mg
,
Calcium:
71
mg
,
Iron:
5
mg