These Beefy Enchilada Shells are a fun twist on a Mexican favorite. Tender pasta shells, red enchilada sauce, ground beef, cumin, garlic, chili powder, cheese, and more! 
For more delicious, cheesy, beefy Mexican pasta dishes, bookmark these recipes: Mexican Beef and Rice Skillet, Instant Pot Cheesy Mexican Chicken and Rice, and this Cheesy Mexican Rigatoni Bake.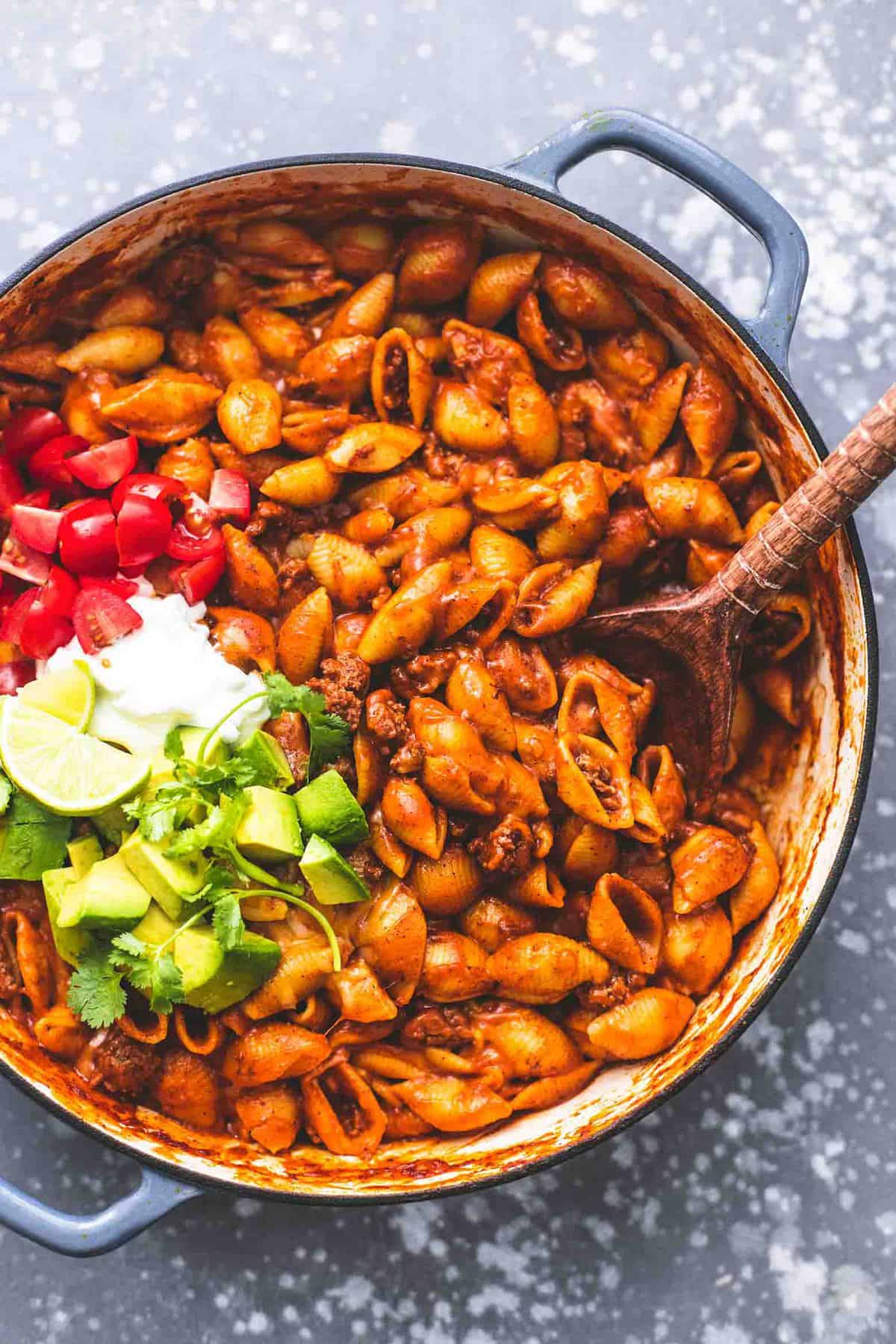 Some recipe combinations don't work out. Pork tenderloin with dill sauce? Gross. Stuffed shells and enchiladas? Genius. Don't worry, I'm not calling myself a genius, I'm calling whoever first came up with this meal a genius. I don't know exactly where it originated but I can tell you that I had a similar dish at a friend's house not long ago and decided to give it a little Tiffany Treatment and see if I couldn't combine the awesomeness of Mexican enchiladas with the creamy, cheesy goodness of Italian stuffed shells. 
The answer is: I can and I did. This dish just make sense. Pasta is amazing. Ground beef is amazing. Cheese, well, yes, of course it's fabulous. Plus, you can add all your favorite toppings to this dish just as you would any other Mexican dish. And kids adore most anything made with pasta and cheese — so this was a great way for me to introduce new flavors to the little ones without worrying about it being too spicy. (Or that too much of it would end up on my dining room floor out of rejection.) 
If you've been on the fence at all about combining pasta with other traditional dishes, this is a great starter dish to get you hopping right on over to the other side. 
WHAT KINDS OF PASTA WORKS BEST WITH A BEEF ENCHILADA SKILLET?
For this dish, I went with a smaller pasta shell variety. I chose this because shells are fun (I won't even try to sugarcoat that one), and they hold little bits of sauce, spices, beef, and cheese in their little shell cups, which is what you want in a dish like this. 
Other pastas that would work well include: 
Rigatoni

Elbow macaroni

Penne

Fusilli 

Ziti 

Gemelli 

Farfalle

Wheels 

Cavatapi

Any other fun little pasta shape you like! 
WHAT IS GROUND BEEF MADE OUT OF?
First of all, ground beef is made out of beef that is, well, ground up finely. It generally comes from meat leftover after a butcher has cut out all the better parts of the steaks, roasts, etc. 
Some packages will say where the ground beef comes from. For example, it will say "ground chuck" or "ground round," or "ground sirloin" as to indicate from which part of the animal the ground meat came. 
And, when you see some percentages on the package, that refers to the meat's fat content. So something like 80/20 would mean that the package is 80% lean beef and 20% fat and so on. 
WHAT IS AN ENCHILADA MADE OF?
If you're thinking of a typical enchilada, then you're thinking of the Mexican dish wherein you take a corn tortilla, fill it with some yummy goodness, and then smother it with a red or green sauce made from red or green chili peppers. Such as my Beef Enchiladas recipe.
This dish takes the best of all those worlds and throws them all together with pasta for a delicious, one-pan meal. 
CAN YOU FREEZE BEEFY ENCHILADA SHELLS? 
Yes, you can freeze this dish. It's best to let it come to room temperature before freezing. Transfer to a freezer-safe/airtight container and label with the name of the dish and the date you made it/put it in the freezer (it'll be easier to identify later if you do this now). 
This dish will keep in the freezer for up to three months. Let it thaw in the fridge before reheating. Once you've frozen and thawed this dish, do not refreeze it. It will start to get rubbery and taste like your freezer. Plus, there could be some food safety issues at that point that you most likely do not want to deal with. 
Beefy Enchilada Shells
Easy 30-minute, one pot Beefy Enchilada Shells made with savory ground beef, tender pasta shells, and loads of ooey gooey Mexican cheese.
Ingredients
16

ounces

small or medium pasta shells

1

pound

ground beef

1

teaspoon

chili powder

1

teaspoon

cumin

½

teaspoon

onion powder

½

teaspoon

garlic powder

½

teaspoon

cayenne pepper

-

optional

4

10-ounce

cans medium enchilada sauce

1 ½

cup

shredded cheddar and/or monterey jack cheese

1

teaspoon

salt

-

or to taste

avocado, sour cream, tomatoes, cilantro

-

optional toppings
Instructions
Cook pasta according to package directions, drain and set aside.

Saute ground beef in a large skillet, sprinkle with chili powder, cumin, onion powder, garlic powder, and cayenne, continue to cook until beef is browned.

Add enchilada sauce to pan, bring to a simmer.

Stir in pasta shells and season salt with salt to taste.

Stir in half of the cheese until melted. Top with remaining cheese and cover for 2-3 minutes until cheese is melted on top.

Add toppings as desired and serve.
Notes
Suggested toppings:

avocado, sour cream, tomatoes, cilantro.
Nutrition
Calories:
873
kcal
,
Carbohydrates:
86
g
,
Protein:
45
g
,
Fat:
37
g
,
Saturated Fat:
17
g
,
Trans Fat:
1
g
,
Cholesterol:
118
mg
,
Sodium:
909
mg
,
Potassium:
624
mg
,
Fiber:
4
g
,
Sugar:
3
g
,
Vitamin A:
591
IU
,
Vitamin C:
1
mg
,
Calcium:
369
mg
,
Iron:
4
mg