Quick and easy, hearty Bacon Avocado Potato Salad with a creamy and flavorful dressing. This amped up potato salad is the hit of the party every time! 
Looking to shake up your potluck game? Try Mexican Street Corn Chicken Pasta Salad, Best Ever Creamy Sweet Macaroni Salad, and Greek Tortellini Pasta Salad.
You'd think by now I would have run out of potato recipes. But, what can I say, I'm always looking for a new twist on one of my favorite side dishes! Scalloped, mashed, grilled, baked, sliced, diced, or served as french fries, I can't get enough. (And neither can anyone in my family, for that matter.)
For this new twist on an old favorite, I cut down on adding in gobs of mayo and instead cut the mayo with Greek yogurt. To me, a dressing should be the major vehicle for flavor in a potato salad and not just simply for disguising a way to add more mayo into your life. Plus, cutting the dressing with other ingredients makes this salad healthier, too. I find that yogurt has the same creamy texture and also adds a nice little zing to the dressing while complementing the dijon and apple cider vinegar components as well.
And, I would be remiss to not also mention the creaminess that the avocado and eggs bring to this Bacon Avocado Potato Salad. Then, to that add in the crispy, salty, smoky bacon, the tangy onion, and the crunchy celery, and, mmmm…I don't even have enough food adjectives to describe what I'm feeling right now. You might need a moment alone in silent reflection after making this dish (and eating it all, too.)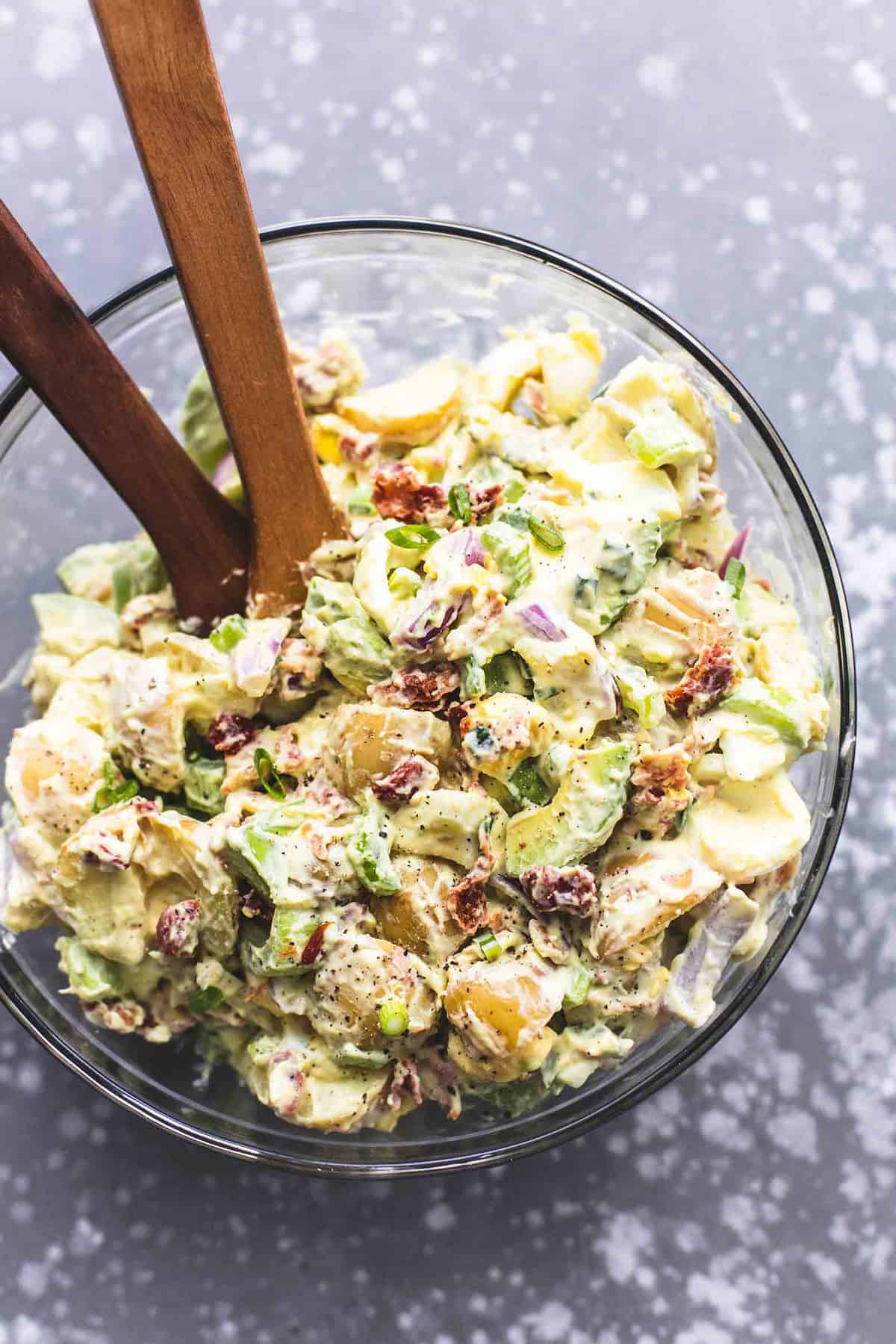 Simple Potato Salad Substitutions
Okay, so I know some of you might be saying "But I don't eat meat," or "I so want to make this but I hate onions." That's no problem. I like to think potatoes (like myself) are pretty adaptable.
If you want to skip the bacon, skip it. You'll still be left with plenty of texture from the potatoes, celery, onions, and hard boiled eggs. You'll be missing a little bit of crunch and salt, but overall the potato salad will still be a hit.
And, if you don't like onions, I get that. I do. They're not for everyone. Whether you hate all kinds of onions or just specifically the red or the green ones found in this recipe, fear not. I have a solution for you, too. I've found that scallions, leeks, and chives can make good substitutes as they aren't as pungent as your typical onion.
For the dressing, if you prefer all yogurt or all mayo, hey that's your prerogative, and it won't change the dressing too much. But keep in mind, you need to use Greek yogurt. It's thicker and tangier and will hold up a lot better than regular, plain yogurt. You can substitute white or red vinegar for the apple cider, or mustard powder or regular mustard for dijon, etc. Feel free to get creative.
What else? If you don't like eggs or avocados, then you can leave those ingredients off, too. But guys, if I'm being honest, you're really starting to bum me out with all of your hypothetical substitution requests. Maybe this Bacon Avocado Potato Salad isn't for you. That's okay. No hard feelings. Try this recipe for 3 Ingredient Oven Roasted Potatoes or this Garlic Herb Potato Hash instead. You'll get your potato fix and I won't be offended. Win-win.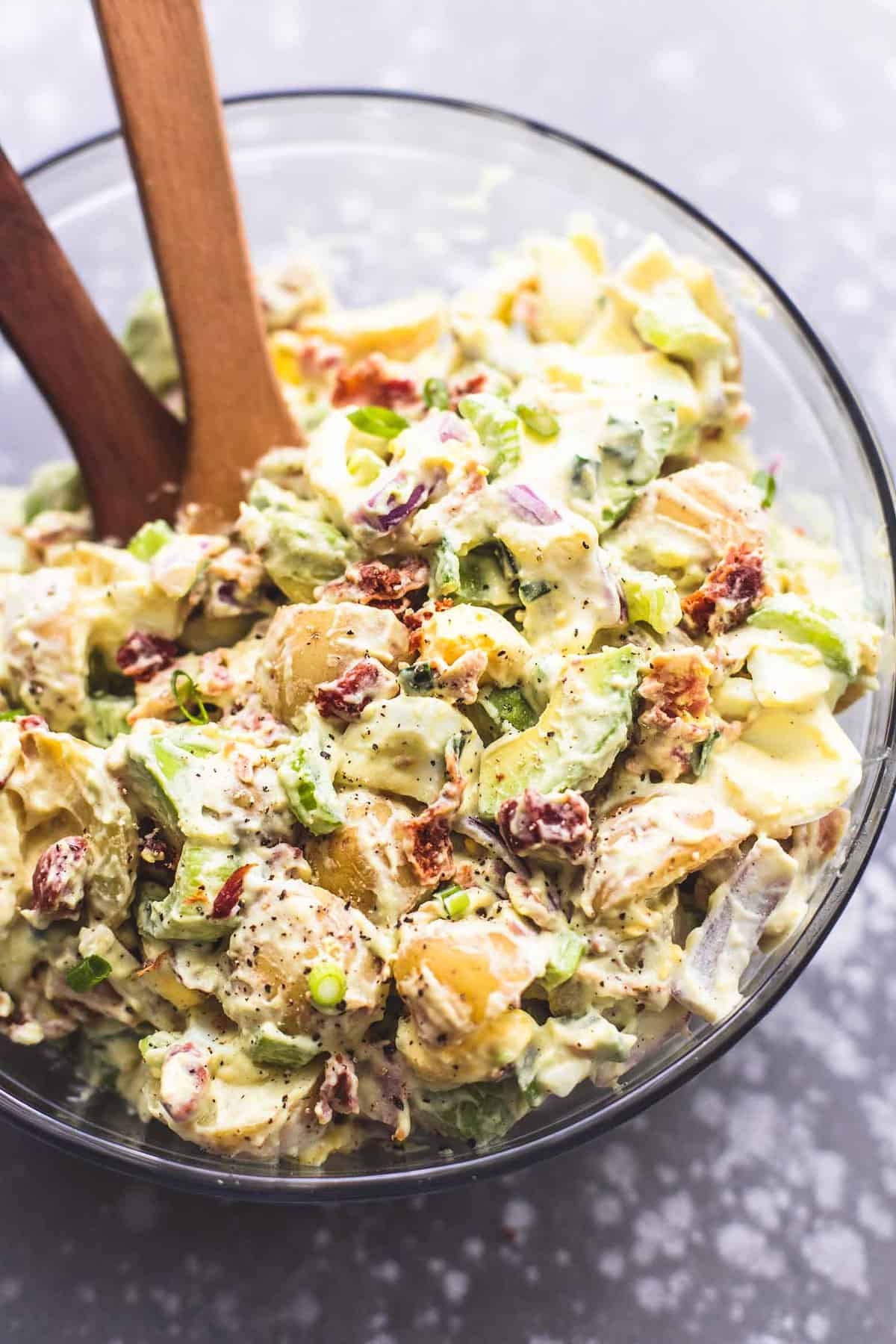 Do I Have to Leave the Potato Skin On?
If you are not a fan of potato skin, then by all means, go ahead and peel those little suckers before you boil them. On second thought, you might want to pick a bigger potato for the salad (like Yukon Gold or Idaho), simply because those will be easier to peel. Just cut them into bite-sized pieces after peeling, but before boiling.
You can also remove the peels after boiling, if you prefer. To do this, you need to score the potato all the way around the center first, then boil.
Then — and this is important — make sure you cool the potatoes all the way in an ice water bath before removing the skin with your thumbs. Just rub the skin off, starting at that cut you made, and push it toward opposite ends. It should peel off fairly easily with very little effort.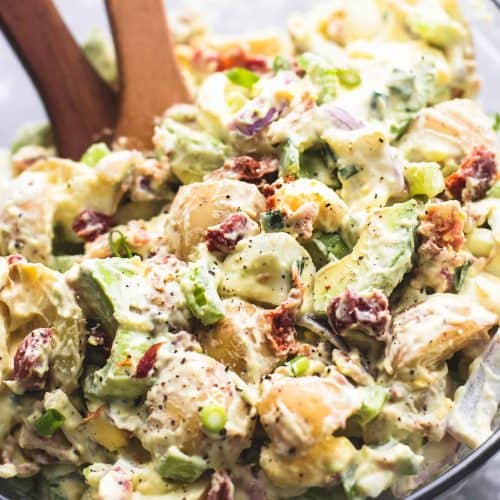 Bacon Avocado Potato Salad
Quick and easy, hearty Bacon Avocado Potato Salad with a creamy and flavorful dressing. This amped up potato salad is the hit of the party every time!
Ingredients
3

pounds

baby gold and/or baby white potatoes

-

quartered

3

celery stalks

-

chopped

3

green onions

-

diced

½

small red onion

-

diced

6

hardboiled eggs

-

roughly chopped

2

avocados

-

chopped

4

slices of bacon

-

cooked and chopped
Dressing
1

cup

mayo

-

I use light mayo

½

cup

plain Greek yogurt

-

I use 0 percent fat

2

tablespoons

apple cider vinegar

1

tablespoon

dijon mustard

½

teaspoon

garlic powder

salt and pepper to taste

¼

teaspoon

smoked paprika

-

optional but highly recommended
Instructions
Add celery, green onions, red onions, eggs, avocados (see note), and bacon to the bowl.

Whisk together mayo, Greek yogurt, vinegar, mustard, garlic powder, salt and pepper, and paprika. Pour over potatoes etc and stir gently to combine everything.

Cover and chill for at least 1 hour or up to 8 hours before serving.
Notes
If you are making this potato salad ahead of time and plan on not serving after 1 hour of chilling time, I recommend reserving the avocados until the end, just before serving, to keep them from browning. 
Nutrition
Calories:
416
kcal
,
Carbohydrates:
29
g
,
Protein:
10
g
,
Fat:
30
g
,
Saturated Fat:
6
g
,
Trans Fat:
1
g
,
Cholesterol:
128
mg
,
Sodium:
271
mg
,
Potassium:
870
mg
,
Fiber:
6
g
,
Sugar:
3
g
,
Vitamin A:
303
IU
,
Vitamin C:
32
mg
,
Calcium:
55
mg
,
Iron:
2
mg