Quick and easy Greek Tortellini Pasta Salad with zesty Greek lemon dressing, fresh veggies, and hearty tortellini pasta will be your go-to potluck and dinner side dish!
If you're looking to switch up your potluck game, try this Mexican Street Corn Chicken Pasta Salad, Strawberry Avocado Chicken Pasta Salad, Greek Tortellini Pasta Salad, and Pesto Chicken Pasta Salad.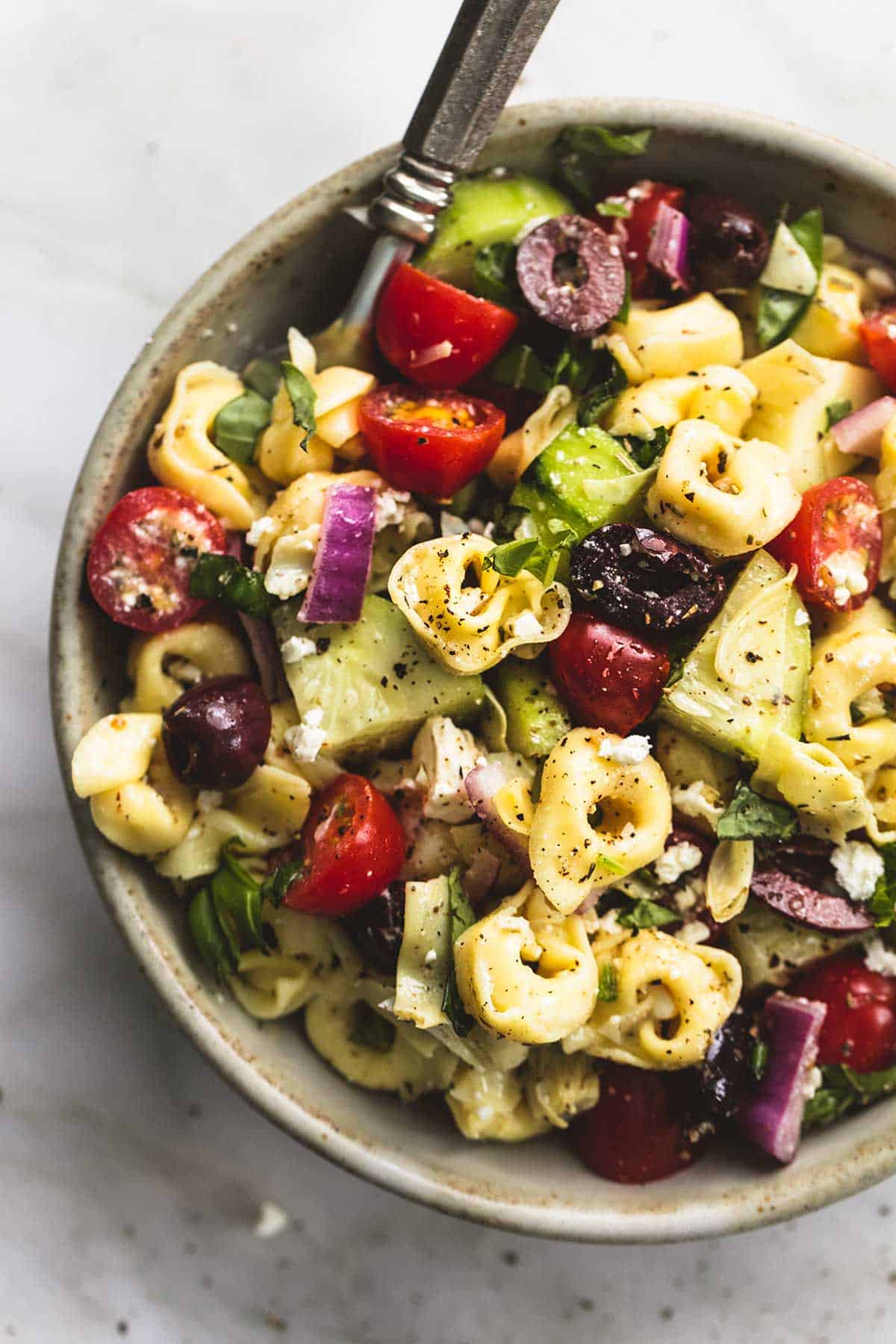 For technical, boring, logistics purposes, I'm filing this recipe under side dishes but I'm not gonna lie, I'd eat this salad as a main dish any day of the week, any week of the year.
I love it straight-up and totally meatless BUT it's so easy to grill some chicken and add it to this salad if you wanna feel like you're diving into a true entree salad. Or if you have a husband like mine who requires meat at every meal, because if it doesn't have beef or chicken in it can it really be called dinner…? Our answers to that question are conflicting but I love him anyway. Die-hard carnivore that he is and all.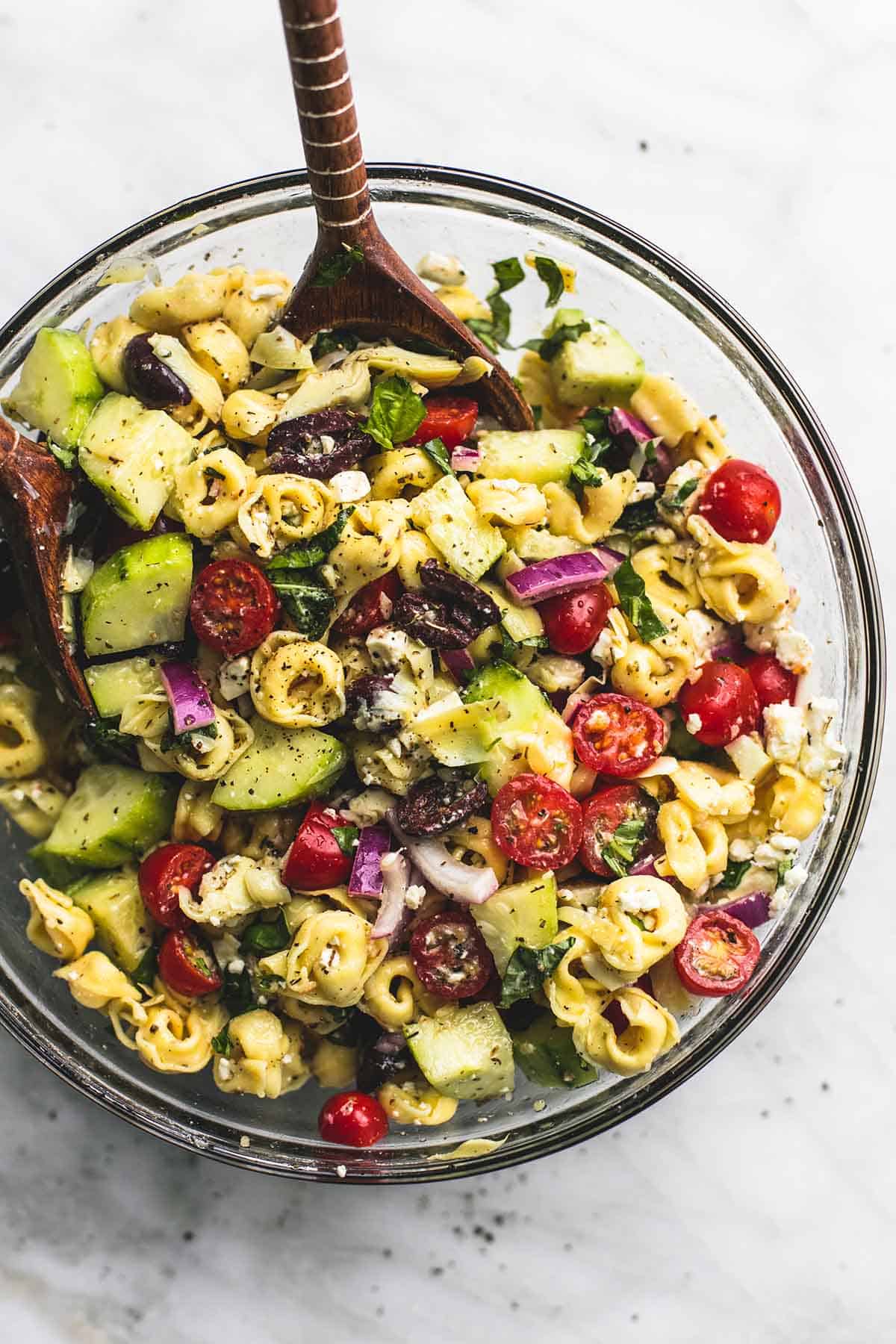 The flavors are out. of. this. world. The combination of all the vegetables along with the tortellini pasta and THAT DRESSING…
Seriously though. The dressing. A little sweet, and little savory, a little tangy from that vinegar and fresh squeezed lemon juice, plus the herbs and the secret ingredient: dijon mustard. Just a tablespoon of dijon mustard kicks this dressing up to a whole other level of YUM.
You can easily swap in or out any of your favorite vegetables here. Don't be afraid to trade the artichokes for roasted red peppers, or add extra feta cheese – you can never have too much feta am I right??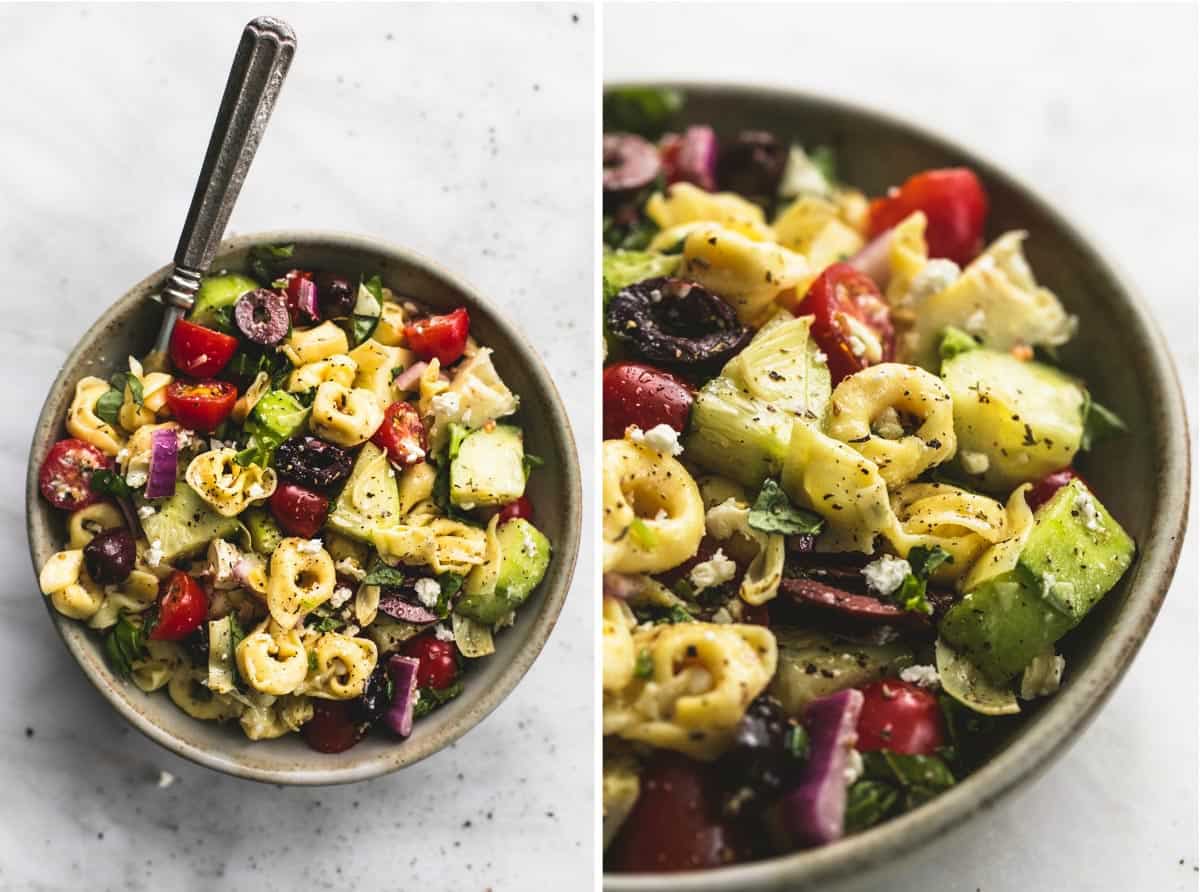 This salad is honestly so darn easy to whip up in just fifteen minutes – and that's including all of your veggie chopping and boiling the pasta if you opt for dried tortellini. This quick and simple Greek tortellini pasta salad will become your favorite summer potluck dish this Summer, and your go-to for busy weeknights all year long.
I'm not guaranteeing fame or anything here, but don't be surprised when every single person who tastes this salad comes begging for the recipe!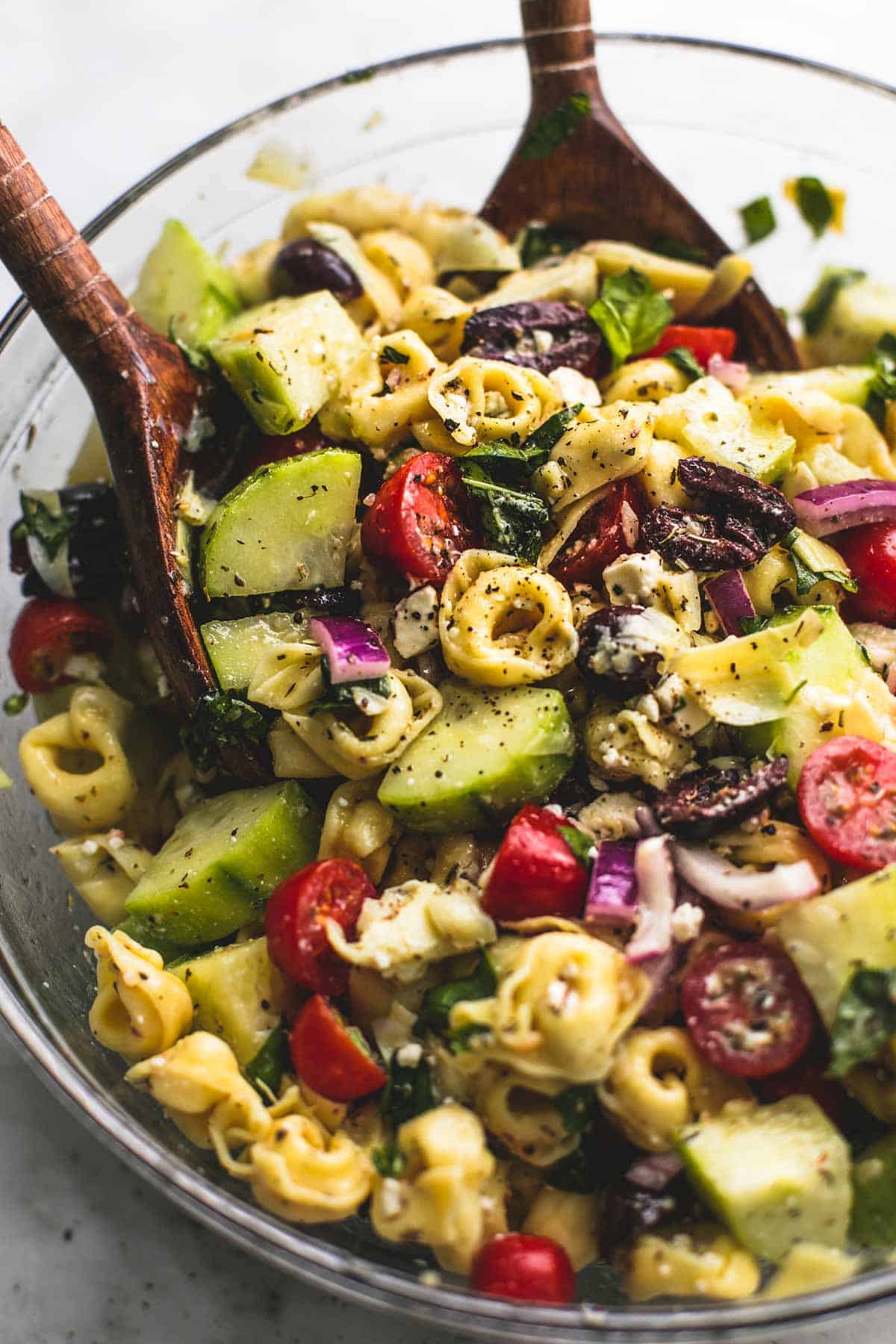 What people are saying about this Greek Tortellini Pasta Salad
"The dressing is amazing!!! I made this last night so the flavors could meld overnight. I couldn't resist a small bowl for breakfast this morning!" – Megan
"Made this for Fathers Day and everyone loved it! Followed the recipe to a T and it was delicious! I also added sliced pepperoncini for a little kick. Like others said, I only used like half the dressing. I'll definitely make this again!" – Katie
"I made it last night and it was awesome. I brought some to work today and my co-worker loved it. Quote: 'I have to have this in my life'." – Janet
"It's not ordinary Greek, it's something more." – Erica
"I made this pasta dish for a party over the weekend and it was so delicious! I love the crunchiness of the cucumbers and onions. I will definitely make this dish again." – Ling-Ling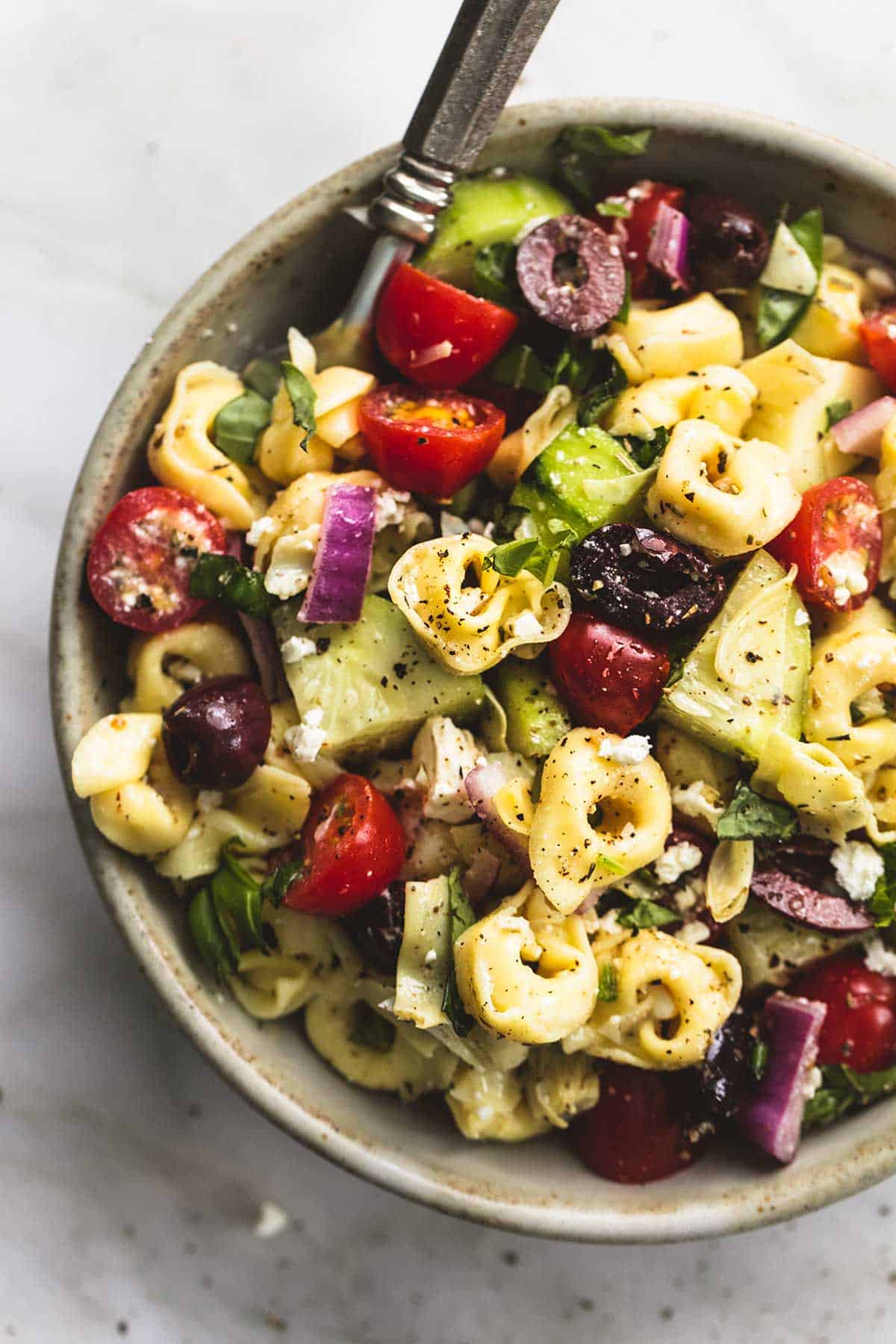 Greek Tortellini Pasta Salad
Quick and easy Greek Tortellini Pasta Salad with zesty Greek lemon dressing, fresh veggies, and hearty tortellini pasta will be your go-to potluck side dish.

Ingredients
1

pound

cheese tortellini pasta

(either fresh, or dried - cooked according to package's instructions)

1

cup

cherry tomatoes,

halved

1/2

red

onion,

diced

1

large

cucumber,

peeled and chopped

1/2

cup

canned artichoke hearts,

roughly chopped

1/2

cup

kalamata olives

(whole or sliced)

1/2

cup

crumbled feta cheese

(I use reduced fat)

1/3

cup

packed fresh basil leaves,

finely chopped
Greek Dressing
1/2

cup

extra virgin olive oil

1/3

cup

apple cider vinegar

1

tablespoon

minced garlic

1

teaspoon

dried oregano

1

teaspoon

dried basil

1/2

teaspoon

dried thyme

2

teaspoons

sugar

1

tablespoon

dijon mustard

1/2

teaspoon

salt,

or to taste

black pepper,

to taste

juice of 1/2 lemon
Instructions
Combine all dressing ingredients in a jar, cover and shake well.

In a large bowl combine tortellini, tomatoes, onions, cucumbers, artichoke hearts, olives, feta cheese, and basil. Pour dressing over the top, then toss to combine.

Serve immediately OR cover and refrigerate up to 6 hours before serving.