This easy and healthy Greek avocado chicken salad is chock-full of hearty and flavorful ingredients like sun dried tomatoes, olives, onions, avocado, feta cheese, and a creamy herb dressing to die for.
Looking for a new side to take to your next party? Look no further than Mexican Street Corn Chicken Pasta Salad, Bacon Avocado Potato Salad, and Best Ever Creamy Sweet Macaroni Salad.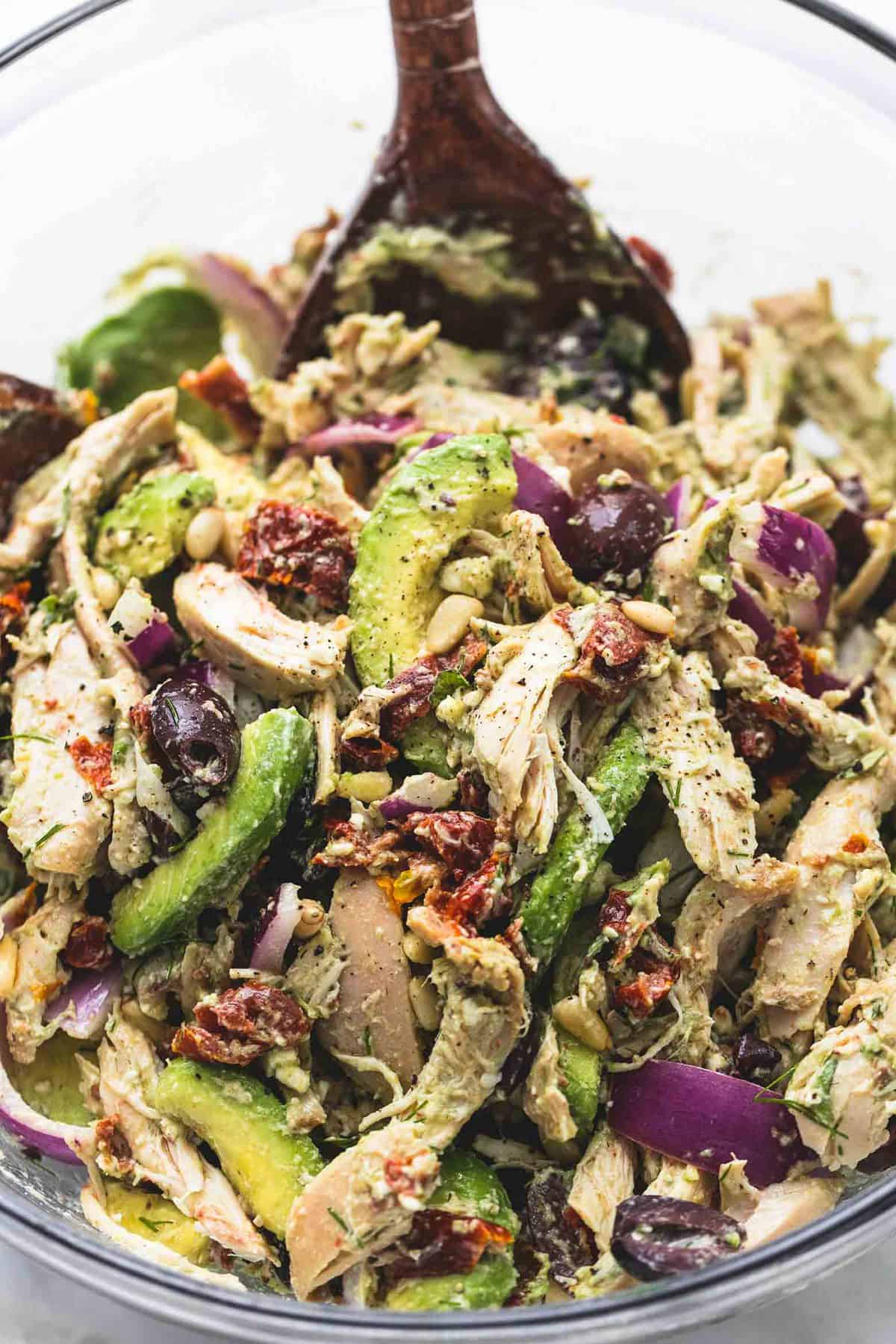 This salad is EVERYTHING. It's absolutely loaded with so many of my favorite ingredients and tossed in a a light and creamy lemon and herb Greek-inspired dressing that has me wanting to lick the bowl clean. I've made this salad multiple times in the last couple of weeks and it's exactly what the doctor ordered after all of the heavenly-yet-heavy holiday meals devoured recently.
For the sake of keeping this site clean and tidy I'm categorizing this salad under "side dishes" but I ate it last night as a main dish and wasn't one bit sad about it. So don't restrict yourself to only making this salad for potlucks. It can be the star of your Wednesday night dinner, especially if you grab some pita bread and turn it into a wrap sort of situation.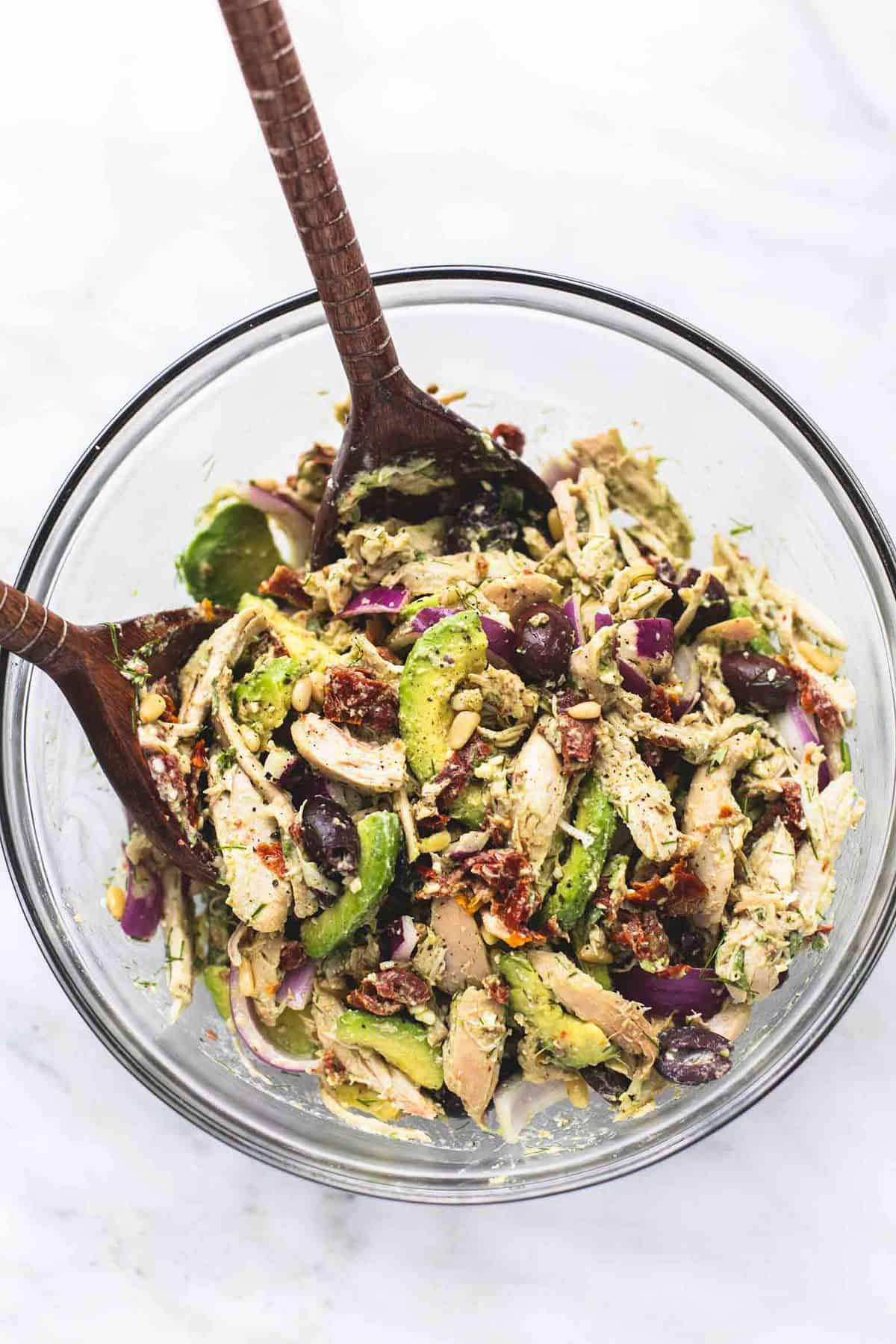 So what's in this tasty avocado chicken salad? SO glad you asked.
Obviously we're starting this off with some avocado and chicken. You can use shredded or diced chicken. If you're thinking of using shredded chicken I have a few recommendations. First, rotisserie chicken works GREAT.
A second option is to cook the chicken yourself. To do this, I like to use my Instant Pot or Slow Cooker. I just season the chicken with salt and pepper, place it in the pot with about 1 cup of water, cover and cook for about 45 minutes on the pressure setting for an Instant Pot or 2 hours on high for a slow cooker.
Then use two forks to gently shred the chicken – but don't overdo it. I feel like slightly larger chunks of shredded chicken work best in this salad.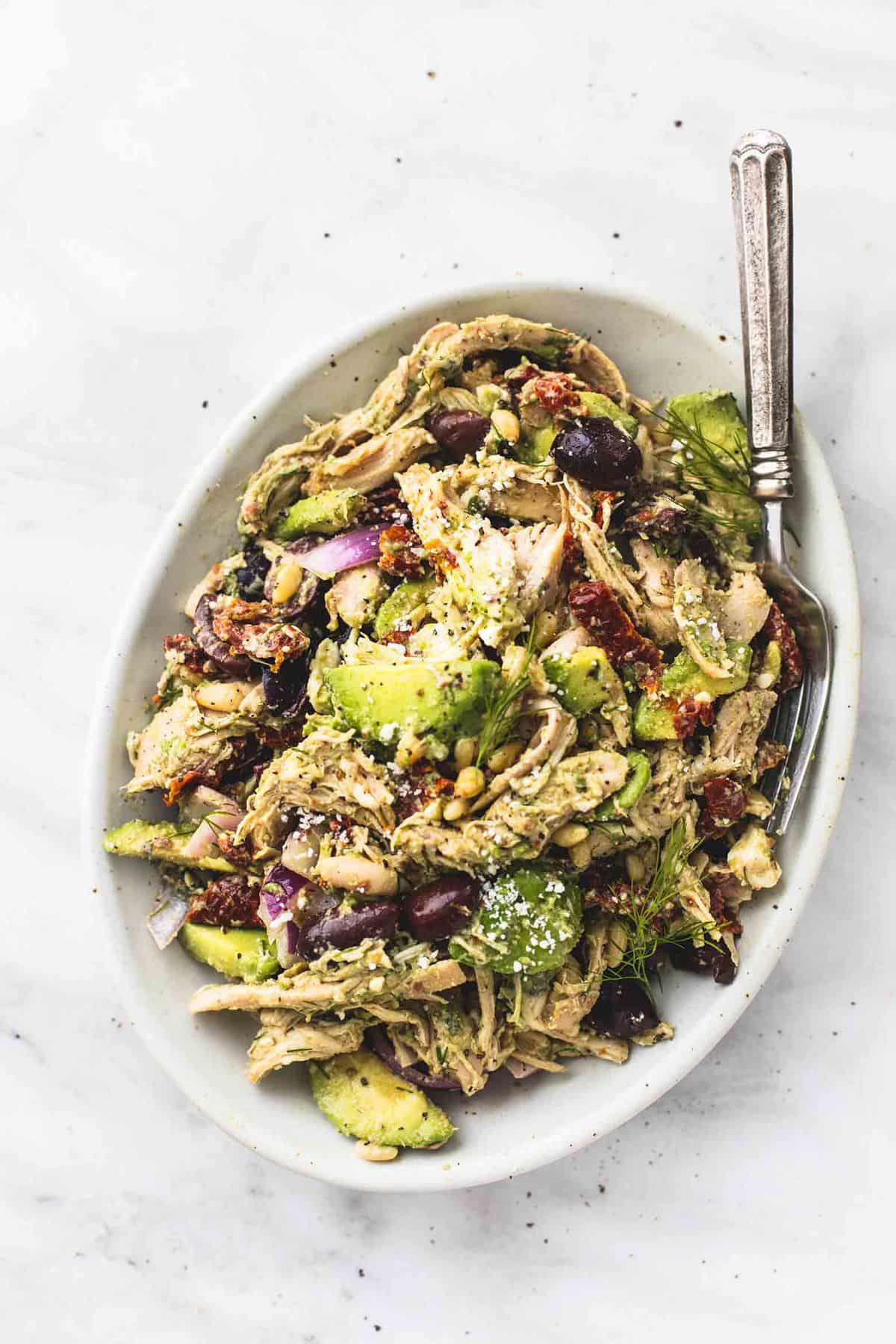 Now you can add any variety of veggie you like, but my absolute favorites in this salad are kalamata olives, sun dried tomatoes, red onions, feta cheese, and pine nuts. Feel free to swap out sun dried tomatoes for fresh, or a different kind of olive. If you have the time, toast your pine nuts first for added flavor. I don't always do this but when I do I remember how much I love that added toasty flavor.
The salad is creamy, but not too heavy. It calls for some light mayo, but feel free to add more Greek yogurt in place of the mayo if you like. If you end up with any leftovers, thank your lucky stars and pop the rest of that goodness in the fridge overnight – (be sure to cover it tightly so the avocados don't brown) this salad is amazing the next day or two for lunch!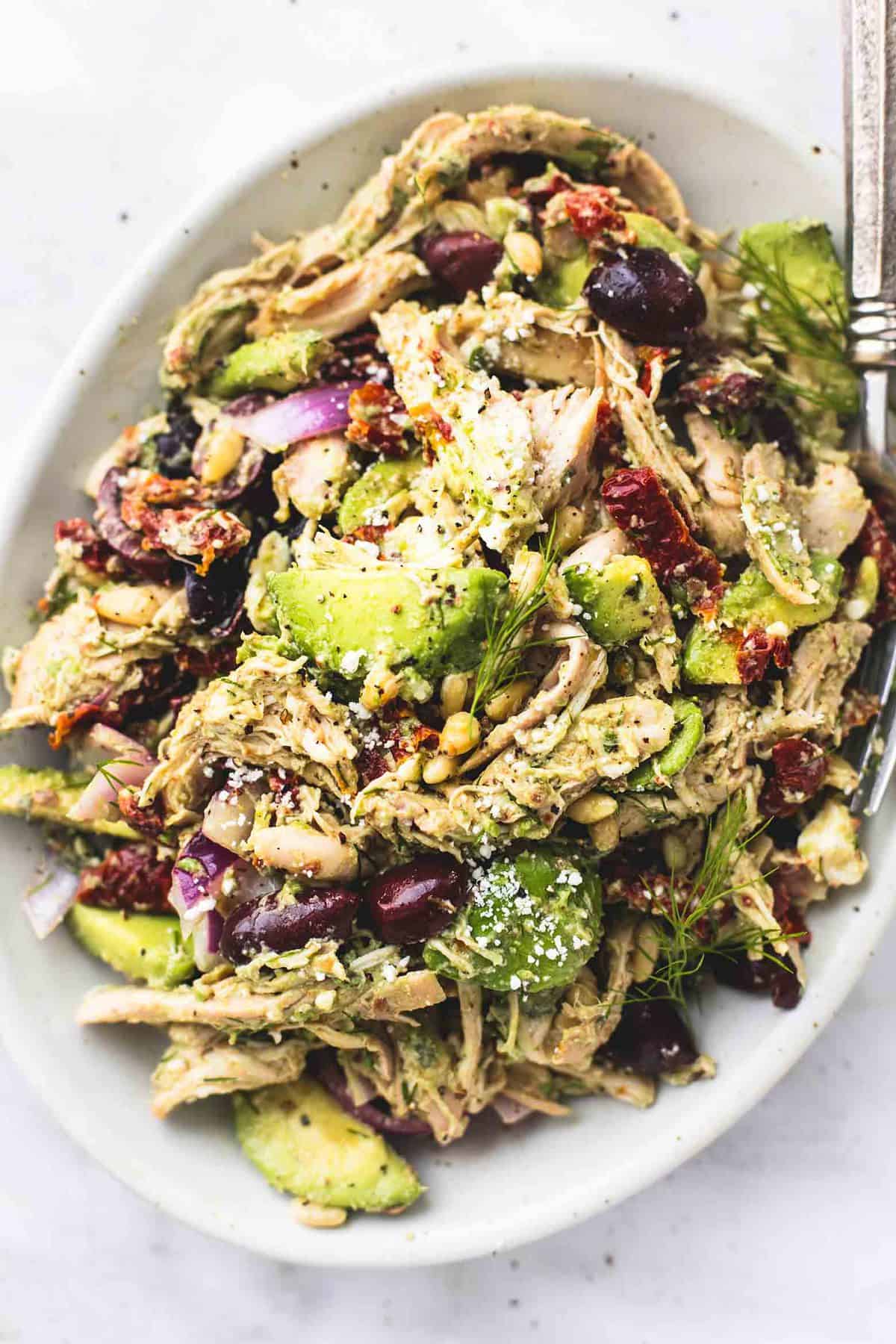 What people are saying about this Greek Avocado Chicken Salad
"This was delicious! We had it over spinach and Quinoa. My husband said he'd eat it on a regular basis. Leftovers will be great for lunch!" – Emily
"Soooooo good! Just made this and wrapped it in a pita. The dressing was so flavorful; i added fresh garlic which made it a little spicy. Great recipe, thank you!!!" – Carli
"I made this tonight and my boyfriend liked it a lot! The dill was a bit overwhelming to me and I may also add parsley to brighten it. Overall , it is a good dish." – Manda
"OMG This is dangerously devine!" – Ginger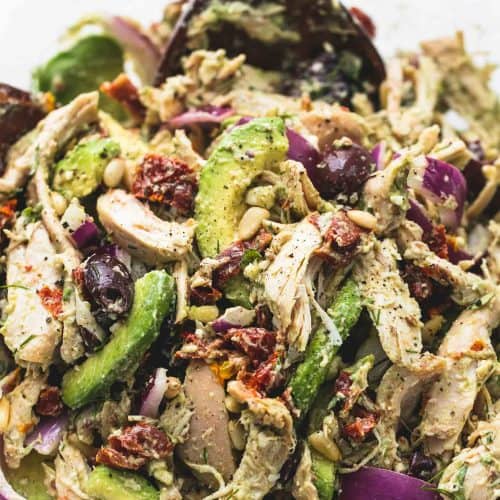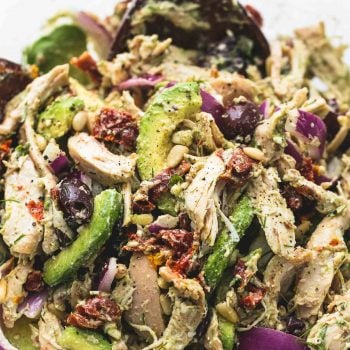 Greek Avocado Chicken Salad
This easy and healthy Greek avocado chicken salad is chock-full of hearty and flavorful ingredients like sun dried tomatoes, olives, onions, avocado, feta cheese, and a creamy herb dressing to die for.
Ingredients
2-4

cups

shredded chicken

1

avocado, sliced

1/2

red onion, sliced

1/2

cup

halved kalamata olives

1

12-ounce

jar julienned sun dried tomatoes packed in oil, drained and gently rinsed

1/3

cup

crumbled feta cheese

1/4

cup

pine nuts

(toasted, optional)
Dressing
1/3

cup

olive oil

extra virgin recommended

1/2

cup

plain Greek yogurt

I use 0% fat

1/4

cup

reduced fat mayo

may sub extra Greek yogurt

1/2

teaspoon

salt

or to taste

1/4

teaspoon

black pepper

or to taste

1/2

teaspoon

garlic powder

1

teaspoon

dried dill

or 1/4 cup chopped fresh dill

1/2

teaspoon

sugar

1

tablespoon

vinegar

white wine vinegar recomended

juice of 1/2 lemon
Instructions
In a jar or bowl, combine all dressing ingredients. Whisk until well blended and set aside.

In a large bowl combine all salad ingredients. Pour dressing over the top, then toss well to combine. Serve immediately or cover tightly and store chilled up to 3 days.