Look no further for the cheesiest, meatiest, Easiest One Pot Lasagna you'll ever eat. One bite of this ah-mazing pasta dish and you'll never make a traditional lasagna again!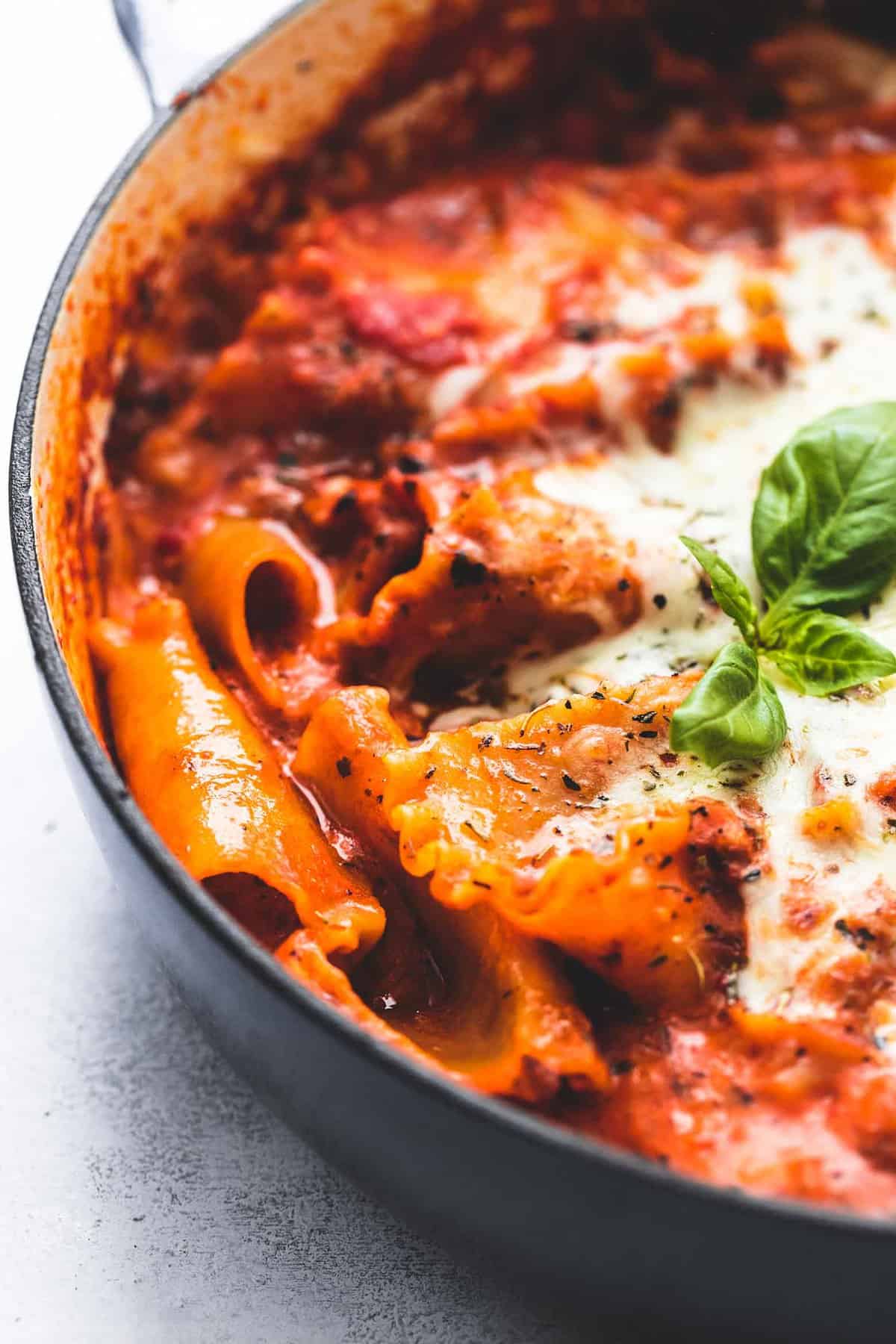 If you love pasta dishes as much as I do, then you'll love to make my Instant Pot Pasta E Fagioli Soup, my Spicy Tomato Garlic Shrimp Pasta, or my Baked Penne Pasta.
Just when I thought I'd seen every variety of pasta dish there was, along comes the whole one-pot dish craze (not that I'm complaining, I love it!). Now, while this works easily for dishes like ramen, orzo with a Mexican flare, and rice dishes, figuring out how to make this work for lasagna was a little trickier. After all, isn't the sign of a good lasagna how many dishes you've used and how big of a square piece you can get onto your dinner plate?
Well, my friends, all of that is about to change as I've just thrown everything you've ever known about lasagna right out the window. That is, of course, everything but the delicious taste of it. Not one iota of flavor was lost in the making of this one-pot lasagna dish. Everything got quicker and easier yet remained just as tasty, if not tastier, if that's even possible.
I'm pretty sure it has to do with the Italian sausage which is just the best mixture of meat possible for most pasta dishes, but especially lasagna. Add to that all the tomato sauce, garlic, Italian seasonings and, of course, THREE kinds of cheese and there's just absolutely no way you'll only make this once. It is on heavy rotation right here I can tell you that!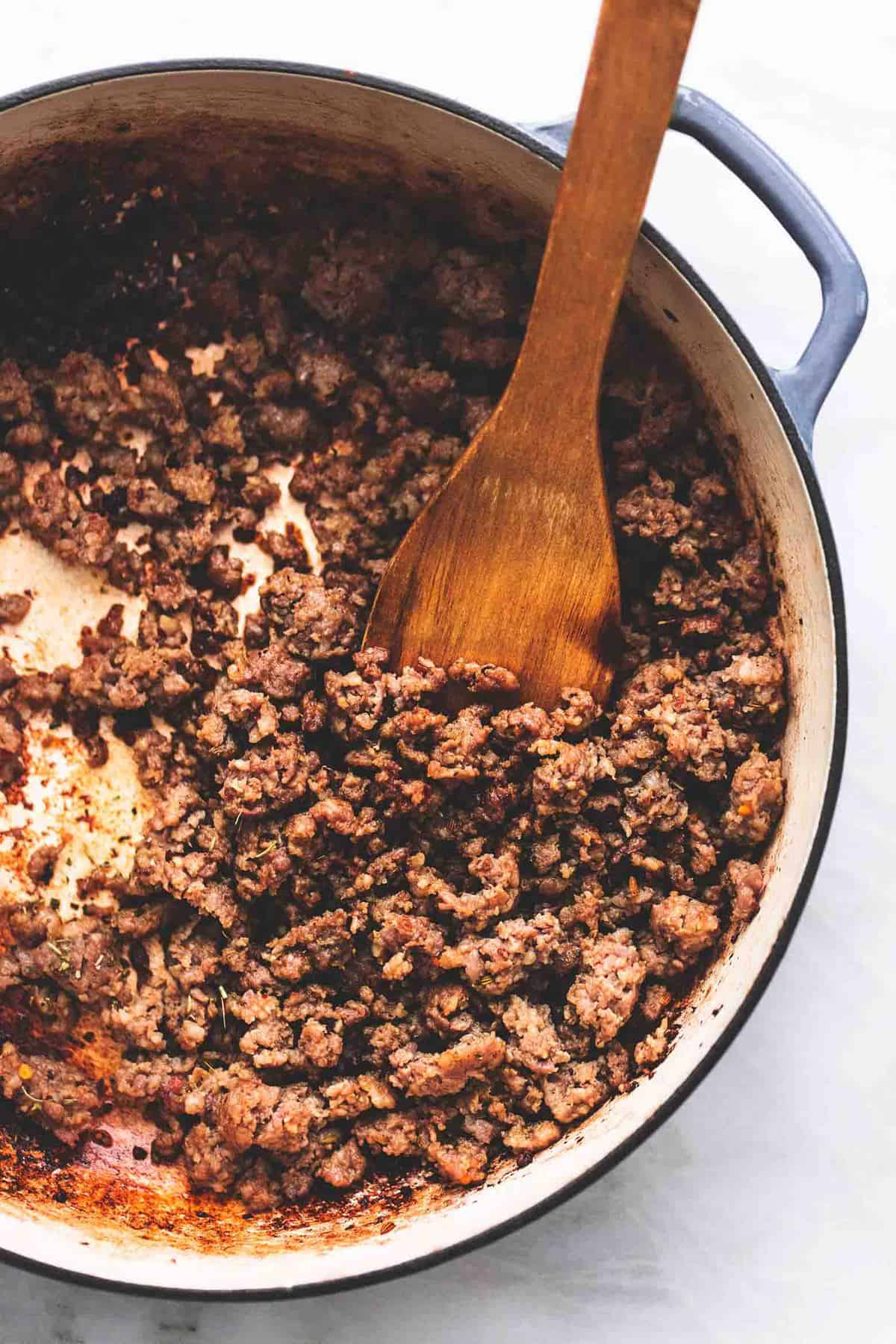 When Making Lasagna Do You Cook the Noodles First?
Often when you make lasagna, you use a dry lasagna noodle and boil them according to package directions. Then, when they are done, you drain them and use them as layers in between all the other lasagna ingredients. There are some no-boil lasagna noodles you can get that you can layer in your pasta dish right out of the box and then they "bake/boil" with the sauce in the oven. They work just fine but they aren't going to be as thick and the texture seems somewhat off to me.
For this recipe, I used regular lasagna noodles, but since this is a one-pot dish, I broke the noodles up and let them cook in the tomato sauce and water all together. So these are not technically cooked first, but they are the same kind of noodles that you would use if you were cooking them first.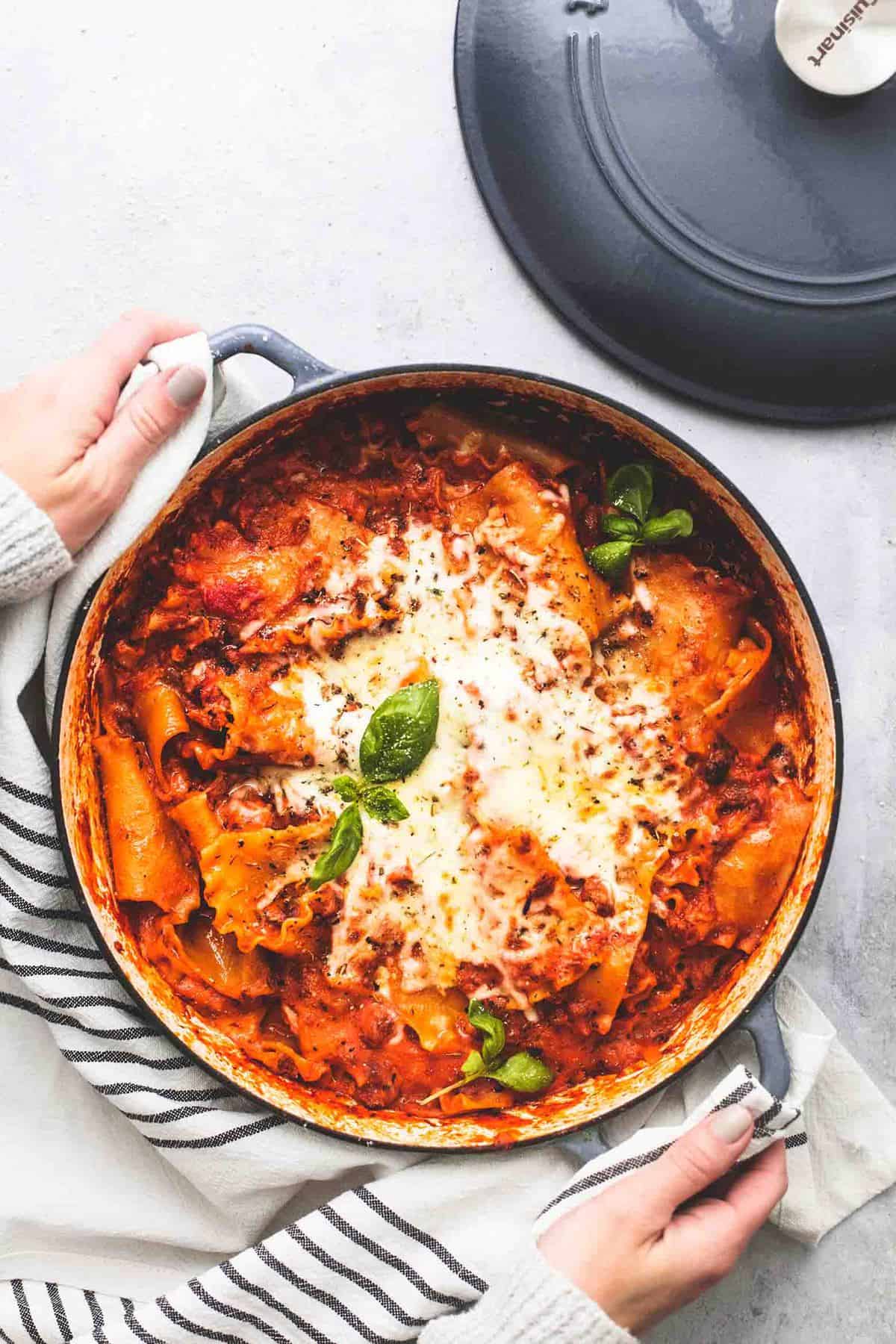 Is Lasagna Better with Ricotta or Cottage Cheese?
Okay, so true story. The first time I made a lasagna from scratch, I used both ricotta and cottage cheese. I remembered my mom saying something about using both or at least she mentioned the two cheeses in the same sentence. So I took that to mean that you layered the lasagna with both cheeses. No problem. It looked great anyway! I took it over to her house for cooking. I pulled it out of the oven and put it on the table. We dove in. It was…lasagne soup. (Not what I wanted here exactly, but that's a good idea for a future post…) It was just soupy. Watery. Liquid pasta and lasagnea ingredients swimming on our plates.
Everyone ate it though, nicely enough. And then my mom asked what kind of cheese I used. I told her both ricotta and cottage cheese. She said, "No, it's ricotta OR cottage cheese." Ah. THAT made soooo much more sense.
That being said, which one is better? I am a ricotta fan all the way. It makes for a thicker, more firm lasagne. I think cottage cheese (even if that's the only cheese you use) is still too watery. Some people prefer a messier lasagne though and that's fine. Also, using cottage cheese is a good way to lessen fat and calories in your dish. If you don't like it as chunky and watery, you can strain and blend the cottage cheese first before adding it to your dish.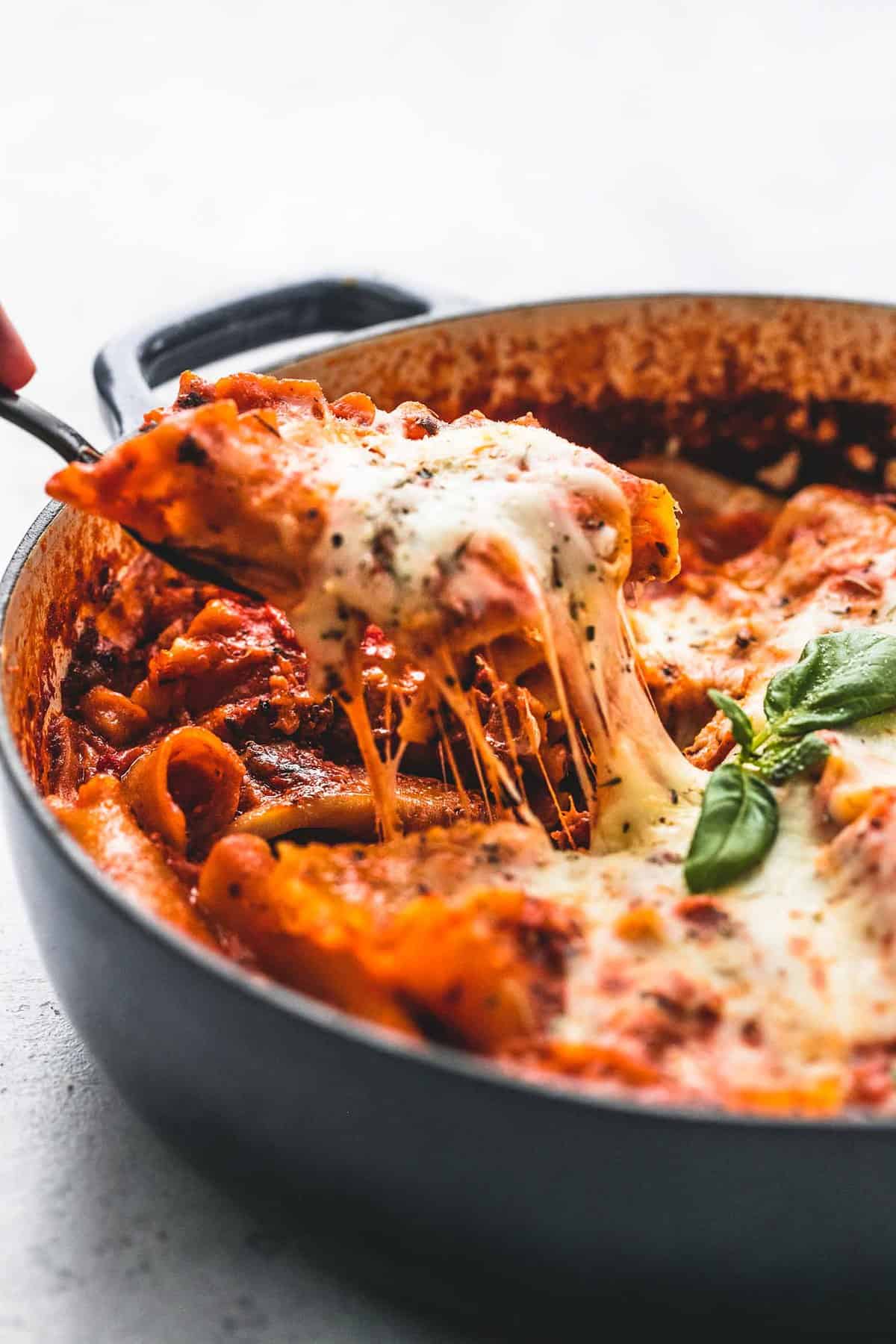 How Do You Make Italian Seasoning?
I purchase a pre-made Italian seasoning or you can use Herbs de Provence. If you want to put together your own Italian seasoning to use in this recipe and to have on hand for other recipes that call for this kind of spice blend, all you have to do is stir the following dried spices in a bowl and store in a glass spice jar. Be sure to label and date for future reference.
Two tablespoons each of: basil, oregano, and parsley.

One tablespoon each of: thyme, garlic powder, and rosemary.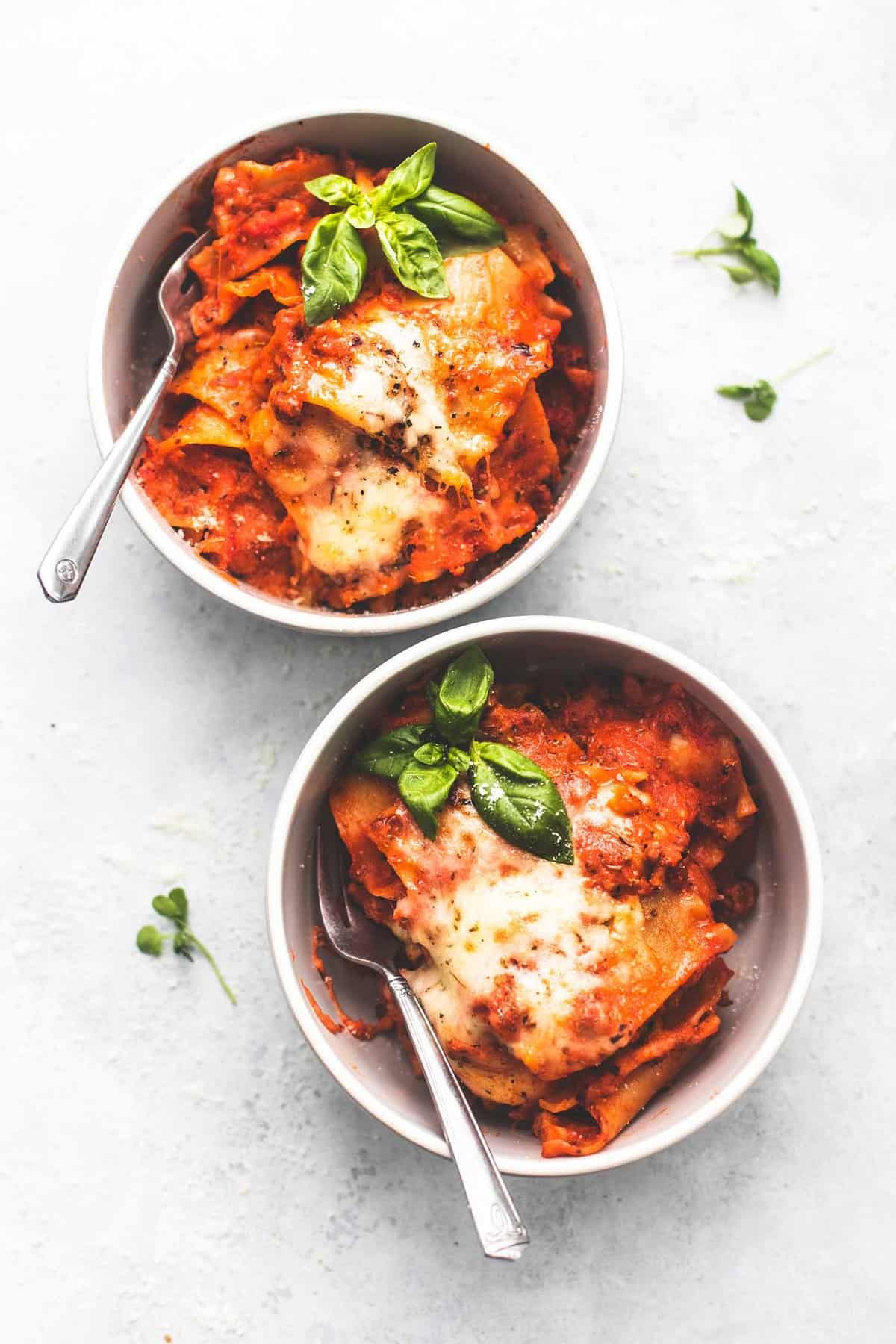 Hungry for more? Try my Best Easy Lasagna recipe next!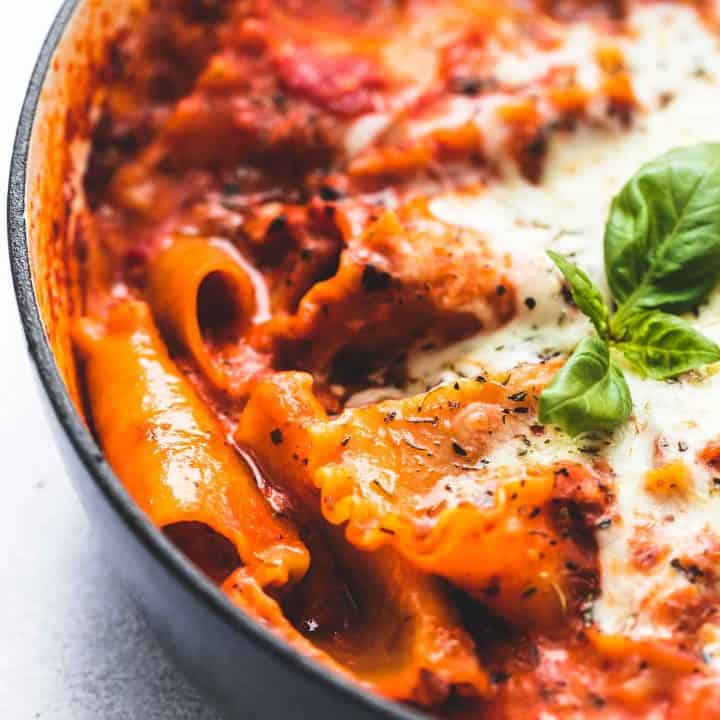 Easiest One Pot Lasagna
Look no further for the cheesiest, meatiest, Easiest One Pot Lasagna you'll ever eat. One bite of this ah-mazing pasta dish and you'll never make a traditional lasagna again!
Ingredients
8

lasagna noodles

-

broken into 2-3 inch pieces

1

pound

ground Italian sausage

1-2

teaspoons

minced garlic

1

24 ounce

jar marinara sauce

1

cup

water

2

teaspoons

Italian seasoning

1

cup

ricotta cheese

1

cup

shredded mozzarella cheese

½

cup

shredded parmesan cheese

fresh basil, optional
Instructions
In a large, 2-inch deep skillet over medium high heat, brown the sausage until fully cooked. Stir in garlic for 1 minute until fragrant.

Add marinara sauce, water, and Italian seasoning to the pan and stir to combine. Stir lasagna noodles into the sauce.

Reduce heat to medium low heat (a high simmer). Cover and cook for 15 minutes, stirring every few minutes, or until lasagna noodles are tender.

Drop spoonfuls of ricotta cheese over the noodles. Top with the mozzarella and parmesan cheeses. Cook 3-4 minutes longer until cheese is completely melted. Top with fresh basil if desired and serve.
Notes
If you are using an oven-safe skillet you can transfer the pan to the oven set to BROIL for the last couple of minutes after you add the cheeses. Watch closely so it doesn't burn!
Nutrition
Calories:
534
kcal
,
Carbohydrates:
31
g
,
Protein:
28
g
,
Fat:
33
g
,
Saturated Fat:
14
g
,
Trans Fat:
1
g
,
Cholesterol:
97
mg
,
Sodium:
765
mg
,
Potassium:
349
mg
,
Fiber:
1
g
,
Sugar:
1
g
,
Vitamin A:
450
IU
,
Vitamin C:
1
mg
,
Calcium:
299
mg
,
Iron:
2
mg