Easy and tasty instant pot pasta e fagioli soup is full of comforting, savory flavors that will warm you all season long.
If you love Olive Garden soups, you've gotta try my Easy Olive Garden Zuppa Toscana Soup and Olive Garden Chicken Gnocchi Soup.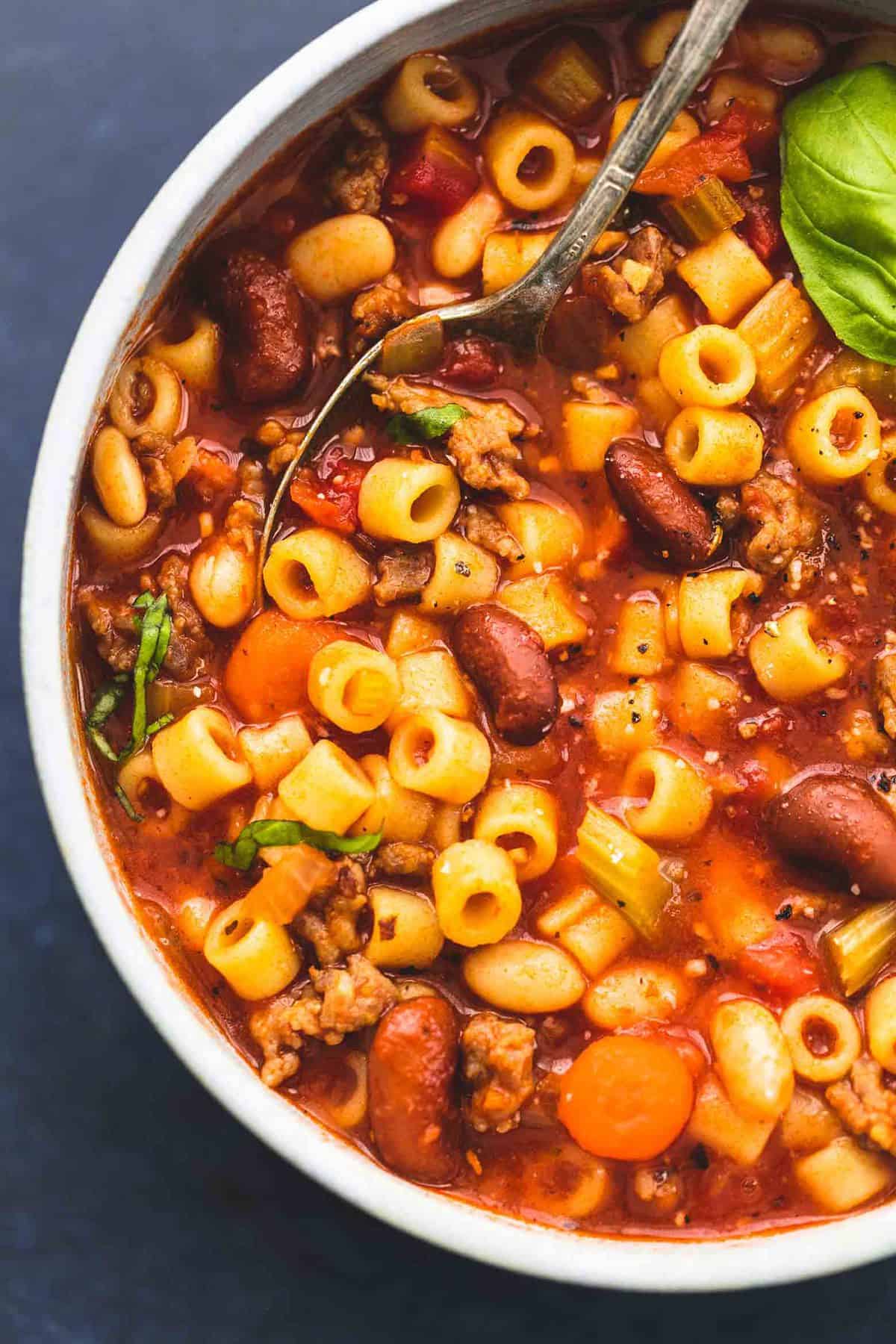 Well it's safe to say I'm on a soup rampage. Fall came in a hurry bringing with it all the crisp and chilly weather that makes me crave soup like crazy. And really I'm okay with that because soup this tasty and this easy to make is my kind of meal!
This pasta e fagioli features two kinds of beans, which you may already know are part of the pulses family. Pulses are completely delicious, protein-packed (hoorah!), and one hundred percent sustainable. It's a win-win-win all around when you're working pulses into your daily diet.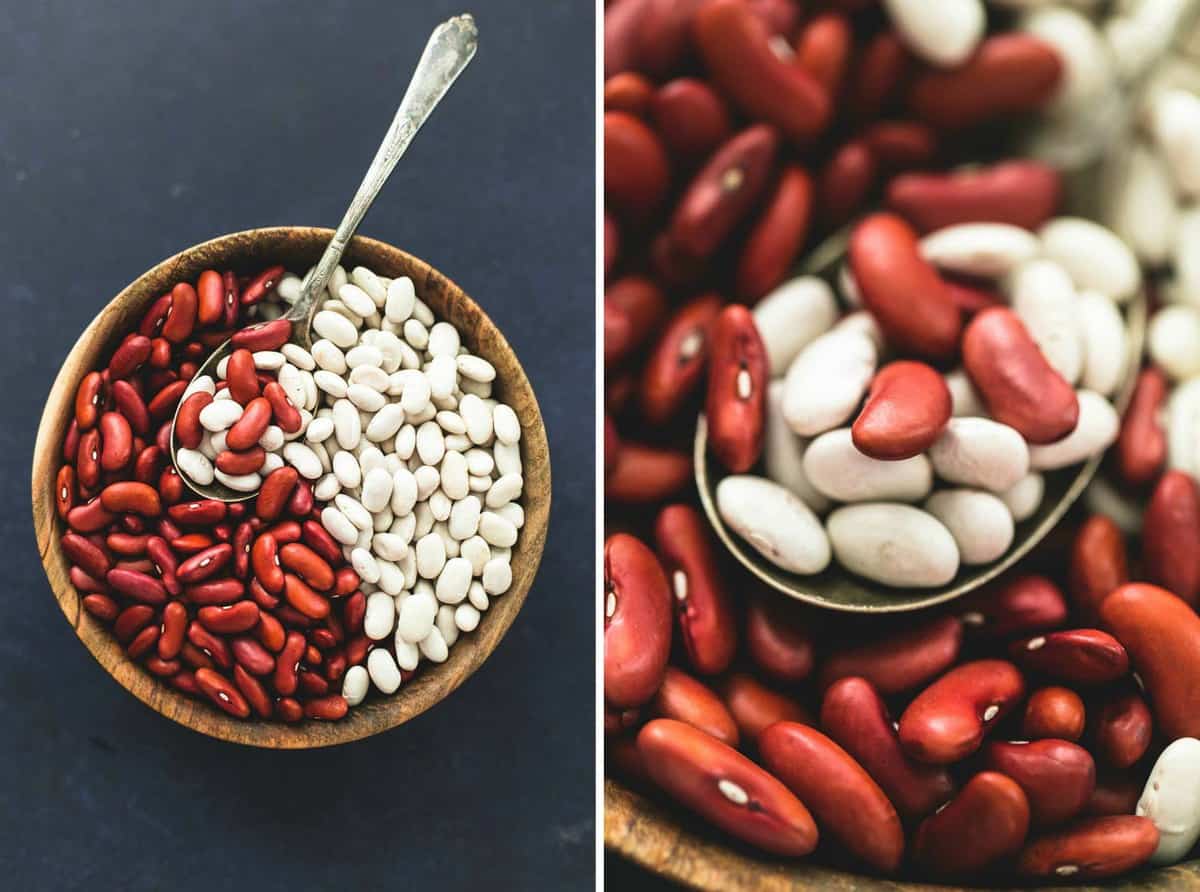 These days I am looking for any way I can to sneak more protein into my kids' diets in particular because my twin toddlers are picky picky picky and I can hardly get them to eat typical proteins like meat. They've recently started warming up to soup and I'm praising heaven for that since I often slip pulses, including split peas, lentils, chickpeas, and beans, into our soups at home.
This soup is one of our favorites! It's packed with savory Italian flavors and has the most amazing consistency – a perfect balance between brothy soup, and chili.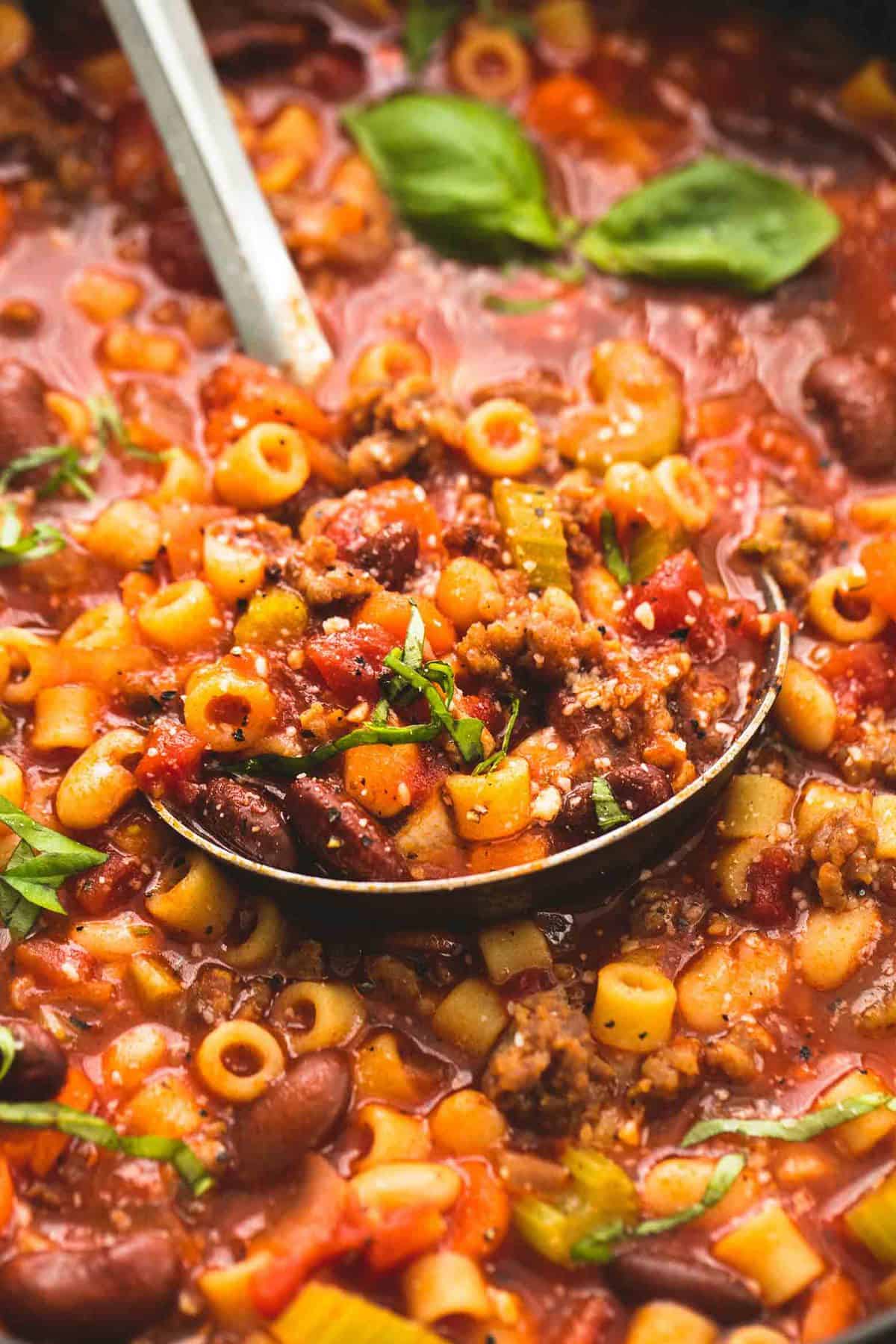 This hearty soup is a cinch to whip up in your instant pot (or slow cooker if you prefer – see the recipe notes!) and will make your weeknight dinner routine a breeze.
The combination of Italian seasonings, garlic, and a pinch of red pepper flakes really make the flavors of this dish stand out. My family took a vote and we say it's better than restaurant versions!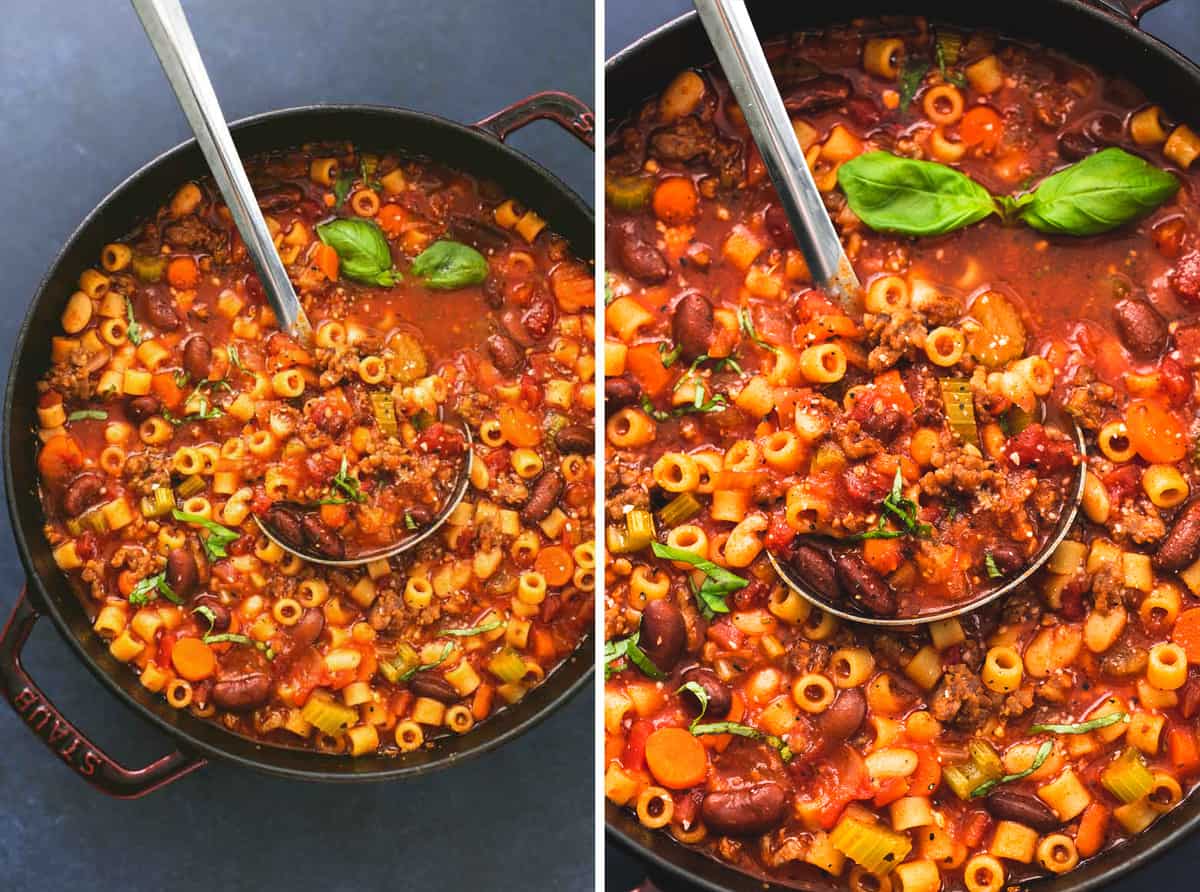 I hope you give this easy recipe a try and that you enjoy this savory instant pot pasta e fagioli soup as much as we do!
Looking for ways to eat healthier? Just add pulses! Sign up
for the Half-Cup Habit, and see how easy it can be to add ½ cup serving of pulses to your diet 3x per week.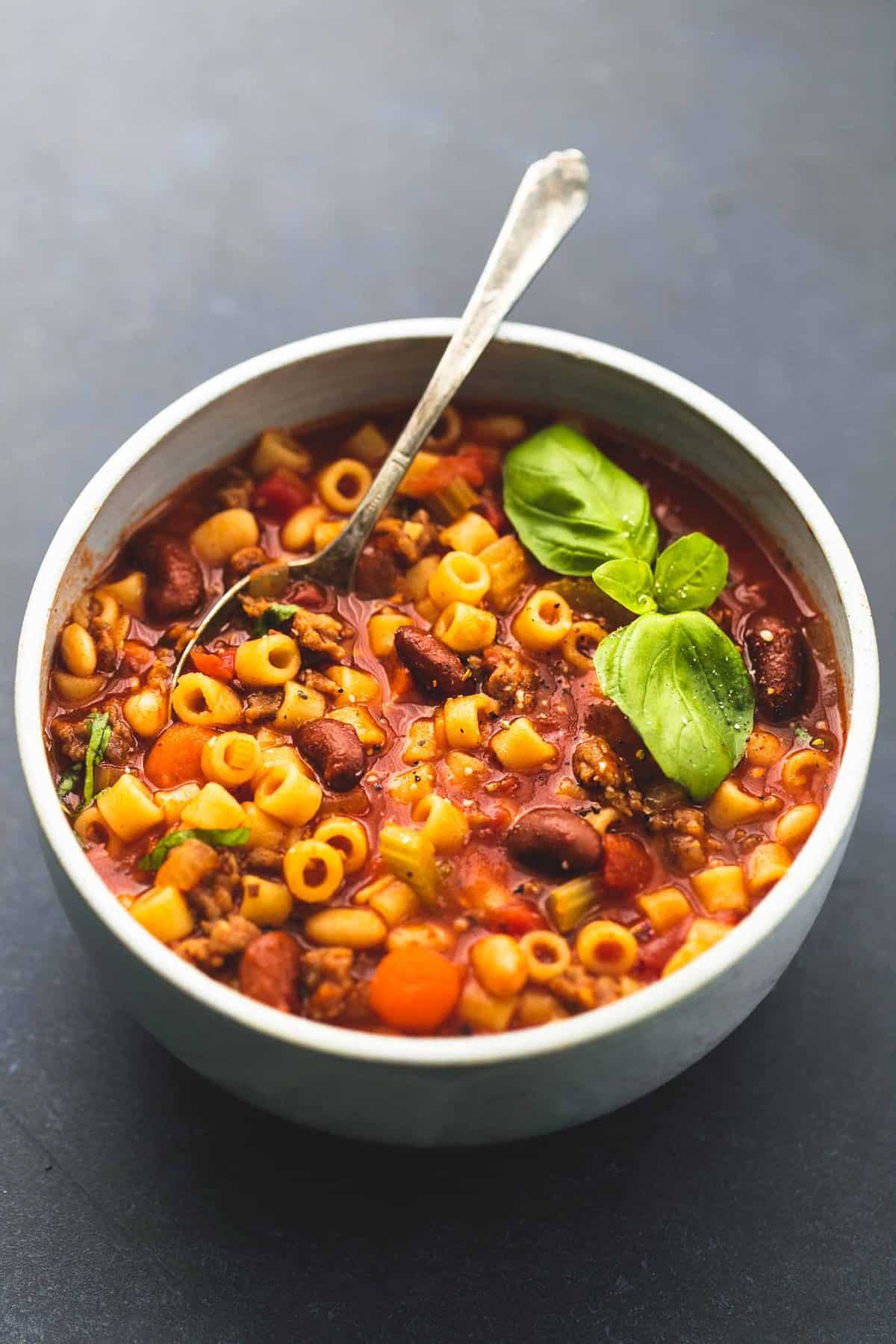 What people are saying about this Instant Pot Pasta e Fagioli Soup
"I have had an instant pot for a while but the recipes that I have tried did not turn out. I love this soup so decided to give it one more try. I am so glad I did. My husband said, "This is a keeper!" It was delicious. Thanks for the recipe." – Kathryn
"ABSOLUTELY DELICIOUS SOUP! WE LOVED IT! I WILL MAKE AGAIN MANY TIMES." – Jennie
"I made this last night and my Italian in-laws LOVED it!" – Katie
"Made this tonight. It's a dead ringer for the Olive Garden version in my humble opinion!" – Shari
Instant Pot Pasta e Fagioli Soup
Easy and tasty instant pot pasta e fagioli soup is full of comforting, savory flavors that will warm you all season long.
Ingredients
2/3

cup

dried white great northern or navy beans

*see notes

2/3

cup

dried red kidney beans

*see notes

1

pound

ground Italian sausage

(mild or spicy)

1/2

yellow or white onion,

diced

3

teaspoons

minced garlic

4

cups

chicken broth

1

15 oz can

tomato sauce

1

15 oz can

diced tomatoes

(not drained)

2

celery ribs,

chopped

1/2

cup

carrots,

chopped or sliced

1

cup

ditalini pasta,

boiled til tender

1

teaspoon

salt,

or to taste

1 1/2

teaspoons

dried Italian blend seasoning

(OR substitute 1/2 teaspoon each dried basil, dried thyme, and dried oregano)

1/4

teaspoon

crushed red pepper flakes

fresh basil, cracked black pepper, grated parmesan cheese (for topping)
Instructions
First prepare the beans. Cover beans with cold water and soak overnight or 6-8 hours, then drain and rinse.

Combine beans in a large stock pot and cover with water. Bring to a boil, then reduce heat slightly and simmer for 1 hour, stirring occasionally until beans are tender and cooked through. Drain beans.

*The following instructions are for using an Instant Pot. For slow cooker instructions, check out the recipe notes.

Preheat your instant pot using the "saute" setting, then add Italian sausage, and onions and saute for 3-5 minutes until sausage is browned. Add garlic and cook 1-2 minutes longer until fragrant.

Switch instant pot to the "soup" setting. Add chicken broth, tomato sauce, diced tomatoes, celery, carrots, salt, pepper, crushed red pepper flakes, beans and Italian seasoning and stir to combine.

Lock the lid in place and set the pressure release to "sealing". Cook on high pressure for 10 minutes. Allow the pot to sit for 3-4 minutes and then turn the release valve for a "quick release."

Stir in ditalini pasta, garnish with cracked black pepper, fresh basil, and grated parmesan cheese if desired and serve.

Notes
To make this soup in a Slow Cooker, complete step 3 on the stovetop rather than in the slow cooker or IP (saute the meat, onions, and garlic in a pan on the stove over medium heat). Combine ingredients in step 4 in your slow cooker, cover, and cook on high for 2 hours or on low for 4 hours. Stir in pasta at the end before serving as in step 5. Enjoy!
* Or can of each kind of beans can be used instead of soaking dry beans. 
This post is in partnership with USA Pulses & Pulse Canada.