Cheesy, saucy Lasagna Dip that whips up in less than 30 minutes and goes perfectly with any favorite Italian dish!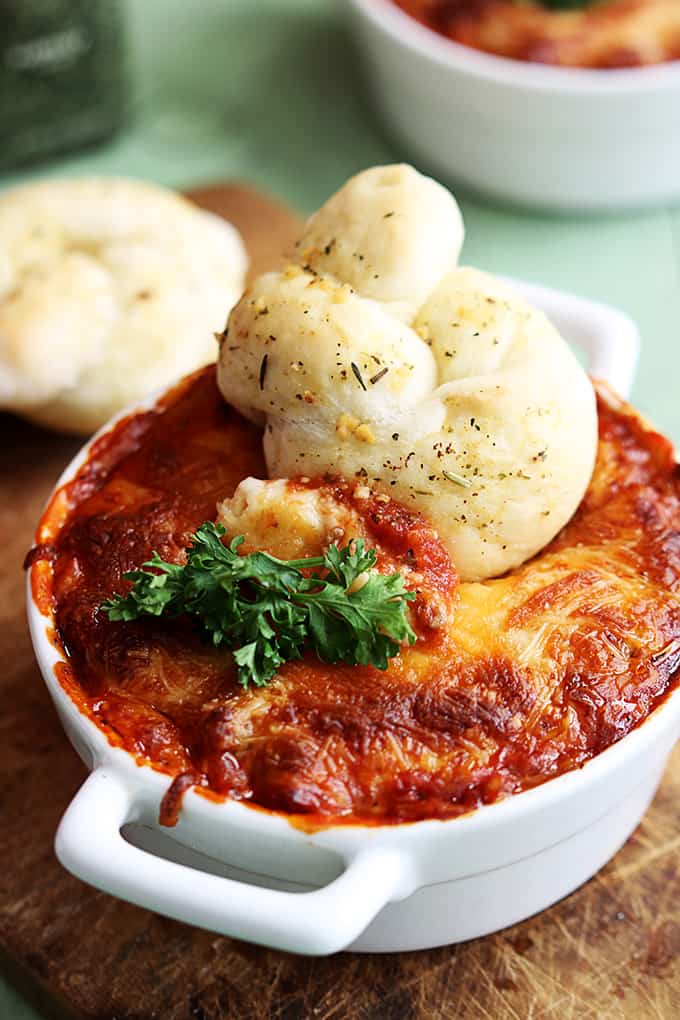 Last night I got home wayyyy too late for my old married-person lifestyle. I went to a college football game with my brother and my dad and didn't get home until after 2 am. I don't take my husband to these things because we went to rivalry colleges. It's just not conducive to our marriage if you know what I mean. He bleeds red, I bleed blue, we're a house divided. We used to watch the games together when we were dating but quickly learned that was a big mistake and it's not whose fault you'd think it would be. I'm the passionate one. I'm the scream at the ref, shout out plays, talk it til it's dead on the way home type. My inability to separate my emotions from the game led to a new law in the relationship. We don't talk about football with each other. Period. It keeps the peace if you know what I mean.
I won't go into details about last night's game because… well lets just say that our QB fractured his leg in the first half and everything went downhill from there. The game was painful. But the cheesesteaks we scrounged up a few blocks from the stadium have to be, hands down, the best cheesesteaks I've ever tried. And I've been to Philly. (gasp!) Actually part of that might have to do with the fact that I was completely famished and would have eaten a clod of dirt if I thought it was the only thing available for the next 6 hours and wouldn't make me sick.
The second part of it probably had to do with my menu choice: Philly bleu. Ohhhh yeahhhhh. Blue cheese, blue cheese crumbles, peppers, mushrooms – the works. It was ah-mazing. And I'm fully confident that Philly could deliver a similar sandwich if I took a jaunt across the country and walked into any corner cheesesteak shop. But the third part of it was the execution. This place you guys, (D.P. Steaks) – their steak is super moist with tons of flavor and the meat and cheese just sort of melt into the bun in this perfect way you can only understand if you're a cheesesteak lover. It was heaven. Pure heaven.
On a different, but equally cheesy note, this lasagna dip is also heaven. Saucy, cheesy, Italian goodness in the form of a dip you can dunk your favorite garlic bread or breadsticks into. I'm in love with it! My husband and I don't even like traditional red lasagna, but we both died of bliss when we tasted this dip. No noodles, just all of the cheese and saucy wonderfulness that goes into a lasagna dip, except it's dip-able. Everything is better when it's dip-able. This is an absolute must-make for your next Italian night, it will go perfect with any of your favorite pasta dishes!
Hungry for more? Try my Best Easy Lasagna recipe next!
Lasagna Dip
Cheesy, saucy lasagna dip that whips up in less than 30 minutes and goes perfectly with any favorite Italian dish!
Ingredients
8

ounces

ground turkey

1

tablespoon

oil

8

ounces

ricotta cheese

1

cup

shredded parmesan cheese

-

divided

2

cups

Italian-style tomato sauce

-

(use your favorite red pasta/pizza sauce - I used a garlic basil version from Bertolli)

½

cup

shredded mozzarella cheese

optional: fresh parsley

breadsticks or garlic bread for dipping
Instructions
Preheat oven to 350. Add ground turkey and oil to a pan. Stir over medium heat until cooked through, being sure to break up the turkey into small pieces as it cooks. Set aside.

Mix together 1/2 cup parmesan cheese and ricotta cheese. Spread mixture into the bottom of a small-medium casserole dish.

Add tomato sauce in an even layer on top of ricotta mixture. Top with ground turkey. Sprinkle remaining parmesan cheese and mozzarella cheese on top of the meat and sauce.

Bake for 15-20 minutes until cheese is bubbly. Top with fresh parsley if desired and serve with breadsticks or garlic bread for dipping.
Notes
Serve warm with your favorite breadsticks or knots for dipping! 
Nutrition
Calories:
248
kcal
,
Carbohydrates:
6
g
,
Protein:
23
g
,
Fat:
15
g
,
Saturated Fat:
8
g
,
Trans Fat:
1
g
,
Cholesterol:
62
mg
,
Sodium:
792
mg
,
Potassium:
449
mg
,
Fiber:
1
g
,
Sugar:
4
g
,
Vitamin A:
739
IU
,
Vitamin C:
6
mg
,
Calcium:
322
mg
,
Iron:
1
mg
Recipe adapted from I Heart Eating