Philly Cheesesteak Dip – Ooey gooey queso dip with grilled peppers, onions, and tender steak! Inspired by the famous Philly Cheesesteak!
I'll tell you one thing, Philly certainly knows how to make a comfort-food-sandwich. We're talkin steak + peppers + onions + loads of melty cheese, all on top of fluffy toasted carbs. Have you ever eaten something covered in gooey cheese and not felt totally comforted? Exactly. Can't happen. Cheesy goodness makes you happy. End of story.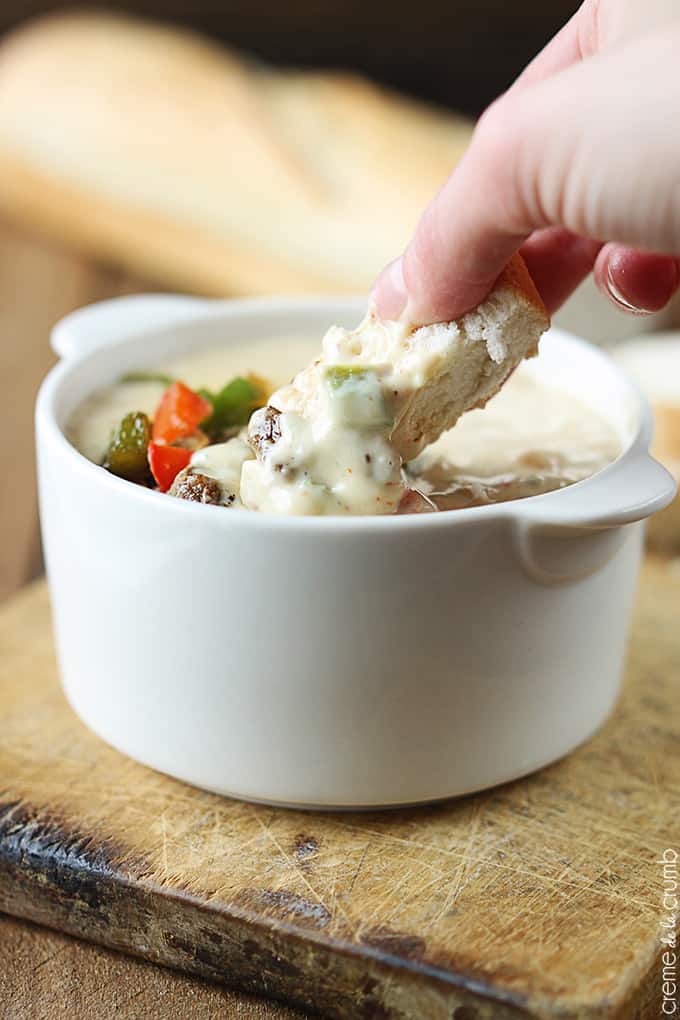 A couple of weeks ago when my husband and I were on our #eastcoastadventure, I told him that I wanted to try the "cliche" food from each state we visited. We sorta succeeded. We got some insanely delicious BBQ in North Carolina (seriously though, so good). And some fresh white fish in the Outer Banks (helloooooo fish tacos!) I tried to talk my husband into buying a Virginia Ham in, well, Virginia. But he wouldn't go for it. (Turns out we have no use for a 5 pound ham when we are out of town and have no way to get it home…weird.) So I settled for a ham sandwich.
And of course, we had some yummalicious Philly Cheeseteaks in Philadelphia. It had to be done. (click HERE to follow me on Instagram and see all of my #travelcrumbs photos!)
I also had another fun version of a Philly Cheesesteak but you're just gonna have to wait to find out what that was. Yep, re-creating it. Naturally.
But this dip today? I obviously thought of it while in the land of Philly Cheesesteaks. If you want to be really authentic, you could use the yellow Whiz Cheese – because that's what a traditional classic Philly Cheesesteak is made with, and it's what my husband got on his cheesesteak. I'm more of a white cheese person and had provolone on mine, so I made this dip with white cheese. But if you wanna do the Whiz, do it, and please – let me know how it turns out!
I loved all three bites of this dip. Oh don't worry, it makes more than three bites. My husband just snarfed it all down so fast that I only got three bites. (I think he liked it…)  I don't really mind cause this Philly Cheesesteak Dip is crazy-easy and I can whip it up anytime I want. Like, when he is not home and can't eat all of it….
Philly Cheesesteak Dip
Ooey gooey queso dip with grilled peppers, onions, and tender steak! Inspired by the famous Philly Cheesesteak!
Ingredients
½

pound

flank steak

-

or skirt steak, thinly sliced and then finely diced

salt and pepper

-

to taste

1 ½

teaspoons

chili powder

1 ½

teaspoons

garlic powder

pinch of oregano

½

red bell pepper

-

diced

½

green bell pepper

-

diced

¼

white or yellow onion

-

diced

12

ounces

white velveeta cheese

4

ounces

cream cheese

¼

cup

milk

bread, for dipping (I used a mini french baguette, sliced. Whole wheat or sourdough would be yummy too!)
Instructions
Add the velveeta cheese, cream cheese, and milk to a medium sauce pan and heat on medium-low, stirring periodically until melted.

While the cheese is melting, cook your steak and veggies. Season diced steak with salt and pepper to taste, 1/2 teaspoon chili powder, and 1/2 teaspoon garlic powder. Sprinkle with a pinch of dried/ground oregano (about 1/4 teaspoon). Cook steak in a large pan/skillet sprayed with cooking spray over medium heat 3-5 minutes until browned and most of the pink is gone. Add peppers and onions and continue to sauté 2-3 minutes until onions are translucent.

When the cheese is all melted and smooth, stir in the steak, peppers and onions, and remaining seasonings. Serve with bread for dipping. Enjoy!
Notes
I like to use hoagie rolls, cut into bite size pieces, for dipping. 
Nutrition
Calories:
400
kcal
,
Carbohydrates:
16
g
,
Protein:
32
g
,
Fat:
24
g
,
Saturated Fat:
13
g
,
Trans Fat:
1
g
,
Cholesterol:
104
mg
,
Sodium:
1498
mg
,
Potassium:
619
mg
,
Fiber:
1
g
,
Sugar:
11
g
,
Vitamin A:
2399
IU
,
Vitamin C:
39
mg
,
Calcium:
544
mg
,
Iron:
2
mg