Chicken Florentine Flat Bread Pizza – This Chicken Florentine Flatbread is much easier than you think and is crazy delicious!
This recipe is inspired by something I ordered at TGI Friday's over a year ago when my husband and I took a trip down to Las Vegas for a few days with his family. I'm fairly certain that is actually the only time I've eaten at TGI Friday's but I must say is was delicioussssss. I'd go back.   If I had one near me.   But I don't. So all of you who do live near a Friday's – have a bite for me will you? Thanks
Now let's go back to that big fat bolded word I mentioned before. I said this recipe was inspired by something I had at TGI Friday's. It is not a copycat recipe. Basically I ordered a flatbread I found on the appetizer menu, but I ordered it as my main dish. Am I the only one who does that? I do it all the time. I love appetizers. I'd probably rather have five appetizers every night for dinner instead of a main dish and two sides.
But this flatbread I ordered, it was mind-blowingly tasty. Like, I just craved it for weeks afterwards. All I remember is that it had florentine in the title, there was obviously flatbread involved, and there was chicken, spinach, and a touch of cheesiness. That about sums up the delicious experience that was happening in my mouth. If you could turn Italy into edible fireworks, that's what it tasted like. An explosion of flavor from a simple dish. And that is what inspired this Chicken Florentine Flatbread recipe.
This recipe could be used as an appetizer, if that's what you're going for. But once you taste it, you're not going to want whatever's on the menu for the main course. You will want more and more and more of this flatbread until, alas, it is gone and you are stuffed like a Thanks Giving Turkey. So just save yourself the wasting of a perfectly good manicotti and make this for dinner.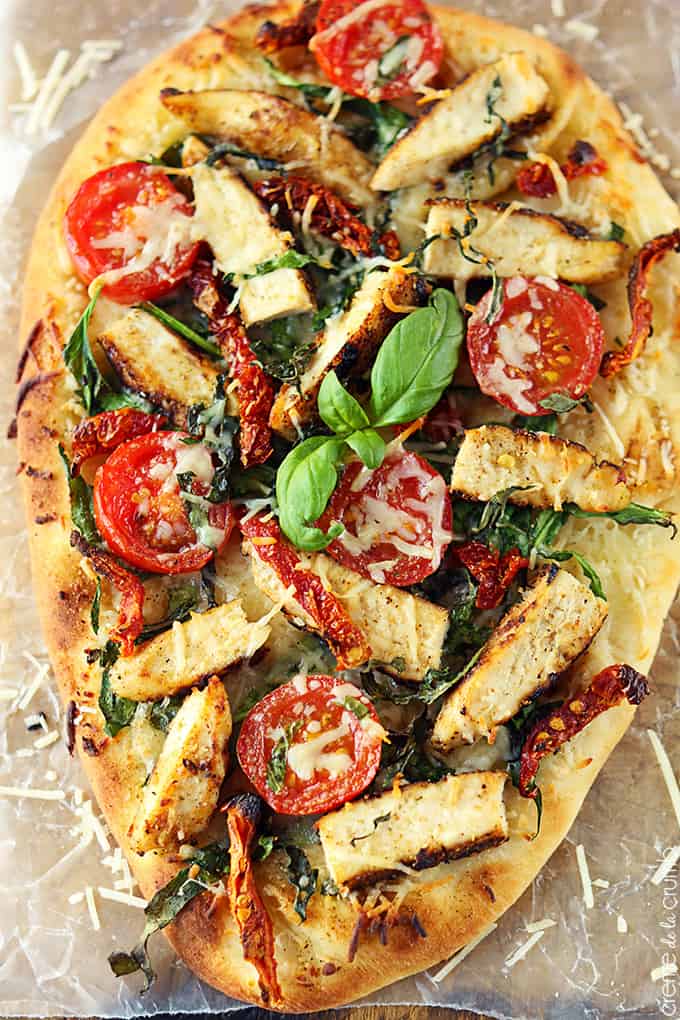 Oh and I'm about to use a term I've never before said on this here foodie blog. But I feel it is necessary that you know this dish is man-pleasing. You would not believe the compliments I got from my husband after making this. There were oohs and awes and mmmmmmmms, all through dinner.
Here's the thing. This recipe sounds, looks, smells, and tastes fancy but, I promise you this flat bread is a piece of cake. You can use store bought naan or flat bread which cuts out about 90 percent of the preparation time, and all you have to do is cook some chicken on the stove and pop this baby in the oven for a few minutes to get that cheese all melty. No need to pay thousands for tickets to Europe, bring the taste of Italy into your kitchen with this easy 30 minute dish!
What people are saying about this Chicken Florentine Flatbread
"Wow! What a wonderful find this recipe is! Several times when I've made this, I haven't had any tomatoes around, so I've just squirted on some dots of tomato paste from the tube, and that's been a decent substitute. I'm very glad to be introduced to that flat bread too – it's delicious on its own and a great thing to have as a "toast" substitute since I don't normally buy bread." – Mary 
"I made this for dinner tonight. Big hit with my husband too! Will definitely make again." – Christina 
"Made this last night. I found flatbread on special buy at Aldi. It was great. Can't wait to try other variations. Two things I did different were add mushrooms and use the Italian cheese bag mix." – Chelai
Chicken Florentine Flatbread
This Chicken Florentine Flatbread is easier than you think and crazy delicious!
Ingredients
2-3

store-bought or homemade flat breads

-

OR naan

2

tablespoons

butter

-

melted

4

teaspoons

Italian seasoning

2

boneless skinless chicken breasts

-

pounded to ½ inch thickness and diced/chopped into bite size pieces

¼

teaspoon

salt

¼

teaspoon

pepper

½

teaspoon

garlic powder

1

cup

cherry tomatoes

-

halved, (you can also use thin slices of a roma tomato)

½

cup

spinach leaves

-

thinly sliced or chopped

¼

cup

shredded parmesan cheese

¼

cup

shredded mozzarella cheese

optional: 1 tablespoon fresh basil(chopped), 1/4 cup chopped sun dried tomatoes
Instructions
Preheat oven to 400 degrees. Line a large baking sheet with nonstick foil and spray lightly with cooking spray.

Season chicken breasts with salt, pepper, garlic and 1 teaspoon of italian seasoning. Cook in a large pan over medium high heat for about 6-8 minutes until chicken is cooked through and juices run clear. Set chicken aside.

Whisk together melted butter and 2 teaspoons Italian seasoning. Brush over naan/flat bread. Sprinkle evenly with mozzarella cheese. Scatter chopped spinach over cheese. Add tomatoes and chicken. Sprinkle with parmesan cheese. (If including optional basil and sun dried tomatoes, add now) Sprinkle remaining 1 teaspoon Italian seasoning over the parmesan cheese.

Bake flat breads 6-8 minutes until cheese is melty. Allow to cool slightly before serving. Enjoy!
Notes
Serve with a drizzle of balsamic, or a side of ranch for dipping. 
Nutrition
Calories:
186
kcal
,
Carbohydrates:
15
g
,
Protein:
19
g
,
Fat:
5
g
,
Saturated Fat:
3
g
,
Trans Fat:
1
g
,
Cholesterol:
48
mg
,
Sodium:
473
mg
,
Potassium:
390
mg
,
Fiber:
2
g
,
Sugar:
2
g
,
Vitamin A:
699
IU
,
Vitamin C:
10
mg
,
Calcium:
174
mg
,
Iron:
2
mg