Pepperoni Pizza Pull-Apart Bread – Cheesy pepperoni pizza bread, easy to pull-apart and dip into your favorite pizza sauce!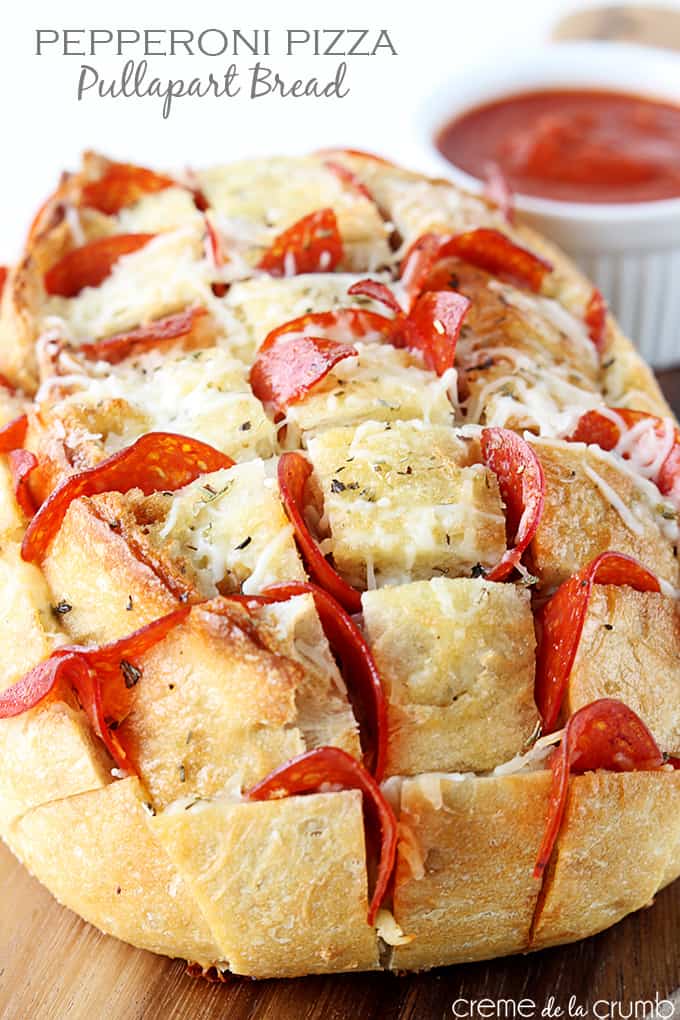 Probably no surprise here but… I'm a shorty. A whopping 5 feet 3 inches. I think I wear it well though and I'm a fantastic climber so the mugs on the top shelf of the cabinet won't elude my grasp for long. I'm also a stellar chair-getter and tippy-toe-reacher. And all things considered, it could be worse. My mother is 2 inches shorter and I am. And looks 20 years younger than she is so I'm hoping that gets passed on to me a long with the lack of height.
But why am I telling you how short I am? Excellent question my friends, excellent question. I wanted you to really be able to get the full effect of shock and awe when I tell you I've eaten an entire pizza by myself. I'm not talking about one of those little mini personal freezer pizzas. We're talking large hot-n-ready cheesy pepperoni pizza. The whole thing. Well…. except for the crust on the last slice. But come on. My stomach was literally about to burst. Like, tear at the seams. I had to be rolled out of the room because I'd lost all ability to stand up straight. I don't recommend trying this at home but… it's kind of awesome to say I ate a whole pizza. Just once. It's not like I do that all of the time people, come on.
This pizza though…. I could eat this whole thing. With all of it's cute little pull-apart pieces. I love dipping things so these cute little dippy pizza pieces stole my heart. Get as much or as little sauce as you like on each and every bite. Load it up with pepperoni, or just throw on a few pieces. This Pepperoni Pizza Pull-Apart Bread is so dang easy! 15 minutes prep, 15 minutes cooking time, and you've got a cheesy pizza-esque dinner on the table that will please everybody. Skip the hot n' ready and whip up this tasty pizza dinner instead! Just as affordable but much healthier and 10x more delicious!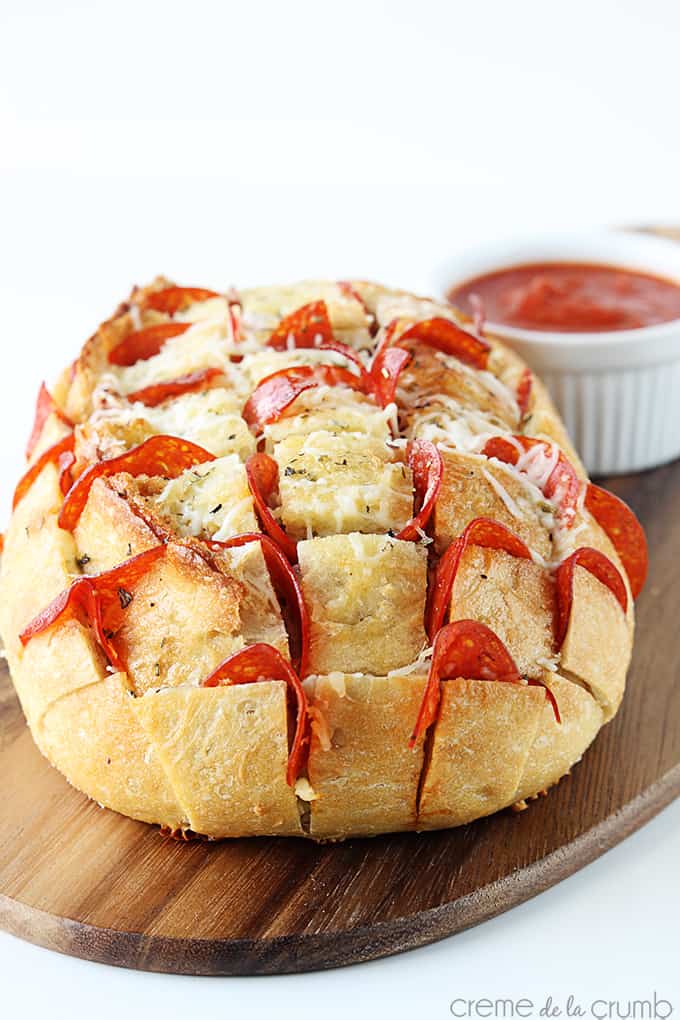 Pepperoni Pizza Pull-Apart Bread
Cheesy pepperoni pizza bread, easy to pull-apart and dip into your favorite pizza sauce! A quick, delicious, and FUN meal that's ready in less than 30 minutes!
Ingredients
2

round

loaves of bread

-

(doesn't matter exactly what kind, just make sure it is something with a more firm crust)

2-3

cups

shredded mozzarella cheese

½

cup

pepperoni slices

-

cut in half

½

cup

butter

2

teaspoons

Italian seasoning

2

cups

marinara/pizza sauce

-

(I prefer a basil-garlic blend but use whatever you like best)
Instructions
Preheat oven to 400 degrees. Line a large baking sheet with foil (use a lot of overhang on the sides because you are going to wrap the bread loaves) and spray with cooking spray.

Use a long bread knife to slice the bread. Make long slices about 1.5 inches apart all across the bread, and then in the opposite direction so that you get a checkerboard effect. **Be careful not to slice all the way through the bread, do not cut through the bottom crust!**

Gently stuff the mozzarella into all of the spaces in the bread. Stuff pepperoni slices into the spaces next. Melt butter and whisk in italian seasoning. Drizzle or brush seasoned butter over the whole bread.

Place loaves onto prepared baking sheet and wrap the loaves with the overhanging foil. Bake 15-20 minutes until cheese is melted and bread start to brown lightly. Serve pull-apart bread with warmed pizza/marina sauce. Pull-apart your pizza bread, dip, and enjoy!
Notes
Serve with marinara sauce for dipping!
Nutrition
Calories:
290
kcal
,
Carbohydrates:
10
g
,
Protein:
18
g
,
Fat:
20
g
,
Saturated Fat:
10
g
,
Trans Fat:
1
g
,
Cholesterol:
62
mg
,
Sodium:
1276
mg
,
Potassium:
541
mg
,
Fiber:
2
g
,
Sugar:
7
g
,
Vitamin A:
975
IU
,
Vitamin C:
9
mg
,
Calcium:
352
mg
,
Iron:
2
mg
Recipe adapted from Let's Dish.