Cheesy Bacon Chicken Ranch Pizza with a thin crust smothered in creamy ranch dressing, smoky bacon, and juicy chicken.
I've always loved pizza. What red-blooded American kid doesn't right?? Spinach, green beans, salad not covered in a gallon of Hidden Valley – it wasn't happenin'. But give me a piece of bread covered in cheese and I was absolutely on board.
Nowadays, I like to think that I've expanded my edible horizons and am on board with those green things. In fact I'm crazy about them. But my love for pizza….
unparalleled.
And lately, I've been craving pizza like a mad woman. It's taking all of my self control and then some to keep from making, inhaling, and sharing pizza every single day. I don't know what's gotten into me but this pizza thing is almost out of control.
Reign it in Tiffany, reign it in.
This bacon chicken and ranch version is something I've been wanting to make for a while but for some reason (I have no idea what that could be) I haven't done it until now. I've seen this flavor combo many times, I've even ordered it at sandwich shops a few times in the form of a sub or a wrap, but still never tried the actual bacon + chicken + ranch pizza.
Eventually though, a girl's gotta feed her cravings.
You're not you when you're hANGRY. <—— so me it's not even funny.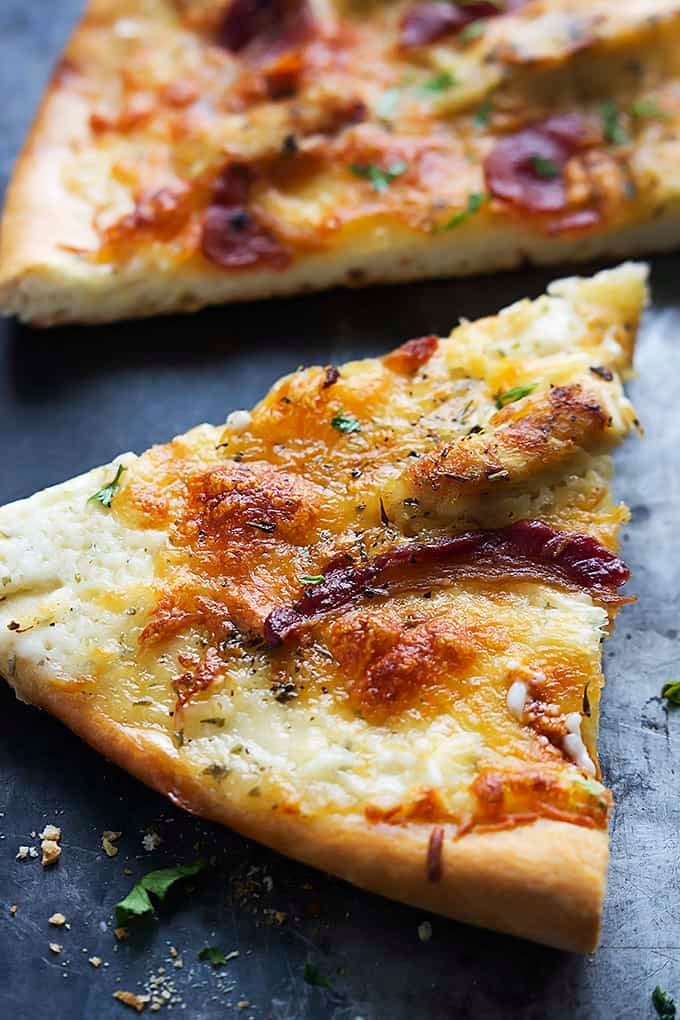 So I did it. And like I said, no idea why it took me so long because this pizza was a cinch. Get your crust (as always, I used Miracle Dough – my FAV), slather on the ranch dressing (bonus points if you make your own!!), smother it with cheese, add the bacon and chicken, and bake.
Bada-bing-bada-boom. DONE.
Now, just a heads up… the serving size says that this will feed 3-4 people. That would be referring to 3 people with normal, healthy appetites. My husband and I, we don't count because we demolished the whole thing between the two of us in 8.6 seconds. But If you're going to have 2-3 slices, you can feed three or even four people with one of these pizzas.
I'm just sayin' though, it's GOOD. So you might want to double it and make a second one if you're at all worried about how far it's gonna go. Either way, I doubt you'll have leftovers. (Always a shame)
Bacon Chicken Ranch Pizza
Easy and delicious Bacon Chicken Ranch Pizza is a tasty dinner and a hit with adults and kids alike!
Ingredients
1

pizza crust

-

store-bought or homemade

1

cup

ranch dressing

1

large

boneless skinless chicken breast

-

pounded to ½-inch thickness

½

teaspoon

garlic powder

salt and pepper to taste

1-2

cups

shredded mozzarella cheese

-

(you could also use monterey jack cheese or cheddar cheese)

4

slices

bacon

-

cooked and crumbled

optional: fresh parsley
Instructions
Preheat oven to 420 and line a large pan (pizza pan if you have one) with foil and grease with cooking spray. Roll pizza dough

Sprinkle chicken with garlic powder, salt, and pepper. Cook in a greased pan or skillet over medium-high heat 3-4 minutes on each side until cooked through. Cut into small strips or pieces and set aside.

Spread ranch dressing over pizza crust. Sprinkle generously with cheese. Top with chicken and crumbled bacon. Bake for 15-25 minutes until cheese is bubbly and crust is golden brown. Sprinkle with parsley and serve warm.
Notes
Pro tip: serve with ranch dressing for dipping!
Nutrition
Calories:
714
kcal
,
Carbohydrates:
53
g
,
Protein:
28
g
,
Fat:
43
g
,
Saturated Fat:
11
g
,
Trans Fat:
1
g
,
Cholesterol:
80
mg
,
Sodium:
1453
mg
,
Potassium:
272
mg
,
Fiber:
2
g
,
Sugar:
3
g
,
Vitamin A:
229
IU
,
Vitamin C:
3
mg
,
Calcium:
253
mg
,
Iron:
3
mg