This easy and simple Honey Roasted Chicken and Sweet Potatoes Skillet is everything you want in a hearty, comforting Fall meal. This tasty one pan meal will be ready in about 30 minutes and you will love the flavors!
Are easy chicken recipes speaking your language? Try Three Cheese Stuffed Balsamic Chicken, Asparagus Stuffed Chicken, and Honey Lime Garlic Chicken.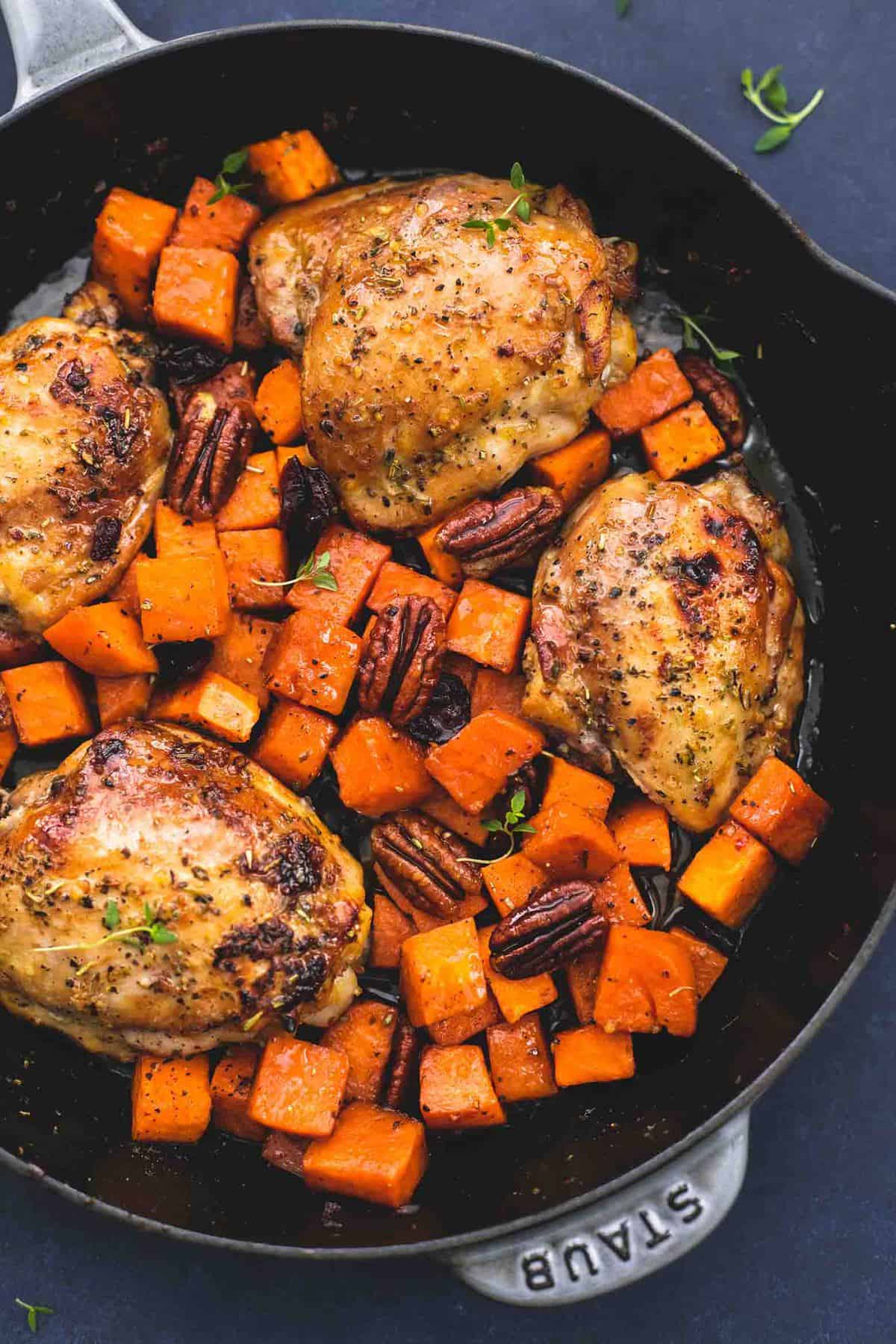 If you took Autumn, coated it in honey butter and put in a skillet – this would be IT. This is one of the tastiest meals I've ever made and now I'm craving every single day.
Even the kids like this dish! That's a winner when you've got picky little toddlers.
But nobody can resist that sweet and savory honey butter and tender sweet potatoes!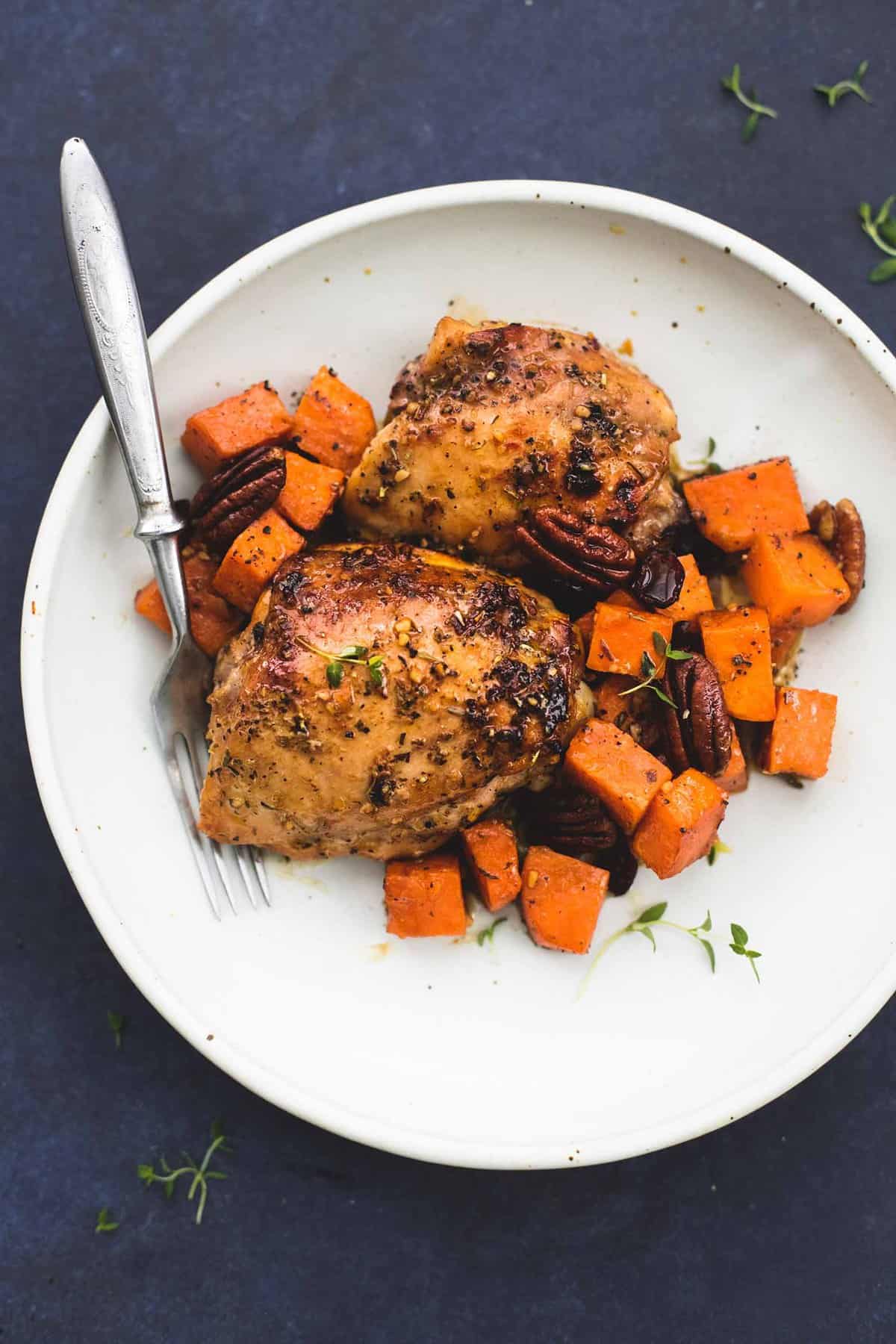 The best part is that this is a one-pan meal and it's ready in about 30 minutes. In my book that's a recipe for a perfect weeknight dinner.
To make it, you start by seasoning the chicken with salt, pepper, garlic powder, and dried herbs. Melt some butter in a skillet and stir in honey to make the honey butter sauce.
Brown the chicken in that crazy delicious honey butter and then scoot the chicken off to the sides to make room in the center of the skillet.
Add a little more honey and butter to the middle of the skillet and then toss in your sweet potatoes along with some pecans and dried cranberries.
Move the skillet to the oven and bake for about 15 minutes until the chicken is cooked through and the sweet potatoes are fork-tender.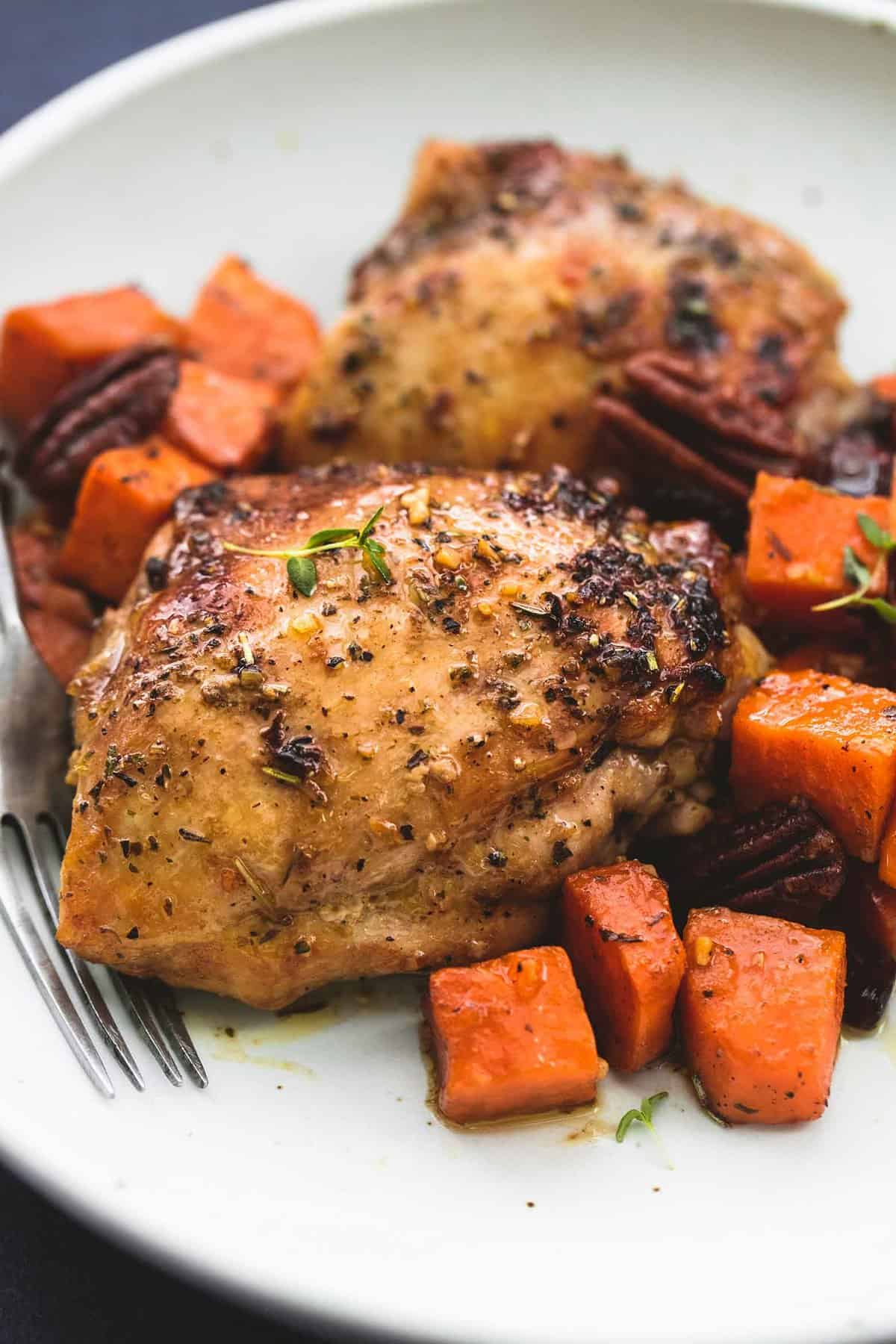 That's it! Top it off with some cracked black pepper and fresh thyme and serve. Your family will beg you to make this dish over and over again!
The great news? You won't mind one bit because it's such a cinch to whip up.
What people are saying about this Honey Roasted Chicken and Sweet Potatoes Skillet
"Wow! This is the first time I've cooked chicken that was not dry and nasty. This recipe was incredible! I couldn't believe I made it myself
I took the chicken out of the oven after 15 mins and kept it covered in the microwave, and allowed the sweet potatoes to cook an additional 15 mins. I only had walnuts so i used them. It was incredible. Thank you!" – Julie
"Delicious. Fixed this for dinner tonight and didn't change a thing. Will definitely serve this again!" – Anne
"I made this last night for dinner and everyone loved it! One of my kids asked for it to be made again. It will be added to our rotation since most ingredients were on hand." – Betty Jo
"Just made this tonight with thighs. It was delicious! I was worried the sweet potatoes would not be soft after only 10-15 min in the oven, but they were! Definitely doing this one again." – Elsa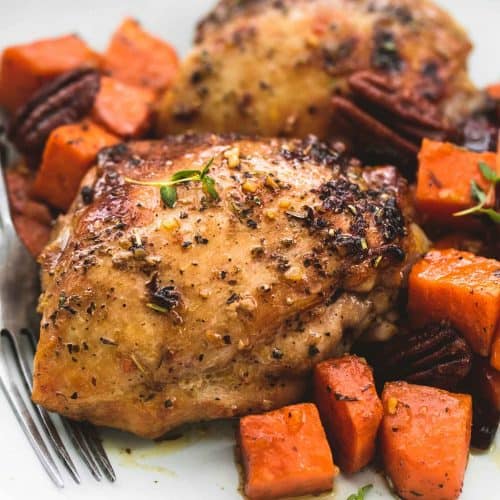 Honey Roasted Chicken and Sweet Potatoes Skillet
This easy and simple honey roasted chicken and sweet potatoes skillet is everything you want in a hearty, comforting Fall meal. This tasty one pan meal will be ready in about 30 minutes and you will love the flavors!
Ingredients
4

chicken thighs or chicken breasts

5

tablespoons

butter

divided

4

tablespoons

honey

divided

1

teaspoon

salt

or to taste

1/4

teaspoon

black pepper

or to taste

1 1/2

teaspoons

Italian blend seasoning

divided, (may sub about 1/2 teaspoon dried oregano + 1/4 teaspoon each dried thyme, dried basil, dried parsley)

1/2

teaspoon

garlic powder

1 1/2

pounds

sweet potatoes

peeled and diced into 1-2 inch pieces

2

tablespoons

dried cranberries

1/4

cup

pecan halves

fresh thyme

for garnish
Instructions
Preheat oven to 375 degrees. Season chicken with salt and pepper, to taste, plus garlic powder and 1 teaspoon Italian seasoning.

In a large skillet over medium heat melt 3 tablespoons butter. Stir in 2 tablespoons honey. Add chicken to pan and brown on each side for 3-4 minutes. Scoot chicken to the sides of the skillet.

Add remaining butter and honey to the center of the skillet. Once butter is melted, add sweet potatoes and stir to coat in the honey-butter mixture. Sprinkle with remaining Italian seasoning, then add pecans and cranberries and stir to combine. Allow to cook for 3-4 minutes.

Transfer pan to preheated oven and bake for 10-15 minutes until chicken is cooked through. Garnish with fresh thyme and cracked black pepper and serve.
Notes
Chicken thighs can be boneless skinless, or bone-in with skin-on, completely your choice.