Healthy, simple, delicious chicken and broccoli is perfect for any night of the week and pairs great with rice or noodles! From fridge to plate in just 30 minutes!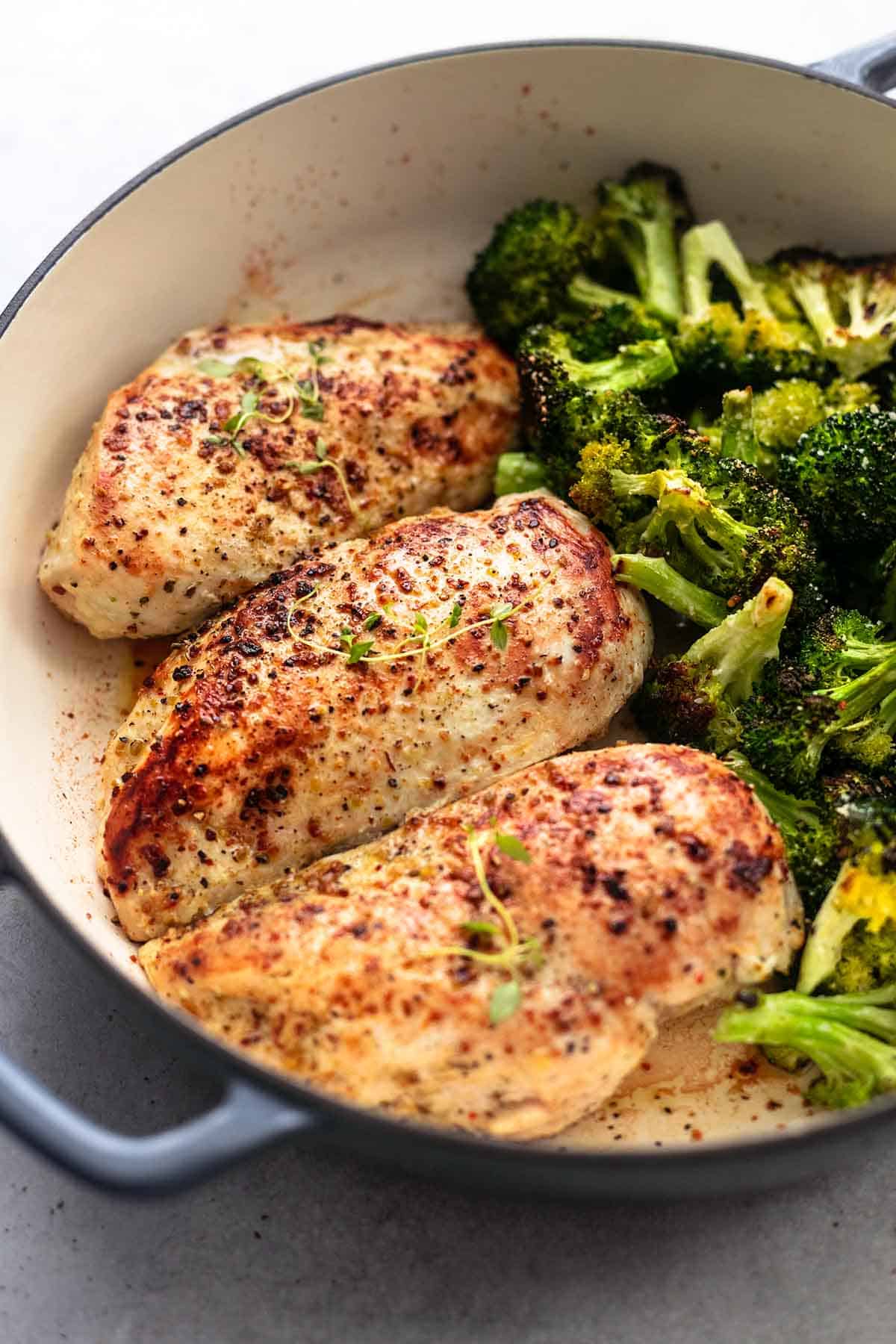 I love a good chicken and broccoli recipe. Those two items just go so well together too, don't they? Like meat and potatoes, peanut butter and jelly, sea salt on everything chocolate…the pair just fits.
And this particular pairing? It's my favorite. The chicken is first pounded to guarantee even cooking and then rubbed in all the best Italian spices, then browned in butter. The broccoli is also flavored with garlic and parmesan, then steamed in butter and a little bit of water with the lid on nestled right beside that chicken. What you get is juicy, plump, tender chicken and tender-crisp cheesy broccoli that still has the perfect bite to it when you eat it.
Why This Recipe Works
In a nutshell, this recipe works for all these reasons and more!
Tender chicken breasts — Pounding the chicken breasts to uniform thickness means they'll all cook the same in the pan. If you skip this step, you'll end up with one overdone and one underdone (at least) piece and that's just no good.
Simple spices — Garlic powder, Herbs de Provence (or Italian seasonings), salt, and pepper are all you need to reach for to make this dish tasty! Nothing fancy and no extra trips to the store required here.
Versatile — You really can add just about any flavor profile you like here. Spicy, mild, south-of-the-border, choose your favorite spice blend for the chicken and the broccoli (so long as they complement each other) and cook as directed.
Great for meal prep — I know so many people who are into meal prepping these days and this recipe just works. Make a double batch and split up your portions into 3-5 meal-prep containers with some fruit slices or carrot sticks for a healthy, low-carb, on-the-go meal.
Recipe Ingredients and Substitutions
Ingredients
Boneless Skinless Chicken Breasts – Any brand of chicken you like is fine here.
Garlic Powder – I love garlic powder because it really coats every ounce of the chicken.
Herbs De Provence (or Italian Blend Seasoning) – Don't skimp on adding these delicious Italian seasonings, they make all the difference. Any well-known brand will do just fine.
Broccoli Florets – Break down bigger broccoli crowns into florets or purchase them already cut in a bag the produce department.
Butter – Unsalted or salted is fine. If you use salted butter, be sure not to add too much salt when you're tasting at the end.
Olive Oil – I like to use extra virgin, but any kind of olive oil will work. You can also substitute vegetable oil.
Minced Garlic (or Garlic Powder) – I often use minced garlic in oil in a jar from the grocery. You can also mince your own or just use any brand of garlic powder to season.
Salt and Pepper – Add a little, taste a little, that's the key to not over seasoning with salt and pepper.
Grated Parmesan Cheese – Mmmmm add all that cheesy goodness with grated parmesan cheese. Any brand will do, or buy a big hunk and grate your own for that fresh parmesan flavor.
Substitutions
No broccoli? Try adding cauliflower, Brussels sprouts, green beans, or another hearty, slower-cooking vegetable to go with this chicken skillet dish.
Instead of chicken breasts, you could use boneless pork chops. Follow the directions but make sure that your pork is cooked to an internal temperature of 145 degrees before eating.
If you don't have any Herbs de Provence or Italian seasoning, you can make your own using a dash of each dried herb: thyme, oregano, rosemary, and basil.
Other cheeses that would be delicious on this chicken and broccoli skillet include those of the harder variety: Reggiano, pecorino, gruyere, or gorgonzola, shredded.
If you don't have olive oil, you can substitute vegetable oil or canola.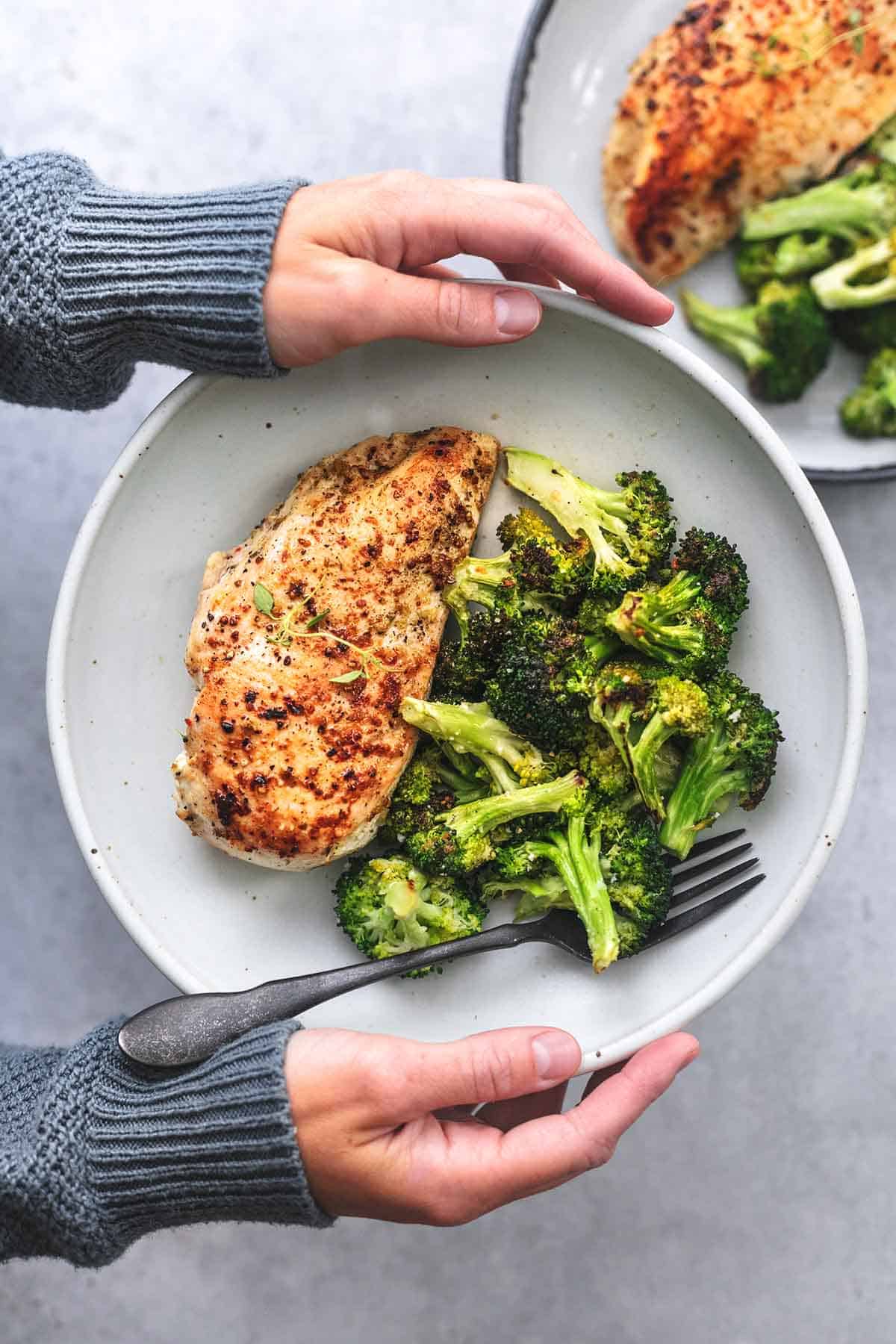 Here's How You Make It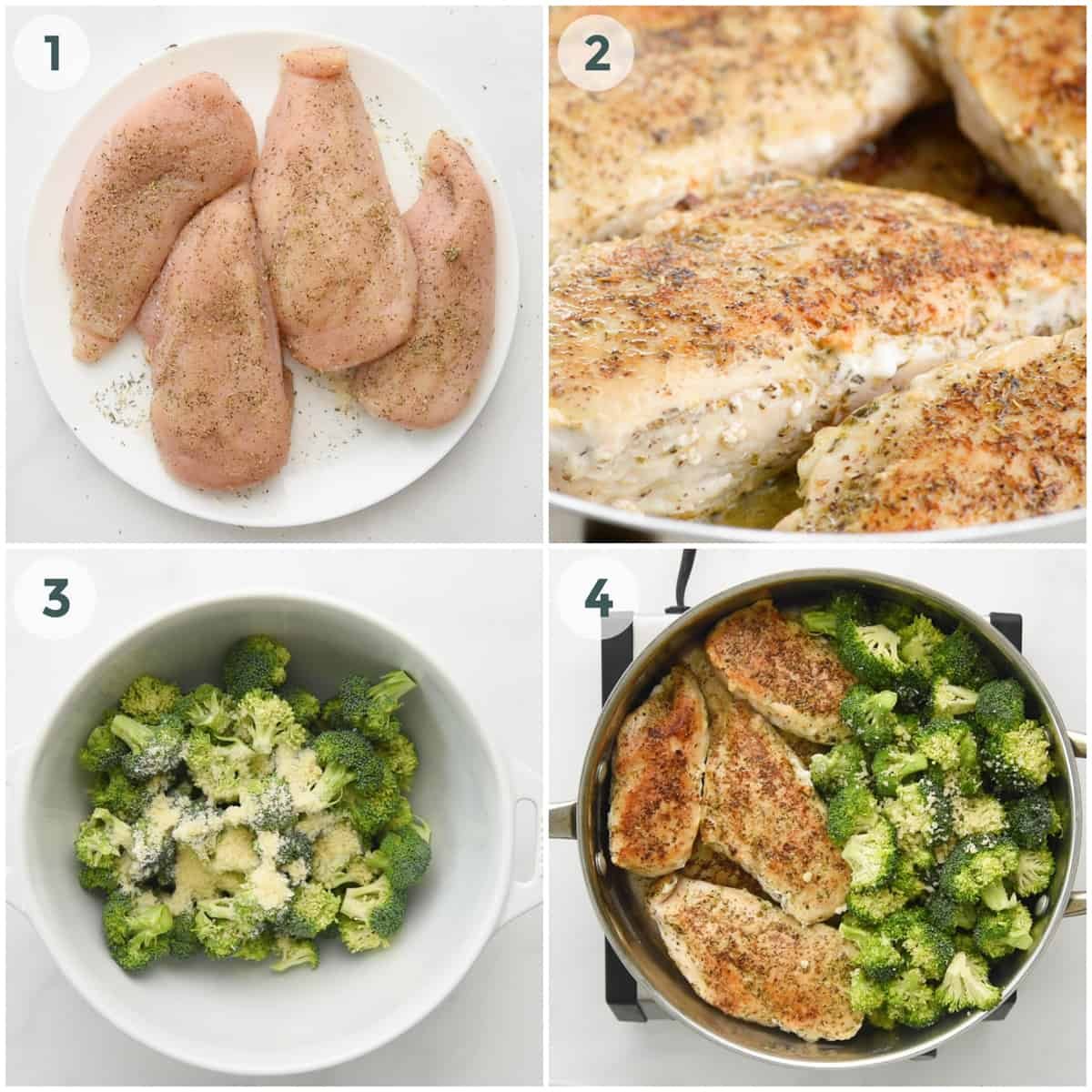 Make this meal once and you'll realize it's so easy you can do it again and again!
Season the pounded chicken on both sides with the spices, plus salt and pepper (to taste).
Take out a large skillet (I love a good cast iron or enamel skillet) and turn the heat on to medium-high. Melt the butter in the bottom and then add 1 tablespoon of oil. Add the chicken breasts and let them brown for 3-4 minutes on each side.
Next, toss the broccoli florets with 2 teaspoons of oil, the garlic (or powder), and the parmesan.
Move the chicken to one side of the pan and place the broccoli on the other side of the pan.
Gently and slowly pour ⅓ cup of water into the side of the skillet, put the lid on and let the broccoli and chicken cook for another 15 minutes or until the chicken is cooked through and the broccoli is fork-tender.

Serve right away and enjoy!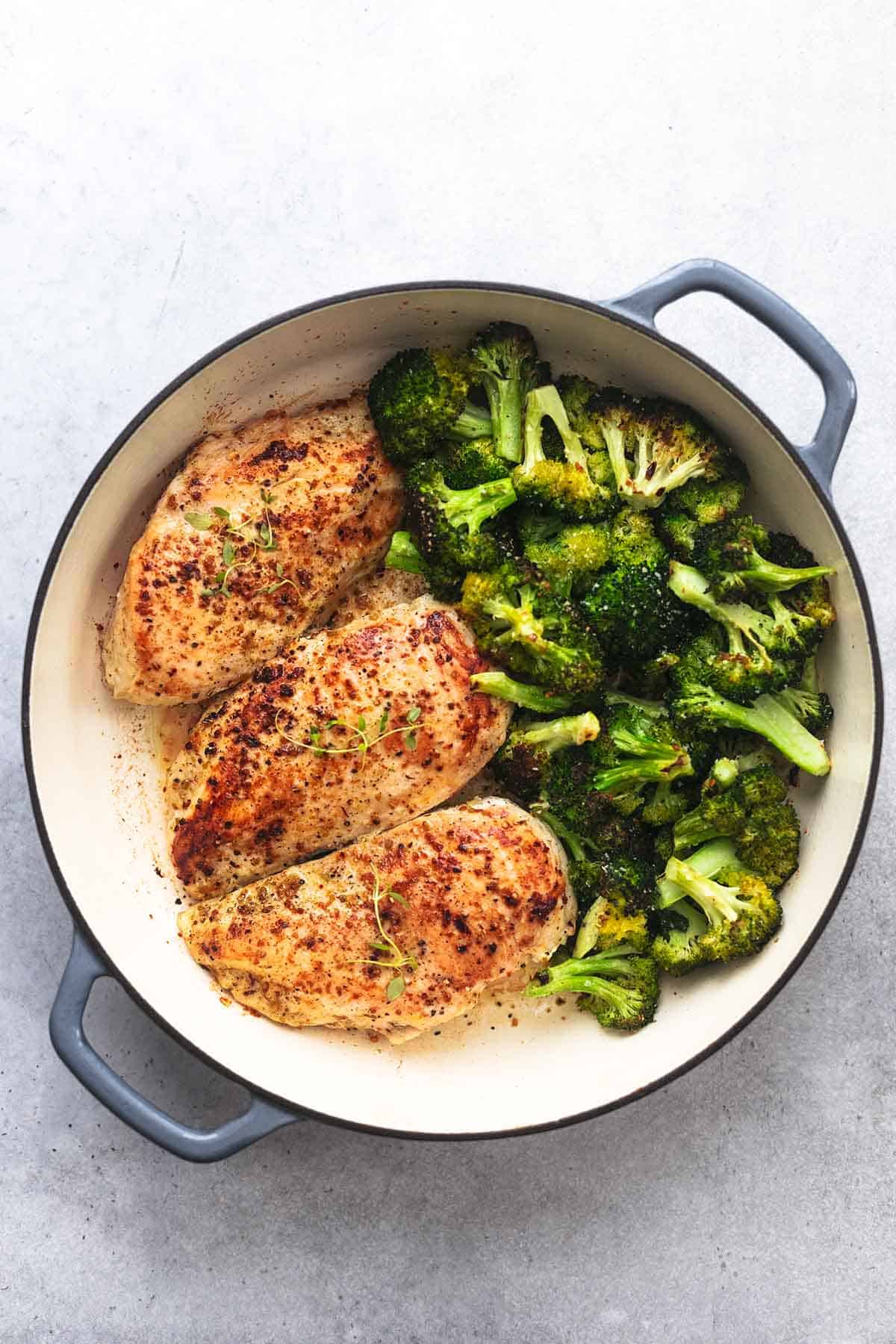 Ideas for Serving This Dish
Chicken and broccoli

over rice

is one of my favorite ways to serve this dish. See below for ways to add sauce or cheese, both of which mix well into the rice and when you have it all together — delish!

If you'd prefer noodles

over rice, some that work well to hold in all the flavors of this dish include penne, rigatone, and fusilli. Of course, you can use any pasta you have on hand. It all tastes great! This recipe has Italian flavors so if you decide to serve it over pasta, then adding some marinara sauce over the top would be really tasty as well.

Slice the chicken breasts up against the grain and put on a hoagie roll with some cheese, sauce (marinara or otherwise), and other favorite toppings for a

great sub sandwich

with broccoli as your side.

Of course, I'd be remiss if I didn't mention one of the best ways to serve this entree:

with mashed potatoes

of course! Cover everything in

gravy

and go to bed a happy camper.

Looking for more of an Asian-inspired flavor profile? No problem! Simply cut your chicken into 1-inch pieces and stir-fry it in the pan along with the broccoli. Then add your favorite stir fry sauce (usually a combination of soy sauce, brown sugar, garlic, sesame oil, and ginger) and you've got a chicken stir fry with broccoli! Pretty neat, huh?
Expert Tips
Want crispier broccoli?

Then cook this dish in an oven-safe skillet. Follow the directions through adding the broccoli to the skillet. But, instead of adding the water, just pop the skillet into the oven (preheated to 400 degrees). The oven will roast the broccoli and cook the chicken through just perfectly.

Kick the flavors up a notch

by sprinkling on 1 tablespoon of dry ranch seasoning all over the chicken in addition to the other spices on the ingredients list. Kids (and big kids) love these flavors together!

Love sauce? It's easy to add sauce to this dish too. My favorite is this

5-minute dijon cream sauce

. Just make it and drizzle over the cooked chicken and broccoli. Be ready to hear some lips smacking when you serve this sauce!

Not a fan of broccoli? No problem. Other favorite

veggies that go with chicken

include carrots, cauliflower, green beans, peppers, zucchini, and Brussels sprouts.

Is the parmesan just not enough cheese? Been there. For a

super-cheesy version

, place a slice of provolone (or other) cheese on top of each breast, then cover the skillet back up for another couple of minutes to melt it on top.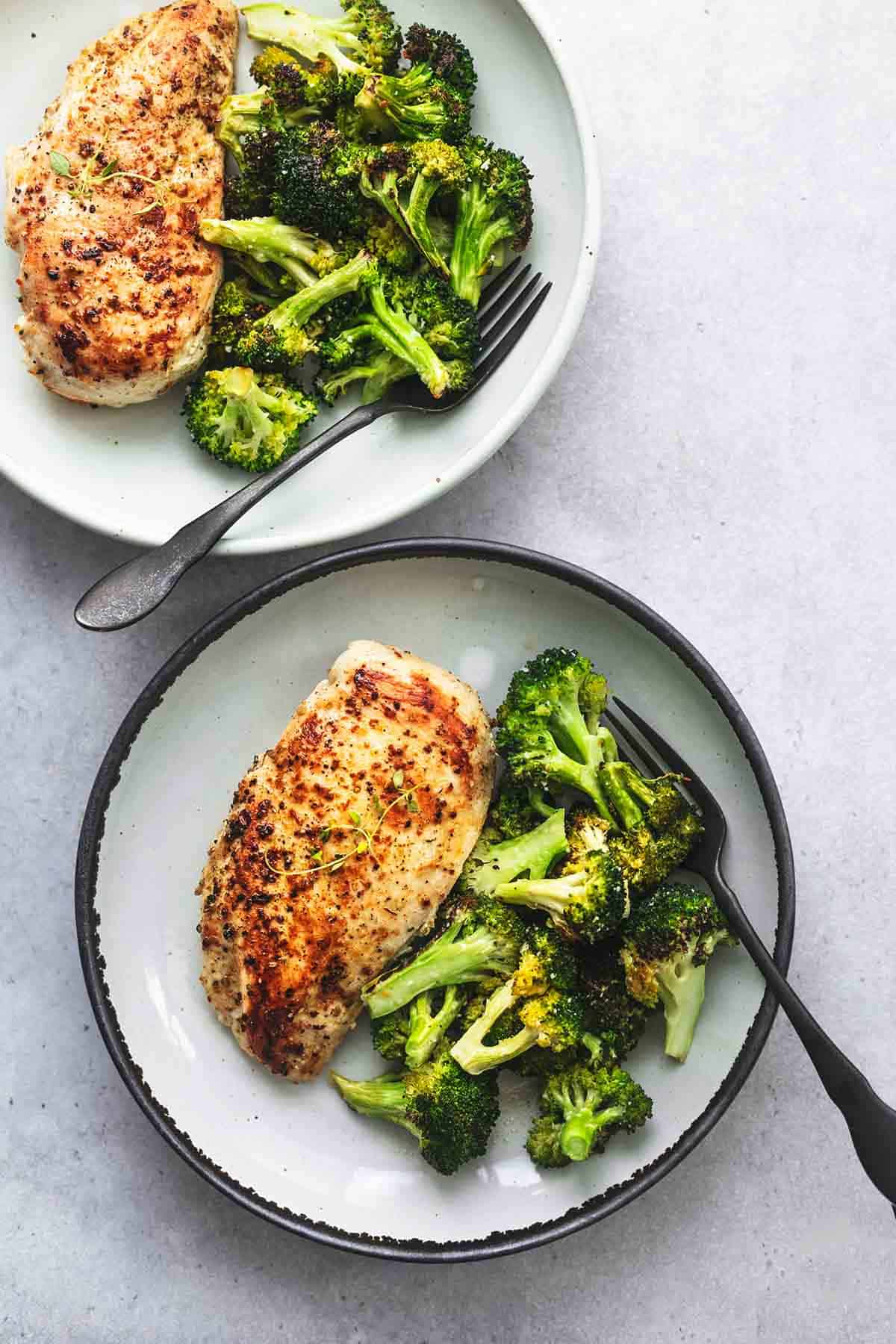 More Amazing Dinner Recipes
For more easy chicken dishes, bookmark my recipes for Citrus Dijon Grilled Chicken, Chicken Satay Skewers, and Slow Cooker Chicken Tacos.
Did you make this quick and easy one-pan chicken and veggie meal? YAY! Please rate the recipe below!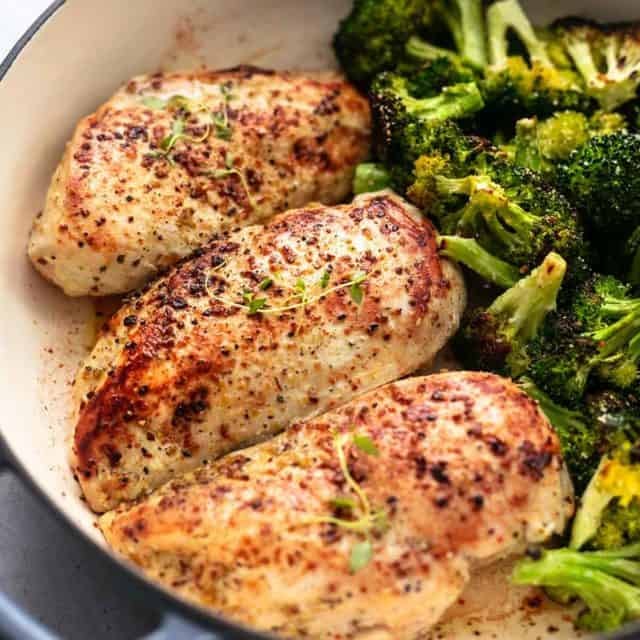 Chicken and Broccoli Recipe
Healthy, simple, delicious chicken and broccoli is perfect for any night of the week and pairs great with rice or noodles! From fridge to plate in just 30 minutes! 
Ingredients
4

boneless skinless chicken breasts

-

pounded to even thickness

1

teaspoon

garlic powder

1

teaspoon

Herbs de Provence

-

or Italian blend seasoning

1 ½

pounds

broccoli florets

1

tablespoon

butter

1

tablespoon

olive oil

2

teaspoons

minced garlic

-

or ½ teaspoon garlic powder

salt and pepper to taste

3

tablespoons

grated parmesan cheese

2

teaspoons

oil
Instructions
Season chicken on both sides with garlic powder, Herbs de Provence (or Italian blend), and salt and pepper (I'm pretty generous with the salt and pepper here, go with your gut).

In a large skillet, melt butter. Once melted, drizzle 1 tablespoon oil into the pan. Add chicken and brown for 3-4 minutes on each side.

Toss broccoli florets with 2 teaspoon oil, garlic (or garlic powder) and parmesan cheese.

Scoot the chicken over in the pan to make room for the broccoli.

Add broccoli to the pan, add 1/3 cup water (pour it to the side of the chicken and broccoli and not over the top so that it doesn't wash away the seasonings), cover and cook for 15 minutes or until chicken is white throughout and broccoli is fork-tender. (see note for alternate cooking method) Serve immediately.
Notes
Alternate cooking method: If you are using an oven-safe skillet, leave out the water and transfer the pan to your oven preheated to 400 degrees instead of finishing on the stove. This is my favorite method as it yields crispier broccoli with more of a roasted flavor. 
Up-level your chicken: Sprinkle 1 tablespoon dry Ranch seasoning all over the chicken along with the salt, pepper, garlic powder, and Italian herbs. My kids are especially huge fans of this! 
Sauce it up: Whip up a batch of my famous 5-minute dijon cream sauce and drizzle over the chicken and broccoli to take this dish over the top! 
Swap out the veggies: Feel free to use carrots, cauliflower, green beans, bell peppers, or zucchini in place of (or along with!) the broccoli. 
Make it cheesy: Just before serving, place a slice of provolone cheese on top of each chicken breast, cover the pan for 2-4 minutes and serve once the cheese has melted. 
Nutrition
Calories:
259
kcal
,
Carbohydrates:
13
g
,
Protein:
31
g
,
Fat:
10
g
,
Saturated Fat:
2
g
,
Cholesterol:
76
mg
,
Sodium:
249
mg
,
Potassium:
965
mg
,
Fiber:
5
g
,
Sugar:
3
g
,
Vitamin A:
1126
IU
,
Vitamin C:
154
mg
,
Calcium:
139
mg
,
Iron:
2
mg