Bold and flavorful sheet pan tuna steaks with tender, seasoned baby potatoes made easy on one sheet pan, ready in just 30 minutes!
Sheet pan recipes are becoming a favorite from readers! Try easy Sheet Pan Balsamic Chicken with Potatoes and Carrots, Sheet Pan Teriyaki Chicken and Pineapple Fried Rice, and Healthy Sheet Pan Chicken Fajitas.
This post is in partnership with the National Fisheries Institute, and all opinions are my own. Find more tasty recipes for seafood at Dish on Fish!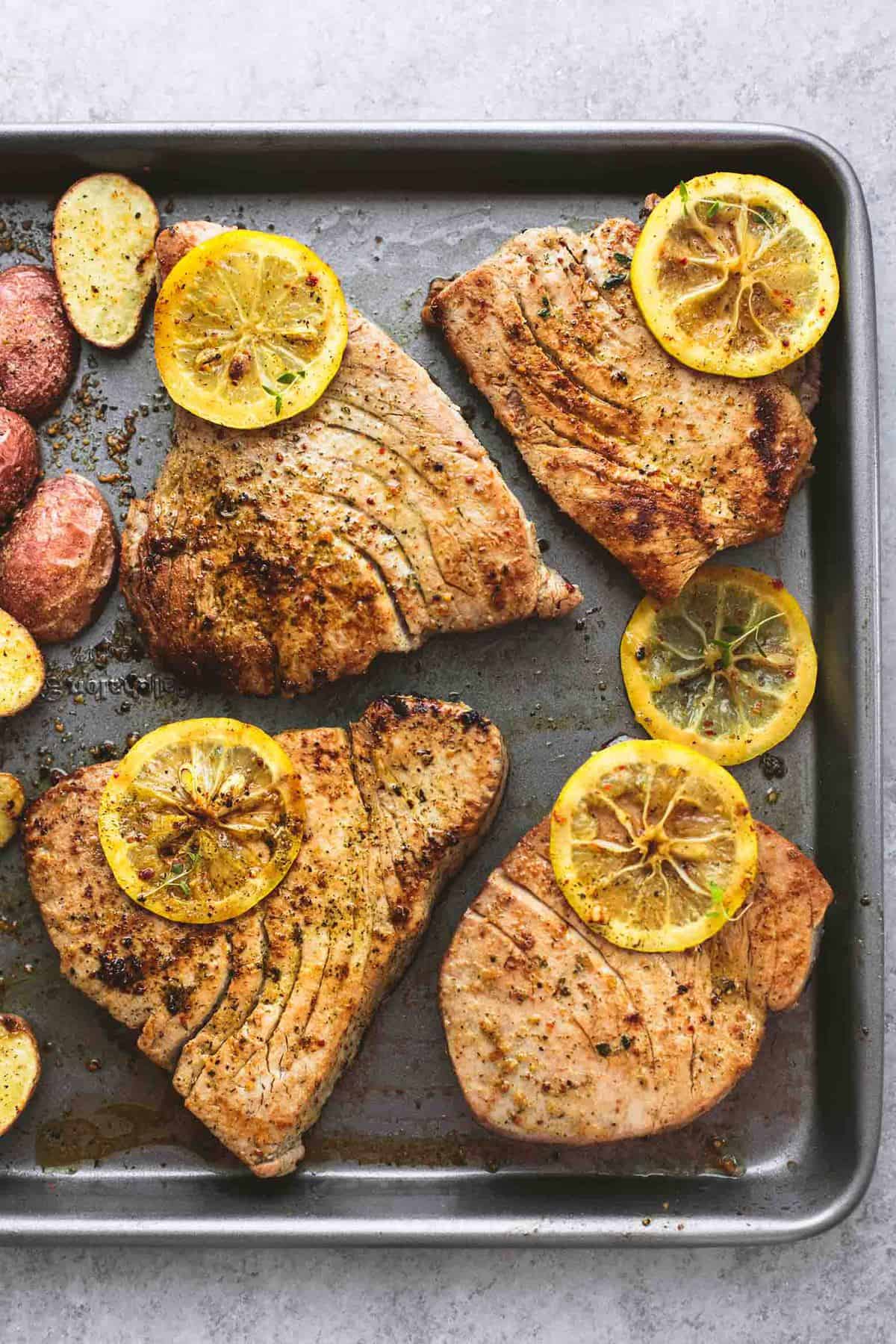 They say when you really have a passion for something you can talk about it for hours without getting bored. I've given it a lot of thought and I'm pretty sure the same school of thought applies to something you could eat for hours on end and still wish you had more stomach room so that you could keep on eating.
Seafood is that thing for me. I grew up in a seafood-loving family so it's in my blood. We heart fish big time in our house.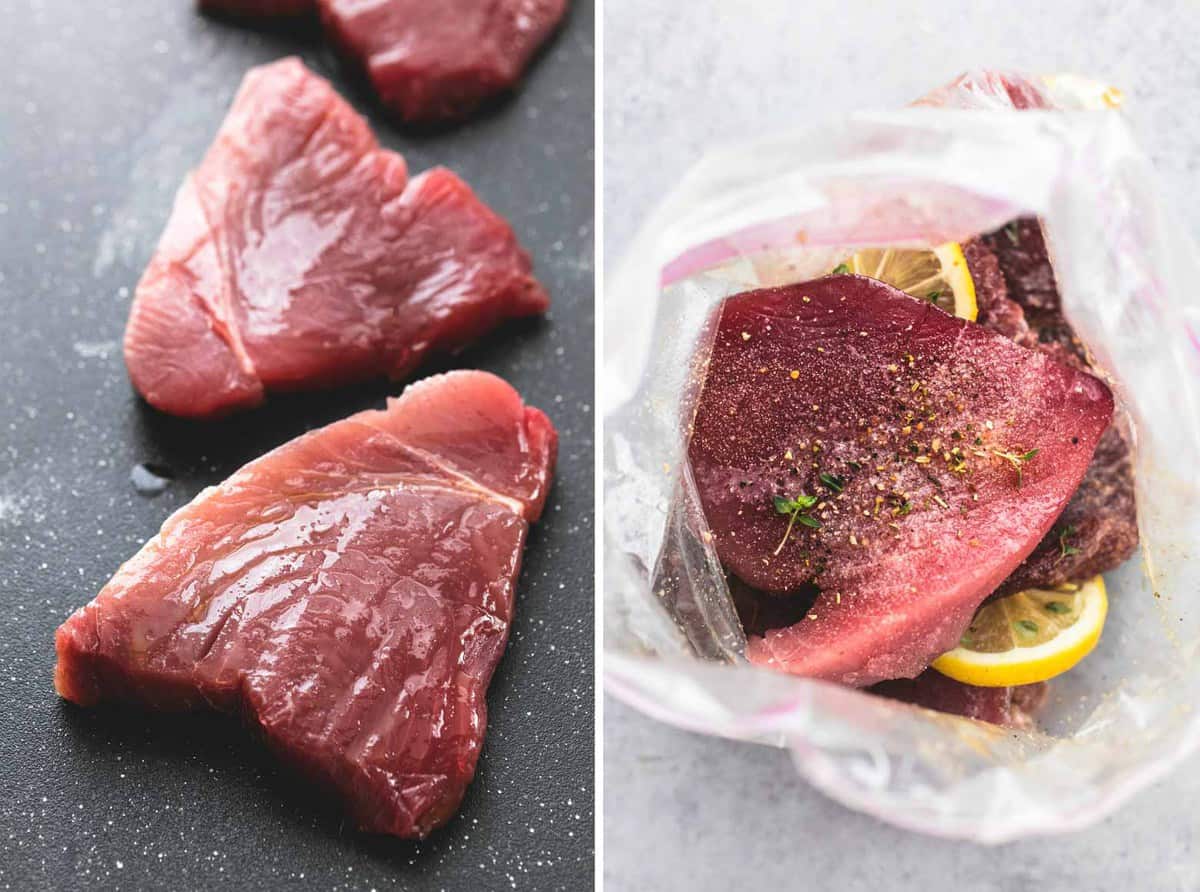 I am stoked to have partnered up with the National Fisheries Institute to create an easy, simple, and super tasty fish recipe for you, and shed a little light on the amazingness that is seafood. In 2016, the National Fisheries Institute launched a seafood education initiative called Dish on Fish to help educate Americans about the importance of eating seafood, and to encourage seafood consumption.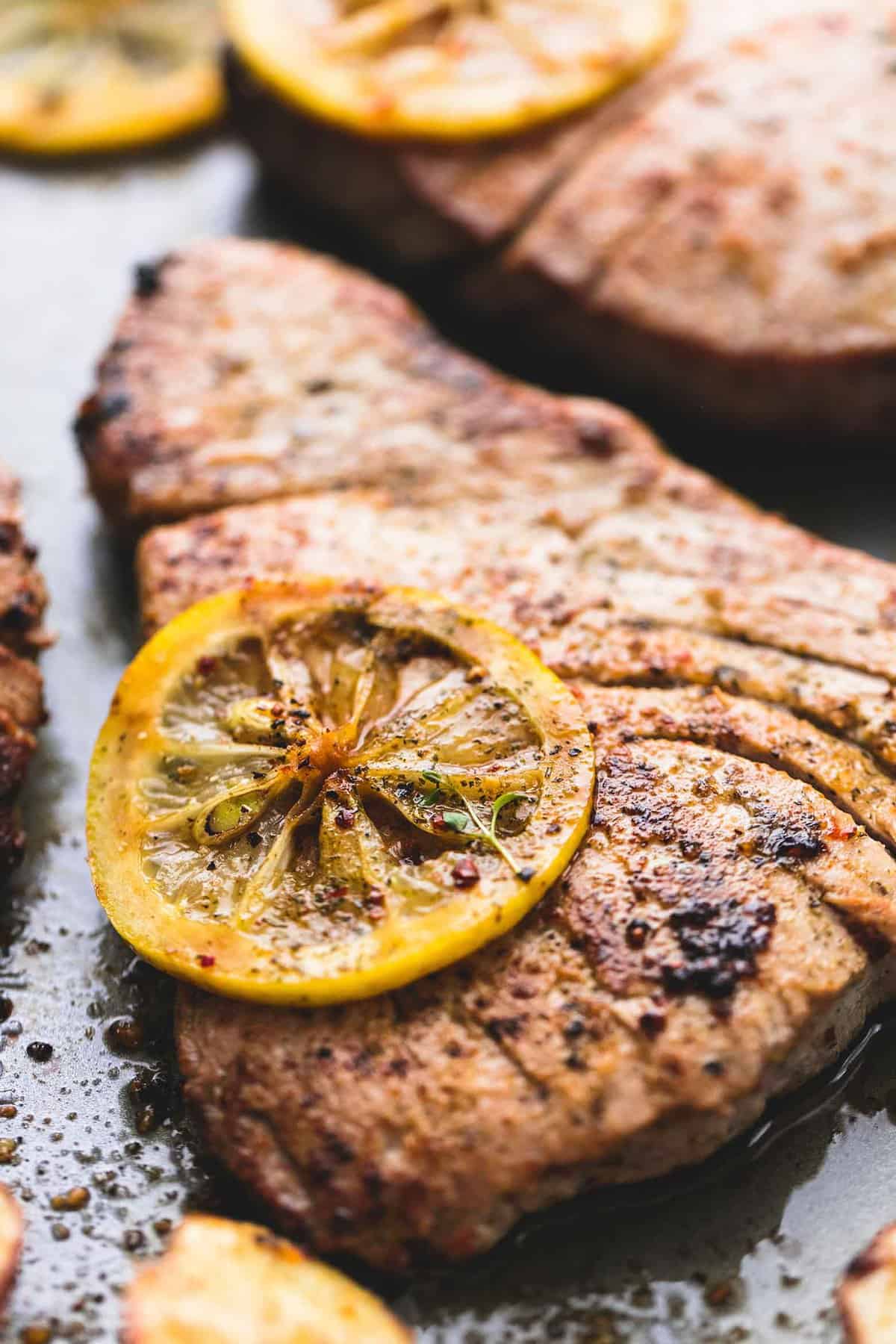 You might not know that February is National Heart Month – well it is! The U.S. Dietary Guidelines for Americans (DGAs) encourages Americans to eat 2-3 servings of seafood each week in order to really reap all of the heart-healthy benefits that seafood has to offer, and I'm here to make it easier for you to do just that!
I've already been sharing shrimp and salmon here on Creme de la Crumb for a long time because they're two of my favorite, and most popular seafoods, and I'm really excited to be adding this delicious tuna recipe to the mix.
My father, who might be the biggest seafood fanatic in my entire (very large) family, went absolutely nuts over these sheet pan tuna steaks. He said they were cooked perfectly and the flavor was "outstanding". He doesn't say that about all fish recipes, he has high standards!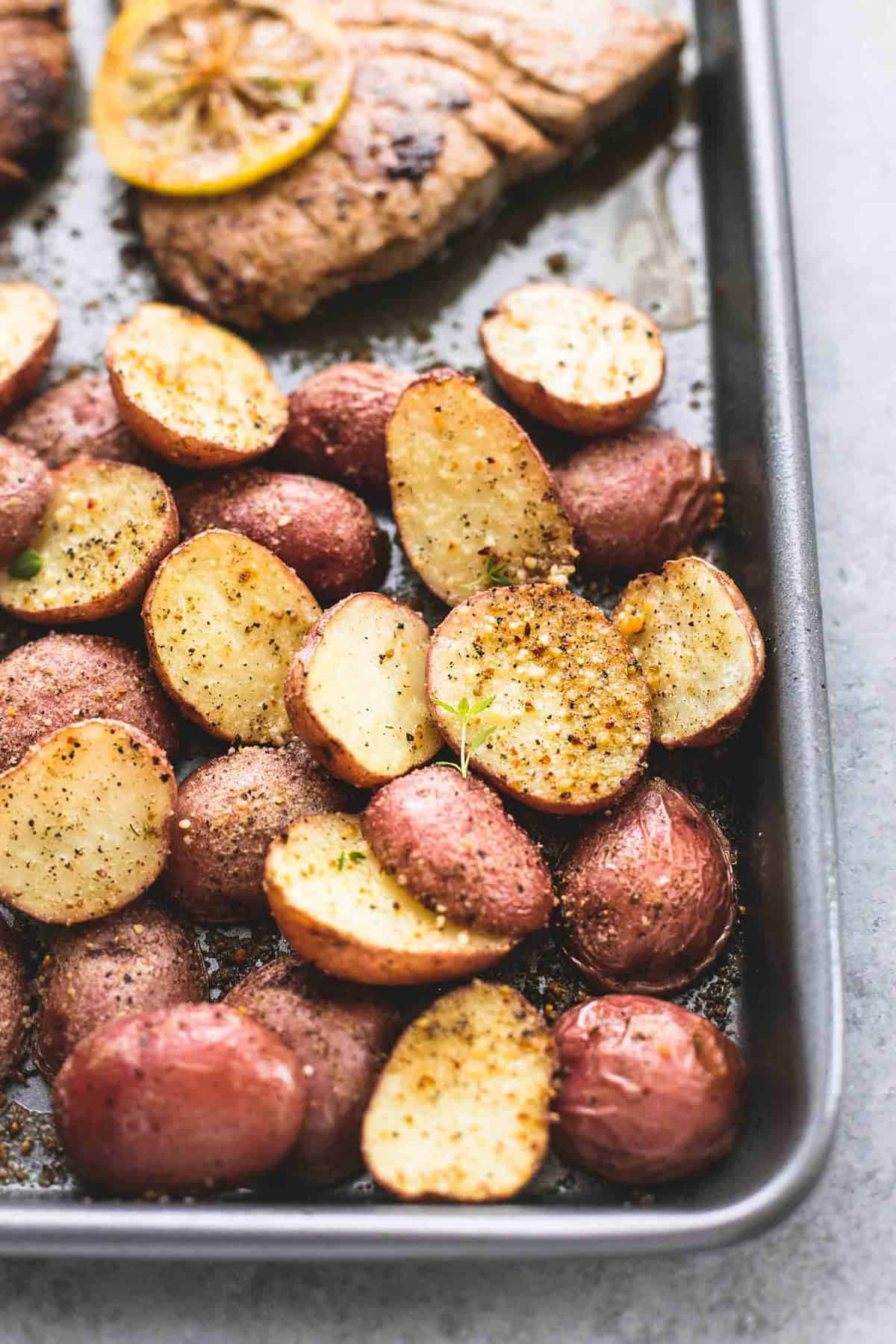 What my father didn't know is how incredibly easy it is to make this recipe. Sheet pan meals are my bread and butter, they make weeknight cooking SO much simpler and take a lot of prep and thought out of planning your weekly menu since there's an entree and a side dish all cooked together on the sheet pan.
This Sheet Pan Lemon Herb Tuna Steaks and Potatoes recipe is a breeze to whip up and packs maximum flavor into a dish with minimal ingredients in just 30 minutes. Your whole family will love this dinner!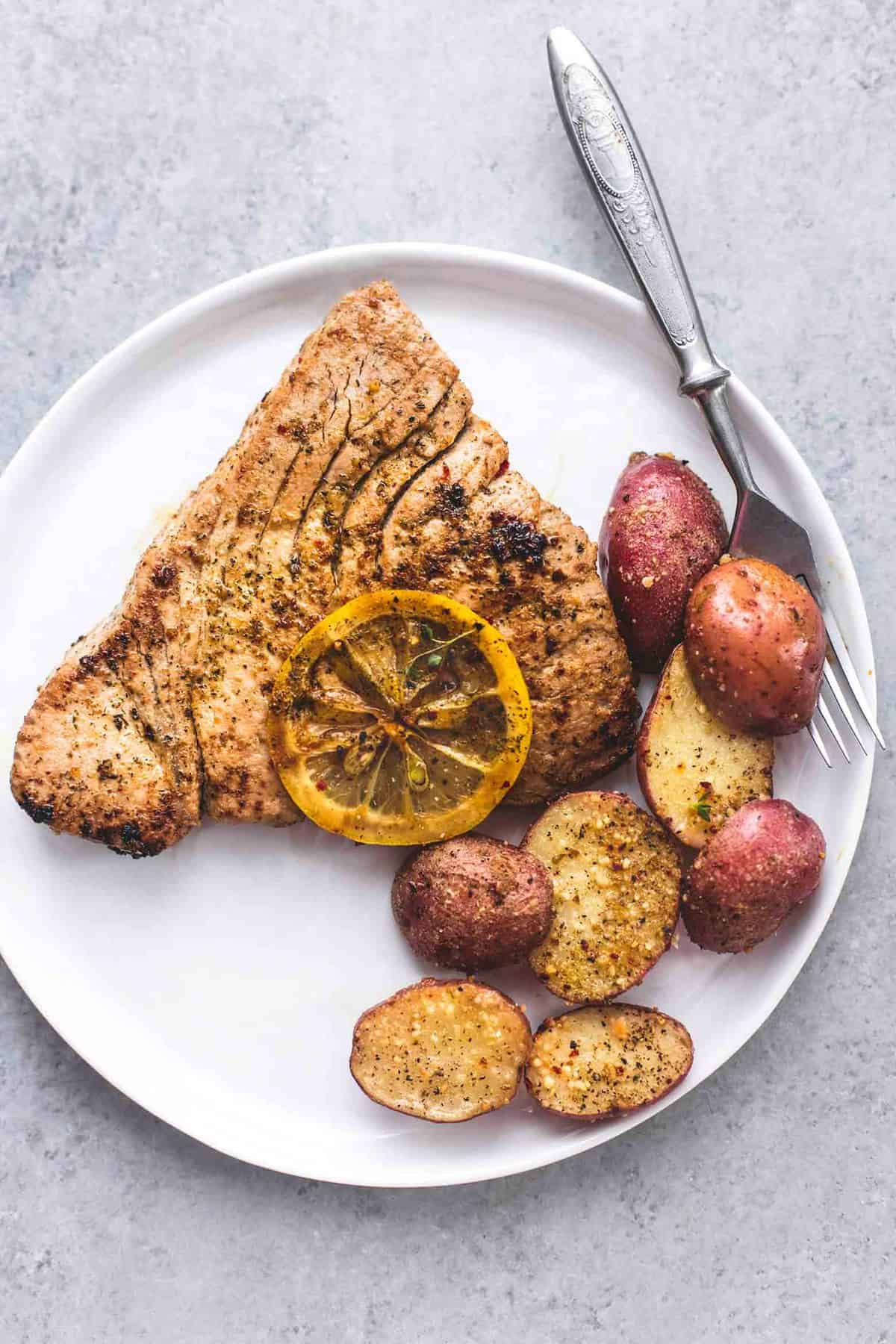 What people are saying about these Sheet Pan Lemon Herb Tuna Steaks and Potatoes
"Very tasty. I substituted asparagus sprinkled with parmesan for potatoes & cut oil in half, partly because I had only 3 steaks, total 10 oz. Put all in oven at same time & cooked 14-15 min, came out medium rare." – Huston
"Easy and delicious weekday recipe yet also works well for entertaining" – Liz
"This was really amazing, so delicious just as it was written. Full of flavor and goodness. Thank you!" – Kate
"Today was my first time cooking tuna steaks, and they turned out fantastic! Great and easy recipe! thank you!!!" – Mandi
Sheet Pan Lemon Herb Tuna Steaks and Potatoes
Bold and flavorful sheet pan tuna steaks with tender, seasoned baby potatoes made easy on one sheet pan, ready in just 30 minutes!
Ingredients
4

3/4-inch thick tuna fillets

6

tablespoons

olive oil, divided

juice of 1/2 lemon

1

teaspoon

salt, divided

1/2

teaspoon

pepper

1/2

teaspoon

dried oregano, divided

1/2

teaspoon

dried thyme, divided

1/4

teaspoon

dried basil, divided

1

teaspoon

garlic powder, divided

1 1/2

pounds

baby red potatoes, halved

4

tablespoons

grated parmesan cheese

additional lemon slices for garnish

optional
Instructions
Preheat oven to 450 degrees. Combine 4 tablespoons olive oil, lemon juice, 1/2 teaspoon salt, 1/4 teaspoon pepper, 1/4 teaspoon oregano, 1/4 teaspoon thyme, 1/4 teaspoon basil, and 1/2 teaspoon garlic powder in a large resealable bag along with the tuna fillets. Seal the bag, massage the fillets to rub in the seasonings and distribute all the ingredients. Chill for 15 minutes while you move on to the next step.

In a large bowl combine potatoes and remaining 2 tablespoons olive oil and toss to coat. Stir together remaining salt, pepper, oregano, thyme, basil, and garlic powder, sprinkle over potatoes and stir to combine. Arrange potatoes on half of a greased sheet pan. Bake for 15 minutes.

After 15 minutes, place tuna fillets on the empty half of the sheet pan (add lemon slices if desired), sprinkle parmesan cheese over the potatoes, and return to the oven for 6 minutes. Flip the tuna fillets, and cook for another 6 minutes. Serve and enjoy!
This is a sponsored conversation written by me on behalf of Dish on Fish . The opinions and text are all mine.
<