What do you get when you combine ground pork, rice, a bunch of veggies, Asian spices, eggs, pineapple and more? The most delicious 20-minute pork fried rice ever of course!
Want more Asian all-in-one dishes? Of course you do! Try these out this week: Teriyaki Steak Stir Fry, Mango Chicken Stir Fry, and Chicken and Broccoli Stir Fry.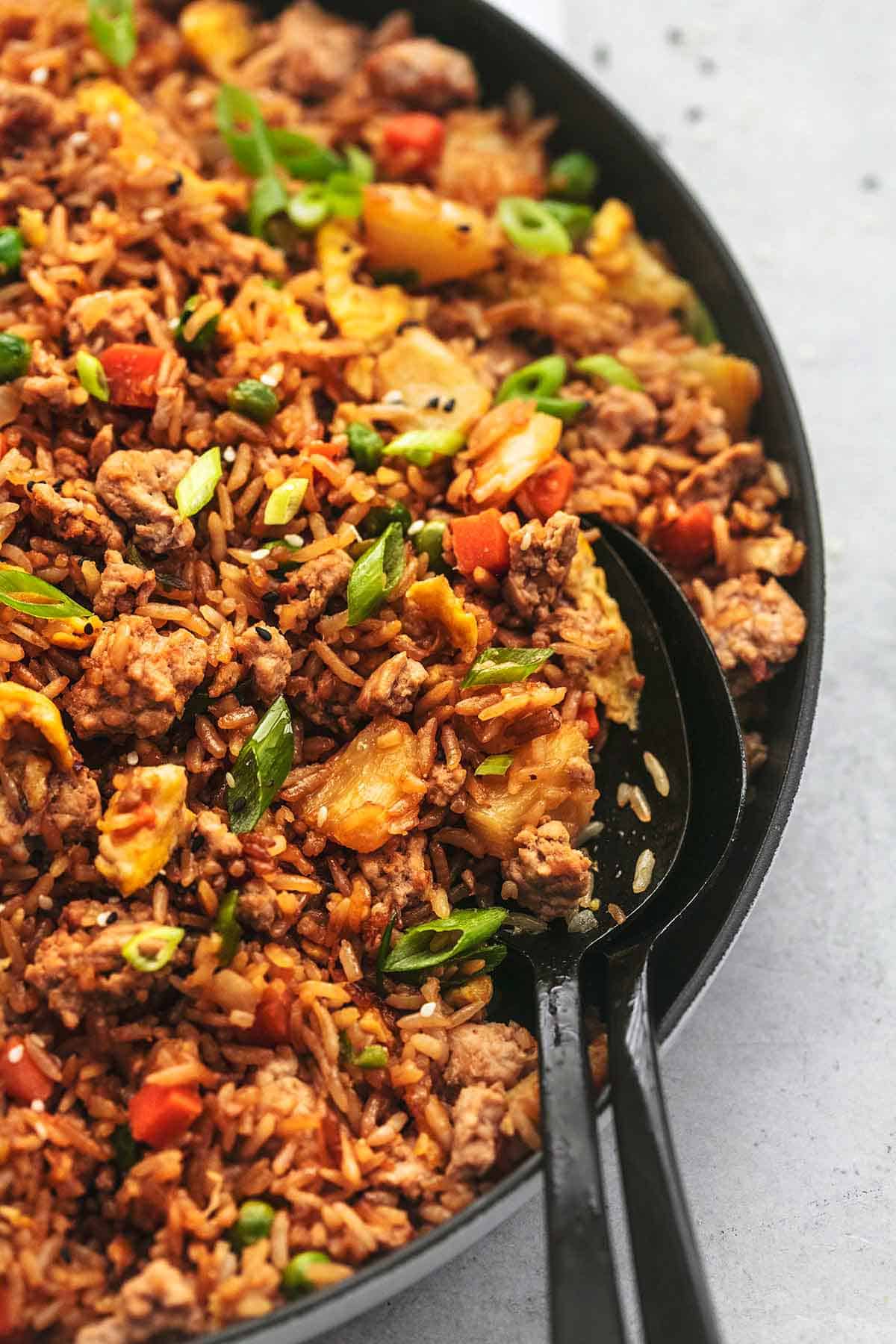 I don't cook with ground pork enough. I am not sure why that is but it's sooooo very good, especially in fried rice! Plus, it cooks up more quickly than other cuts of pork, so if you are thinking fried rice in a hurry, ground pork is definitely your best bet, especially in this one that also contains pineapple chunks. It serves as just the perfect amount of sweet to balance out all the other savory flavors.
Recipe Ingredients
From using ground pork to pineapple, eggs and frozen veggies, this dish is a can't-miss!
Ground pork — I think ground pork really makes this dish. It's nice and savory, yet has a mild flavor on its own, and that's what you want because there are so many flavors in this fried rice recipe, you don't want to pick a meat that would overpower the other yummy flavors.
Pineapple — Sweet, but not too sweet once it's cooked, adding pineapple chunks is really just that perfect ingredient you didn't know you needed in your fried rice but now you might never be able to do without it.
Frozen vegetables — Apply shortcuts when cooking whenever possible by using some frozen ingredients. In this case, frozen peas and carrots taste great once cooked, no loss of taste or texture at all. Using frozen veggies saves time and money!
Eggs — You just can't make fried rice without a couple eggs in there! I give you instructions on how to cook the eggs right alongside the rest of the ingredients. Easier to incorporate that way, and less clean up. Win-win!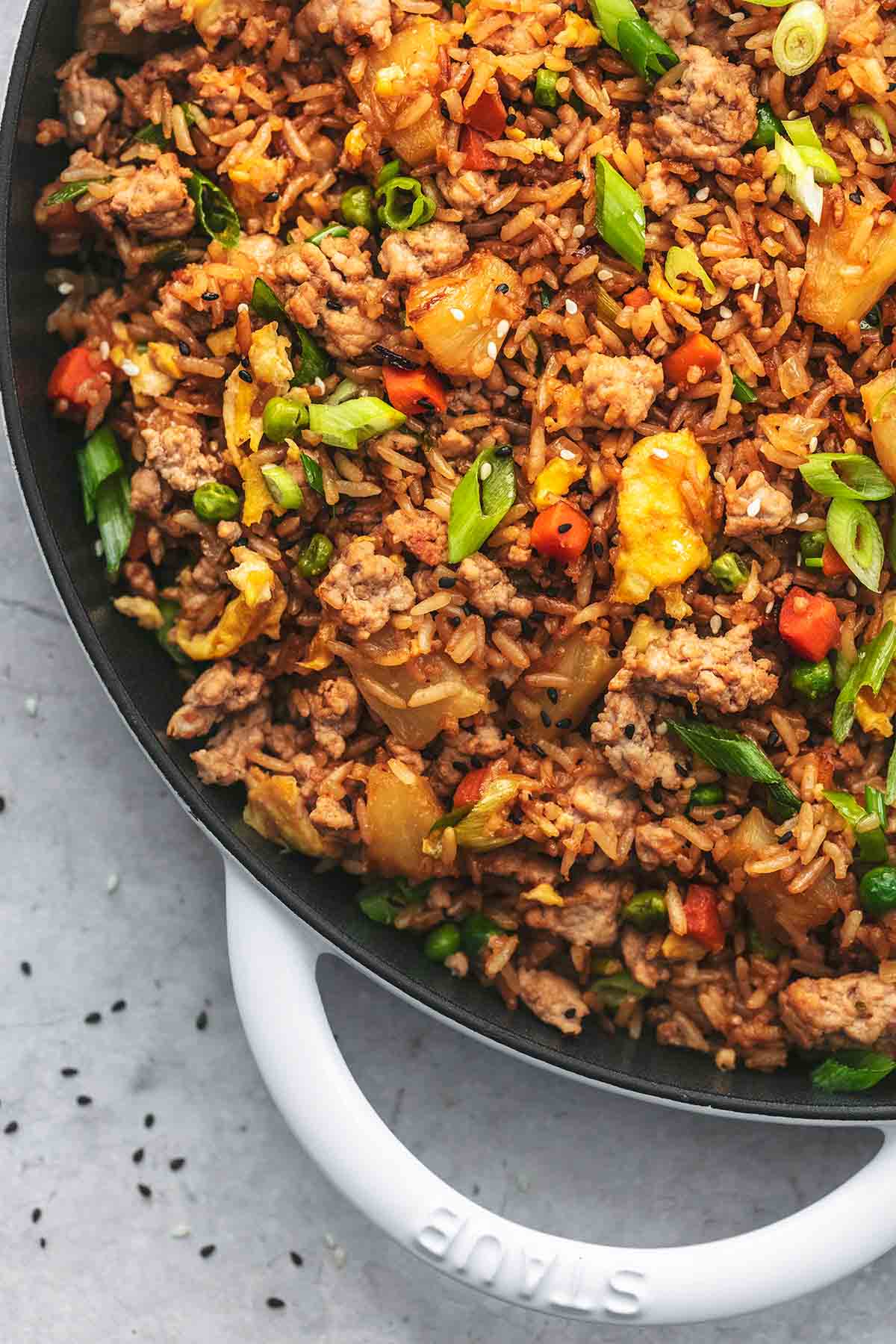 Here's How you Make it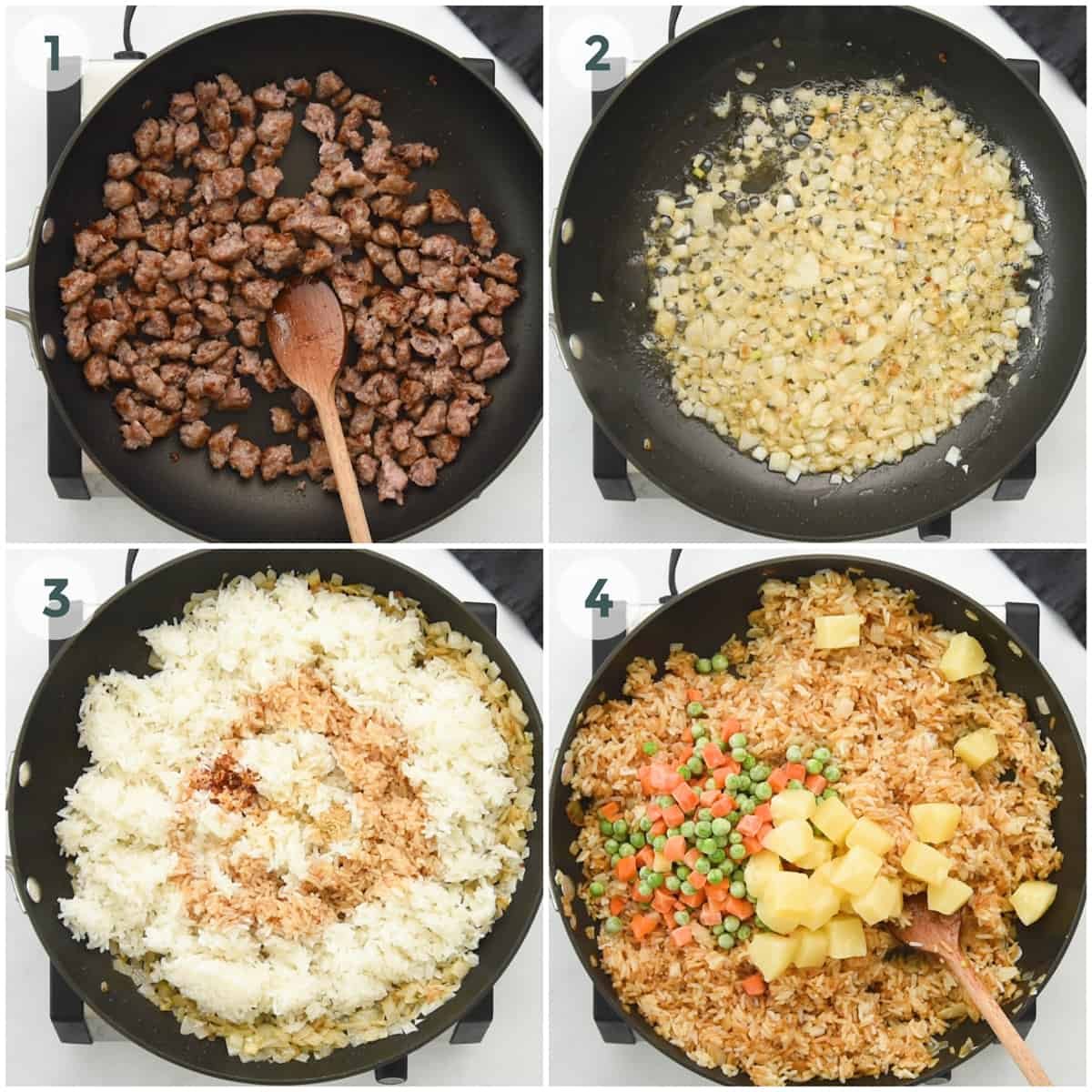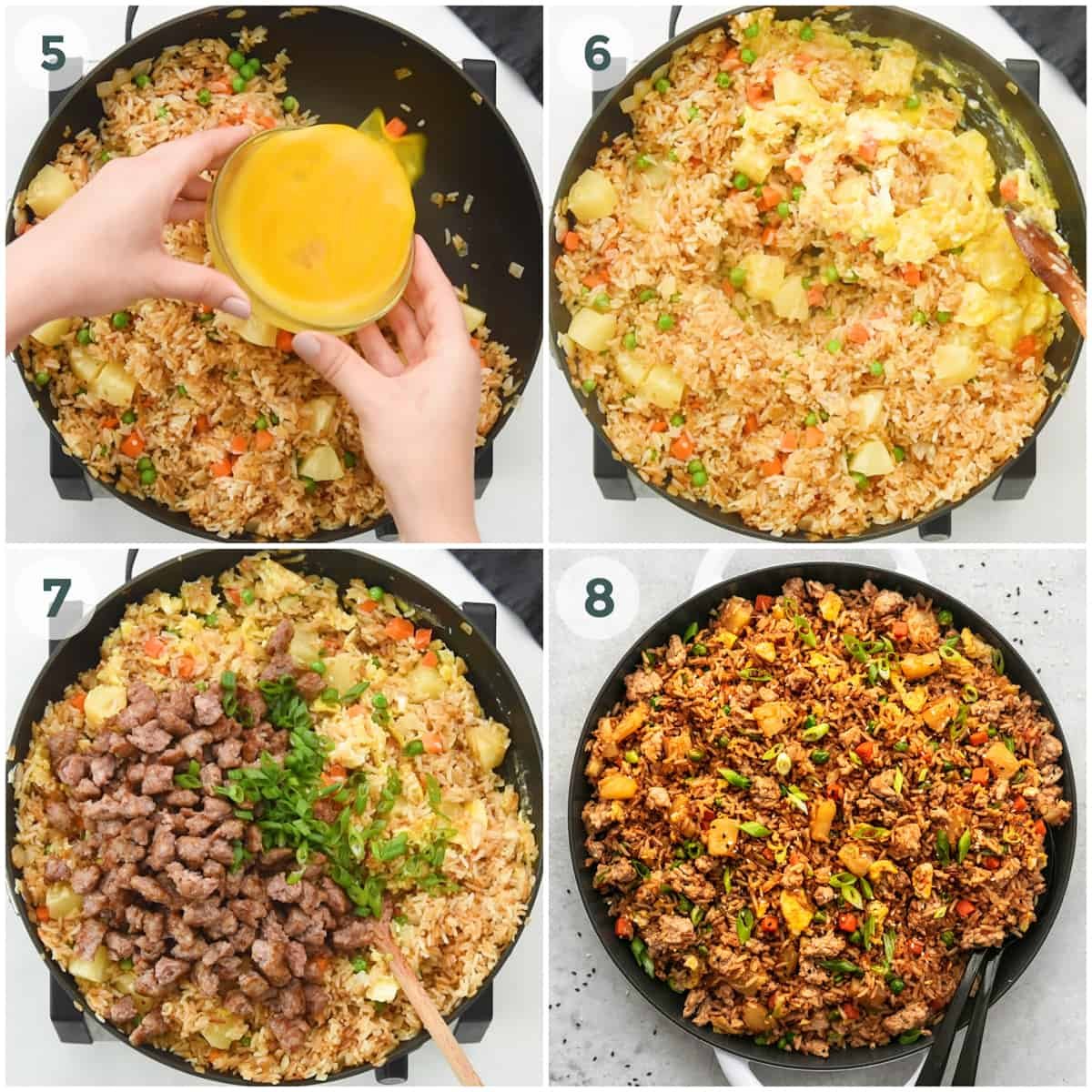 Get out a large skillet (large enough to hold the entire dish) and, over medium-high heat, cook the ground pork until browned all over. Make sure to break up the pork as it's cooking to avoid having large chunks of cooked meat. (Alternately, you could use leftover grilled or roasted pork tenderloin in this dish).
Take the cooked pork out of the skillet and place it in a covered dish to keep warm for the time being.
Back in the same skillet, add the toasted sesame oil (or vegetable oil) and onions and cook for 1-2 minutes or until tender.
Next, stir in the rice, soy sauce, garlic powder, ginger, and red pepper flakes. Cook this all together for 5-8 minutes or until the rice is browned. Stir occasionally.
Now add the frozen carrots and peas plus the pineapple chunks and cook these ingredients for another 2-3 minutes or until they are heated through.
Push all the ingredients to one side of the pan with your wooden spoon or spatula.
In the empty side of the pan, pour the whisked eggs and stir them around for 2-3 minutes or until they are cooked through. Then stir the scrambled eggs into the freshly cooked rice and mix all the ingredients together.
Finally, add in the green onions and cooked pork and stir. Give it a taste, finish it off with a bit of salt and pepper if needed, and serve!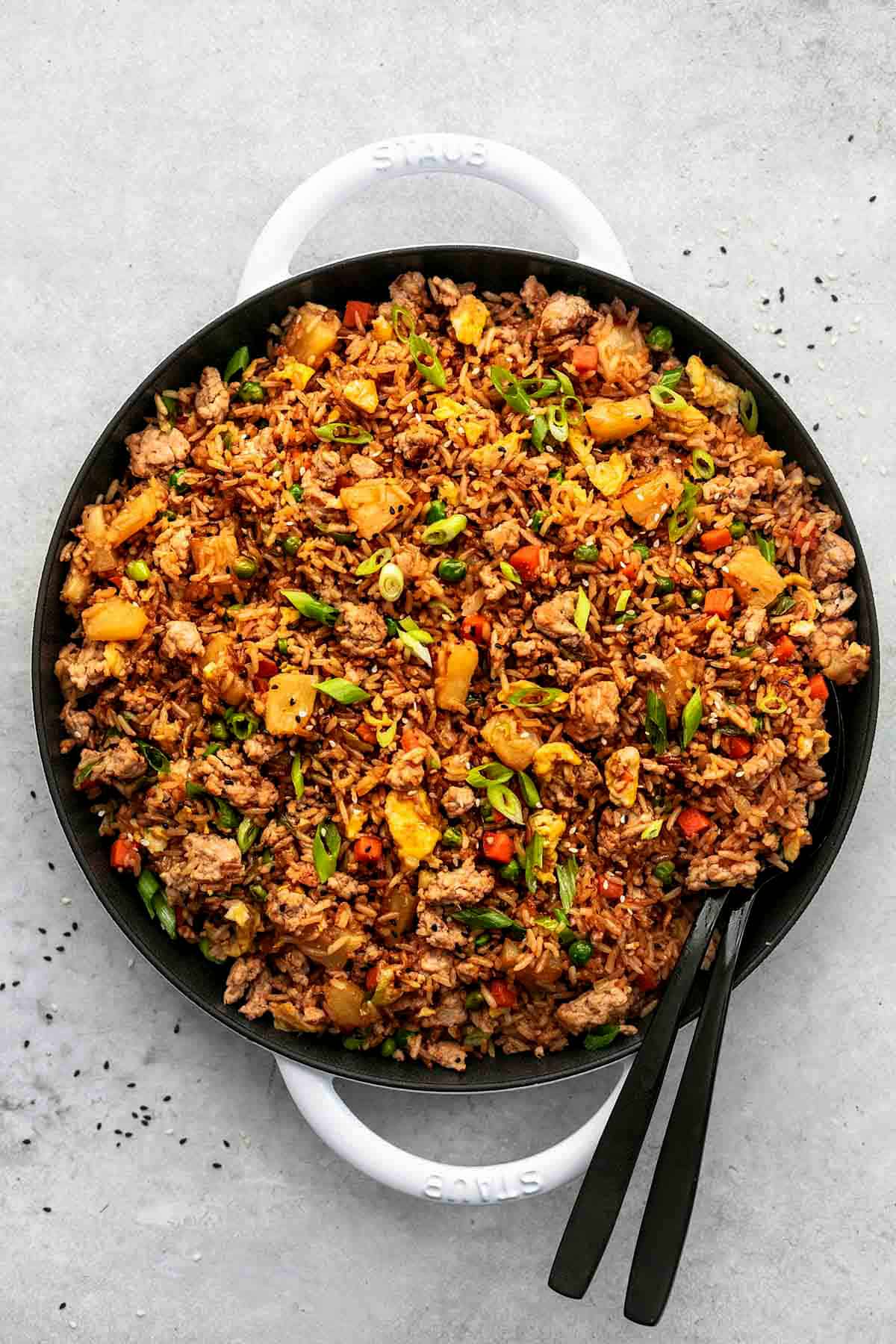 What Gives Fried Rice its Flavor?
A lot of the flavor in fried rice comes from the oil you use to "fry" it in. I prefer to use sesame oil because it has a nice nutty, yet neutral flavor, which means that it can absorb all the other flavorings like garlic, ginger, red pepper flakes, and soy sauce.
What Makes Fried Rice Unhealthy?
So it's no secret that fried rice is generally not the healthiest of Asian takeout meals. But not this one! The secret is to make it yourself so that you can control the amount of oil in your dish. (That's where a lot of the unhealthy fats come from.) You'll only be using ¼ cup of sesame oil over the entire dish (for a total of 8 servings), which isn't a lot at all. I make up for the lack of oil by piling on the flavor and vegetables. You won't believe it's not takeout honestly!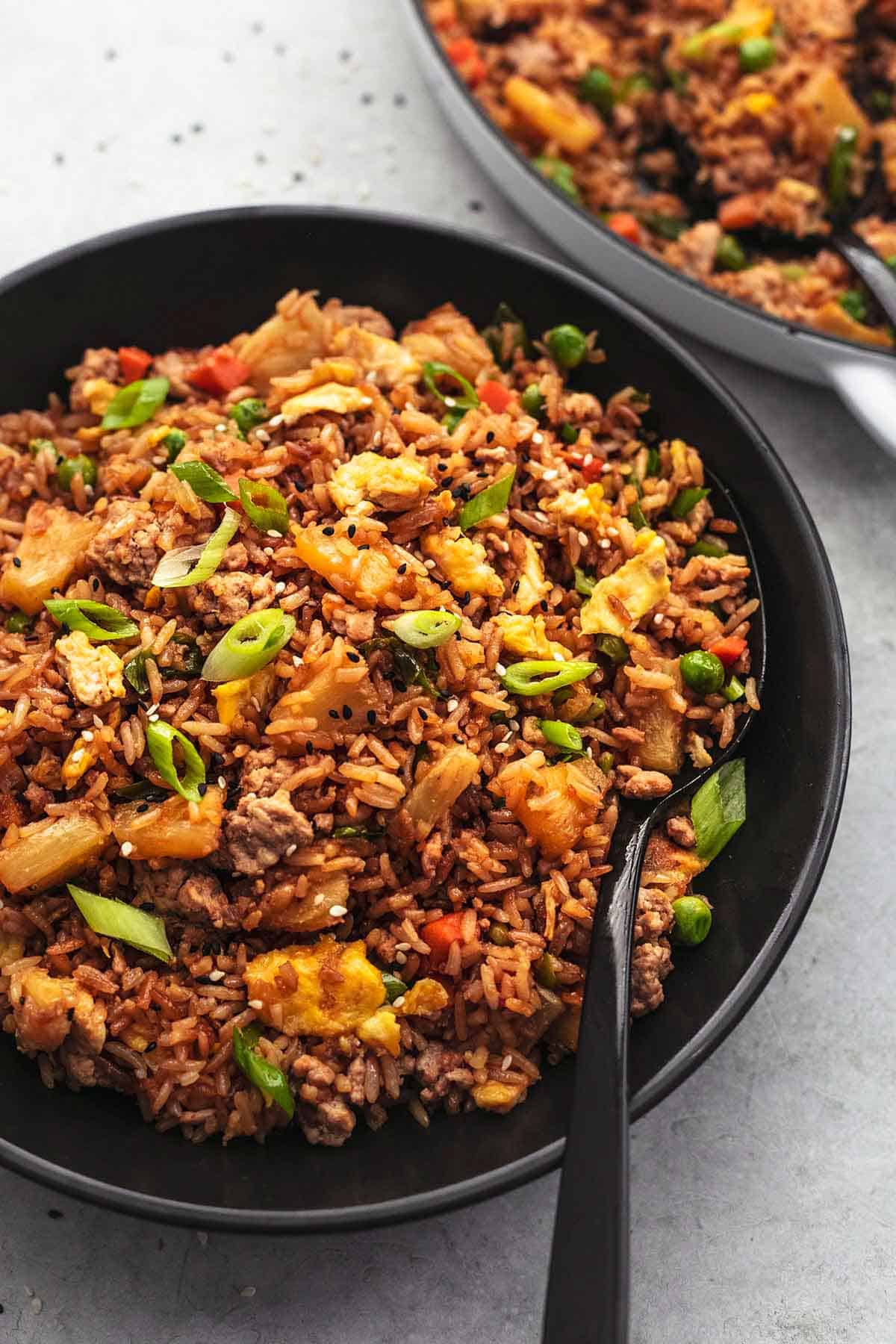 Expert Tips
The more soy sauce you use, the darker (and saltier) your fried rice will be. Even if you love soy sauce, use only the recommended ⅓ cup to start, and flavor later if you really think you need more. You could also

use the low sodium soy sauce

for a less salty flavor as well.

Some cooks swear by using "old" (leftover) rice in fried rice rather than using rice that's just been cooked. I haven't found a difference in using either but if you want to be more authentic,

cook the rice a day or two before

using. Break it up in the dish as you stir if it is too clumpy.

It's best to

prep your veggies ahead of time

and have your spices, sauces, eggs, and all other ingredients ready to go. That way you won't overcook any ingredients and pulling this dish together will be a breeze!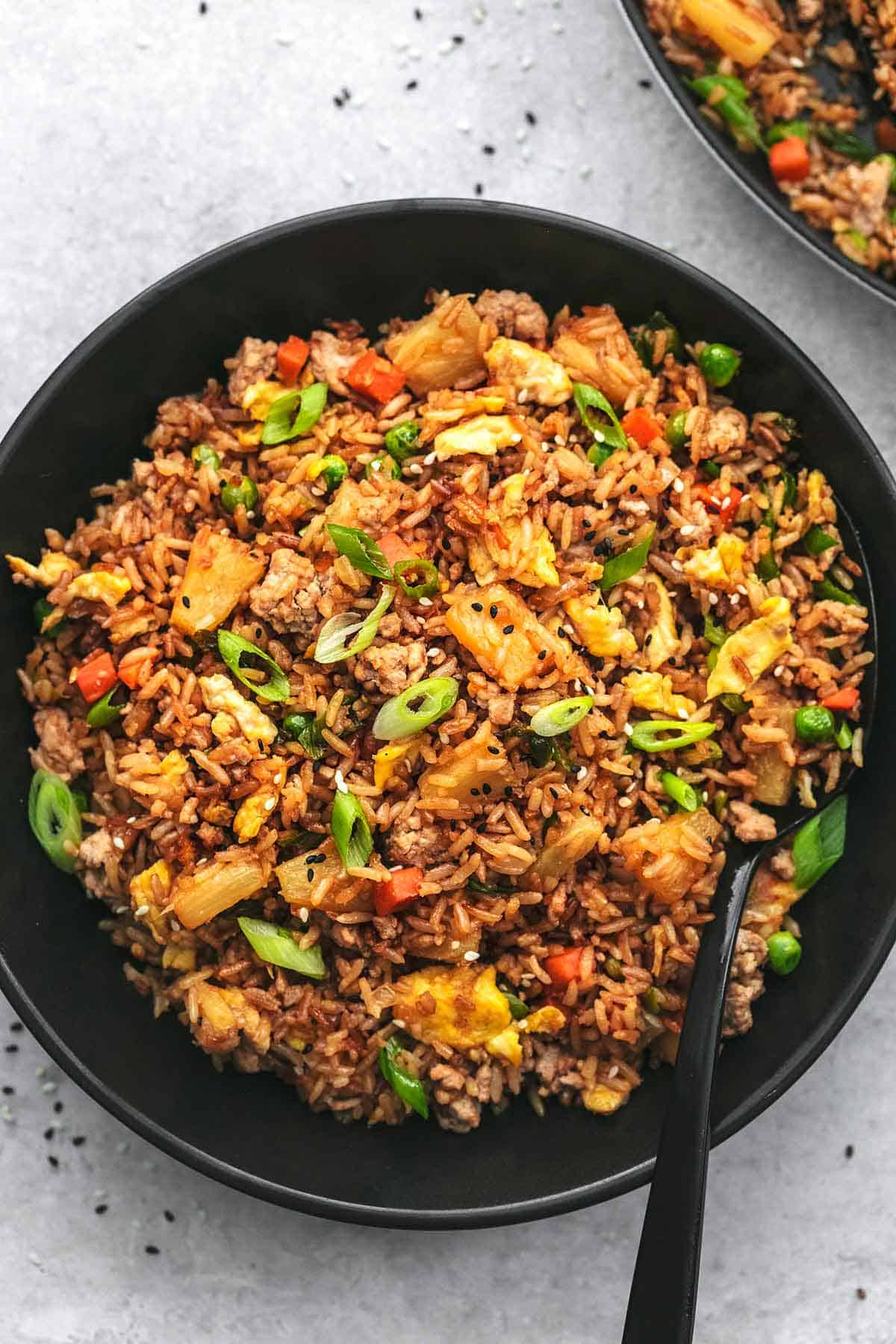 More Tasty Dishes You'll Love
Did you make this Pork Fried Rice recipe? YAY! Please rate the recipe below!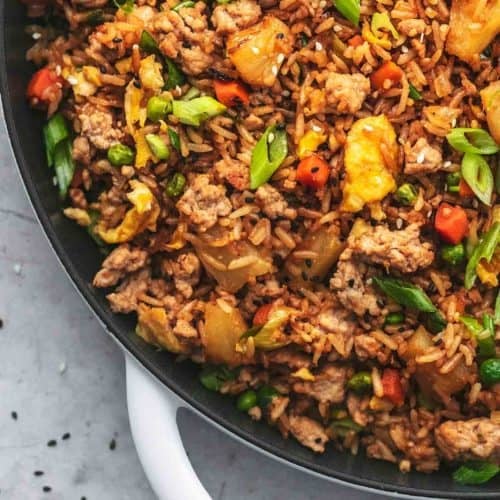 Pork Fried Rice Recipe
What do you get when you combine ground pork, rice, a bunch of veggies, Asian spices, eggs, pineapple and more? The most delicious 20-minute pork fried rice ever of course! 
Ingredients
1

pound

ground pork

4

cups

cooked white rice

¼

cup

sesame oil

½

white onion

-

diced

⅓

cup

soy sauce

½

teaspoon

garlic powder

¼

teaspoon

ground ginger

¼-½

teaspoon

crushed red pepper flakes

1

cup

frozen peas and carrots

6

green onions

-

chopped

3

eggs

-

whisked

1

cup

pineapple chunks
Instructions
In a large skillet over medium-high heat, cook the ground pork until browned all over being sure to break up into small pieces with a wooden spoon or a spatula as it cooks. Transfer to a dish and cover to keep warm.

In the same skillet, add oil and onions and saute for 1-2 minutes til tender.

Stir in rice, soy sauce, garlic powder, ginger, and red pepper flakes. Cook, stirring occasionally, for 5-8 minutes until rice is browned.

Stir in carrots and peas and pineapple for 2-3 minutes til heated through.

Gently push the contents of the pan to one side to make room to cook the eggs. Add whisked eggs to empty portion of the pan and stir for 2-3 minutes til cooked. Stir into the rice.

Stir in green onions and cooked pork and serve.
Notes
Spice it up: add 1/4-1/2 teaspoon crushed red pepper flakes or 1 tablespoon sriracha sauce to give this dish a kick! 
Nutrition
Calories:
375
kcal
,
Carbohydrates:
31
g
,
Protein:
16
g
,
Fat:
21
g
,
Saturated Fat:
6
g
,
Cholesterol:
102
mg
,
Sodium:
613
mg
,
Potassium:
339
mg
,
Fiber:
2
g
,
Sugar:
5
g
,
Vitamin A:
1874
IU
,
Vitamin C:
7
mg
,
Calcium:
45
mg
,
Iron:
2
mg