Better than takeout, and healthier too – this 30-minute Chicken and Broccoli Stir Fry is bursting with rich, savory flavor and pleases even the pickiest eaters.
Serve this Chicken and Broccoli Stir Fry with this easy Asian Spaghetti Salad, Kung Pao Noodles, or Sheet Pan Chicken Fried Rice.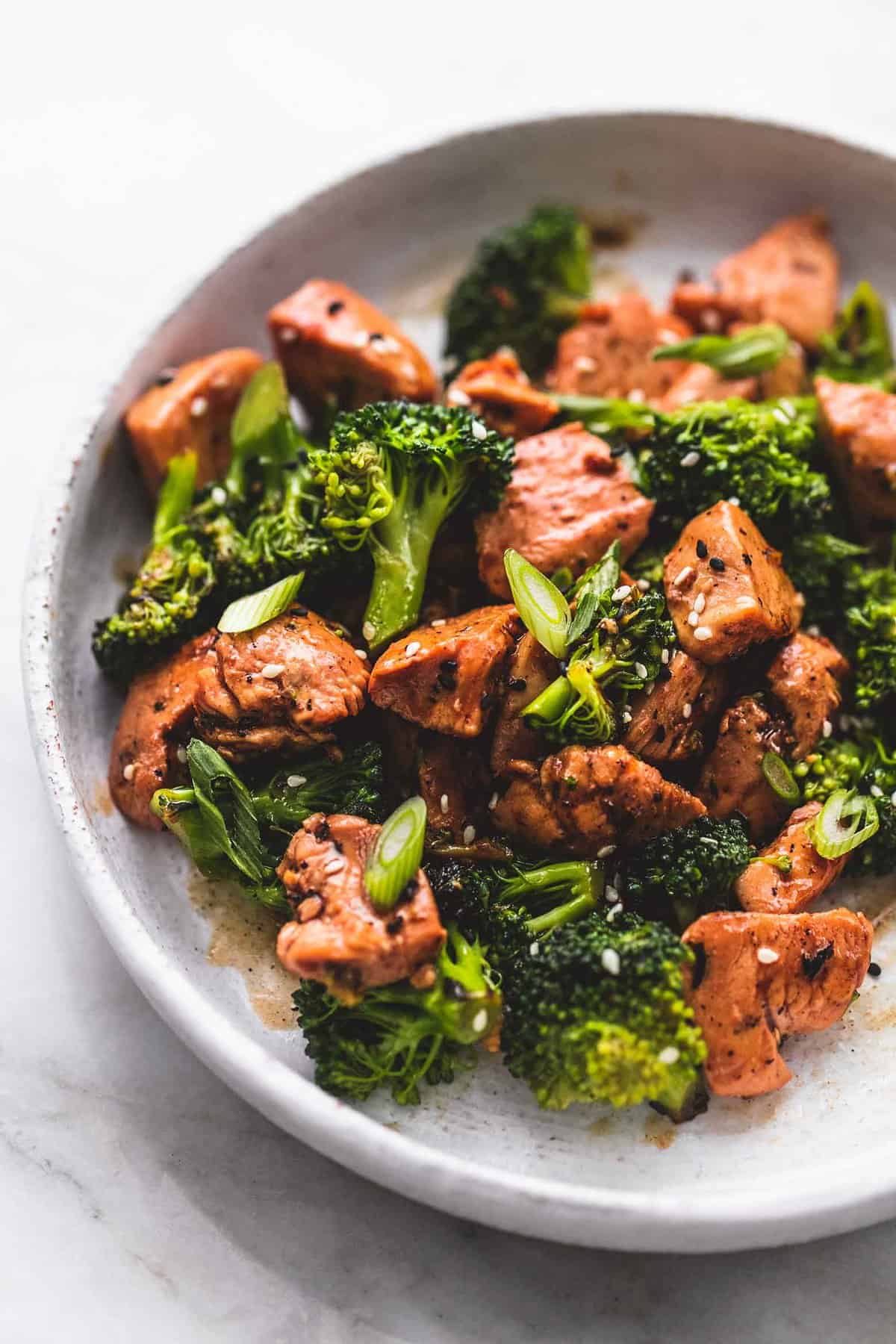 As we wrap up the winter here in Utah, I like to turn my attention to what I call medium-weather meals.
You know those meals: They will work year-round, and are not exactly the winter soups, nor the summer salads, but the tried-and-true dishes that are easy to shop for, easy to put together, easy on the wallet, and easy to win over your dinner guests with.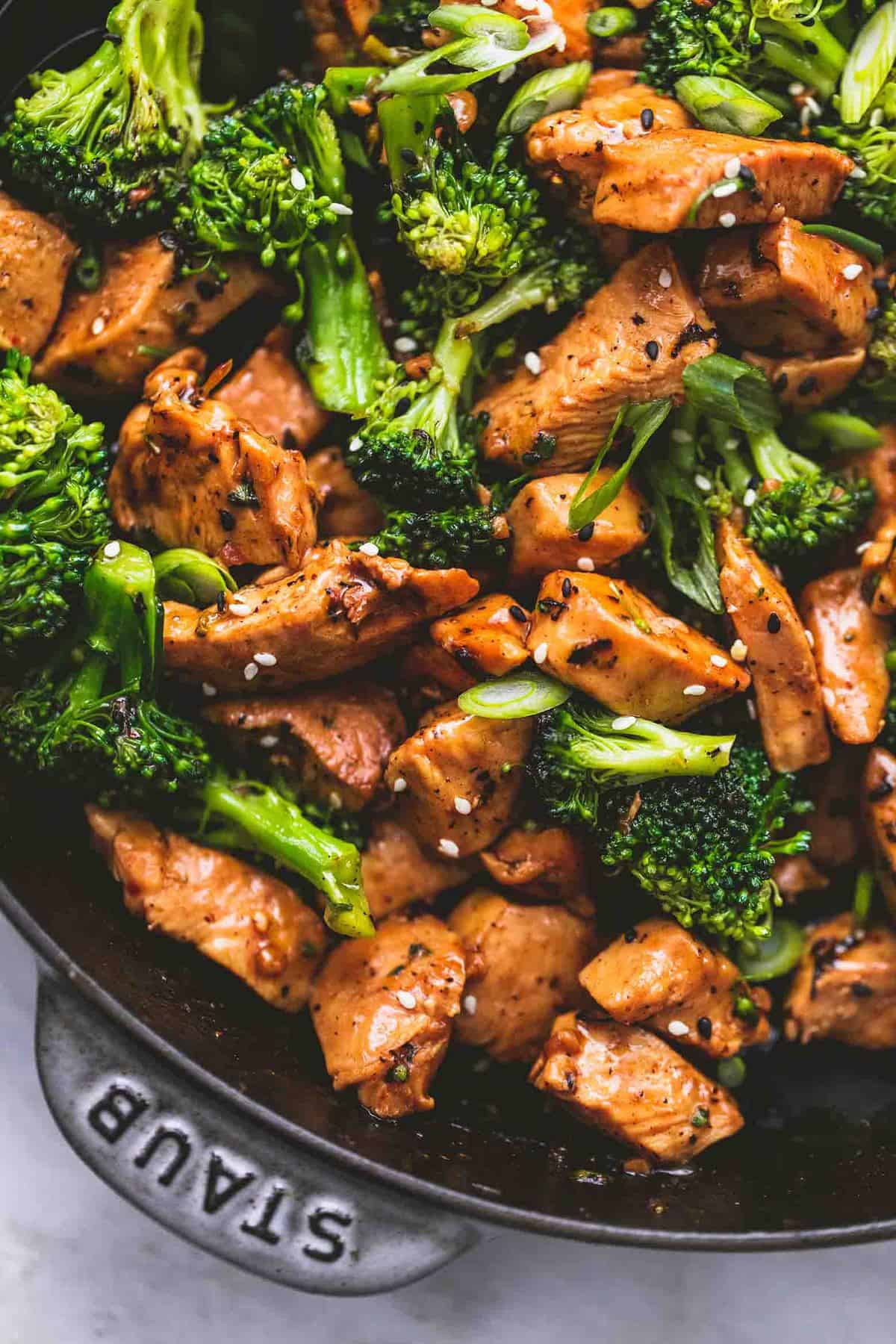 Yep, you know what I'm talking about. It just so happens that stir-fries are one of those medium meals that sees a pretty regular rotation in my household. The great thing about them is that they are so easy to throw together with just about any proteins and veggies you have in the house.
You probably also have most of the sauce ingredients on hand as well. If not, they aren't hard-to-find ingredients, and a little goes a long way. So, for example if you have to buy fish sauce, well, you're going to have that fish sauce around a while. They are more like buy once-a-year ingredients, I suppose.
This time around, I went for the classic Asian pairing of chicken and broccoli. These two ingredients go together so well. The chicken is so good at carrying the flavors of just about anything you throw at it and the broccoli adds a great crunch, a wonderful color, and some excellent nutrients to boot.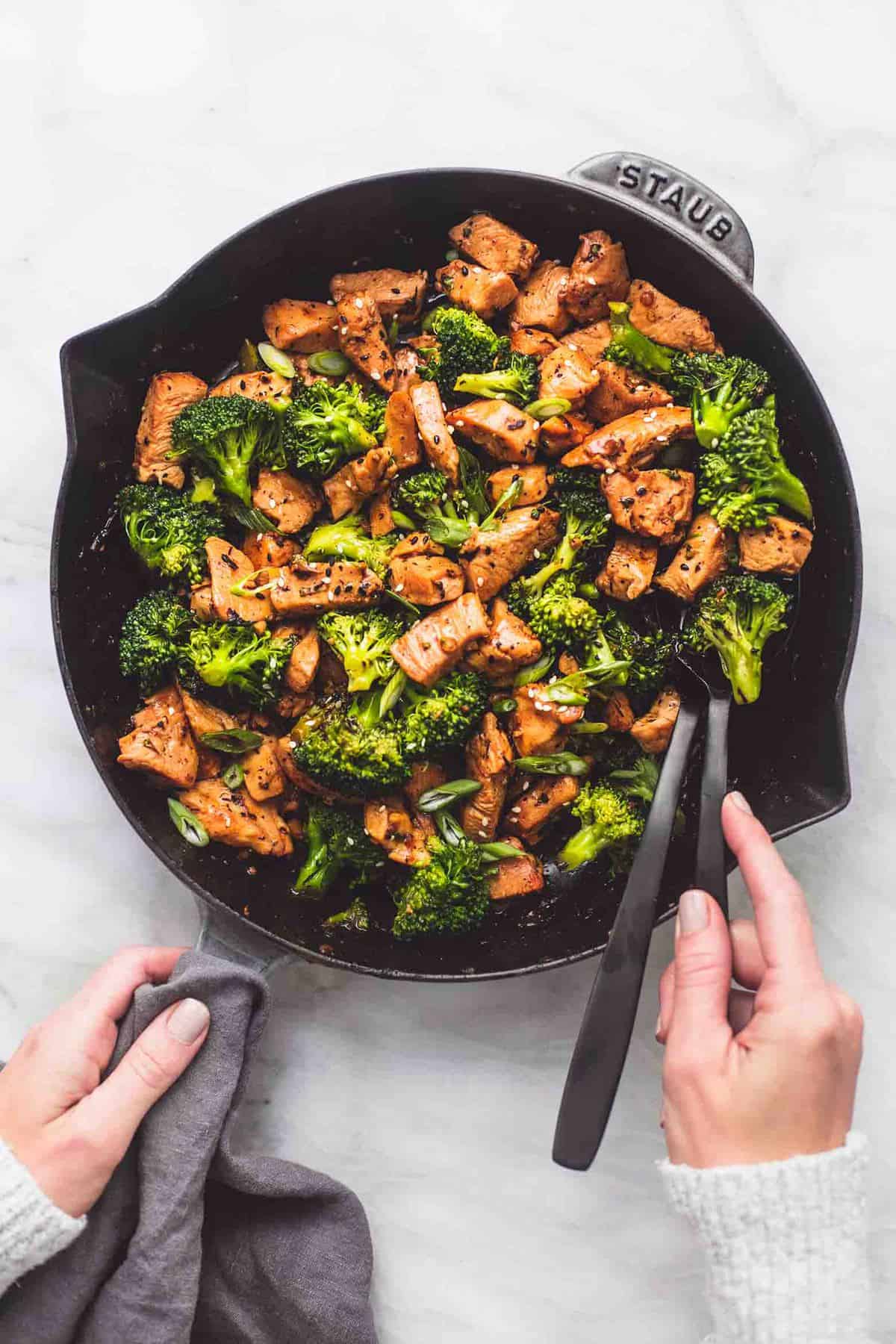 What is in Chinese Five Spice?
Chinese 5 spice is a mixture of spices that is used often in Chinese and Taiwanese cooking. It is said to encompass all of the five flavors: sweet, sour, bitter, salty, and umami. It comes by all these five flavors with five different spices. The spices are usually a mix of Chinese cinnamon, Sichuan peppers, fennel seed, star anise, and cloves. But sometimes some substitutions will have been made, and you'll find anise seeds, ginger, nutmeg, turmeric, or even orange peel in the seasoning.
Don't stress your spice mixture too much, though. I confess I've never actually read and compared different jars of Chinese 5 spice to see if the ingredients have varied. It all tastes just fine whenever I use it and I can't tell the difference in my cooking.
How Can I Make My Own Chinese Five Spice?
I admit, I usually just purchase my spices pre-mixed. Sometimes, I will make my own but often, I forget and just rely on what's in my spice drawer. However, if you want to make your own Chinese 5 spice blend, you'll need a mixture of star anise, Szechuan peppercorn, fennel seeds, cinnamon sticks, and cloves. Measurements vary for each depending on which recipe you use. My suggestion is to find one that suits your tastes (for example, I like star anise in foods and spice mixtures, but I don't like too much of it, so I would opt for a recipe that didn't use as much of that particular spice).
You can grind up all of the spices in a spice mill, a coffee grinder, or even a blender, if it has a sharp, fine enough blade that can handle small ingredients such as spices.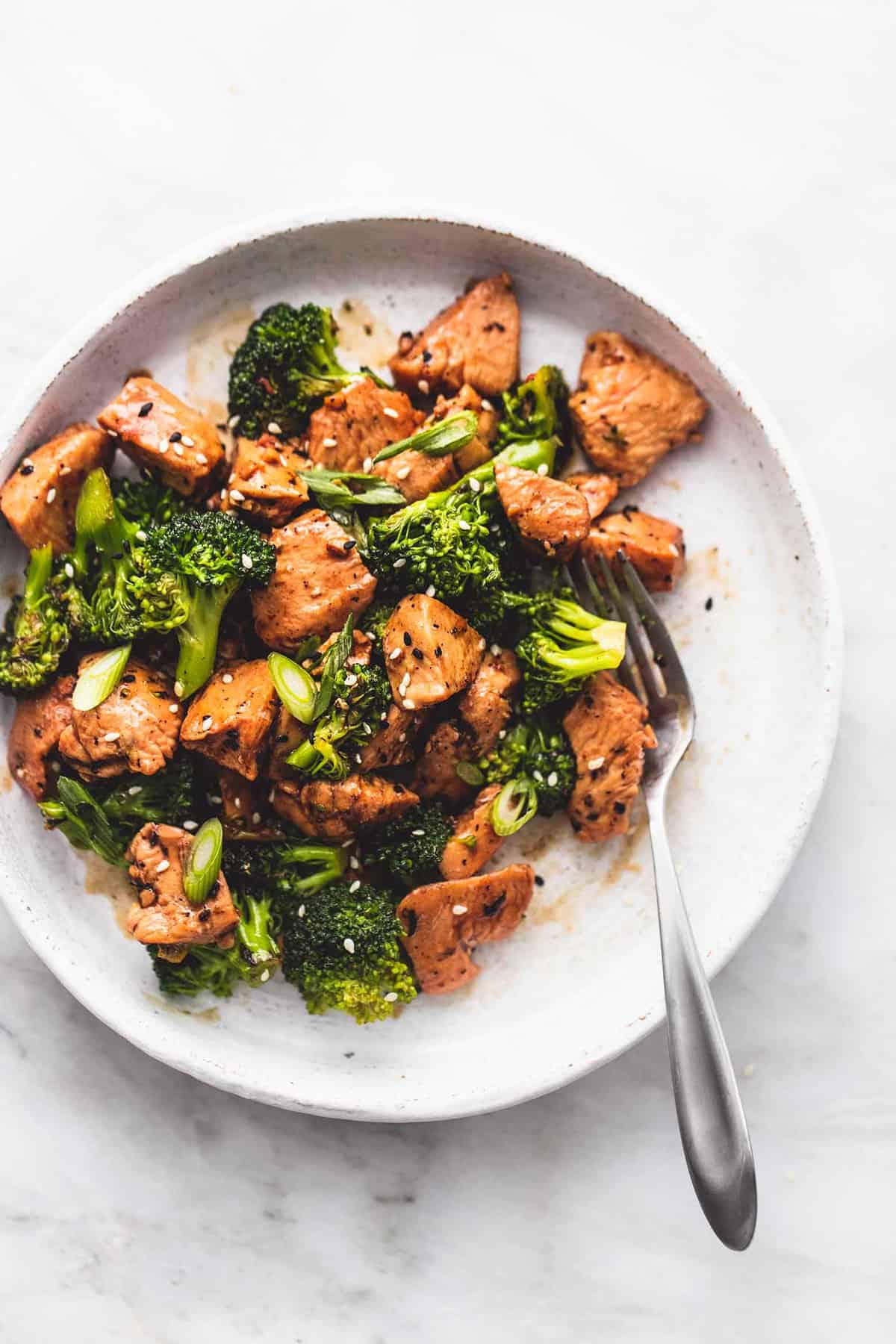 How Can I Customize this Chicken and Broccoli dish?
The great thing about stir-fries is that you can add in just about any ingredients you like. Some of the ways I have customized this include:
Swapping out the protein for another one. I often use steak and pork instead of chicken. I also have made similar dishes using shrimp and/or scallops. You could also use tofu (pressed dry) or chickpeas for a vegetarian option that still has a lot of protein.

If you want this to be a true vegetarian dish, double up on veggies and skip the meat all together. Instead of chicken broth, use vegetable broth. If you don't want to use (or don't have) fish sauce, you can substitute worcestershire sauce (use sparingly though).

Other vegetables that go great in stir fries include mushrooms, string beans, baby corn, water chestnuts, bamboo shoots, cauliflower, bell peppers (any variety), and onions.

I typically serve this dish over a bed of white or brown rice. But you could also use a wide egg noodle, rice noodles, or a heartier grain, such as quinoa.

Make this stir-fry spicy by adding a couple of red chilis or slices of jalapeno to the veggie mixture. Or, make this dish as-is and add spice at the end. Adding red pepper flakes, jarred, pickled jalapenos, or hot sauces are all ways I like to take the spice level up without inflicting spicy food on everyone that might be joining me for dinner.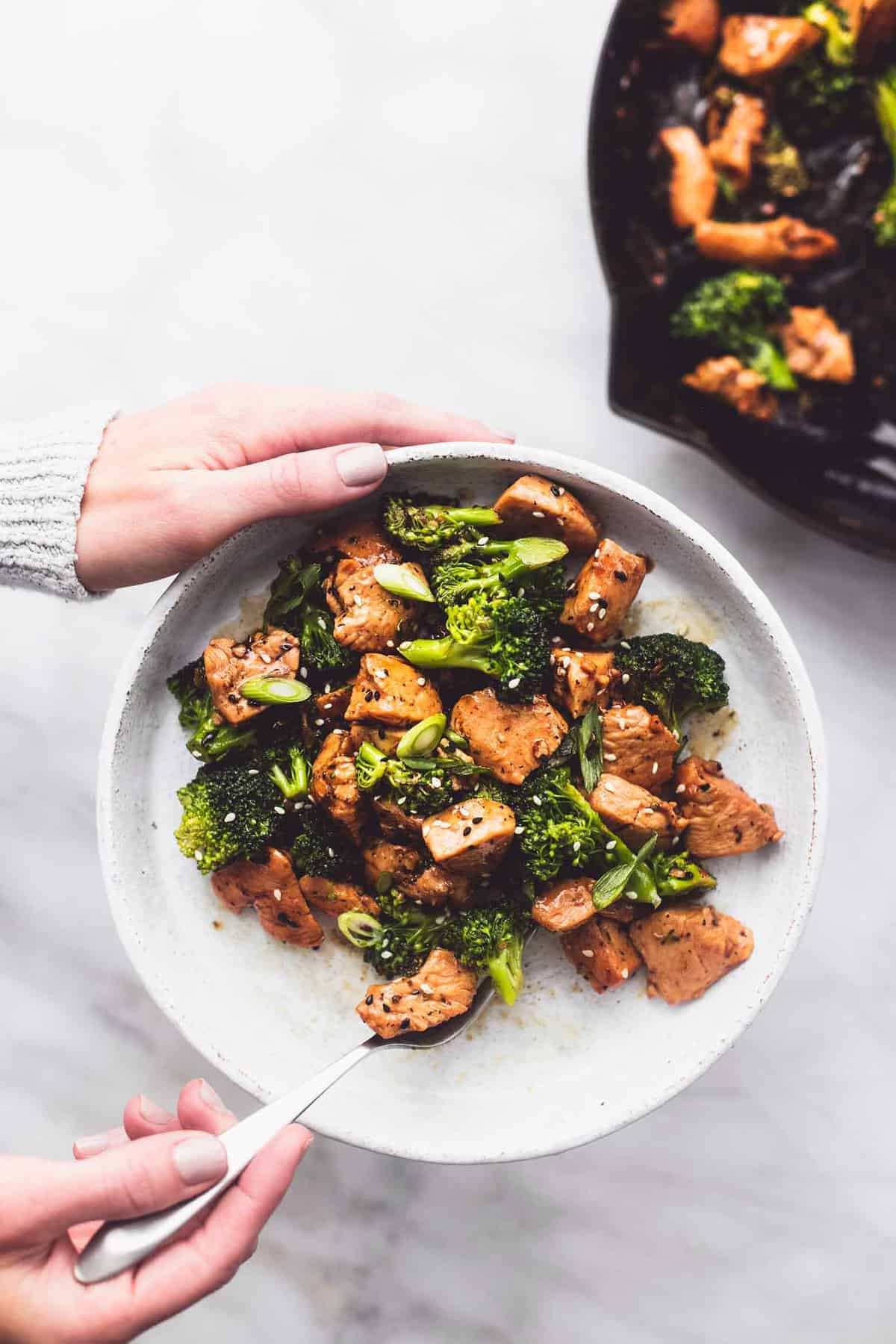 Is Chinese Chicken and Broccoli Bad for You?
While takeout Chinese food (and any takeout, for that matter) is generally higher in fat and calories, this is a recipe for making this dish at home, so therefore it will be healthier. Chicken is a great source of lean protein and broccoli is a great source of fiber, vitamins C and K, folate, and potassium.
Since you're making this at home, you can also control the oil and fats in your dish. One tablespoon goes a long way and while some of the sauces can be high in sodium, you can always opt for a low-sodium option or skip them all together. That's the great part about cooking at home — controlling what you're cooking with to suit your nutritional needs and making foods as healthy as you want.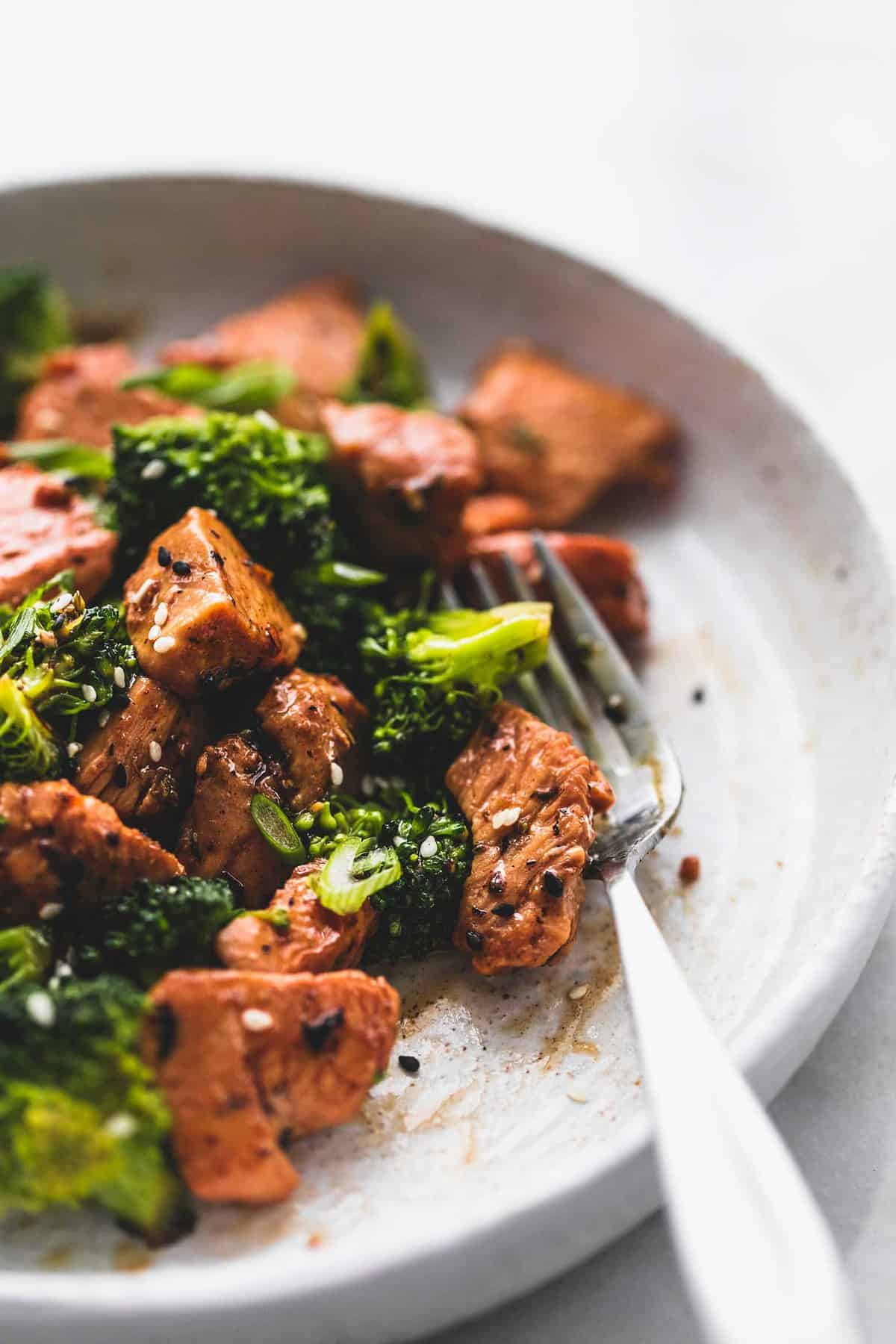 More Asian-Inspired Dishes
Did you make this Chicken and Broccoli Stir Fry recipe? Please rate the recipe below!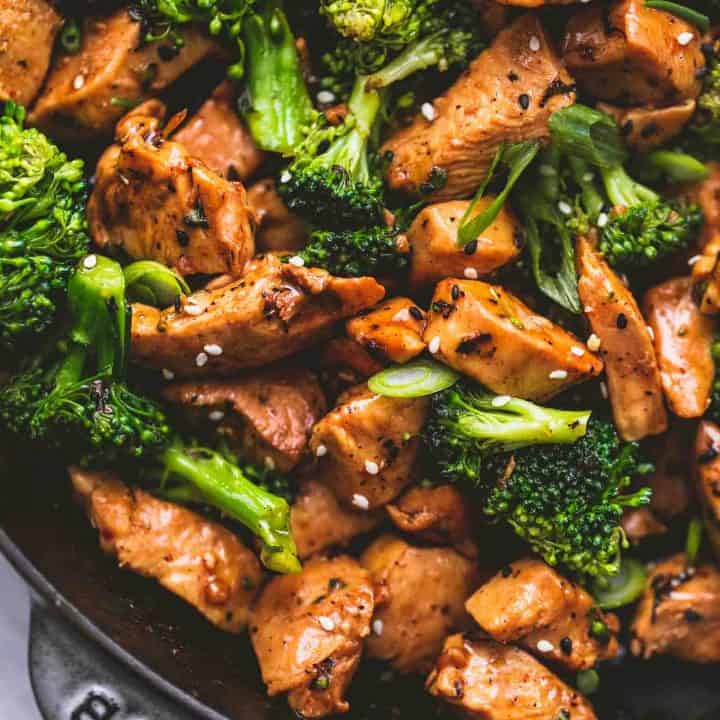 Chicken and Broccoli Stir Fry
Better than takeout, and healthier too – this 30-minute Chicken and Broccoli Stir Fry is bursting with rich, savory flavor and pleases even the pickiest eaters.
Ingredients
2

large (or 3 small-medium) boneless skinless chicken breasts

-

cut into ½-inch pieces

1

tablespoon

oil

1

teaspoon

Chinese five spice

3

cups

broccoli florets

⅓

cup

water

-

or chicken broth
Sauce
1

tablespoon

fish sauce

-

or oyster sauce

2

tablespoons

low sodium soy sauce

2

teaspoons

sesame oil

2

teaspoons

minced garlic

¼

teaspoon

ground ginger

1

tablespoon

honey

2

tablespoons

rice vinegar

½

cup

cold water + 1 tablespoon corn starch

green onions and sesame seeds for garnish
Instructions
Whisk together all sauce ingredients (except for water and corn starch) and set aside.

Drizzle a large skillet over medium heat with oil. Add chicken, season with Chinese five spice, and saute for 6-8 minutes until chicken is cooked through. Transfer to a plate and set aside.

Add broccoli florets to pan, saute 2-3 minutes until broccoli starts to become crisp on the edges. Add 1/3 cup water or chicken broth and cook for 4-6 minutes longer until broccoli is fork-tender.

Add chicken back to pan. Pour sauce into the pan and give it a good stir. Whisk together 1/2 cup cold water and corn starch until dissolved, then stir into the pan. Once sauce has thickened (about 1 minute) cook 2-3 minutes longer, then garnish with onions and sesame seeds and serve.
Notes
Spice it up: add 2-3 teaspoons of sriracha or 1/4-1/2 teaspoon of crushed red pepper flakes to give this recipe a spicy kick.  Veg it up: add any favorite vegetable – like chopped bell peppers, onions, snow peas, or cauliflower. 
Nutrition
Calories:
165
kcal
,
Carbohydrates:
11
g
,
Protein:
15
g
,
Fat:
7
g
,
Saturated Fat:
1
g
,
Cholesterol:
36
mg
,
Sodium:
710
mg
,
Potassium:
466
mg
,
Fiber:
2
g
,
Sugar:
6
g
,
Vitamin A:
442
IU
,
Vitamin C:
62
mg
,
Calcium:
44
mg
,
Iron:
1
mg