This Teriyaki Beef Stir Fry is so easy to throw together in less than 30 minutes with tender steak strips, crisp vegetables, and noodles, all in a bold and savory Asian teriyaki stir fry sauce.
If you love stir fries as much as I think you do, then you should also check out my recipes for Chicken and Asparagus Stir Fry, my Quick & Easy Beef Noodle Stir Fry, and my Mango Chicken Stir Fry.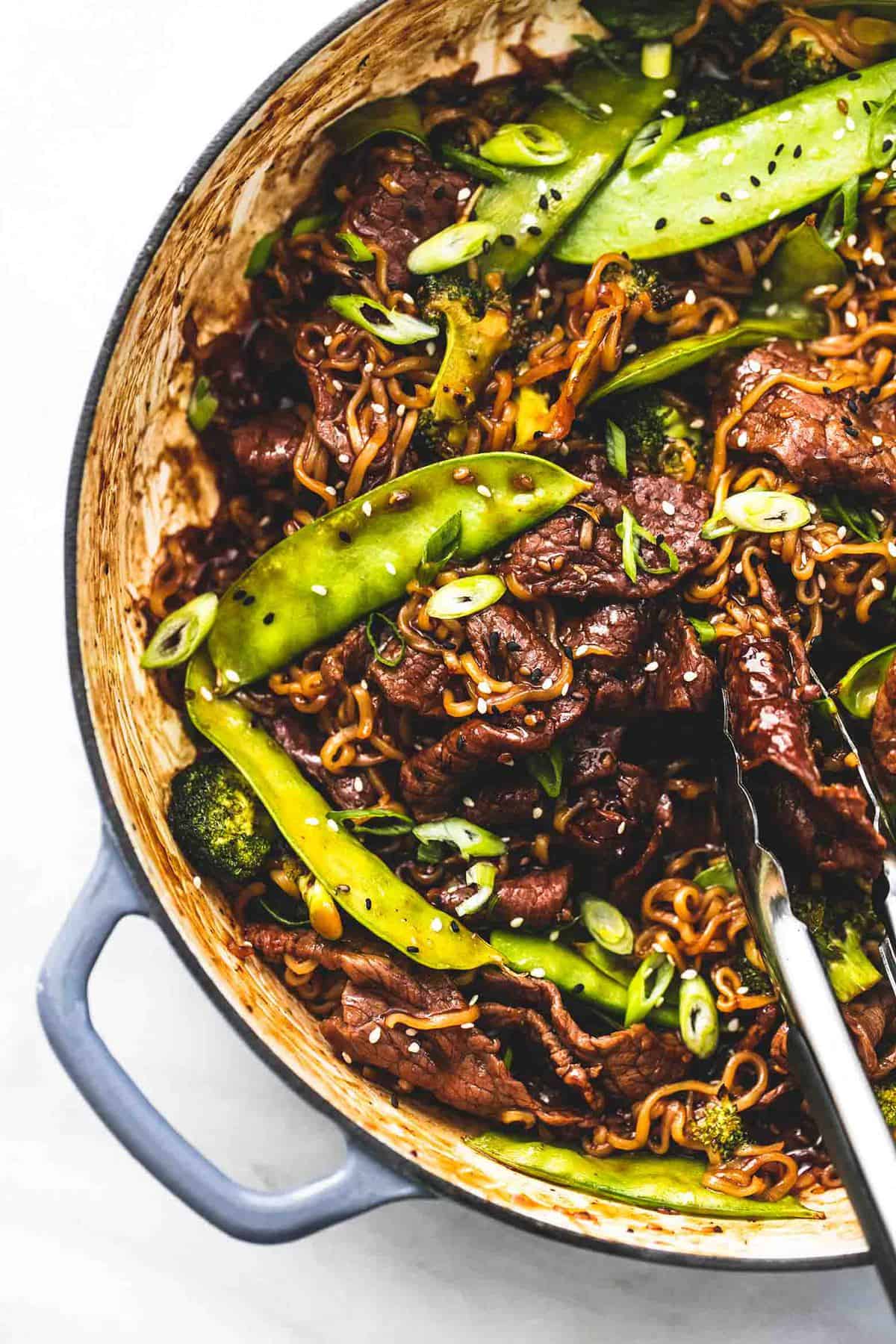 Truth be told, this recipe is (another) attempt at me trying to get my kids to eat foods that are "together" or "touching" because, like most kids, they like all their food to be separate on their plate. I don't mind serving the parts of the meals individually, but I am trying my darndest to not be one of those parents who makes two meals every time — one for the adults and one for the kids. I just don't have that kind of time (or patience).
The good news is, they did enjoy almost all the teriyaki steak stir fry — separately. But this time, they at least moved all the food around into designated piles themselves. Baby steps, people. I'll take it!
Why This Recipe Works
Kid-friendly – I have the evidence! My kids ate this beef stir fry so maybe yours will too. It's different enough to give them some out-of-the-box new dinner experience, and tasty enough to keep them coming back for more. Plus, serve with noodles or rice and they can't resist!
Simple ingredients – Just need some steak, sesame oil, veggies, packaged ramen noodles and homemade teriyaki sauce (also made with simple ingredients) or just buy some pre-made teriyaki if you prefer.
Versatile – I go into it more below, but you can swap out meat, veggies, freshly made teriyaki or bottled teriyaki in this beef stir fry. Make it yours, it'll still be delicious!
Pairs well with rice and noodles – I like to serve this teriyaki beef over white or brown rice or egg noodles, but you could also use spaghetti or low-carb pasta or cauliflower rice if you prefer.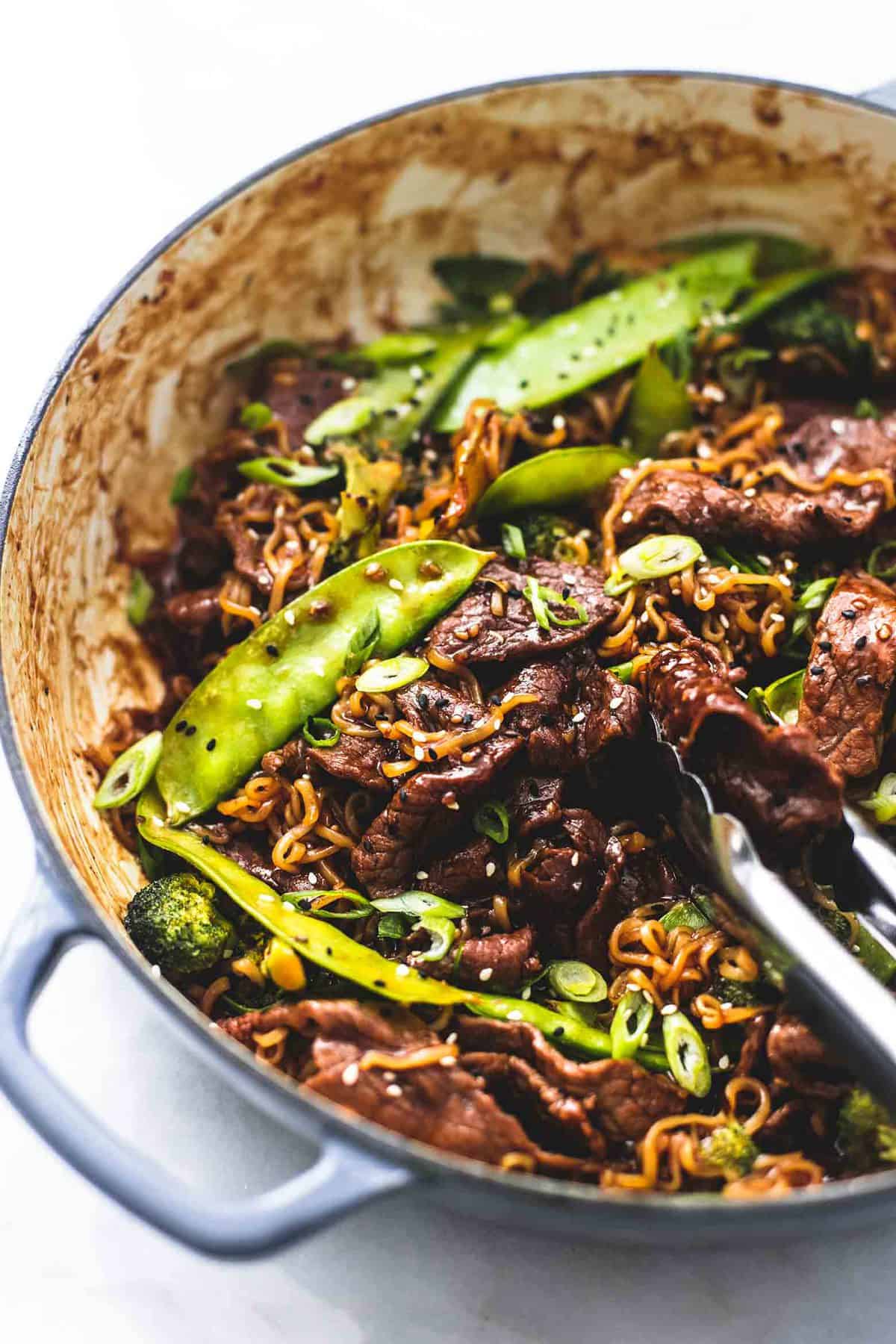 Here's How You Make it
For the simplest beef stir fry, follow these directions.
First, make the teriyaki sauce by whisking together the water, rice vinegar, soy sauce, garlic, ginger, and red pepper flakes. Set aside.
Next, make a slurry in a small bowl by stirring together the corn starch and water till the corn starch is dissolved. Set that aside too.
Now drizzle a large skillet with sesame oil. Add the strips of beef and sauté them over medium-high heat for about 2-3 minutes.
Add the snow peas and broccoli to the same skillet and sauté those for another 2-3 minutes or until the veggies are tender and the beef is browned.
Now stir in the soy sauce mixture (teriyaki sauce you made). Bring it all to a boil.
Add in the corn starch slurry and stir around until it thickens the sauce.
Turn the heat down to low and then stir in the green onions and the cooked ramen.
Add sesame seeds as a garnish if you like and serve.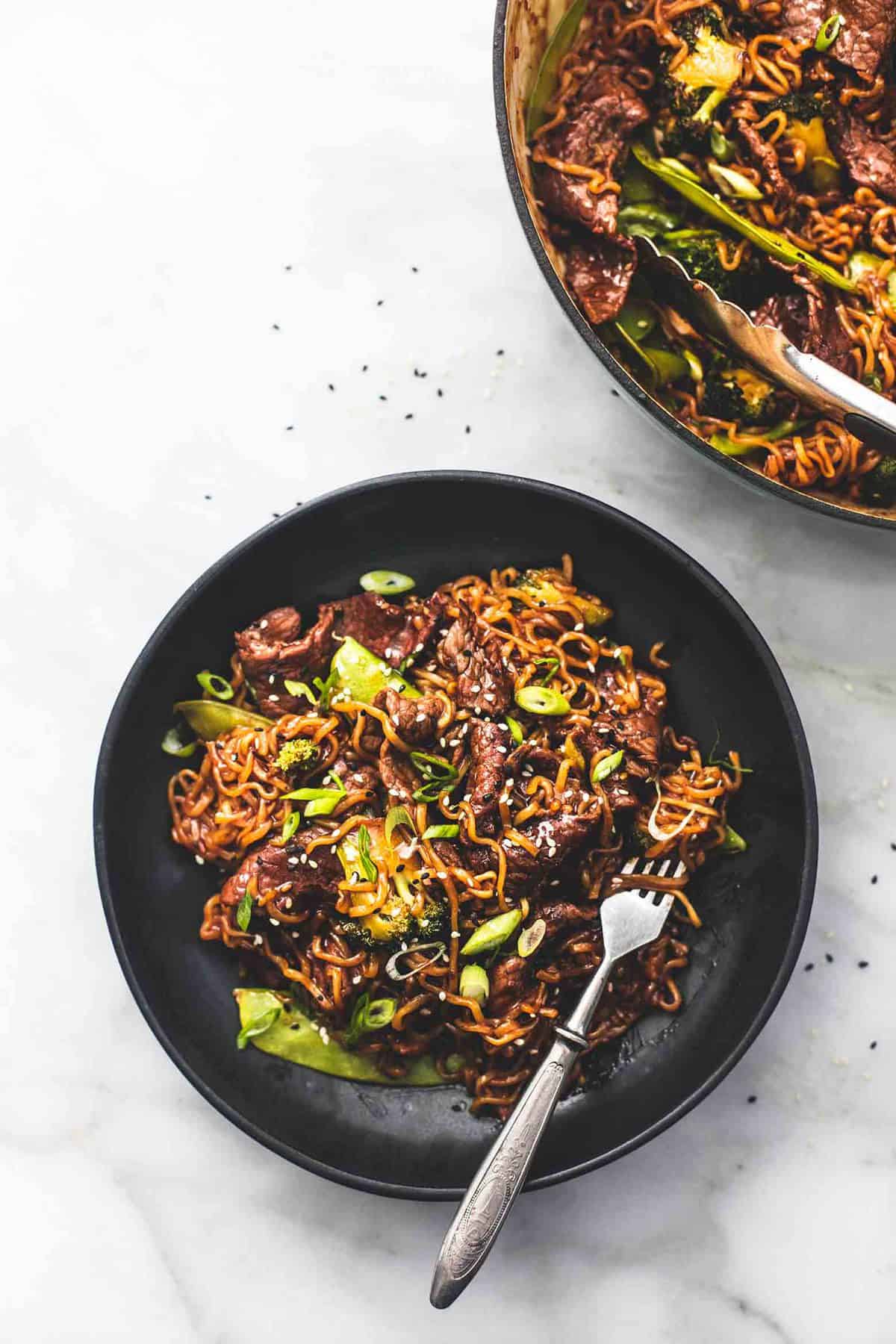 What Do You Put in Stir Fry?
Stir fries are great because they are so easy to put together. That being said, they usually have three parts to officially make them a "stir-fry" but you know, do with this information what you will.
Stir-fries are an Asian-influenced dish that contain a protein, vegetables of some sort, and a sauce, all cooked together in a wok or a big skillet. (A fourth component would be a rice or noodles to put it all on top of, but that's neither here nor there.)
What Vegetables are in Stir Fry?
For this stir fry, I chose to use snow peas, broccoli, and onions since I had them on hand and that's what my kids enjoy (okay not the onions, but those are easy enough to pick off). Other vegetables that go great in stir-fries include:
Zucchini
Carrots
Bell peppers (any color)
Mushrooms
Sugar snap peas
Bamboo shoots
Bean sprouts
Water chestnuts
Cabbage
Cauliflower
Carrots
Celery
Baby corn
Bok choy
Asparagus
Hot peppers
Yellow squash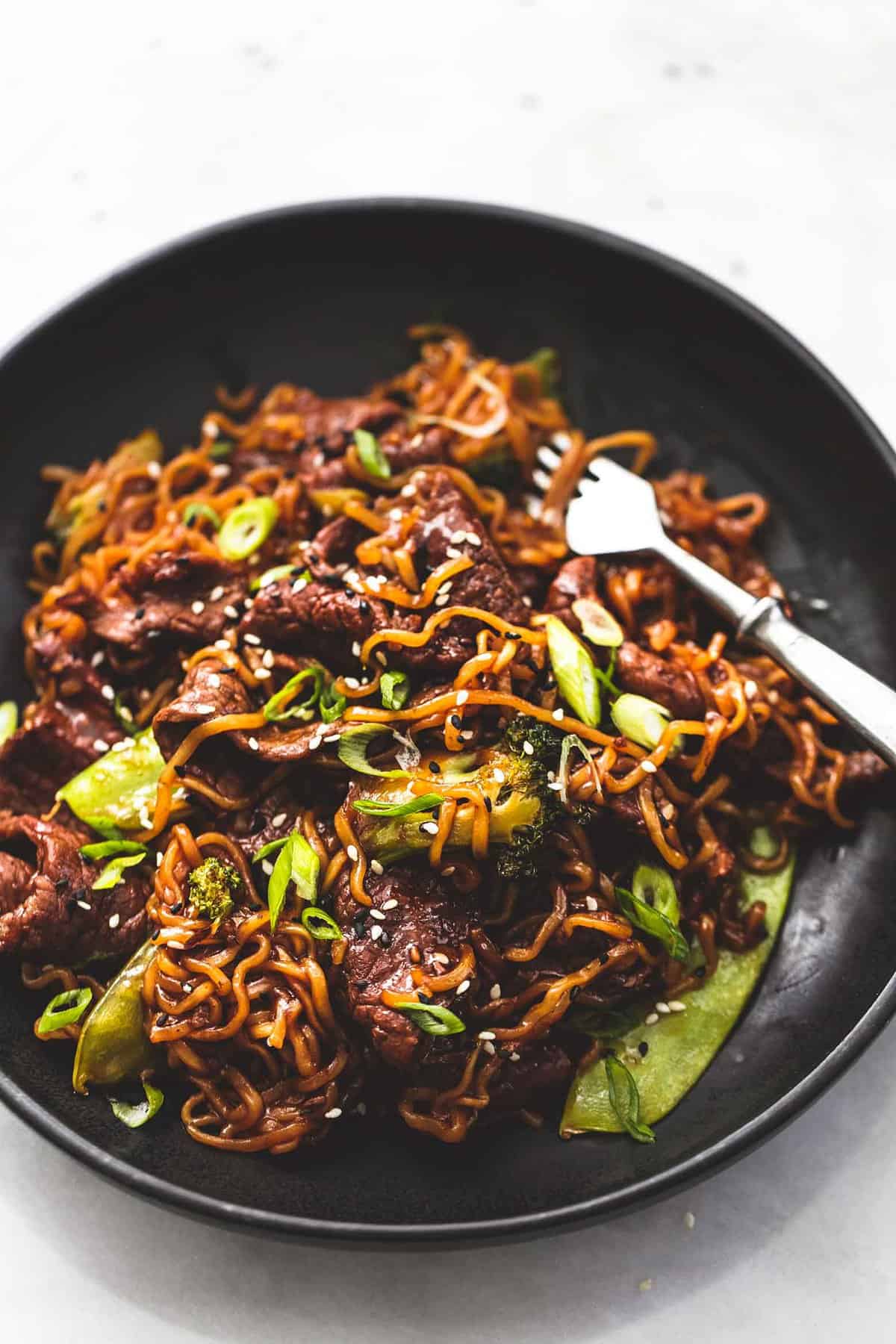 Which Part of Beef is Best for Stir Fry?
For this recipe, I used a flank steak. I think it's easy to stir fry because you can get the meat nice and tender when you cut it across the grain.
I have also used skirt steak and find that that works just as well, and I can't really tell the difference between the two. Also, sometimes I'll find beef already cut into strips and even labeled as meat for a stir-fry, which is just phenomenal and saves me even more time.
You can also use sirloin, or even ground beef if that's what you have in the freezer and you don't mind the difference in consistencies.
Expert Tips
Make this dish vegetarian. Skip the meat altogether and double (or triple) up on the veggies. Or you could add firm, pressed tofu for a protein source or even beans such as chickpeas.
Easy substitute other veggies like zucchini, carrots, or bell peppers or add mushrooms if desired.
You can really use any kind of meat you want for a stir fry. I used flank steak here, but as I mentioned you could also use sirloin, strip, or ground beef; chicken breasts or thighs; pork tenderloin or boneless chops; or any ground meat too for that matter.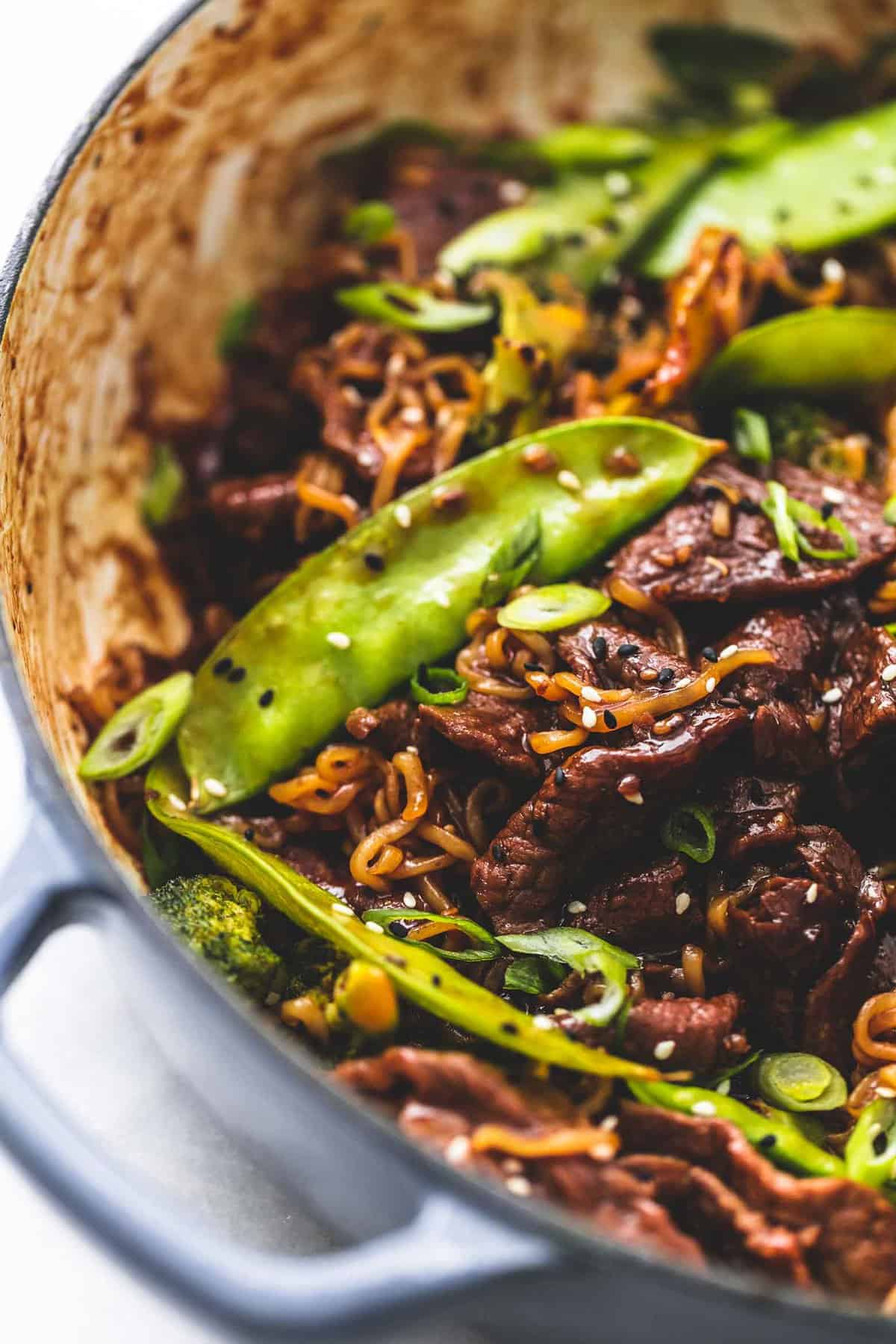 More Beef Recipes
Did you try this amazingly easy and tasty grilled chicken recipe? YAY! Please rate the recipe below!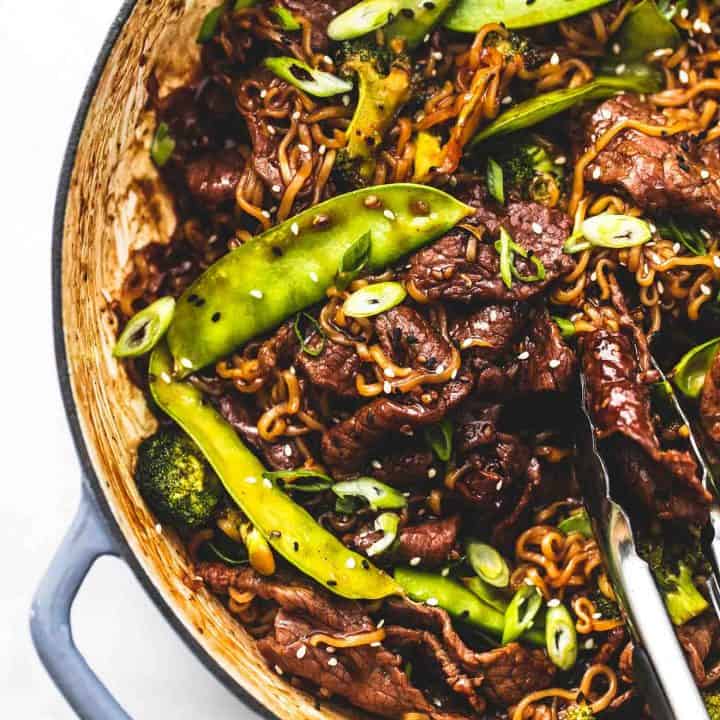 Teriyaki Beef Stir Fry
This Teriyaki Beef Stir Fry is so easy to put together — steak covered in a savory sauce with plenty of veggies and easy Ramen noodles. This is your new in-a-hurry go-to meal! 
Ingredients
1

pound

flank or skirt steak, cut into very thin strips

-

OR look for very thin sliced steak or steak labeled for "stir fry"

2

tablespoons

toasted sesame oil

½

pound

snow peas

2

cups

broccoli florets

3

green onions

-

chopped

2

packages ramen noodles

-

boiled til tender and drained (discard seasoning packet)

white or black sesame seeds, for garnish

-

optional
teriyaki sauce
1

cup

soy sauce

⅓

cup

water

⅓

cup

rice vinegar

⅔

cup

sugar

2

teaspoons

minced garlic

½

teaspoon

ground ginger

¼

teaspoon

crushed red pepper flakes

2

tablespoons

corn starch + 4 tablespoons cold water
Instructions
Whisk together the soy sauce, water, rice vinegar, sugar, garlic, ginger, and red pepper flakes. Set aside.

In a small bowl stir corn starch into cold water til dissolved. Set aside.

Drizzle a large skillet with sesame oil. Add beef strips and saute over medium-high heat for 2-3 minutes.

Add snow peas, and broccoli and continue to saute 2-3 minutes longer until veggies are tender and beef is browned.

Add soy sauce mixture. Bring to a boil.

Stir in corn starch slurry, stir til sauce thickens.

Reduce heat to low, stir in green onions and cooked ramen noodles.

Garnish with sesame seeds if desired and serve.
Notes
Easy substitute other veggies like zucchini, carrots, or bell peppers or add mushrooms if desired. 
Nutrition
Calories:
430
kcal
,
Carbohydrates:
45
g
,
Protein:
33
g
,
Fat:
13
g
,
Saturated Fat:
3
g
,
Cholesterol:
68
mg
,
Sodium:
3332
mg
,
Potassium:
781
mg
,
Fiber:
3
g
,
Sugar:
37
g
,
Vitamin A:
937
IU
,
Vitamin C:
75
mg
,
Calcium:
87
mg
,
Iron:
5
mg