Easy Argentinean marinated Flank Steak with Chimichurri Sauce is bursting with bold savory flavors and just a hint of heat. This quick-seared steak is so tender and juicy it will melt in your mouth.
Pair this incredible chimichurri flank steak with Mexican Street Corn Chicken Pasta Salad, and then try my Argentinian Chimichurri Chicken Recipe!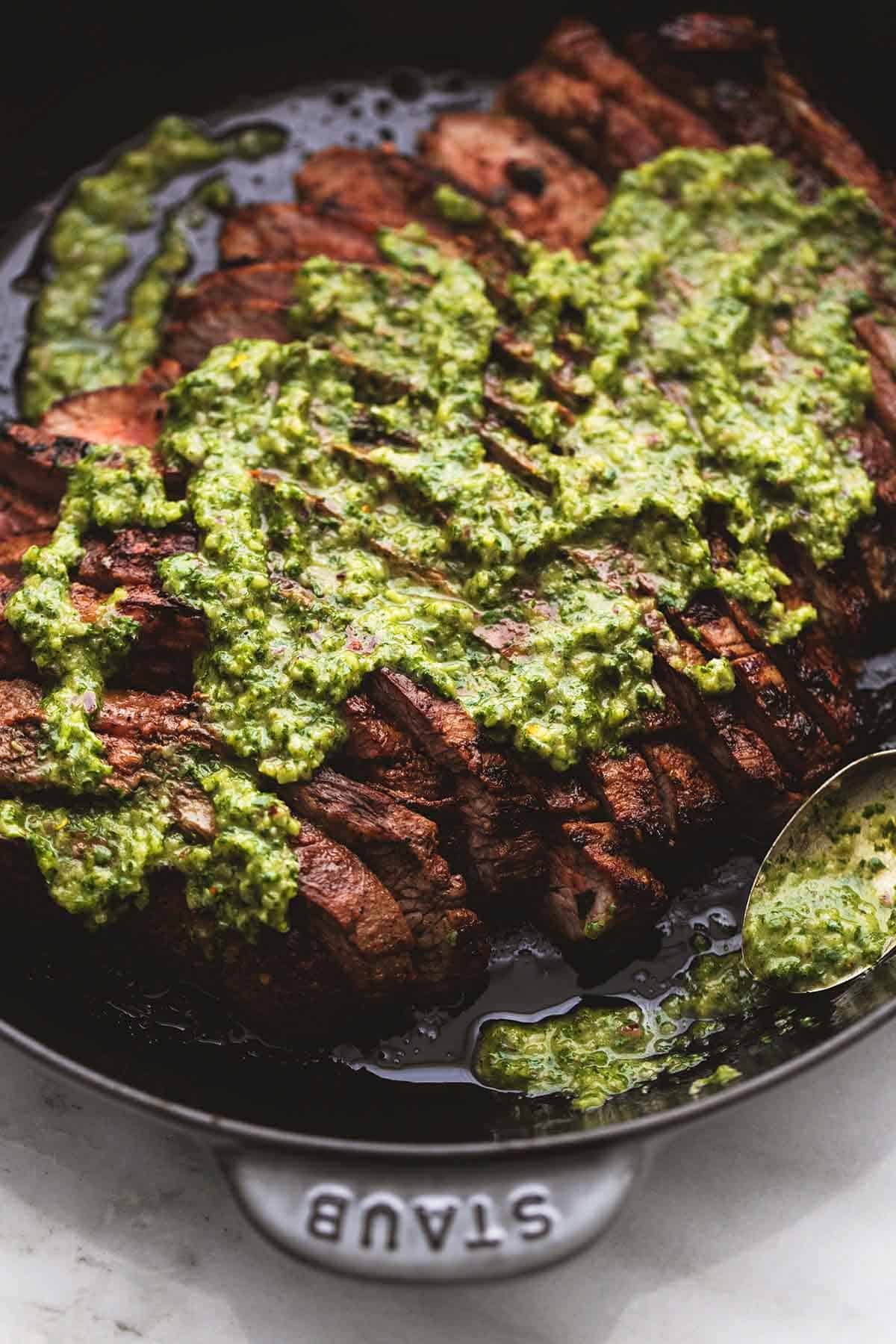 About six months ago I visited Austin TX for the second of two times in my life. The first visit was when I was a fresh man in high school and I spent 8 days seeing all that the city had to offer, visiting the capital, swimming in the humid Summertime heat, and discovering that down there high school football fields are as big as college fields up north. Texas take football seriously, which is probably which I felt right at home.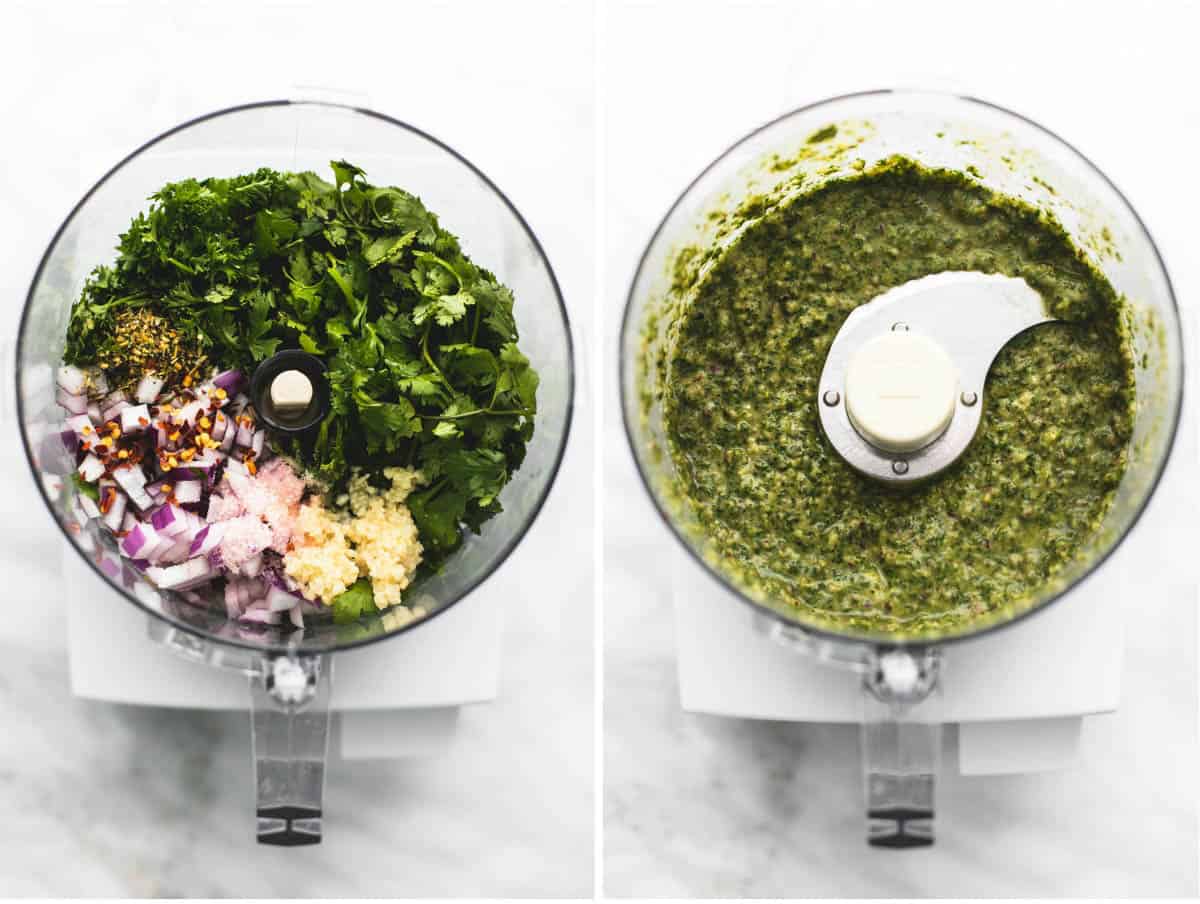 The second trip, last November, was for work. I spent three days eating my way around town including the best donut I've ever had in my life at Gourdoughs (don't worry, I have plans to recreate that sugary overload dream here pretty soon) and my first encounter with flank steak mingled with chimichurri sauce. My friend and fellow blogger Chelsea ordered a flank steak at dinner one night and let me sneak a few bites off of her plate.
That steak melted in my mouth. That juicylicious steak, combined with the tangy garlic chimichurri sauce has been on my mind ever since and a little while back I started working on a recipe to make it happen at home.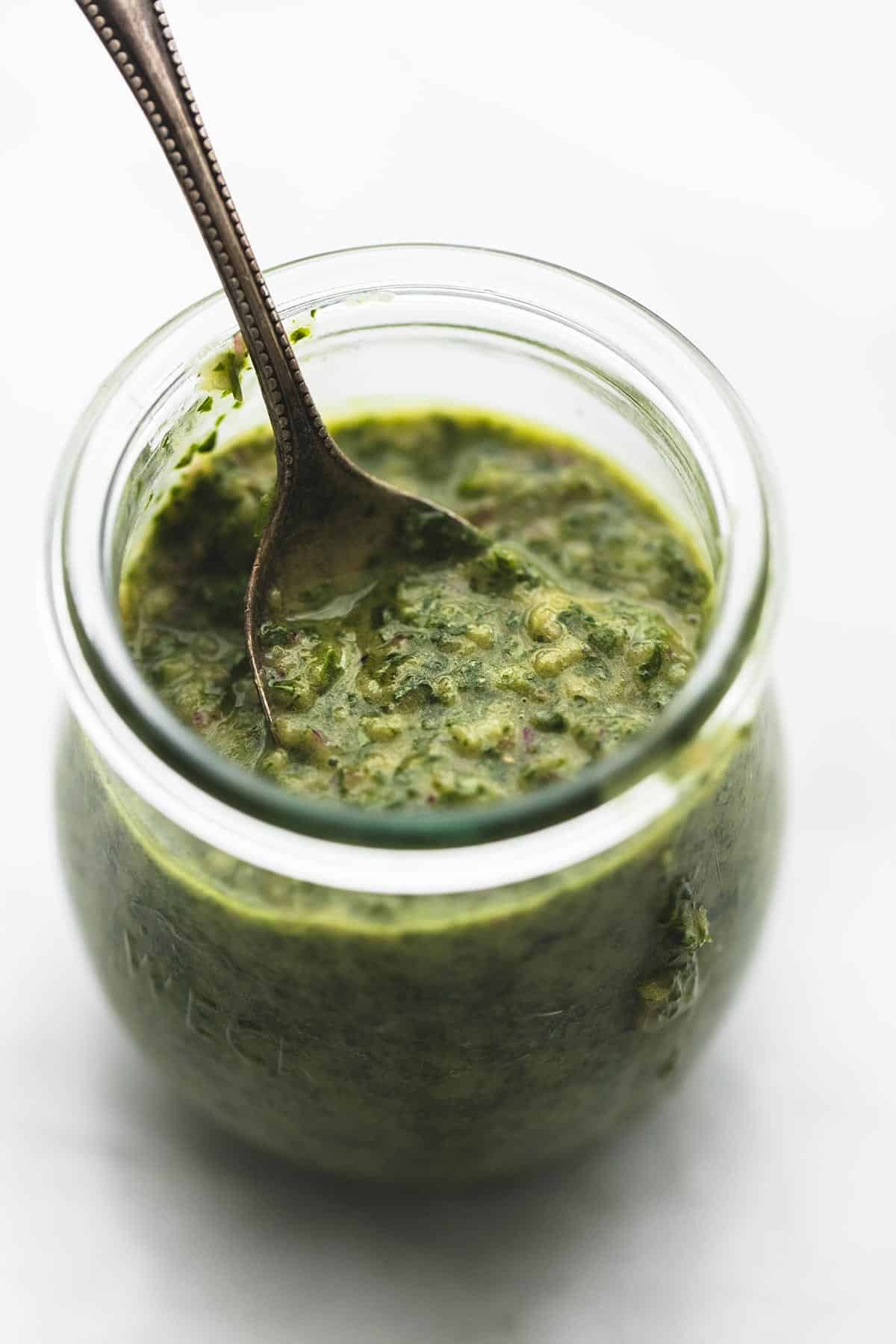 The key is a good marinade – simple, with just a couple of pantry staple ingredients – for at least 30 minutes, or up to 8 hours or overnight. The other really important step is to good the steak quickly at a high temperature. If you cook it too long it will get tough and lose that melt-in-your-mouth quality.
Watch for a blackened outside and a juicy barely-pink (but not red) center. As soon as the pink starts to disappear, your steak is ready. Let it rest for five minutes or so on a cutting board so the juices don't run out everywhere, then cut across the grain in very thin strips.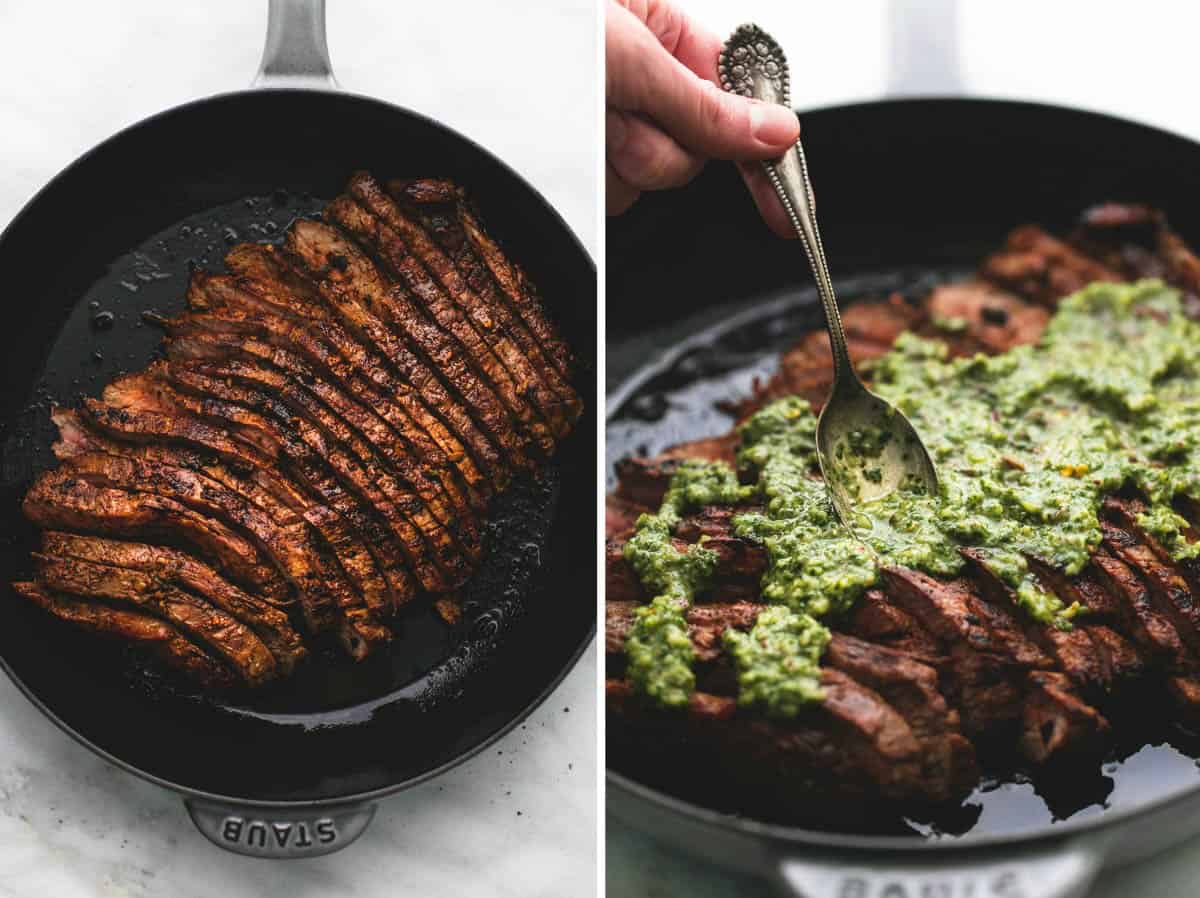 Tip: if you don't know what it means to cut "across the grain", it's easy as can be. Just look at the steak and you will see that it has parallel lines running in one direction – cut across the lines, in the opposite direction. This is called cutting across the grain. It makes a huge difference in how tender your meat will be when you eat it and trust me, you can definitely tell the difference when you're chewing juicy and super tender steak instead of chewy tough steak.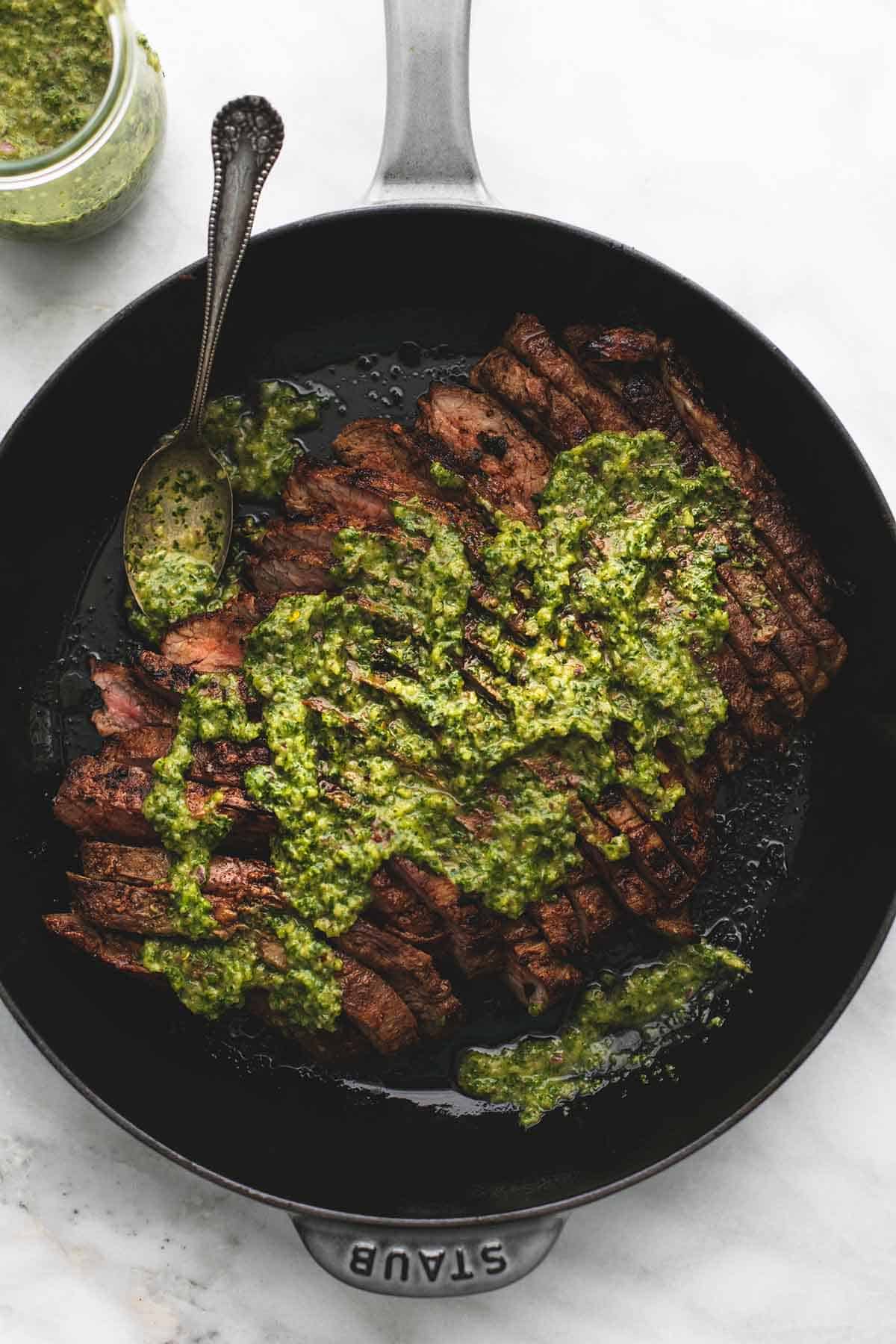 What people are saying about this Flank Steak with Chimichuri Sauce
"I made this dish over the weekend and it was excellent! I loved the marinade, my steak came out perfectly! The next day for lunch I put the leftover steak into a tortilla with cheddar cheese with the chimichurri sauce and made a wrap. I will definitely make this again!" – Sarah
"I made this for my family last night and my Mom stayed for dinner. I'm sad that I didn't take a picture. This was soooo good and it is ALL gone!! My mother said it was like eating at a restaurant. My 11 year old loved it sauce and all. I can't thank you enough!" – Arva
"This is a delicious recipe! The marinade adds flavor and helps tenderize the meat, but it's the sauce that really adds the pizzazz. Who knew such simple ingredients could produce such a "wow" factor. The color and fresh taste are spectacular. The sauce would be great on other meats — chicken, salmon, etc. — but don't fail to make this recipe as is! Delicious!" – Joyce
"Awesome. The family all gave it a thumbs up. It'll be in the weekly rotation." – Carlos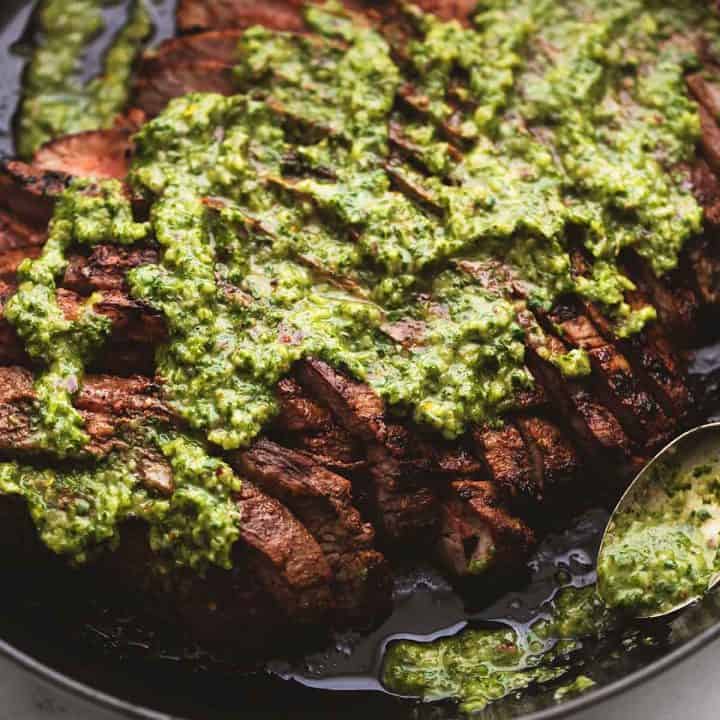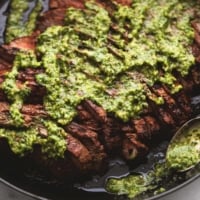 Flank Steak with Chimichurri Sauce
Easy Argentinean marinated flank steak with chimichurri sauce is bursting with bold savory flavors and just a hint of heat.
Ingredients
Marinade
1/4

cup

oil

1

teaspoon

chili powder

1

teaspoon

onion powder

1

teaspoon

salt

juice of 1 lime
Chimichurri Sauce
1/2

cup

cilantro

1/2

cup

parsley

1/2

onion,

diced

1

teaspoon

salt,

or to taste

1/4

teaspoon

pepper,

or to taste

1

tablespoon

garlic

1/2

teaspoon

Italian blend seasoning

1/2

teaspoon

crushed red pepper flakes

1/3

cup

oil

2

tablespoons

red wine vinegar or apple cider vinegar
Instructions
Whisk together marinade ingredients. Combine marinade and steak in a large ziplock bag. Seal and chill for 30 minutes, or up to overnight.

Preheat a an oiled skillet or grill to medium-high heat. Sear steak for 6-8 minutes on each side until heavily browned on the outside and slightly pink in the middle.

Thinly slice steak across the grain and serve with chimichurri sauce on top.