These Garlic Butter Surf and Turf Kabobs are everything you want in a kabob — beef and seafood, on the grill, with that lemony, garlicky, smoky taste you yearn for at the end of a long, hard weekend when you just want to sit back and enjoy a delicious meal with those you love.
If you like seafood and beef, then you'll also love my Shrimp Boil Foil Packs, this Quick Steak Marinade, or these Chili Lime Steak Tacos. 
I love surf and turf. Who doesn't though? The thing is, I don't have time to cook a big steak and worry about also cooking a lobster tail or crab claws. But that doesn't stop me from wanting the best of both worlds all the same…so what's a girl to do?
The answer is, make what I want anyway, of course. Except, make it so that it cooks more quickly but is just as delicious. The easiest way I can think of to do that is to kabob it. Throw some steak and shrimp on a skewer and season it generously with lemon, garlic, butter, parsley, and other mouth-watering seasonings and pat yourself on the back for a job well done.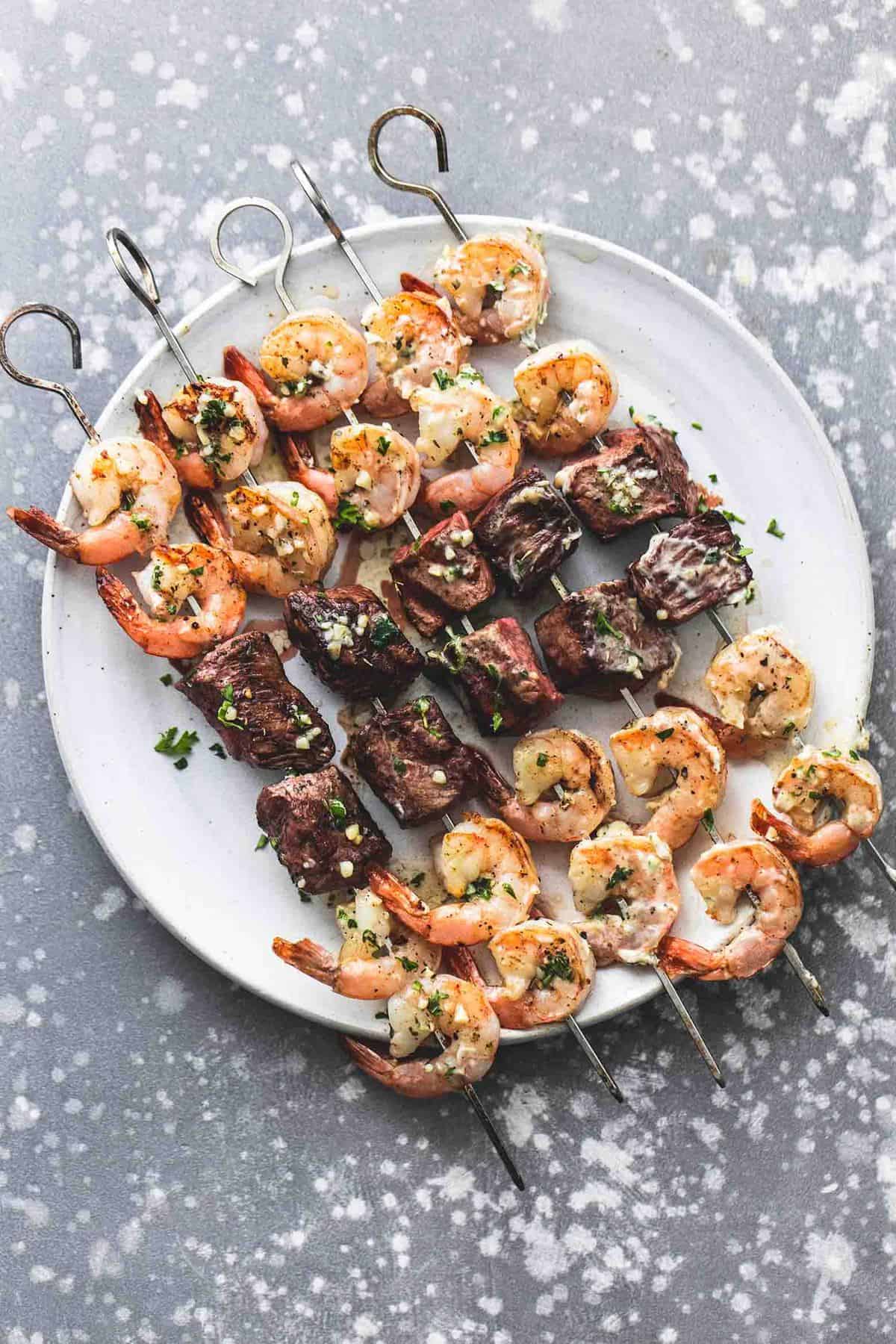 HOW DO YOU MAKE SPICY GARLIC BUTTER SURF AND TURF KABOBS
If you like to eat your food more on the spicy side, well, then I have some recommendations for you. You could definitely take the heat of these Surf and Turf Kabobs up a notch. Here's how I would go about it: 
Add red pepper flakes to your garlic butter mixture.

When your kabobs are done, dip or spread your favorite

salsa

over the top. 

Sprinkle red pepper flakes over the top of your kabobs when they are finished or top with your favorite hot sauce. 

If you just want a little bit of heat, try freshly cracked black pepper on top of your kabobs. 

Marinade in Sriracha in addition to the garlic butter ingredients. 

Add jalapenos or poblanos to the kabobs in between the shrimp and steak and eat a piece of pepper with every bite.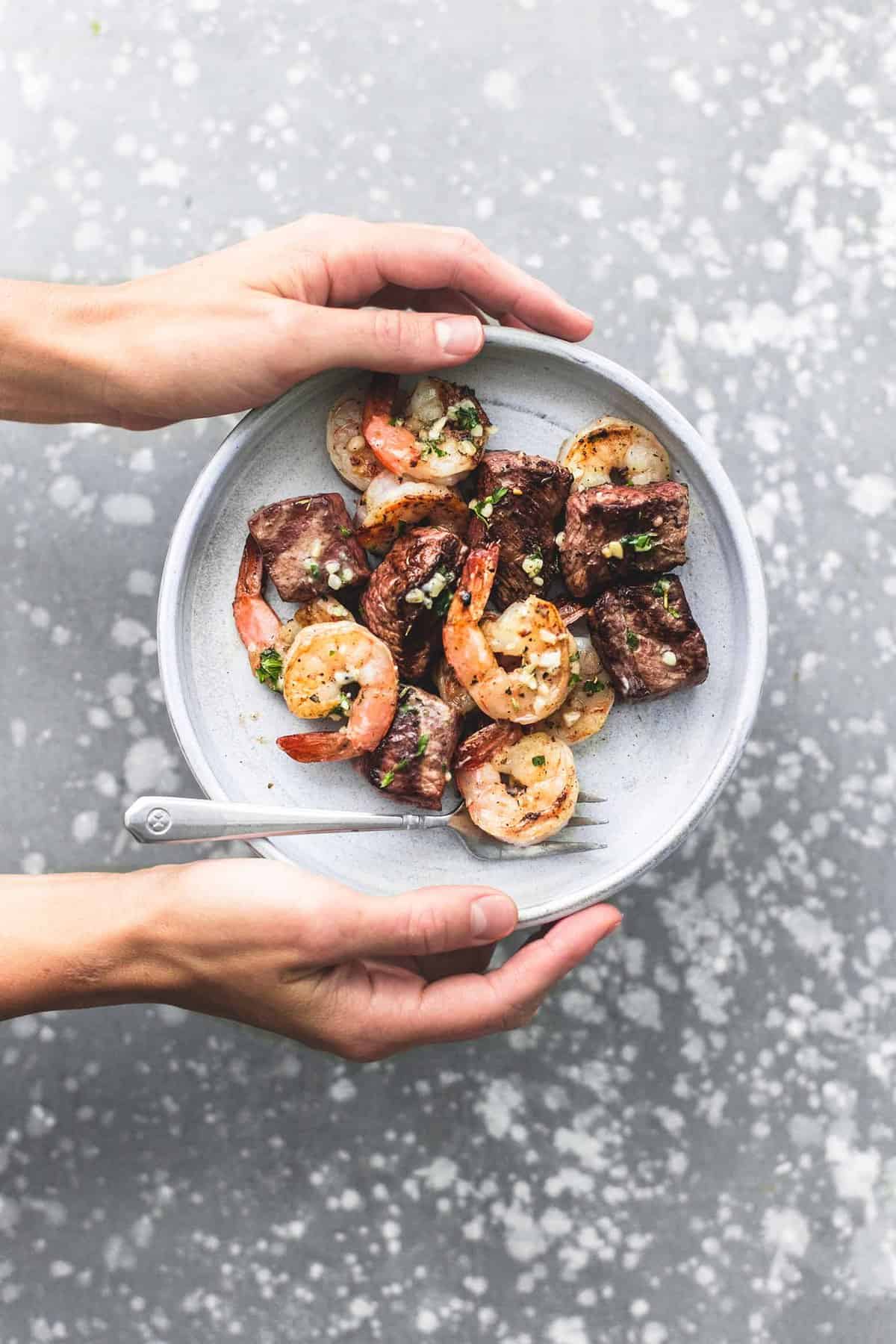 WHY IS IT CALLED SURF AND TURF?

"Surf" refers to seafood and oftentimes includes lobster, crab, or shrimp. "Turf" refers to an animal that eats on land, and most often, beef. A restaurant started advertising a meal as "surf and turf" back in the 60s and the term stuck. 
WHAT FISH GOES WITH STEAK?
Because steak is such a meaty cut of beef, people generally want to complement this or contrast it with their "surf" component. If you are into the larger, meatier cuts of fish, then you'll want to go with swordfish, tuna, salmon, mahi-mahi, or cod to go with your steak. Or if you want some larger shellfish, you could go with lobster or crab. 
If you're looking for something lighter, try smaller pieces of seafood like crayfish or shrimp, which is my preference and what I went with here. Plus, it's so easy to take a bite of shrimp with a bite of steak when you make your surf and turf bite size to begin with. And, let's face it, if you're into presentation like I am then won't it look so much nicer on your kabobs to have steak and shrimp instead of steak and salmon?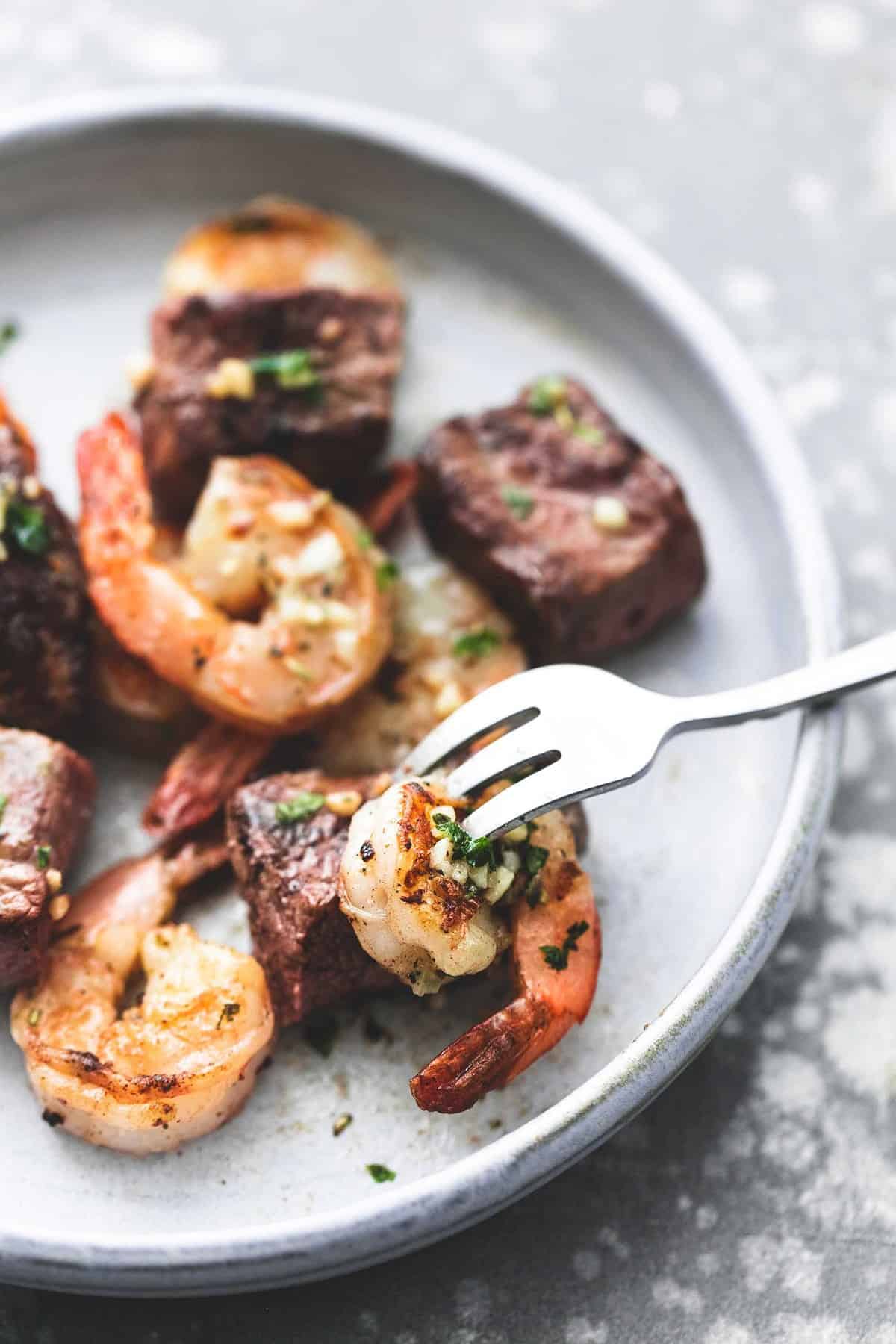 WHAT KIND OF STEAK IS BEST FOR KABOBS? 
For this dish, I chose to use a top sirloin. Other types of steak will work well too. You want to make sure the cut of beef you choose is good for grilling and that you can cut it into 1.5 inch chunks for the kabobs. 
Other kinds of steak you could use include strip steak, tri-tip steak, ribeye, t-bone, flank, petite sirloin, flat iron, or if you're feeling super fancy, filet.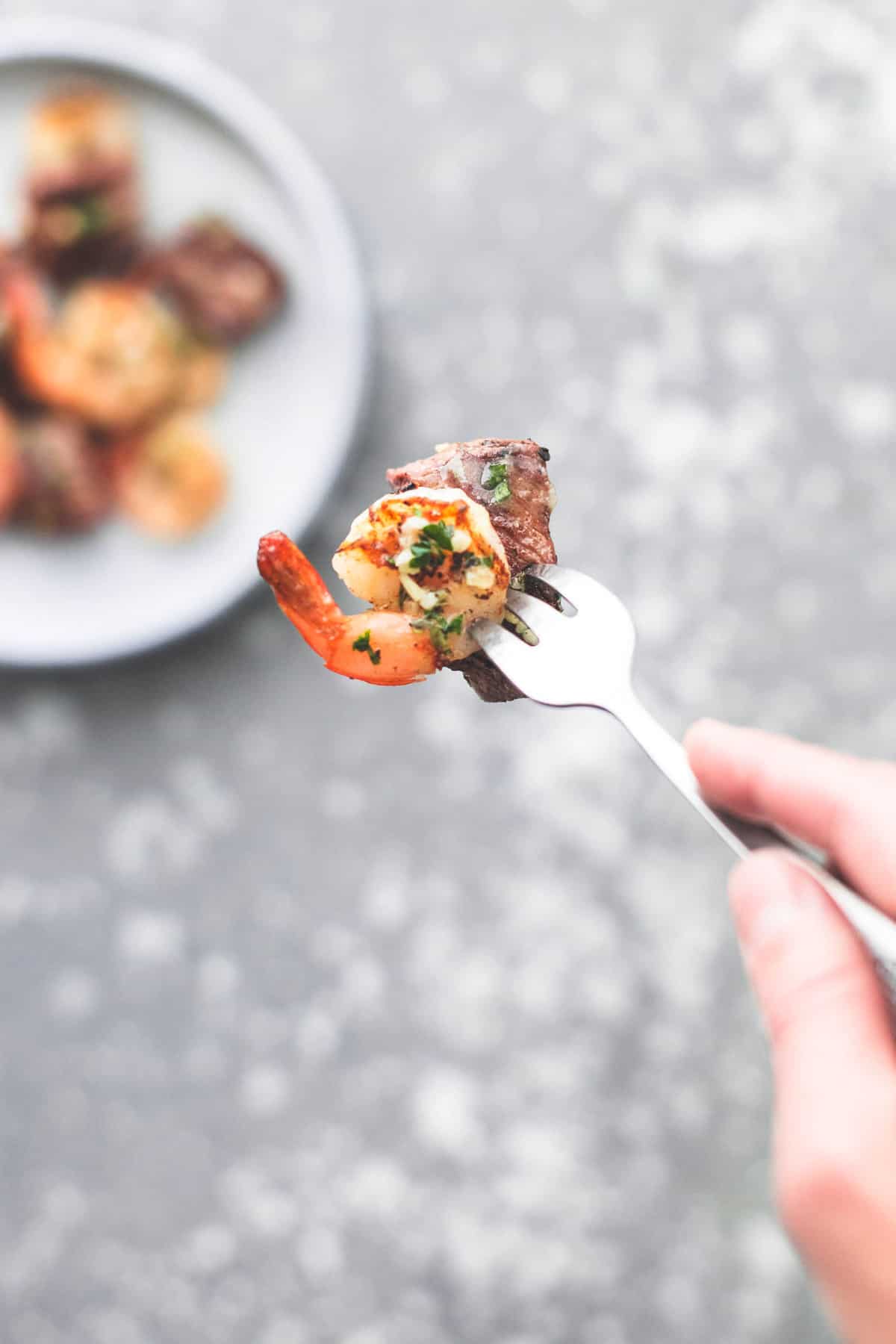 WHAT SHOULD GRILLED SHRIMP LOOK LIKE?
Shrimp will cook down when grilled (or cooked in any way), so that's why I recommend going with the larger varieties so that you still have a substantial piece of shrimp left after cooking. 
You also want to make sure that you buy your shrimp the day you're going to cook them or thaw them right before you are going to cook them otherwise they'll go bad. You can't leave thawed shrimp in the fridge for more than a day without risking a lovely case of food poisoning. 
Taking the shell off the shrimp and removing the vein first is easier than trying to do this after they are grilled. Better yet, buy the shrimp already peeled and deveined. Plus, you won't "peel off" the seasonings that you put on the shrimp when you take the shell off, it will have penetrated the shrimp easily if there is no barrier to begin with. 
Now then, to perfectly grill your shrimp, you want to make sure that it cooks evenly, over medium-high heat on your grill. Turn it several times. When it's done, it should look pink and opaque. (There should be none of those parts that looks like you could almost see through them like before you started cooking them.)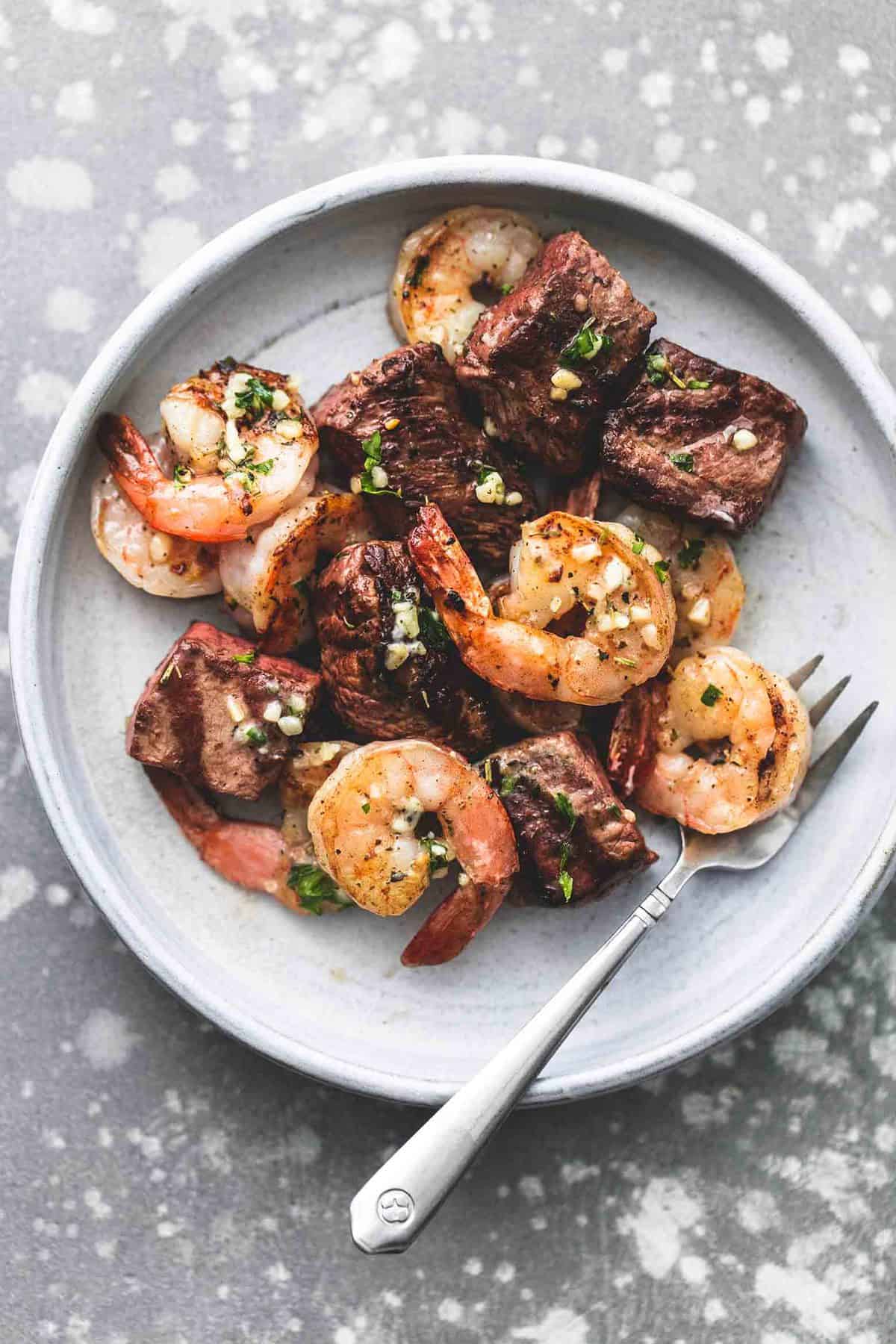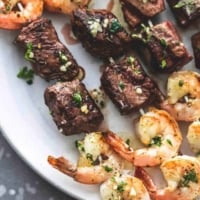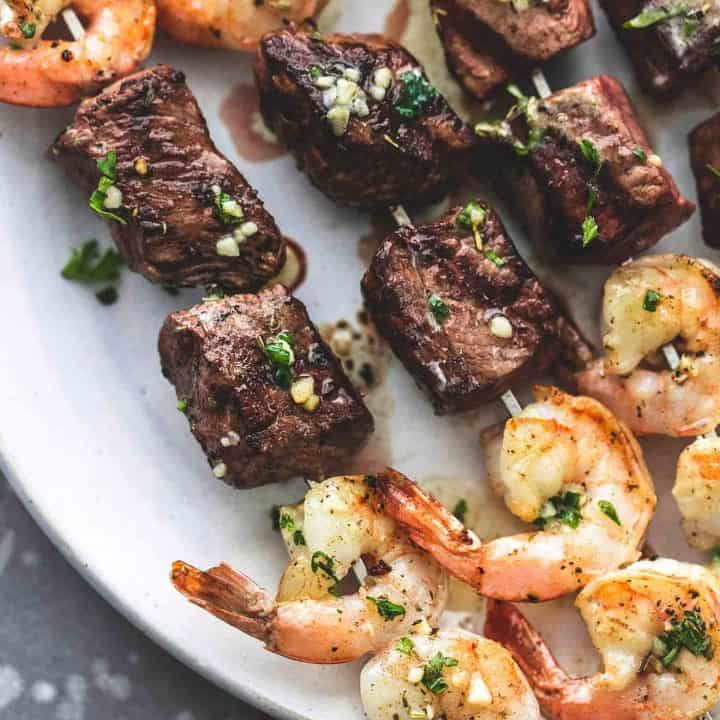 Garlic Butter Surf and Turf Kabobs
These Garlic Butter Surf and Turf Kabobs are everything you want in a kabob — beef and seafood, on the grill, with that lemony, garlicky, smoky taste you yearn for at the end of a long, hard weekend when you just want to sit back and enjoy a delicious meal with those you love.
Ingredients
1

pound

steak

-

cut into 1.5 inch chunks, top sirloin or other grilling steak, look for steak about 1.25 inches thick

1

pound

large shrimp

-

de-veined and shells removed

3

tablespoons

olive oil

salt and pepper to taste
garlic butter
6

tablespoons

salted butter

-

melted, if using unsalted, add ½ teaspoon salt

1

tablespoon

finely chopped fresh parsley

2

teaspoons

minced garlic

½

teaspoon

garlic powder

zest of one small lemon

1

teaspoon

dried Italian herb blend

-

or Herbs de Provence

¼

teaspoon

black pepper
Instructions
In a small bowl combine all garlic butter ingredients and stir well. Set aside.

In a bowl combine steak and shrimp. Toss with olive oil, and salt and pepper to taste.

Skewer steak and shrimp and cook on a preheated grill, turning every few minutes to ensure even cooking until cooked to desired doneness. (For me this was about 10 minutes for medium doneness on the steak)

Brush garlic butter all over the steak and shrimp and serve.
Nutrition
Calories:
596
kcal
,
Carbohydrates:
1
g
,
Protein:
46
g
,
Fat:
45
g
,
Saturated Fat:
20
g
,
Trans Fat:
1
g
,
Cholesterol:
400
mg
,
Sodium:
1091
mg
,
Potassium:
412
mg
,
Fiber:
1
g
,
Sugar:
1
g
,
Vitamin A:
543
IU
,
Vitamin C:
5
mg
,
Calcium:
181
mg
,
Iron:
4
mg