These Grilled Steak and Mushroom Kabobs just scream "summer!" Plus, it could not be any easier to get these two simple ingredients cut, marinated, and ready for the grill. So easy and delicious and goes great with a simple side salad and a baguette. 
If you are all about the grill in the summer, then you'll also want to definitely make my Best Ever Healthy Grilled Pork Tenderloin, this Best Healthy Grilled Chicken, or these Grilled Brazilian Steak & Chicken Kabobs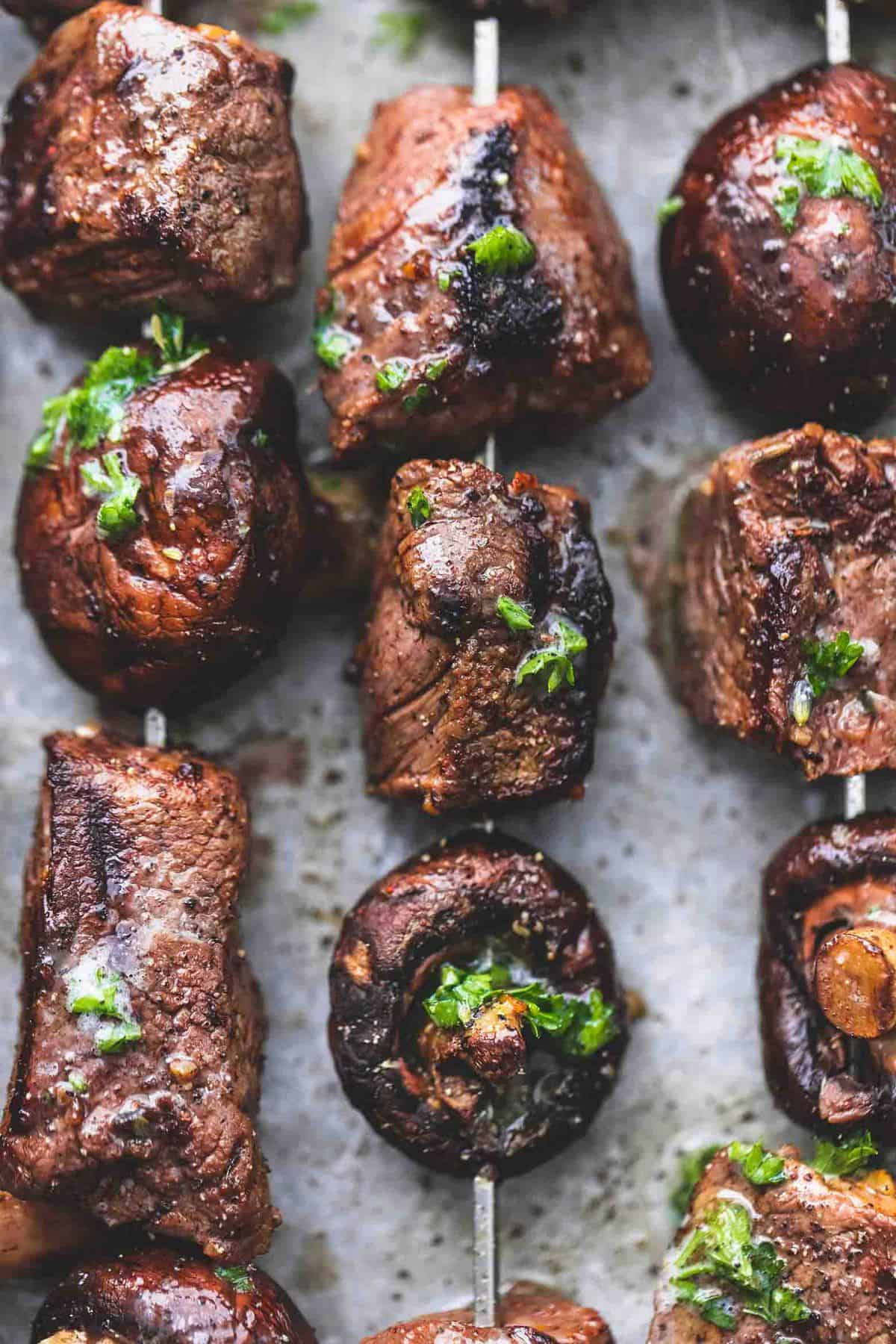 Is there a better combination than steak and mushrooms? I think not. The meatiness of the steak is not outdone by cremini mushrooms, which have a meatiness of their own that matches the taste and texture nearly bite for bite! 
The inspiration for this dish came from, simply, summer. And I mean, it being FINALLY summer. Gone (for a bit) is all the rain and bleakness that was the spring and early part of the summer. Back are the days of pools, road trips, and eating outside! Firing up the grill and dining outdoors is one of our favorite pastimes. The season seems so fleeting I want to literally soak up every last ray of sunshine that I can in hopes it lasts me, if not through the whole fall and winter, then at least through Christmas! 
I know not everyone is as big a fan of mushrooms as me and my hubby are (the kids are, admittedly, so-so on the texture, but I'm sure I'll convince them soon enough to love them). And, while that fact does sadden me a bit, it's a-okay to make the decision to leave them off. The steak is just as delicious without the mushrooms and other veggies are a cinch to substitute. 
HOW DO YOU MAKE GRILLED STEAK AND MUSHROOM KABOBS? 
While there are only two main ingredients, there is a tiny, little, itty, bit of prep (worth it!). First, I cut my steak into chunks big enough to stay on my skewers and cook evenly without drying out. I also go ahead and dry-scrub the dirt of the mushrooms with a paper towel or a mushroom scrubber. I like to cut the very end of the stem off too, though you don't have to. 
Next, I melt the butter and chop up the parsley and set that aside. (You can use dried parsley if you don't have fresh.) Then, it's marinade time. In a big bowl (or Ziploc gallon bag), I combine the liquids, brown sugar, and spices, and give it a stir or a good shake (if using a bag) to combine the ingredients. I add the meat and then close up the dish or bag and let the steak sit to marinade.
After about at least 15 minutes or up to one hour, I skewer the meat and mushrooms to make the kabobs. I like to alternate meat and mushroom but you can do it however you like. I also suggest you leave room between each piece though to ensure even cooking. Then I grab my trusty tongs and put the skewers on the grill. 
I like to turn the skewers each a couple of times until they are to my preferred doneness, which is medium. But you take them off when you're darn good and ready! 
Whisk the parsley and butter together and brush onto the mushrooms once the kabobs are off the grill. Then, dig right in! 
HOW CAN I CUSTOMIZE STEAK KABOBS?
As I mentioned earlier, these are easy to make your own. Some of the ways I like to customize meat and veggie kabobs include: 
Skipping the mushrooms if you're not a fan and using another hearty veggie that will cook alongside the steak such as zucchini, yellow squash, bell pepper, eggplant, or onions. 

If you are watching what you eat, you can skip the butter in favor of olive oil, or just sprinkle parsley over the mushrooms and steak after you've pulled them off the grill.  

I think it's fun (and easy) to take your skewers and rest them into a pita bread (the bigger, the better), naan bread, or another flatbread. Then, roll up the sides of the bread like a pot holder and pull the skewer out. Viola! Instant sandwich or wrap! 

If you do not have skewers you can cook this same recipe using a grill pan to keep the steak and mushrooms together and to prevent them from falling through the slats of your grill. 

Another fun way to eat these kabobs is to slide the mushrooms and steak off and directly onto a bed of romaine with Caesar dressing or another type of vinaigrette. Shave some Parmesan over the top and you have yourself a wonderfully filling (and healthy!) steak salad. 

If you have some real mushroom-haters in your house, you can skewer up all the mushrooms together and the steak on other kabobs. That way, no one even so much has to touch a mushroom if they don't want to, and there will be more of the good stuff for us mushroom lovers. 
Grilled Steak and Mushroom Kabobs
These Grilled Steak and Mushroom Kabobs just scream "summer!" Plus, it could not be any easier to get these two simple ingredients cut, marinated, and ready for the grill. So easy and delicious and goes great with a simple side salad and a baguette. 
Equipment
skewers

grill or grill pan
Ingredients
2

pounds

steak

-

cut into 2-inch chunks

8

ounces

whole cremini mushrooms

4

tablespoons

salted butter

-

melted

1

teaspoon

finely chopped parsley
marinade
⅓

cup

oil

4

tablespoons

soy sauce

2

tablespoons

water

2

tablespoons

apple cider vinegar

1

tablespoon

brown sugar

1

teaspoon

dried Italian herb blend

-

or Herbs de Provence, OR ¼ teaspoon each dried basil, thyme, oregano, and rosemary

1

teaspoon

smoked paprika

1

teaspoon

garlic powder

1

teaspoon

onion powder

½

teaspoon

chili powder
Instructions
In a medium bowl stir together all ingredients for the marinade. Add beef chunks, toss to coat, cover tightly and chill for 15 minutes, or up to one hour if you have the time.

Skewer the beef and mushrooms making sure to leave a little space between each piece for even cooking. Discard marinade.

Use tongs to transfer skewers to a preheated grill. Rotate skewers every few minutes until mushrooms are tender and steak is cooked to your desired doneness (for me this was about 8 minutes for medium doneness).

Remove skewers from the grill. Stir together butter and parsley and brush onto the mushrooms just before serving.
Notes
Flavor tip: Drizzle some balsamic glaze/reduction over your cooked steak and mushrooms for a pop of flavor!
Nutrition
Calories:
780
kcal
,
Carbohydrates:
7
g
,
Protein:
50
g
,
Fat:
62
g
,
Saturated Fat:
23
g
,
Trans Fat:
1
g
,
Cholesterol:
168
mg
,
Sodium:
1233
mg
,
Potassium:
869
mg
,
Fiber:
1
g
,
Sugar:
4
g
,
Vitamin A:
704
IU
,
Vitamin C:
1
mg
,
Calcium:
32
mg
,
Iron:
5
mg