Grilled Balsamic Chicken and Veggie Kabobs are great for those lazy summer evenings when you don't want to work too hard to enjoy a delicious dinner. Made with simple pantry staples, yet oh-so-tasty, these kabobs are finished with a balsamic reduction, salt and pepper, and herbs. 
If you love grilled chicken dishes, then you'll also want to be sure to try my Grilled Chicken Margherita, my Sticky Asian Grilled Chicken, and my Grilled BBQ Chicken Pizza asap! 
Sometimes — not often, but sometimes — I'm just at a complete loss for meal ideas. The day I made these chicken kabobs was one of those days. It started out wonderfully, I got up, had some time to myself  to plan out recipe ideas (or so I thought). But…then I maybe spent too much time lazily flipping through a magazine and enjoying the silence in the early morning hours before the kid crazy set in and before I knew it, we were all up and running. 
Fast forward about nine hours later to when I sat down again and realized I had accomplished nothing I'd set out to do that day. These days happen to all of us though and I tried not to be too hard on myself. As many of you know, this working mom stuff is both alternately super rewarding and also pretty taxing depending on the day (or sometimes even the hour). So in that minute that I sat down to think about dinner, I thought, you know, let's just do that thing where you toss together what you have on hand and hope for the best.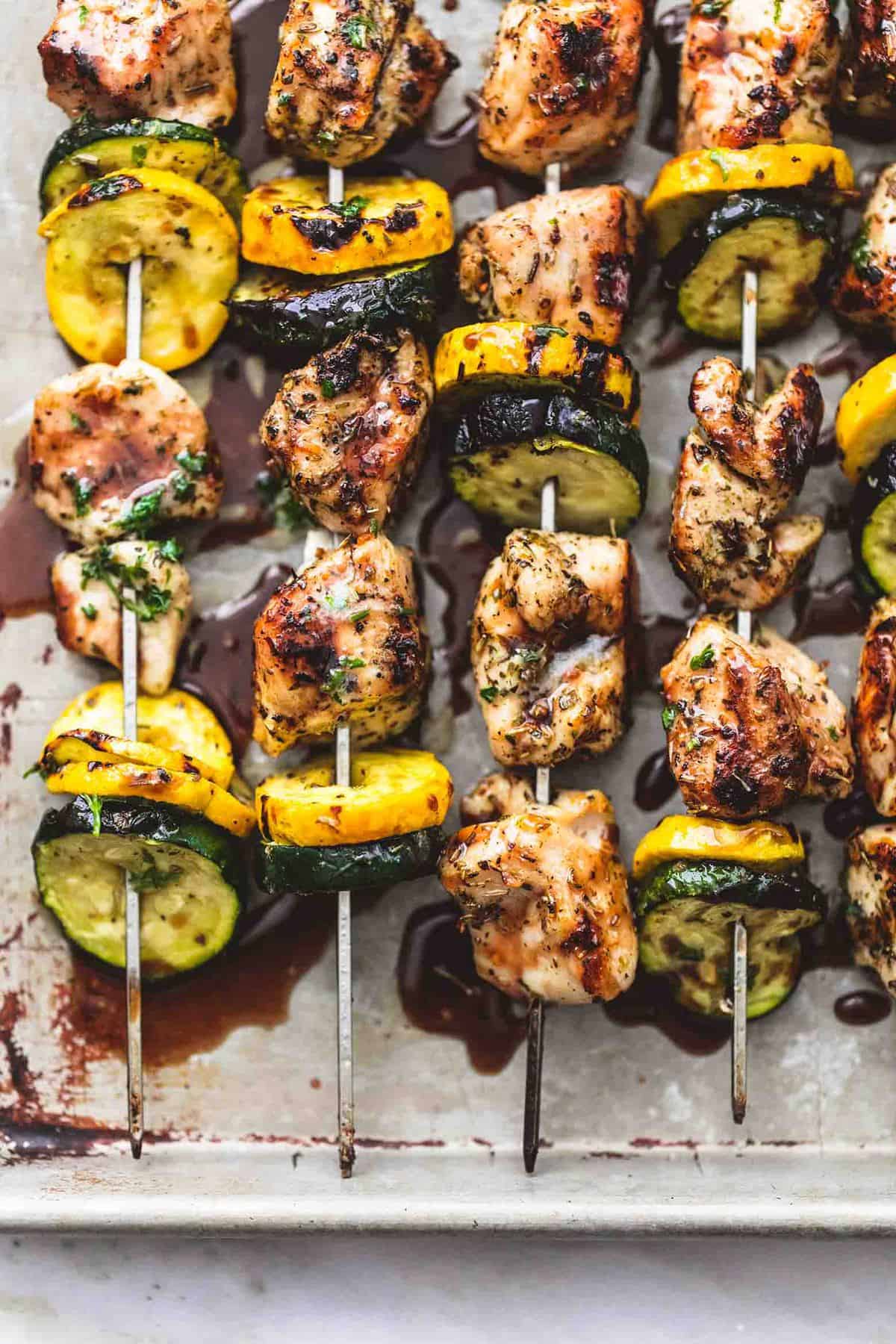 And sometimes I surprise myself, which is definitely nice on days like this one. So, that was the day these Grilled Balsamic Chicken and Veggie Kabobs was born. I grabbed some thawed chicken in the fridge, some squash we had purchased at the farmers market over the weekend, and some leftover balsamic glaze that I'd been looking to use up. For another way to use balsamic, check out my Baked Balsamic Chicken Recipe.
I cut everything up and tossed the marinade together with two toddlers pulling on my legs, while singing one of their favorite songs to them over and over again. Thankfully, they had moved on from my legs when it was time to grill. 🙂 
HOW DO YOU MAKE BALSAMIC CHICKEN AND VEGGIE KABOBS? 
First, I want to note that kids pulling on your legs is totally optional to making this recipe. For me, it makes me work faster but I can see how to some it could be a distraction. 
So, back to the kabobs. I cut up the chicken, zucchini, and yellow squash and set them aside in separate bowls. Then, I whisked together the marinade ingredients and put the chicken in it, tossed it around to coat, put a lid on the bowl and put it in the fridge. (If you want to marinade in a Ziploc baggie, that works, too.) 
Next, I skewered up the chicken and veggies, alternating veggies with the chicken (but you can skewer these however you like). I place all the skewers on a plate or platter, and brush the veggies with oil and add salt and pepper. Then I take the platter on out to an oiled and preheated grill. I put the skewers on (use tongs or a potholder for sure!) and let them go over medium-high heat. I turn them a few times and cook for about 8-10 minutes overall. 
When they are done, I put them on a new, clean platter and trickle over some of that balsamic glaze and the chopped herbs.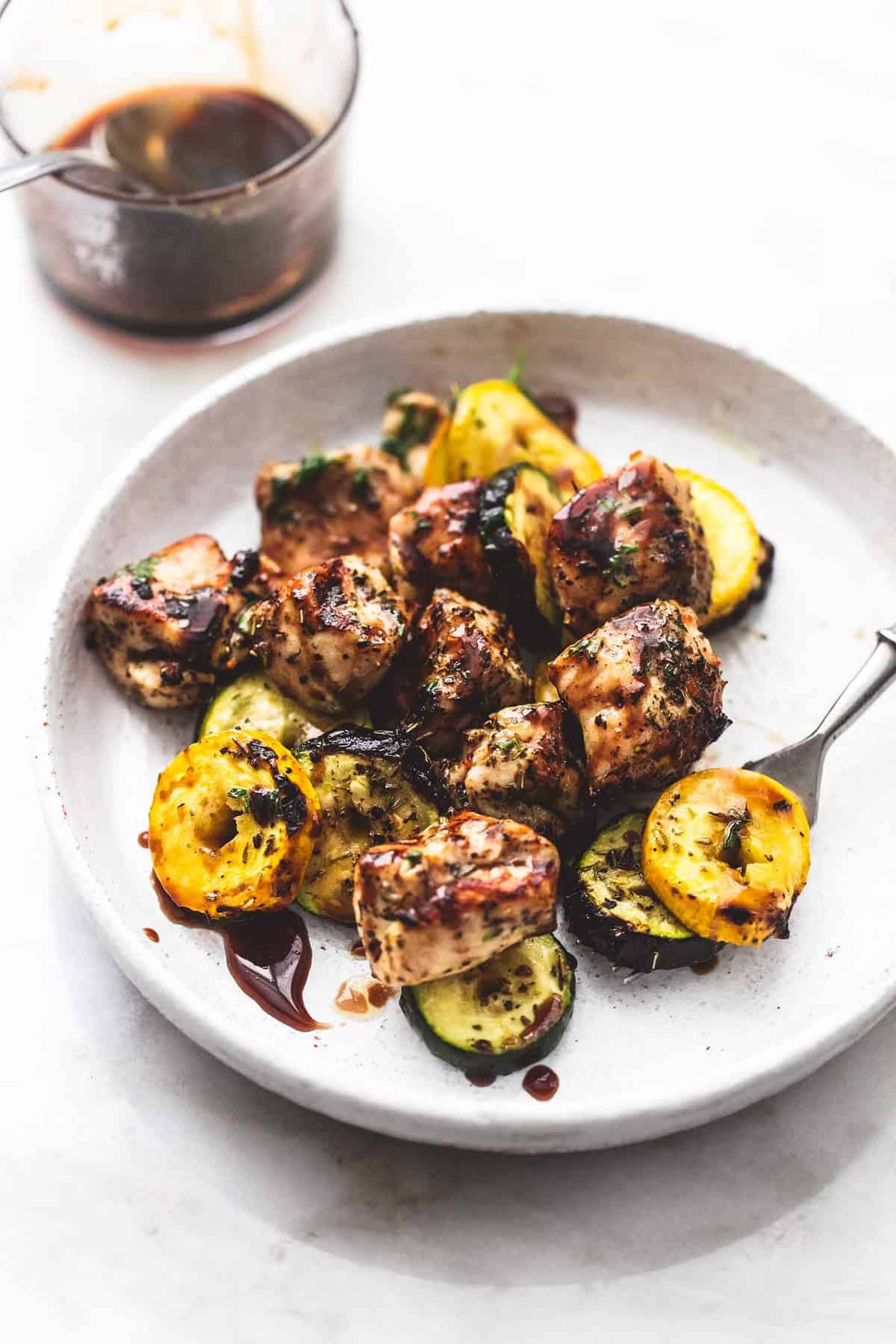 WHAT TO SERVE WITH GRILLED CHICKEN 
There are so many sides that go with grilled chicken kabobs! 
Salads: This Best Simple Tossed Salad is also super easy to toss together and serve. For a twist on the greens salad, try this Quick and Creamy Cucumber version.
Pasta Salads: Chicken kabobs just go with pasta salad — it just makes sense. Pesto Chicken Pasta Salad and Greek Tortellini Pasta Salad are two of my favorites.  
Potatoes: If you have a little extra time, these Company Potatoes are so worth the effort. While you're at the grill anyway, why not make these 3-Ingredient Grilled Ranch Potatoes? 
Veggie Sides: You can put these Vegetable Medley Foil Packs on the grill or in the oven. Or, how about a roasted vegetable to up the ante on your vitamin and mineral intake?
Dessert: What cookout would be complete without a little sweet treat at the end? Cookie Butter Chocolate Chip Cookies will satisfy the kids (both the actual ones and your inner one). How about a Grilled Chocolate Chip Cookie Bacon S'mores s'more while you have the grill nice and hot? 
WHAT ARE THE BEST SKEWERS FOR GRILLING? 
I like to use stainless steel skewers when I make kabobs. They are sturdy, reusable, and hold a decent amount of meat and veggies. Plus, the ring at the end is easy to grab with a potholder or tongs for turning. 
I've also used wooden (bamboo) skewers too. I'd recommend soaking them beforehand in water so that they don't burn or catch on fire on the grill. 
There is also a wooden, paddle-style skewer that you can use. The "paddle" shape is at the end and allows for an easy grip for turning your skewers. These are bamboo also though so I'd soak them beforehand as well.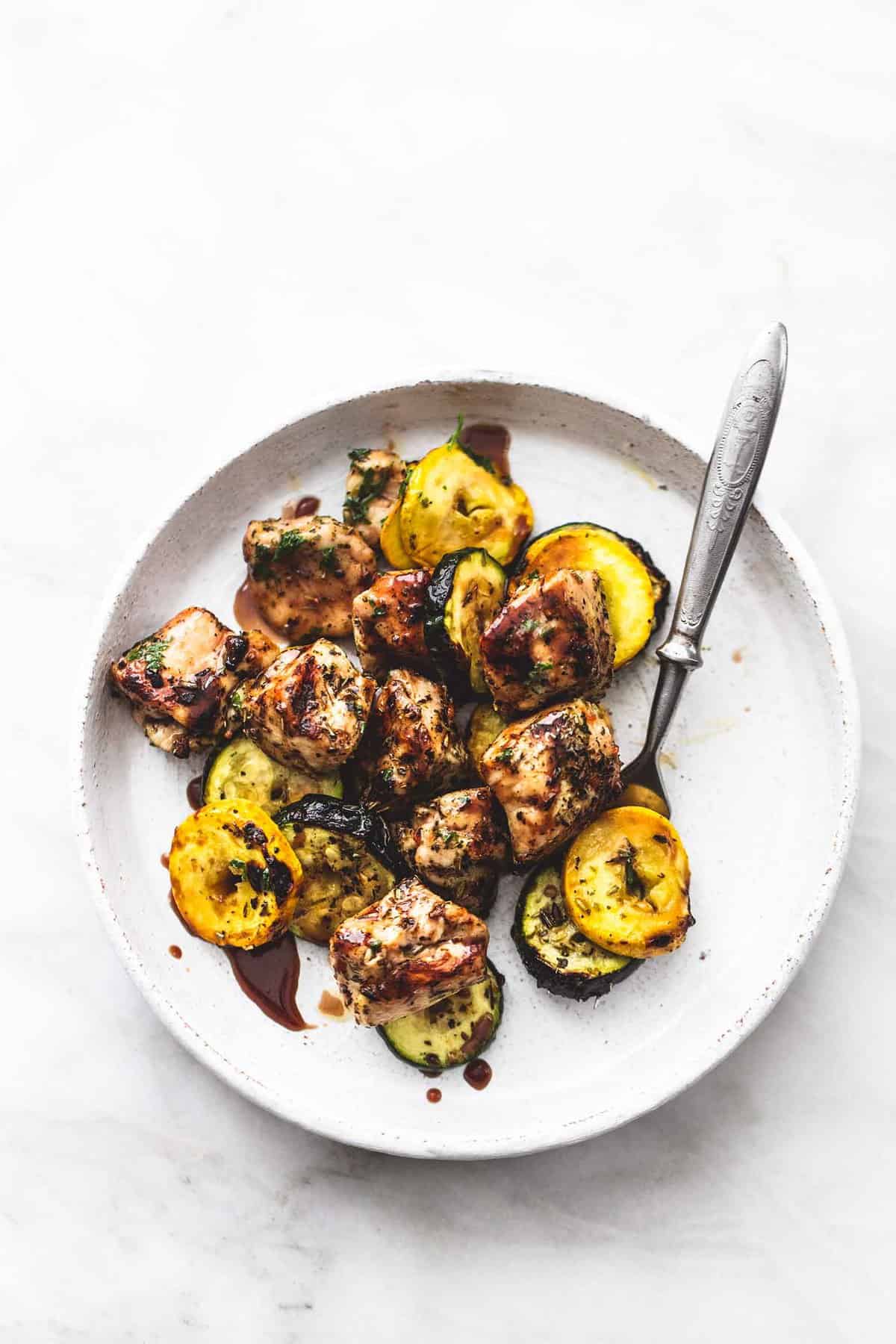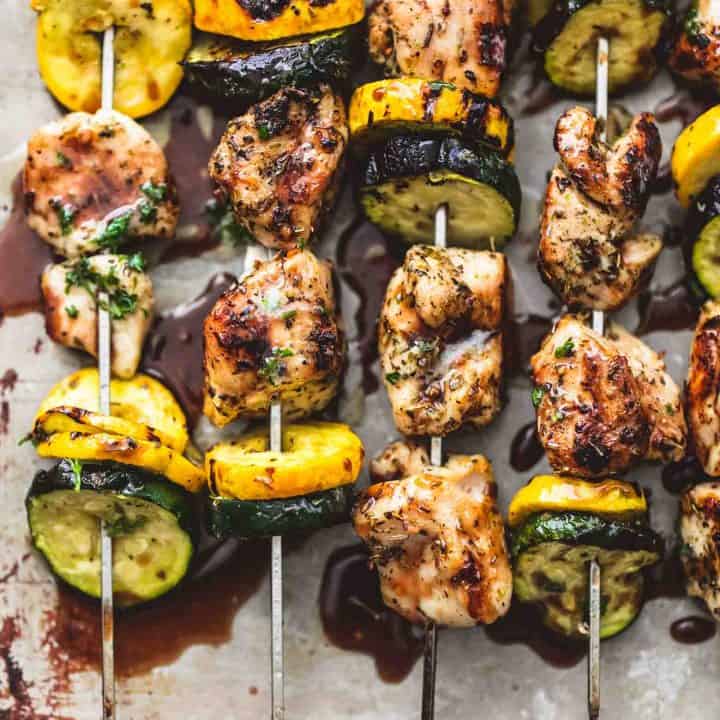 Balsamic Chicken and Veggie Kabobs
Grilled Balsamic Chicken and Veggie Kabobs are great for those lazy summer evenings when you don't want to work too hard to enjoy a delicious dinner. Made with simple pantry staples, yet oh-so-tasty, these kabobs are finished with a balsamic reduction, salt and pepper, and herbs. 
Ingredients
4

boneless skinless chicken breasts

-

cut into 1.5 inch chunks

1

medium zucchini

-

sliced

1

yellow squash

-

sliced

2

tablespoons

oil

salt and pepper to taste

⅓

cup

balsamic reduction / balsamic glaze

-

optional, store bought or homemade

freshly chopped parsley, thyme, or basil for garnish

-

optional
marinade
½

cup

balsamic vinegar

¼

cup

oil

2

tablespoons

honey

1

tablespoon

dijon mustard

1

tablespoon

worcestershire sauce

3

teaspoons

minced garlic

1

teaspoon

dried Italian herb blend

-

or Herbs de Provence

1

teaspoon

salt

¼

teaspoon

cracked black pepper

-

or pinch of ground black pepper
Instructions
In a medium bowl whisk together all marinade ingredients. Add chicken, toss to combine, cover and chill for 30 minutes.

Skewer the chicken and veggies. Brush the veggies with oil and salt and pepper them to taste. Discard marinade.

Transfer skewers to a preheated and oiled grill. Rotate often and cook for 8-10 minutes until chicken is cooked through and veggies are tender.

Garnish with balsamic glaze and chopped herbs if desired. Serve immediately.
Notes
Feel free to add other vegetables, some of my favorites for this recipe are bell peppers and onions. 
Nutrition
Calories:
786
kcal
,
Carbohydrates:
5
g
,
Protein:
63
g
,
Fat:
56
g
,
Saturated Fat:
15
g
,
Trans Fat:
1
g
,
Cholesterol:
251
mg
,
Sodium:
403
mg
,
Potassium:
718
mg
,
Fiber:
1
g
,
Sugar:
4
g
,
Vitamin A:
518
IU
,
Vitamin C:
10
mg
,
Calcium:
46
mg
,
Iron:
3
mg