Turn THE BEST traditional chocolate chip cookies into something truly irresistible with the addition of cookie butter! Extra rich, extra chewy, and the perfect blend of sweet with a hint of salty these are completely decadent. 
No shame in having a sweet tooth! Try Best Ever Super Gooey Brownies, Best Super Soft Peanut Butter Cookies, Maple Glazed Sugar Cookies, and Peanut Butter Oreo Stuffed Chocolate Chip Cookies.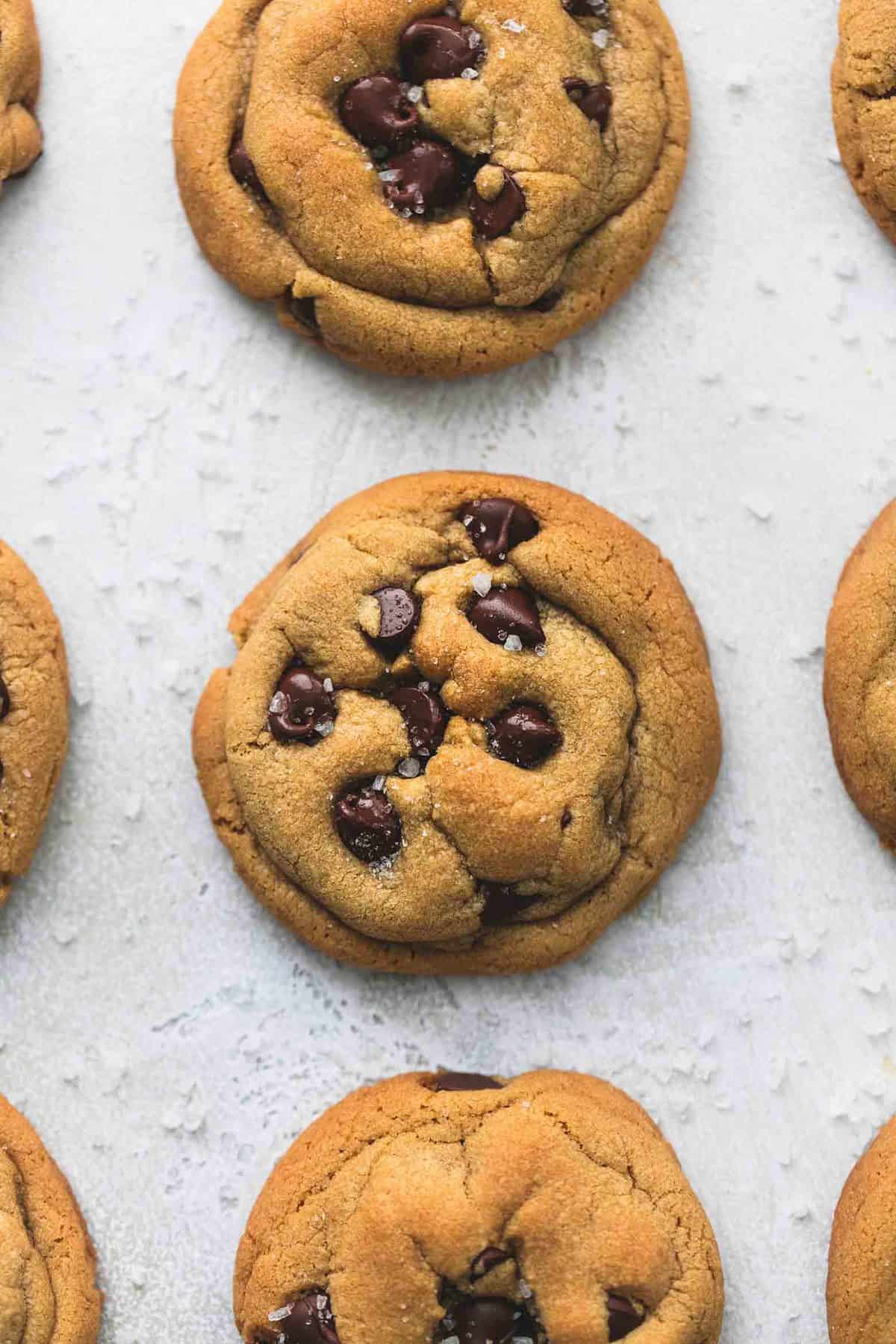 Cookie Butter Chocolate Chip Cookies
I have to admit, I feel a bit devilish about this recipe. I mean, just when you think I can't cram anything else into a cookie, I figure out a way, right? It seems almost…sinful to develop a recipe this delicious and rich.
And yet, here we are. Because, the only thing that could be worse than not making this cookie at all would be keeping this recipe to myself. The impetus for this recipe is kind of embarrassing. You know how people say, "That ____ is so good, I could practically eat that by the spoonful?" Well…so I might have a slight cookie butter addiction. And, I felt like, really, I shouldn't be eating it by the spoonful and that instead I should probably figure out a new recipe to put it in so that I feel less guilty about eating it. Well, and also so that I could tell myself to put the spoon away and step away from the cookie butter because I had to save it for these cookies.
The other ingredient I want to mention that might seem out of the ordinary is the pudding mix. If you've not baked with vanilla pudding (a dry packet, not the actual pudding) you're in for a treat. Pudding makes the cookie richer and enhances the flavor and also keeps the cookies soft and light.
I recommend you eat these cookies when they're nice and warm and gooey and the chocolate is still all melty. You might want to eat these right over the sink because they're going to be messy, but you can also hide the fact that you're eating cookies right out of the oven from your children when you eat them with your back turned over the sink. They'll just think you're doing dishes. <wink>
WHAT IS COOKIE BUTTER?
Cookie butter isn't really a butter in the traditional sense, but a butter like peanut butter. Only cookie butter is usually made by mixing crushed spice cookies with sugar and either actual butter, a vegetable oil, or condensed milk. Then it's all blended together until it's spreadable. (And might I add, whoever thought of this was a genius.)  
So, essentially you're mixing cookies into other cookies. There's no way that could be bad! Popular brands include Biscoff, Trader Joe's, and Speculoos.
HOW DO I MAKE MY OWN COOKIE BUTTER?
If you want to make your own cookie butter for making cookies with, then first you'll need some cookies. They don't have to be spice cookies. Experiment with any kind of harder cookie, like Oreos, gingersnaps, chocolate chip, peanut butter, animal crackers — whatever you think you'd like, give it a try. (Note: If you do use a cookie with a soft middle, that will have to be scraped out before crushing the cookies.)
Whatever cookie you choose, you'll need two cups of them in crumbs. Use a food processor to get them nice and pulverized. In a saucepan, heat together 4 tablespoons of unsalted butter with ½ a cup of sweetened, condensed milk and ¼ a cup of evaporated milk until just heated through. (Here's where you can add back in the cookie creams if you like.) Pour mixture over cookie crumbs and combine until nice and spreadable.
WHAT DESSERTS CAN YOU MAKE WITH PUDDING?
Pudding might seem like an interesting ingredient to put in cookies, but my mom did it often in many of her cookies, and so it's just second nature to me. But, I realize it's not an ingredient that has caught on everywhere. In addition to cookies (like these Butterscotch Chip Pudding Cookies), there are many other desserts that benefit from a box of pudding.
Pistachio Jello Pudding Salad

. Okay, I admit this doesn't sounds appetizing straightaway. It sounds crazy even to attempt to make a Jello salad with pudding, right? Well, maybe I am crazy…for this salad! But this dish looks like your typical Jello salad but with pistachio pudding. You'll just have to try it for yourself and see.

Oreo Cookies N' Cream Pudding Pops

. If you remember pudding pops of your youth like I do, then your recollection is a good one. I missed them so much that I came up with my own recipe for making them. Any kind of weather, these make a great treat.

Lemon Poppyseed Bundt Cake.

Yes my pudding-as-a-secret-ingredient extends to cakes. One bite of this lemony treat and you'll be hooked.
No Churn Mixed Berry Ice Cream. The secret to a creamy no-churn ice cream is in the pudding!
Cookie Butter Chocolate Chip Cookies
Turn THE BEST traditional chocolate chip cookies into something truly irresistible with the addition of cookie butter! Extra rich, extra chewy, and the perfect blend of sweet with a hint of salty these are completely decadent.
Ingredients
¾

cup

butter

-

softened

¾

cup

brown sugar

⅓

cup

cookie butter (like Biscoff spread)

¼

cup

sugar

2

teaspoons

vanilla

1

egg plus 1 egg yolk

2

cups

flour

1

3.4 ounce box

instant French vanilla pudding mix - dry

-

not prepared, (must be INSTANT - not cook and serve, etc.)

1

teaspoon

baking soda

½

teaspoon

salt

2

cups

semi-sweet chocolate chips
Instructions
Add dry ingredients to wet ingredients and mix until incorporated and dough comes together. Stir in chocolate chips. Cover very tightly and chill for at least 1 hour.

Preheat oven to 350 degrees F. Roll dough into balls (about 1 1/2 inch) and space 2 to 3 inches apart on a baking sheet. Bake for 10 to 12 minutes until lightly browned on top. Allow to cool 5 to 10 minutes on baking sheet before transferring to a cooling rack to cool completely.
Notes
Pro tip: Add 1 teaspoon corn starch to the dry ingredients for extra-soft cookies! 
Nutrition
Calories:
187
kcal
,
Carbohydrates:
27
g
,
Protein:
3
g
,
Fat:
8
g
,
Saturated Fat:
4
g
,
Trans Fat:
1
g
,
Cholesterol:
9
mg
,
Sodium:
108
mg
,
Potassium:
119
mg
,
Fiber:
1
g
,
Sugar:
16
g
,
Vitamin A:
30
IU
,
Calcium:
26
mg
,
Iron:
2
mg