Pistachio Pudding Jello Salad – This simple festive side dish is silky smooth and full of flavors that will have your guests begging for the recipe!
Last year for Thanksgiving at my in-laws, someone made and brought a big bowl of green fluff. If I had known what it was before I tried it, there's a good chance I'd have passed it up. But what really went down was something more like this… "ooh, look at the pretty green fluffy stuff, I want some! Mmmmmmm, this is delicious, I think I'll have a second helping, and a third! Hey, what is this stuff anyway? Pistachio what???"
Yes, truthfully pistachio pudding probably would have sounded gross to me. Somewhat shallow, I know. But if we're being completely honest, I am absolutely one of those people who judge books by their cover. How can you not?? If the cover isn't compelling, what are the chances the inside will be very intriguing? I will admit, sometimes a book's cover is not a good reflection of what is written inside, and that really annoys me. In my utopian mindset every book cover would reflect exactly what you were about to read, without giving away the whole story. But again… that would be in my perfect world which does not currently exist.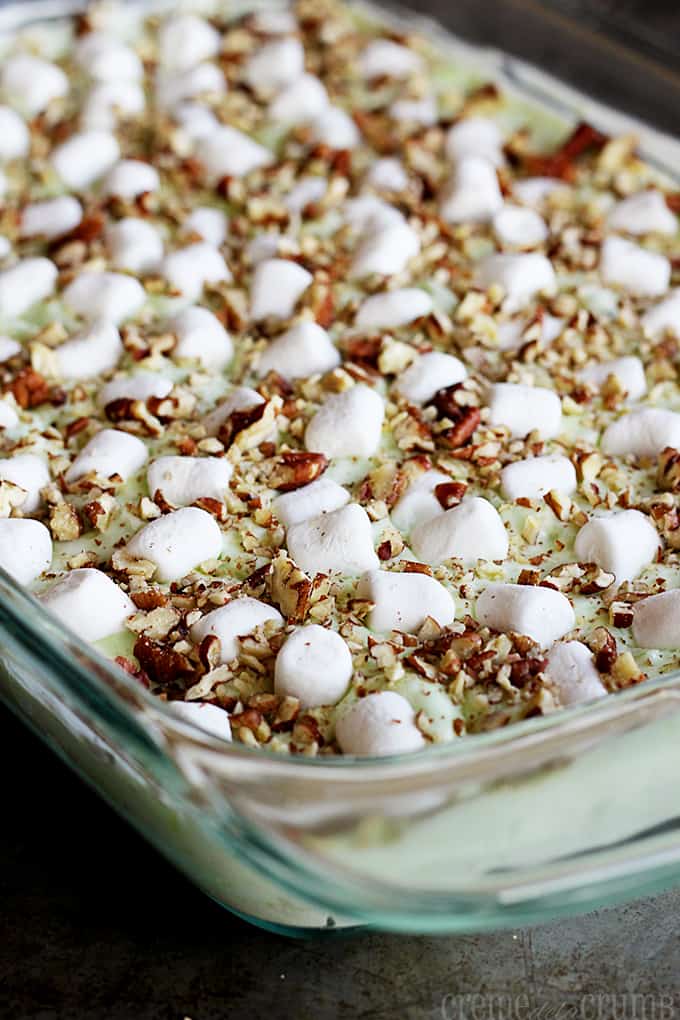 For my own sake, I am so glad I didn't know what that salad was before trying it last year. It was so delicious, I've had a craving for it in the back of my mind ever since last Thanksgiving! So this year for our round one Thanksgiving dinner at my parents, I brought my version of this Pistachio Pudding Jello Salad. SO GOOD! And I just have to say, my executive chef brother in law gave me two thumbs up on this dish which never happens. Really. It never happens. So you know it has to be ah-mazing if my gourmet food-snob (i say that with love!) brother in law even loved it! The perfect side dish for your holiday meal with a smooth, creamy texture and incredible, surprising flavors, everyone will be asking for the recipe!
Pistachio Pudding Jello Salad
This simple festive side dish is silky smooth and full of original flavors that will have your guests begging for the recipe!
Ingredients
1

3.4-ounce

instant pistachio pudding mix

-

dry

1

20-ounce can

crushed pineapple

-

undrained

8

ounces

cool whip

-

(I used sugar free), thawed

2

cups

mini marshmallows

-

divided

½

cup

finely chopped pecans
Instructions
In a large bowl combine pistachio pudding mix and pineapple and stir to combine. Stir in cool whip until smooth. Add 1 cup marshmallows and gently stir to combine. Spread mixture into a large casserole dish (you can also serve this in a large bowl or trifle dish). Scatter remaining marshmallows and pecans over the top of the mixture. Cover and chill until ready to serve.
Notes
Cover tightly and store in freezer up to 1 week. 
Nutrition
Calories:
86
kcal
,
Carbohydrates:
12
g
,
Protein:
1
g
,
Fat:
4
g
,
Saturated Fat:
1
g
,
Cholesterol:
3
mg
,
Sodium:
21
mg
,
Potassium:
40
mg
,
Fiber:
1
g
,
Sugar:
8
g
,
Vitamin A:
36
IU
,
Vitamin C:
1
mg
,
Calcium:
24
mg
,
Iron:
1
mg