These are hands down, the BEST Ever Super Chewy Gooey Brownies made in one bowl for an easy cleanup recipe that will become your go-to cocoa powder brownies. These babies are every bit as rich and tasty, chewy and chocolatey as they look!
Try these brownies my favorite way, a la mode, with hot fudge or homemade salted caramel sauce, and speaking of salted caramel – these salted caramel brownies should definitely be next on your list!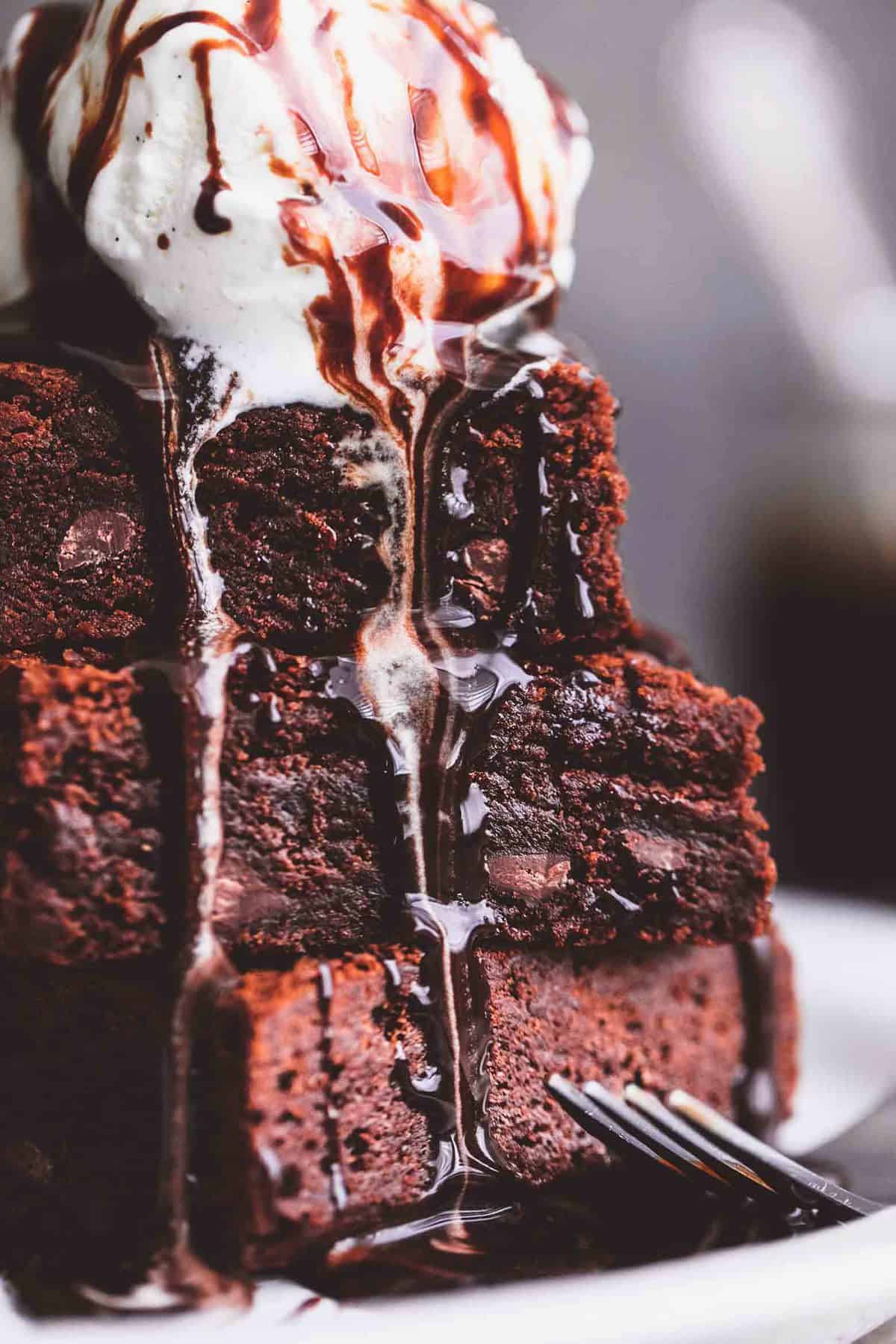 Well, hello! Fancy meeting you here. I suppose you are here because you happen to be a brownie/chocolate addict like myself and need to make these immediately. I feel ya — that's exactly how I felt the other day when a chocolate craving hit and there was not a speck of chocolate to be found in my house.
I mean, I honestly have no clue where it all went. My babies can't reach the upper cabinets yet, my husband generally lets me know when he finishes something off, and as for me? Well, there's just no way I would have let this happen, had I known.
I'm guessing either I started sleepwalking and eating chocolate or there is some kind of glitch in the Matrix. Let's just say, I quickly remedied the situation, loading up on all the baking essentials and a little something, something to get me through until the brownies baked. (I might need an intervention.)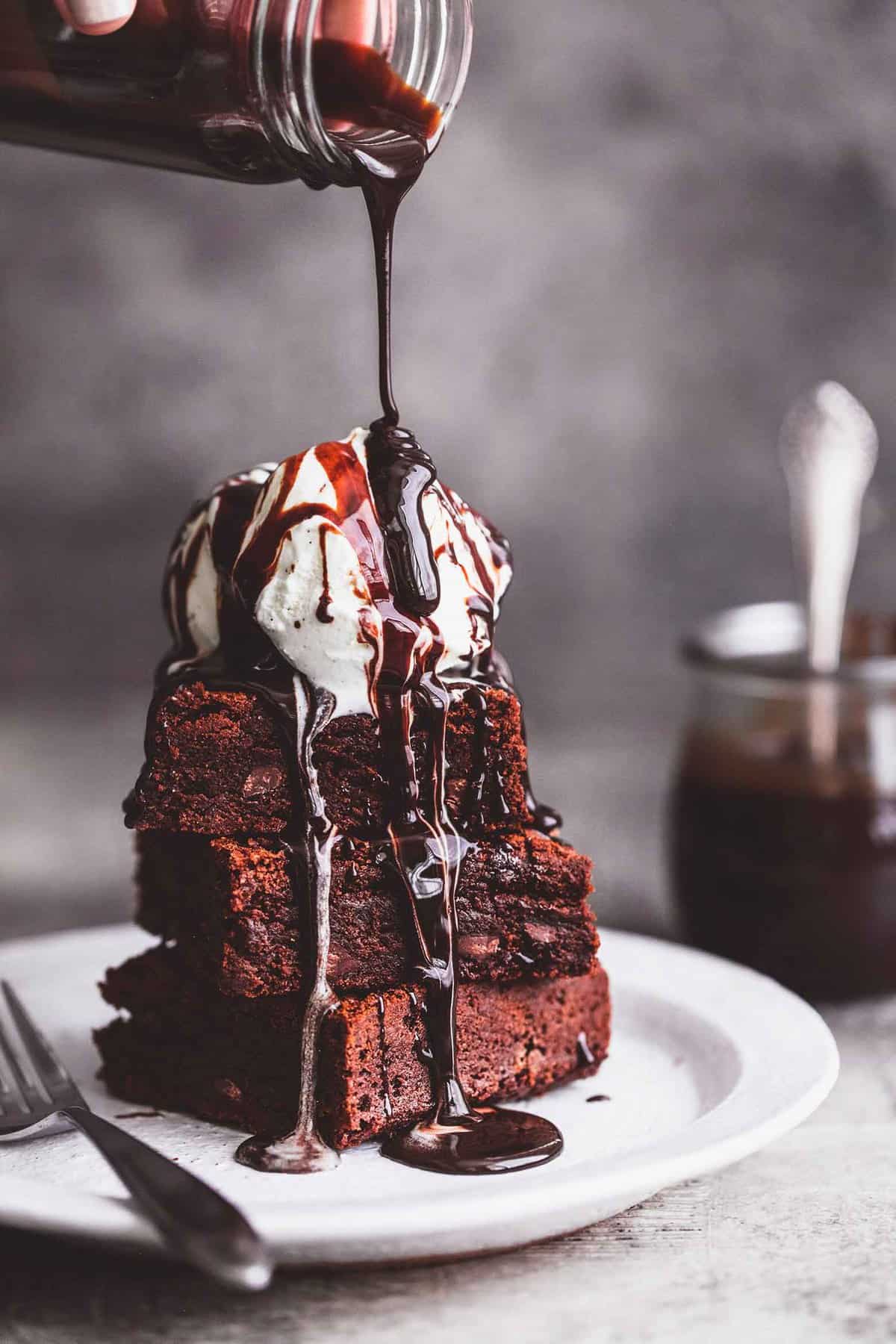 While some of you might argue over brownie crust — who gets to eat the corners or edges versus who gets the middle pieces — for me it's all about the texture of the actual brownie.
It has to be chocolatey, thick, rich, moist, chewy, melt-in-your-mouth-lights-up-all-the-pleasure-centers-in-your-brain-like-an-arcade-game good.
And for me, there's only one way to get in all of those adjectives and then some. And that, my friends, is to make this brownie recipe on repeat, until we all collapse in a sugar coma on the couch, stuffed but happy.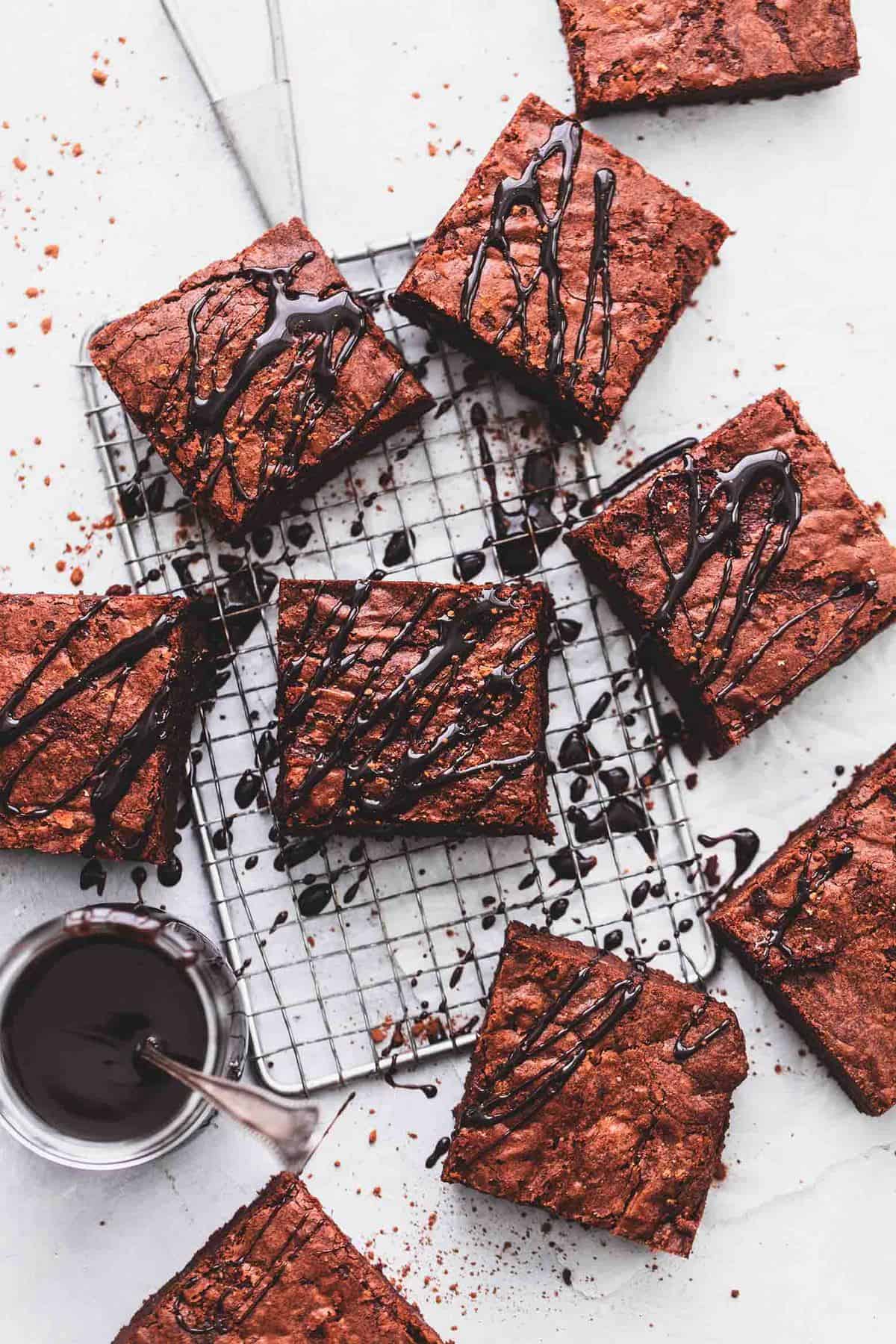 Are Brownies Supposed to be Chewy?
For me, the answer is always a resounding "yes!" Of course, there are people who prefer their brownies a little cakier or a little harder, like a cookie. But, for the most part, there are generally three styles of brownies that all brownie aficionados and addicts alike adhere to: chewy, fudgey, or cakey.
Chewy brownies are moist and…chewy. You'll know a chewy brownie when you bite into one. They won't be gooey on the inside at all. More flour in the recipe makes them chewier, as does adding whole eggs to the mixture, as well as a longer cooking time.
A cakey brownie is not as chewy, or fudgey, and is more airy in inside. The ingredients usually call for less butter (thus lest moistness) and typically have more dry ingredients (flour, cocoa powder, baking soda, etc.).
Now a fudgy brownie, they are going to seem almost not done when you take them out of the oven (they do call for less baking time). They will still be moist and chewy, but the inside will be packed full of chocolatey flavor. It's not quite fudge, but it's darn close. Because of all the chocolate, it will seem to melt and be pretty messy — so have a napkin nearby!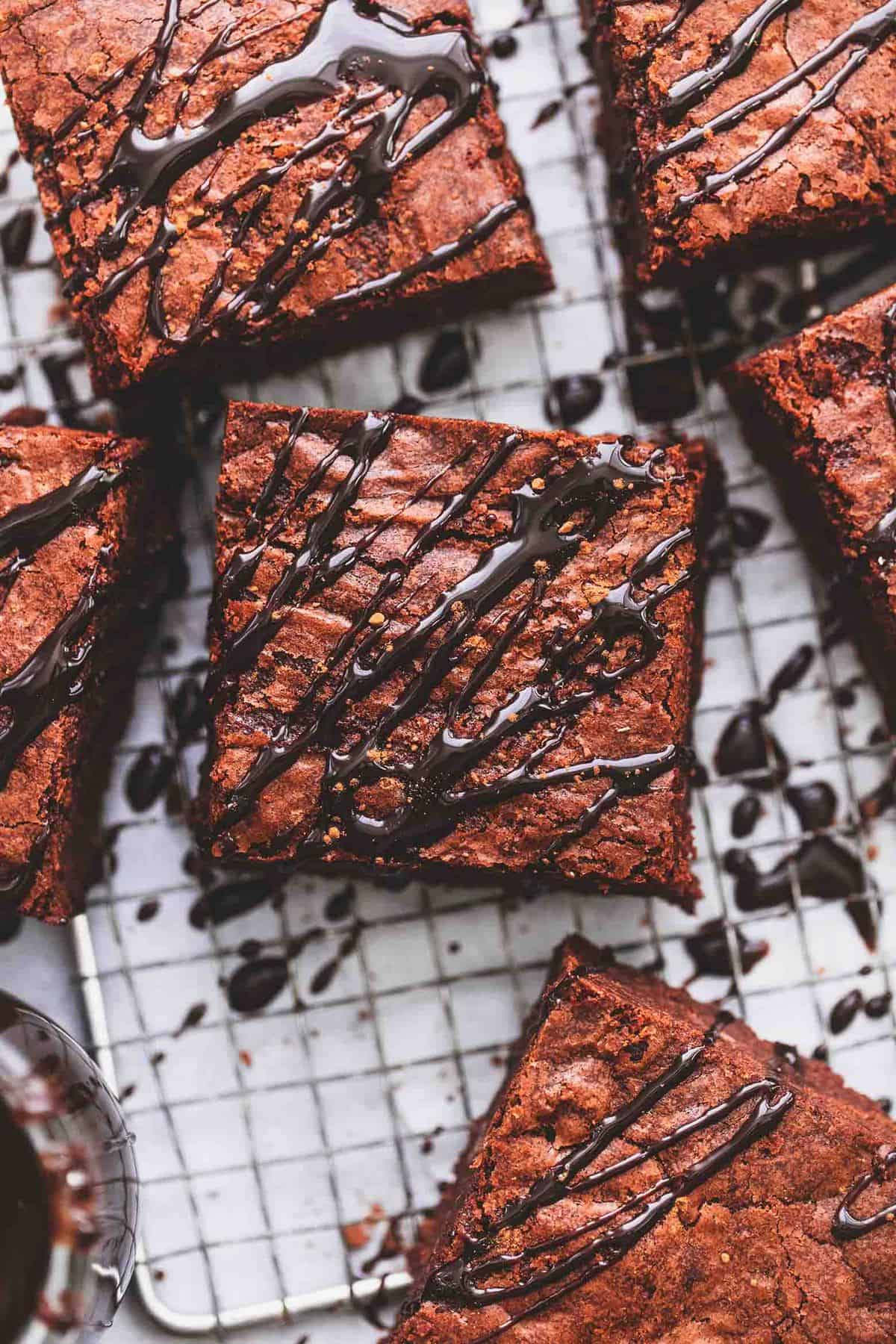 Customizations
Customizing is the best part about baking just about anything. Brownies are a fun way to experiment. Try:
Adding in chopped walnuts, pecans, or almonds.

I like to add colorful sprinkles either inside or on top — the kids especially love to eat these colorful brownies.

Icing! That's right, add even more chocolatey (or vanilla) icing right to the top of your brownie.

Mix in toffee bits, butterscotch chips, or even mint chips to add a different flavor into your brownies.

Cut up your favorite candy bar and add those pieces to the batter before cooking.

Crumble up cookies and add them to the brownie batter. Good ones to try include chocolate chip, Oreos, and sugar cookies.

Mix in marshmallows, or put them on top and broil them when the brownies are just about done baking for that s'mores look and taste.
Make cheesecake brownies!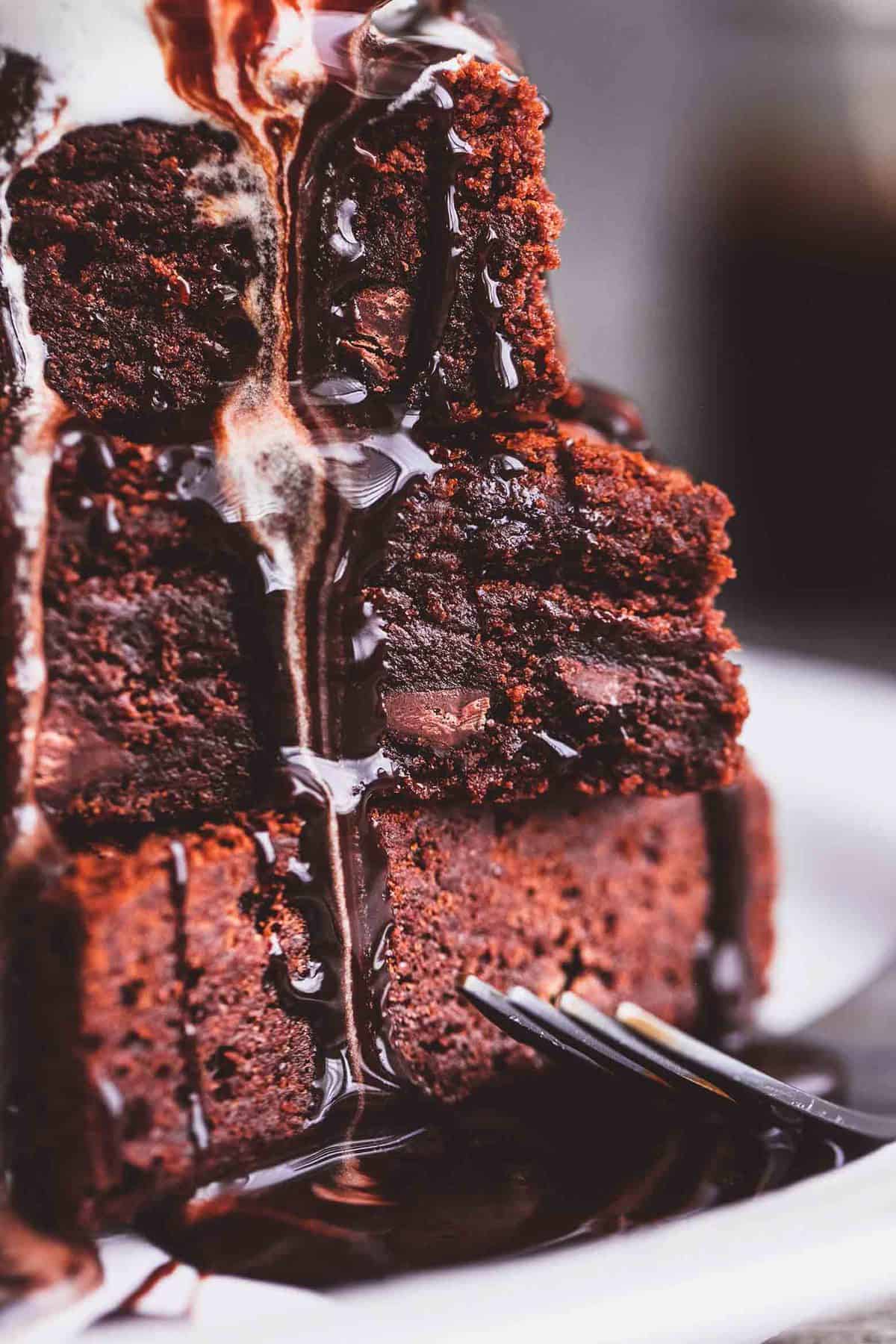 Can you Substitute Brown Sugar for White Sugar in Brownies?
We've all been there — you go to make a dessert and realize you have the wrong kind of sugar. It's always the opposite of  exactly what you need, right? Brownies often call for only brown sugar. This recipe calls for both. But if you don't have one or the other you can substitute them, cup for cup. It will change the texture and flavor a bit because if you're not using brown sugar, you're missing out on the molasses flavor that it contains. They will still be just as sweet, though.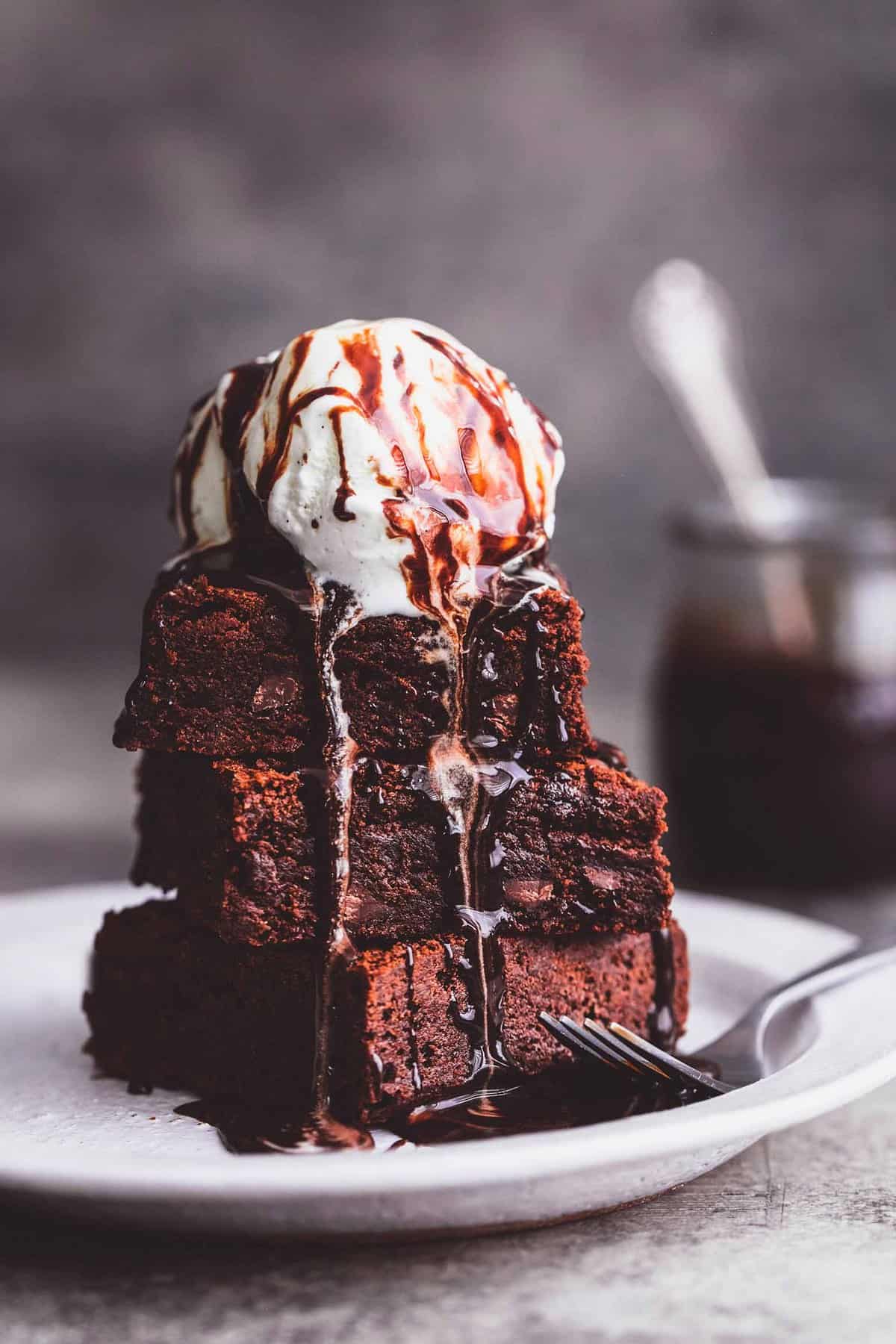 More Decadent Dessert Recipes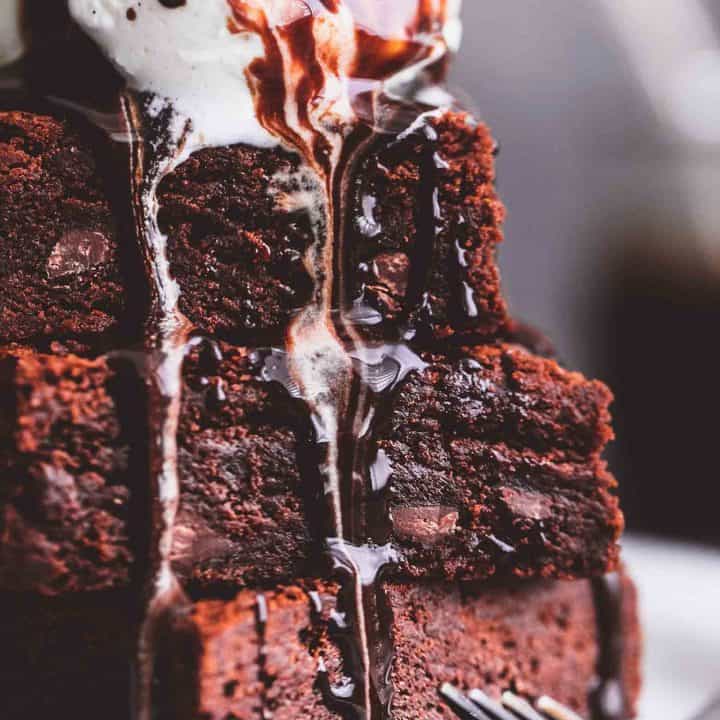 BEST Ever Super Chewy Gooey Brownies
These are hands down, the BEST Ever Super Chewy Gooey Brownies made in one bowl for an easy cleanup recipe that will become your go-to cocoa powder brownies. These babies are every bit as rich and tasty, chewy and chocolatey as they look!
Ingredients
1

cup

(two sticks) butter

-

softened (if using unsalted, increase salt to 1 teaspoon)

1

cup

semi-sweet chocolate chips

½

cup

milk chocolate chips

1 ¼

cups

sugar

1

cup

brown sugar

1

tablespoon

vanilla extract

3

large eggs

1 ¼

cups

flour

½

teaspoon

salt

½

cup

unsweetened cocoa powder

ice cream and hot fudge sauce for serving

-

optional
Instructions
Preheat oven to 350 degrees and line a 9x9 inch pan with nonstick foil or parchment paper. In a large microwave safe bowl, microwave semi-sweet chocolate chips for 1 1/2-2 minutes, allow to rest for a couple of minutes before stirring until smooth.

Add butter, sugars, vanilla, and eggs and mix well. Whisk in flour, salt, and cocoa powder until incorporated. Stir in milk chocolate chips.

Transfer batter to prepared pan and bake for 35-40 minutes. *For chewier brownies, cook a little longer, closer to 40-42 minutes. For fudgier, gooey brownies, a little less cooking time, closer to 35.

Serve immediately with ice cream and hot fudge sauce, or allow to cool completely (best for ultra chewy brownies) before cutting into squares and serving. If you like the chewier texture but still want to serve them warm with ice cream, you can pop them in the microwave individually for about 20 seconds to heat them up.
Notes
Flavor tip: Stir in 1 cup mini marshmallows just before baking. 
Nutrition
Calories:
448
kcal
,
Carbohydrates:
59
g
,
Protein:
5
g
,
Fat:
23
g
,
Saturated Fat:
7
g
,
Trans Fat:
1
g
,
Cholesterol:
42
mg
,
Sodium:
299
mg
,
Potassium:
203
mg
,
Fiber:
3
g
,
Sugar:
44
g
,
Vitamin A:
744
IU
,
Vitamin C:
1
mg
,
Calcium:
43
mg
,
Iron:
2
mg