Hands down the best EVER easy Salted Caramel Brownies recipe you'll ever try, with that perfectly chewy brownie base and rich, sweet n salty caramel topping. 
If you love these Salted Caramel Brownies, you've gotta try Red Velvet Cheesecake Bites, Best Every Super Chewy Brownies, and Salted Caramel Stuffed Double Chocolate Cookies.
This post is in partnership with Milk Life – all opinions are my own. 
Growing up, milk was always a staple in my house. I think we went through several gallons a week, and I certainly accounted for my fair share of helping it disappear. I never outgrew my love of milk, and I attribute it to helping me grow into a strong woman who is capable of raising three healthy children, running a business, and successfully finding balance in the hectic, day-to-day juggling of it all.
That balance extends into my cooking and baking as well. Even though the winter weather has us inside more than I'd like, it gives me a good excuse to try new recipes and bake more. I also believe there is a yin and yang to everything — for every salad there should be a little dessert, and for every dessert, there should be a glass of milk.
It goes without saying in our house that family time is a mandatory part of every day, a time to pause and appreciate one another and catch up on the day's events. No matter how stressed out our days have been, my husband and I put away the devices and just focus on our family. After dinner we begin our nightly routine complete with bath time, books, and getting the kids in their pajamas (and maybe sometimes the adults, too) and then gathering around the table to enjoy a sweet treat and a glass of milk.
It just so happens my husband and I both LOVE the delicious combination of brownies and milk. He's a chocolate milk fan, while I prefer to reach for regular milk. It seems our twins are following in our footsteps — my son drinks chocolate milk, while my daughter drinks regular. But we all love a glass of milk with our brownies — especially these Salted Caramel Brownies!
The fact that we all like milk makes my heart happy. It is an integral part of our diets, and is especially important to me that my kids have nutrient-rich milk every day, because I know it will help them to grow into strong, healthy teenagers, and then eventually healthy adults as well (all too soon, I'm sure).
How do you Make Homemade Caramel Sauce?
Remember that balance I was talking about? Well, I like to extend it into my baking sometimes too. Although caramel sauce isn't hard to make, sometimes it's just easier to use the pre-made variety, like I did here.
If you want to make your own, that's no problem, and it can only enhance the taste of these already delicious brownies. You can make your sauce salted or unsalted (then add salt to the top) it depends on how salty you like your sweets, I suppose! Click here for my recipe for Easy Homemade Caramel Sauce.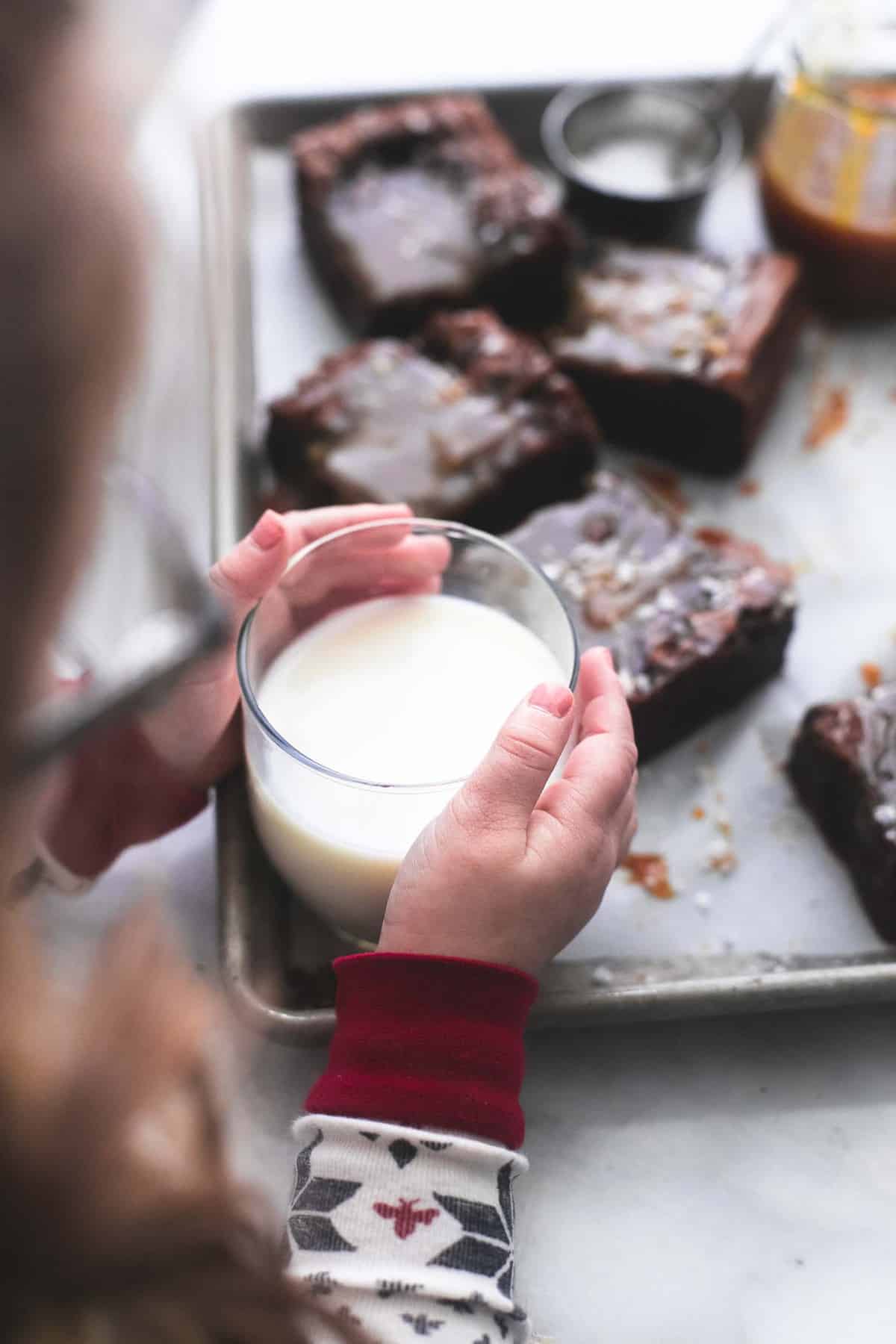 Recipes that Call for Mill
You'd be surprised how many foods I cook and bake that include milk. Milk makes sauces creamier (think Mac n Cheese), soups smoother (like in this Roasted Cauliflower Soup), and, of course, where would milkshakes be without the…um, milk?
And let's not discount baked goods, where milk provides strength, structure, tenderness, moisture, and flavor. All of those properties are evident when I make biscuits, (check out my Knott's Berry Farm Buttermilk Biscuits for a great biscuit recipe), pancakes, cakes, cookies, and of course, brownies!
Plus, eating a diet rich in milk provides your body with essential vitamins like D, A, B2, and B12, and also calcium, potassium, and protein to help you grow up strong and help keep your bones from becoming brittle as you age.
Want to get in on the fun? Share your love of milk with the #LoveWhatsReal campaign (running now through the end of February) for a chance to win a year's worth of free milk!
If you like these Salted Caramel Brownies, you'll love my Peppermint Crunch Sugar Cookie Bars, Best Easy Sugar Cookies, and Twix Ice Cream Bars.
Salted Caramel Brownies
Hands down the best EVER easy Salted Caramel Brownies recipe you'll ever try, with that perfectly chewy brownie base and rich, sweet n salty caramel topping. 
Ingredients
1

cup

butter

½

cup

semisweet chocolate chips

2

cups

sugar

4

large eggs

2

teaspoons

vanilla

-

extract

⅔

cup

unsweetened cocoa powder

1

cup

flour

½

teaspoon

baking powder

½

teaspoon

salt

additional 1/2 cup semisweet chocolate chips

-

or milk chocolate chips

½

cup

caramel sauce

-

like caramel ice cream topping

1-2

teaspoons

flaked sea salt
Instructions
Preheat oven to 350 degrees and line a 9x9 inch baking pan with foil leaving enough hanging over the sides to use as handles to pull the finished brownies out later.

In a medium saucepan over medium heat, melt butter. Once melted stir in 1/2 cup semisweet chocolate chips and sugar until chocolate is melted and incorporated. Stir in eggs, then vanilla.

In a medium bowl whisk together flour, cocoa powder, baking powder, and salt. Stir dry ingredients into wet ingredients until blended. Gently stir in remaining chocolate chips if using and spread batter in prepared pan.

Bake for 35-40 minutes until an inserted toothpick comes out with a few crumbs. Use a butter knife poke about a dozen slits into the top of the brownies. Pour caramel sauce over the top, cut into squares (See note) and sprinkle with sea salt just before serving.

Serve with an 8-ounce glass of regular or chocolate milk!
Notes
I like to chill the brownies for an hour or overnight before cutting to help get hose clean straight edges. 
Nutrition
Calories:
210
kcal
,
Carbohydrates:
42
g
,
Protein:
4
g
,
Fat:
4
g
,
Saturated Fat:
2
g
,
Trans Fat:
1
g
,
Cholesterol:
43
mg
,
Sodium:
144
mg
,
Potassium:
138
mg
,
Fiber:
2
g
,
Sugar:
28
g
,
Vitamin A:
93
IU
,
Vitamin C:
1
mg
,
Calcium:
44
mg
,
Iron:
1
mg