Soft and chewy butterscotch pudding cookies loaded with butterscotch chips!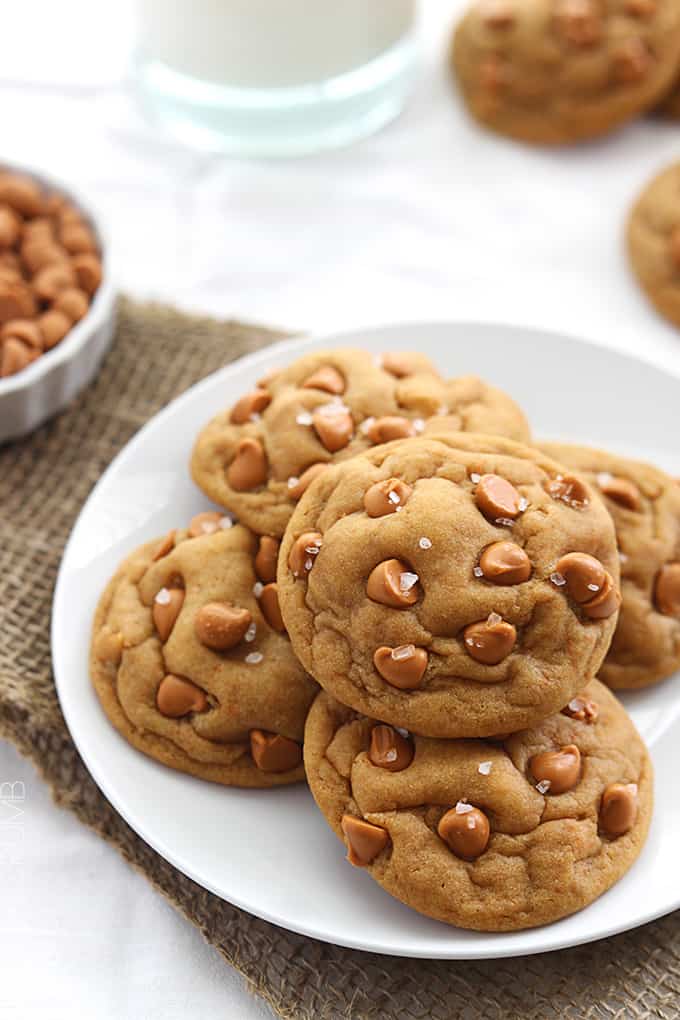 A few months after my husband and I were married, we took a trip to Boston. First off – huge fan of Boston. HUGE FAN. That was one of my favorite trips ever ever everrrrrr. We took a bus tour (which normally I'd not think was very fun but when touring the old victorian district, it's a must) and we had a few stops along the way.
At one of our stops I spotted a candy shop across the way. Okay we were parked right outside of it, it was impossible to miss. But where do you think I spent the 15 minute break? Not at the minute-men statue, no sirree. The candy shop was calling my name and when candy calls, you heed the call.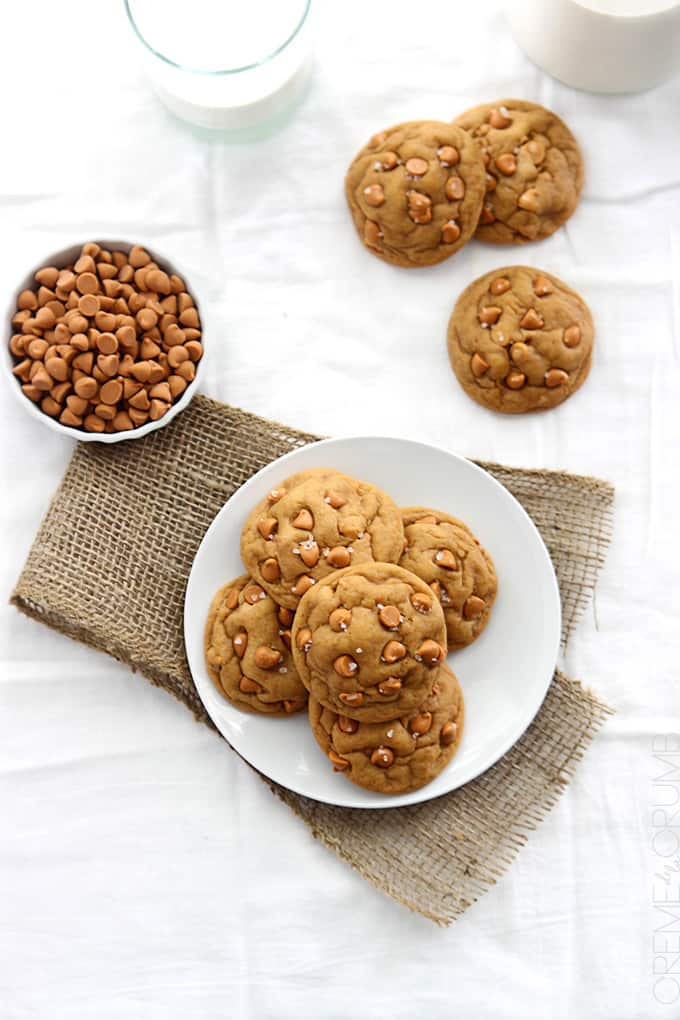 I could hardly decide what to get because, um, yeah… a whole store full of candy, sort of self explanatory. But I've always had a soft spot for those old fashioned candy sticks, my dad used to bring them home from business trips when we were little. So I grabbed a butterscotch one. I heart butterscotch big time. But my husband, do you know what he said? Ewe. He said ewe! And I thought, oh crap, did I really not ask him how he felt about butterscotch before we said "I do"?!
Just joshin. I didn't question my marital vows. I did think he was crazy though. Luckily, I have some very good news. I have converted my husband to butterscotch in the past few months. First with these amazing oatmeal butterscotch blondies. And then I reinforced the budding love with these ultra soft and perfectly chewy butterscotch chip pudding cookies.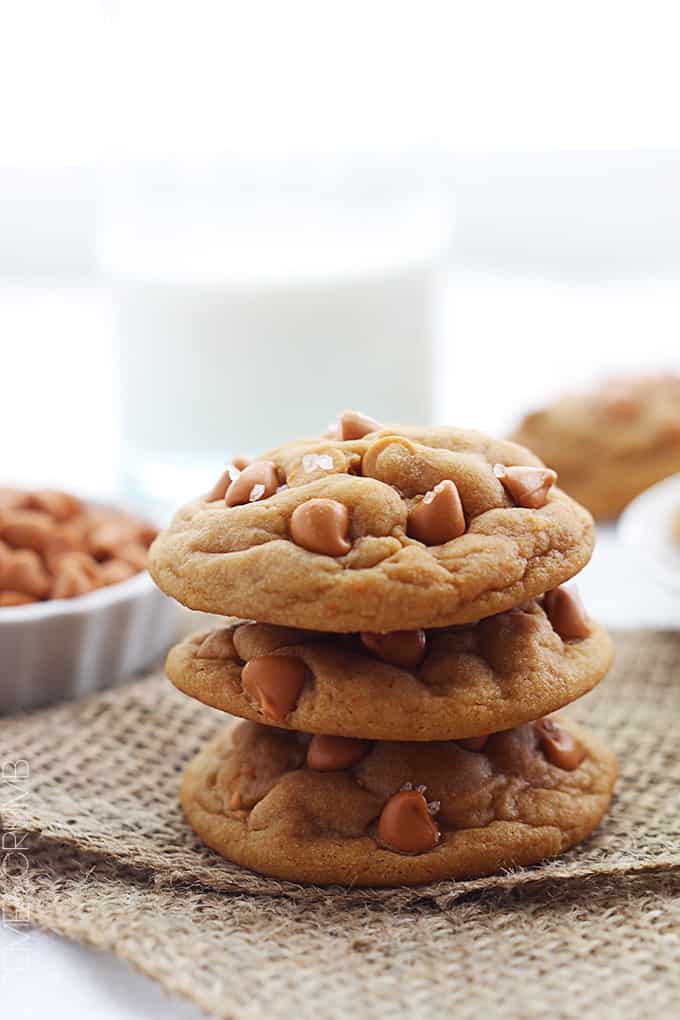 It's impossible not to love these! They are sooooo soft, but not cakey you know? They're just perfectly chewy and the flavor is yum to the max. Sweet with a little salty – one of my favorite flavor combinations! The sea salt on top balances everything and brings out the richness of the butterscotch. Even if you think you don't like butterscotch, ignore your brain and follow your tastebuds. Just let these cookies work their magic on you, you'll be a butterscotch lover yet!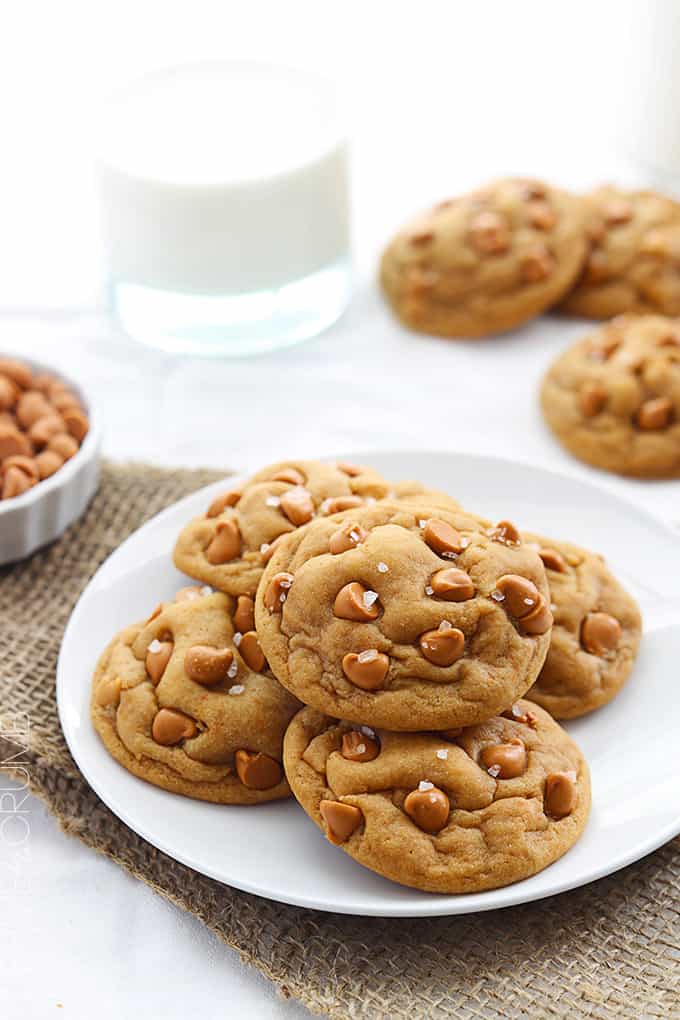 What people are saying about these Soft Butterscotch Chip Pudding Cookies
"I made these cookies today. They were so good. No complaints . I did cook them for 14 minutes. My husband is in love with them. Our new dessert for thanksgiving." – Michelle
"Loved these – they were super easy and a hit with family and the folks at work… I forgot the salt and they still taste great! I will definitely try them again with the sea salt." – Patricia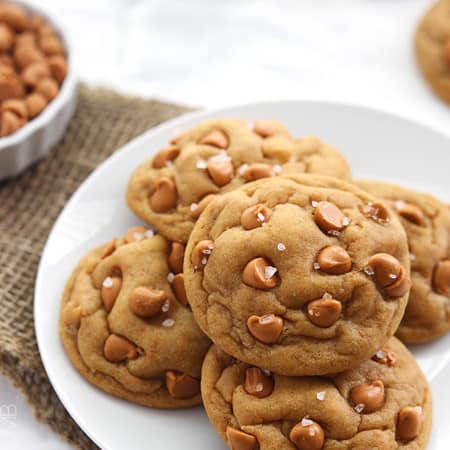 Soft Butterscotch Chip Pudding Cookies
Soft and chewy butterscotch pudding cookies loaded with butterscotch chips and topped with sea salt!
Ingredients
¾

cup

butter

-

softened

¾

cup

brown sugar

¼

cup

sugar

1

teaspoon

vanilla

1

egg

-

(see note)

2

cups

flour

1

small box (3.5 ounces)l

instant butterscotch pudding mix

-

(dry, not prepared)

1

teaspoon

baking powder

1

bag

butterscotch chips

coarse sea salt
Instructions
In a large bowl, cream together butter and sugars. Mix in vanilla and egg until smooth.

In a medium bowl whisk together flour, butterscotch pudding mix, and baking powder. Add dry mixture to wet ingredients and mix until combined. Stir in butterscotch chips. Cover and chill 1 hour.

Preheat oven to 350. Scoop about 2 tablespoons of dough and roll into balls. Place on lightly greased baking sheet at least 2 inches apart for spreading.

Bake 10-12 minutes. Immediately after removing from the oven, sprinkle cookies with coarse sea salt. Allow to cool completely on baking sheet. store in airtight container at room temperature.
Notes
If you find that the dough is too crumbly and doesn't quite come together after being mixed, add one additional egg to bring the dough together. 
Nutrition
Calories:
120
kcal
,
Carbohydrates:
26
g
,
Protein:
2
g
,
Fat:
1
g
,
Saturated Fat:
1
g
,
Trans Fat:
1
g
,
Cholesterol:
11
mg
,
Sodium:
47
mg
,
Potassium:
50
mg
,
Fiber:
1
g
,
Sugar:
14
g
,
Vitamin A:
33
IU
,
Calcium:
40
mg
,
Iron:
1
mg